This post may contain affiliate links. Please read my disclosure policy for more details.
If you've got a holiday party or a summer gathering on the calendar, this collection of simple, flavorful Italian appetizers are sure to impress!
They're colorful, generous, fast to make loads, and most of them can be served at room temperature. Oh – and they look and taste amazing!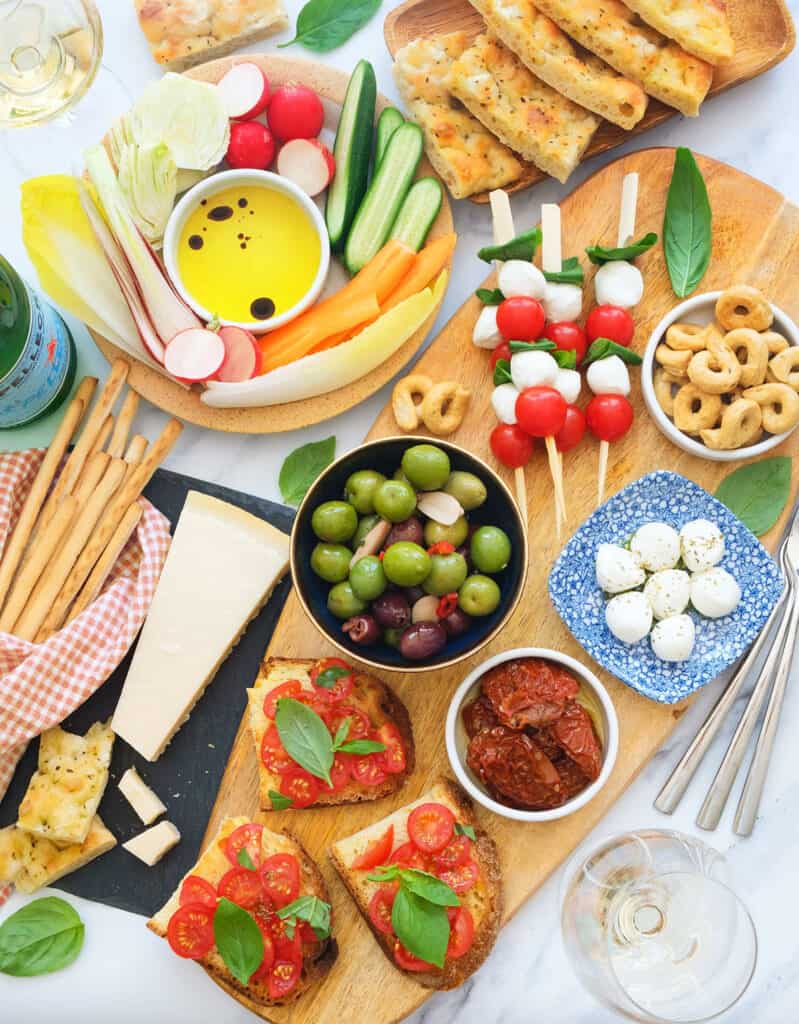 If you think about Italian food, antipasti or Italian appetizers provide some of the most delicious moments in an Italian meal. Because they're hearty, packed with flavor and perfect to share and celebrate.
Who loves Italian appetizers? Everybody loves them.
What does antipasti mean?
Antipasti (or antipasto) literally means 'before the meal'. To be precise, the Italian starters are the beginning of a looooong meal (I'm 100% Italian, I know what I'm talking about!).
Just clutch your glass of wine in one hand and use your other to grab moist focaccia, scrumptious crostini, bruschetta, cheese, olives while you're having a lovely, sometimes loud, conversation with family and friends.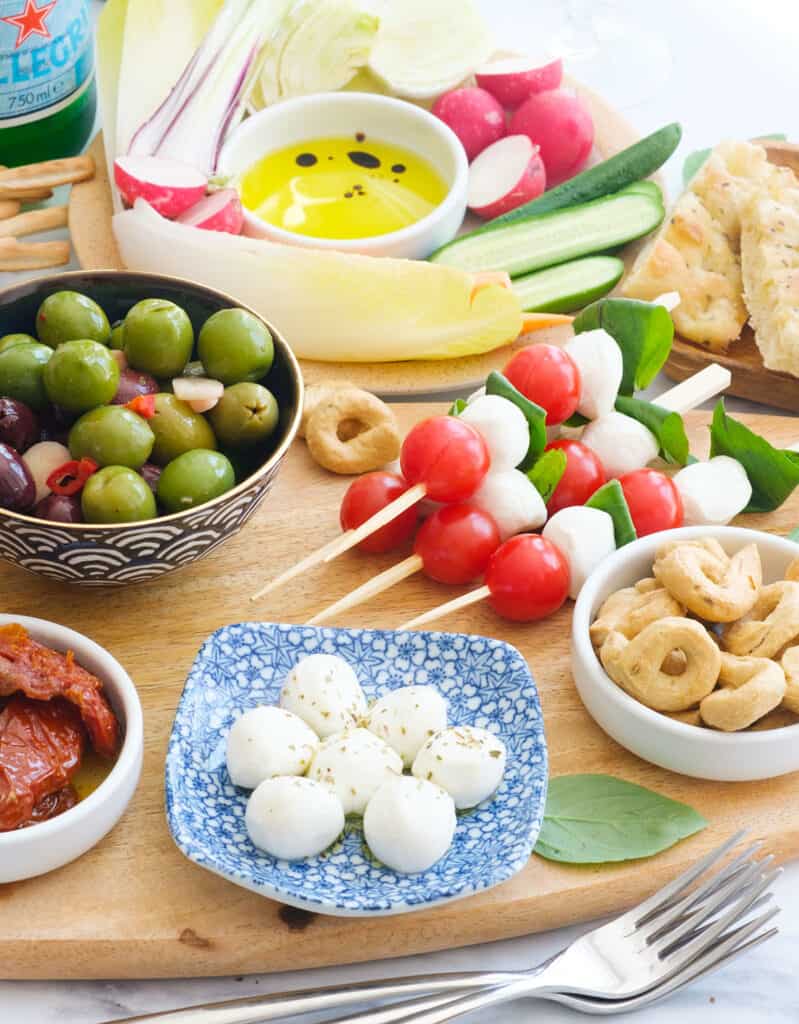 Popular ingredients to make easy Italian appetizers
The list of Italian starters can be endless!
The variety of flavor and textures from Norther to Southern Italy is simple amazing, but seasonal produces are usually the main ingredient in Italian dishes, regardless of the region.
And although here at The Clever Meal we share mostly vegetarian recipes, in this collection of Italian appetizers I've decided to offer a wider array of traditional recipes including fish and meat.
But let's see which are the most popular ingredients in the Italian cuisine when it comes to antipasti:
Fruit & vegetables: plenty of olives and extra virgin olive oil, tomatoes or sun dried tomatoes, zucchini, peppers, eggplants, artichokes, mushrooms, and much more. Italians turn simple, seasonal ingredients into fabulous rustic antipasti.
Italian cheese: from the soft, mild mozzarella cheese, ricotta, gorgonzola to the savoury aged parmesan or pecorino cheese. Cheese is definitely a must.
Carbs: crispy ciabatta bread, focaccia, pizza, crackers, grissini or taralli are absolutely stars of the show when it comes to a classic Italian antipasto platter.
Beef: the most popular meat is the savoury and salty Prosciutto di Parma, or Parma Ham. This cured ham is the result of traditional, artisan techniques, and it's served thinly sliced along with bread, breadsticks or crostini. But cooked ham, bresaola, salami, pancetta and mortadella are also popular appetizers.
Fish: the variety of Italian appetizers include also many recipes featuring fish and seafood, especially in South Italy. From anchovies and tuna to prawn and mussels. If you love seafood, there's plenty to chose from!
Italian Appetizers
Here you'll find some of the best Italian appetizer recipes. ENJOY!
Looking for more appetizer recipes?
Check out these collections of 50 vegan appetizers, 25 dairy-free appetizers or easy vegetarian appetizers, they are all packed with delicious recipes. Below more appetizer ideas to inspire you, and perfect for sharing:
If you make one or more of these delicious Italian appetizers, or you have a question, let me know by leaving a comment. I would love to hear from you and get your feedback! x
And for more recipe updates, subscribe my newsletter and follow me on Instagram, Pinterest and Facebook.
Print Recipe
45+ Italian Appetizers
If you've got a holiday party or a summer gathering on the calendar, this collection of simple, flavorful Italian appetizers are sure to impress! Here is one of my favorite super easy recipe to make caprese skewers.
Ingredients
12

baby mozzarella balls (in water)

12

cherry tomatoes

12

fresh basil leaves

½

Tablespoon

tablespoon extra virgin olive oil, to drizzle
salt, to sprinkle
freshly ground black pepper, to sprinkle
balsamic glaze or basil pesto, to drizzle (optional)
Instructions
Layer a basil leaf, a cherry tomato and a mini mozzarella ball onto a skewer followed by another fresh basil leaf, and repeat if your skewer is long enough. Otherwise use another skewer to make 12 small servings. 

Place all your lovely skewers on a serving plate, season with fine salt, pepper and a generous drizzle of extra virgin olive oil. You can also drizzle them with some basil pesto or balsamic glaze, if you wish. Serve at room temperature.
Notes
Storage: these Caprese salad skewers keep well in the fridge in airtight container for about 24 hours. However, the basil leaves might turn brown in the fridge.
Nutrition facts: 
the nutrition values are for one serving and are based on an online nutrition calculator. It's an estimate only and it should not be considered as a substitute for a professional nutritionist's advice. Please see my
disclosure policies.
Nutrition
Calories:
58
kcal
|
Carbohydrates:
1
g
|
Protein:
3
g
|
Fat:
5
g
|
Saturated Fat:
1
g
|
Polyunsaturated Fat:
0.1
g
|
Monounsaturated Fat:
1
g
|
Cholesterol:
6
mg
|
Sodium:
145
mg
|
Potassium:
77
mg
|
Fiber:
0.3
g
|
Sugar:
1
g
|
Vitamin A:
208
IU
|
Vitamin C:
8
mg
|
Calcium:
65
mg
|
Iron:
0.3
mg