This post may contain affiliate links. Please read my disclosure policy for more details.
This humble and fragrant spaghetti with garlic and olive oil brings me back to my childhood. It's a classic Italian pasta dish that requires a few cheap ingredients, little effort, and it's ready in 10 minutes.
It's a super quick spaghetti recipe, delicious and packed with flavor, which comes in handy any time. Absolutely perfect for sharing with friends or after a long day, when you decide pasta is for dinner tonight.
Spaghetti Aglio e olio (garlic and olive oil) is simple, cheap, good, satisfying, and fun. 
I promise, the lovely smell of garlic and chili flakes, gently fried in olive oil, will cheer you up!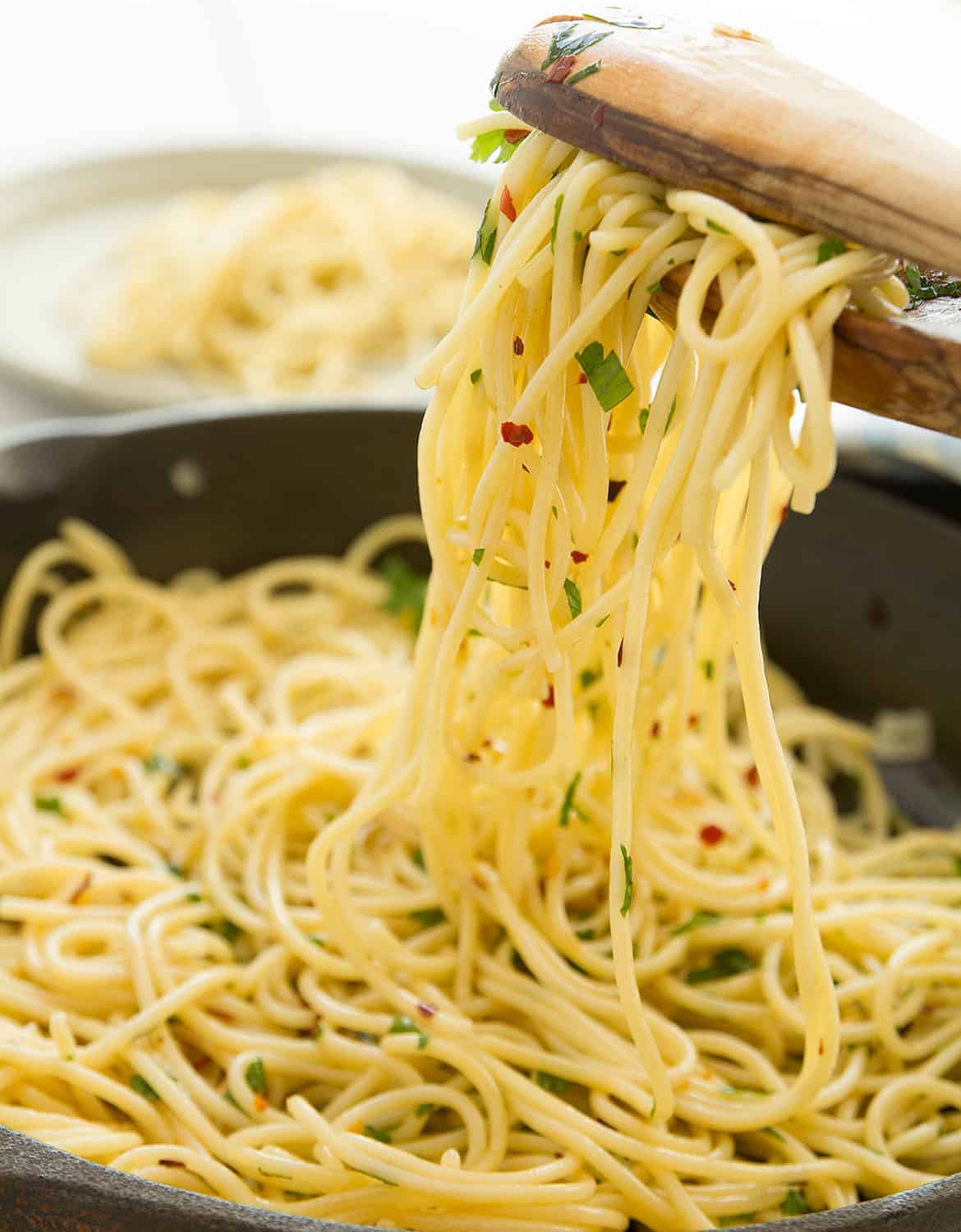 WHAT YOU NEED FOR THIS RECIPE:

Regular or whole wheat spaghetti
Extra virgin olive oil
Garlic
Fresh or dried chili flakes
Salt
Parmesan cheese (optional)
Parsley (optional)
HOW TO MAKE PASTA WITH AGLIO E OLIO?
(Note: ingredient quantities and method are in the recipe card at the bottom of the post)
Cook your spaghetti until al dente
Meantime, fry gently garlic and chili in olive oil
Drain spaghetti, reserve 1/2 cup cooking water
Add spaghetti and parley to the skillet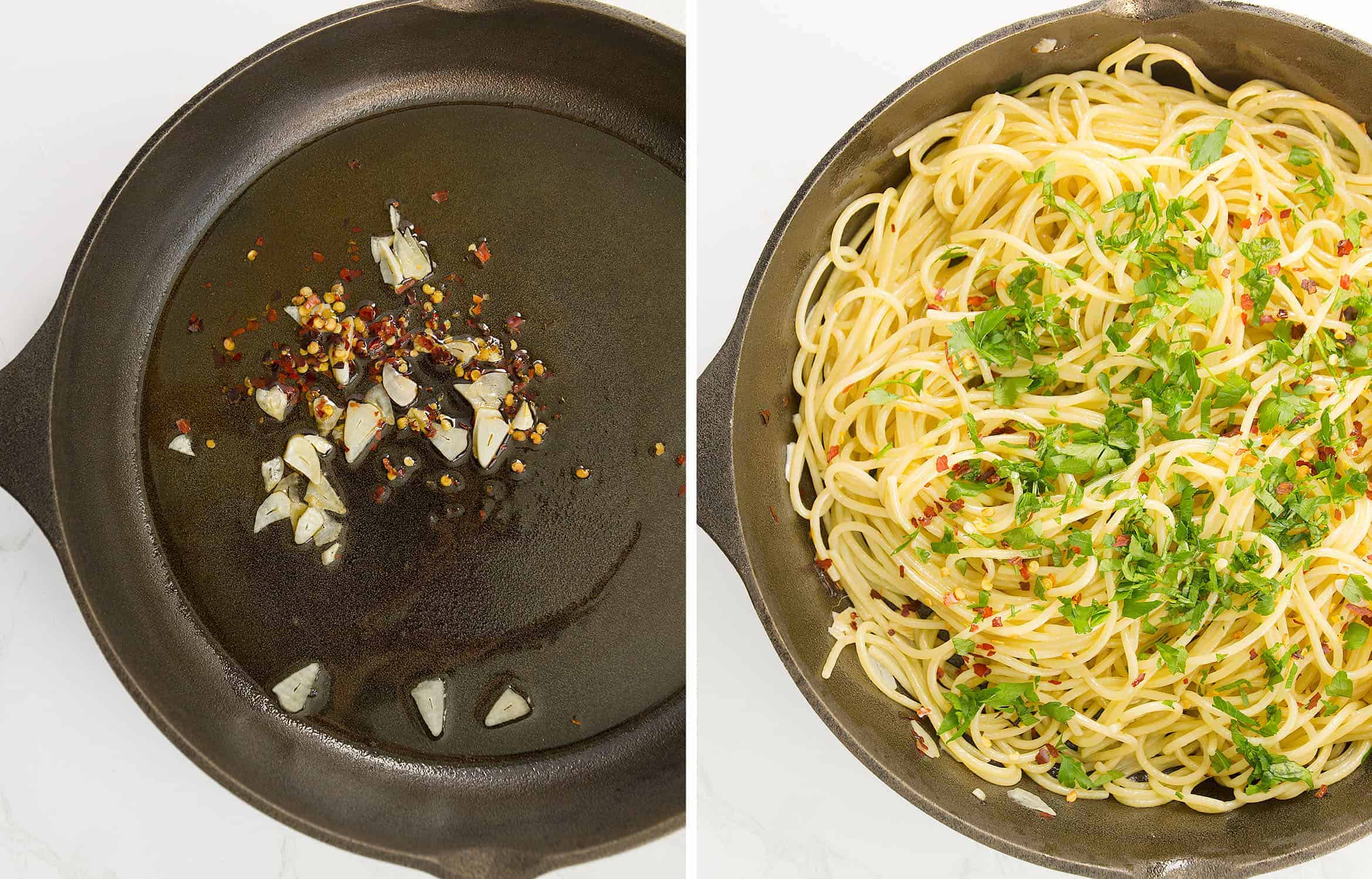 Add as much cooking water as needed to make the pasta moist
Stir well to coat
If you don't keep it vegan, serve with parmesan cheese
Sprinkle extra chili flakes and parsley, if you like. Enjoy!
EASY, HEALTHY AND INEXPENSIVE!
First things first, a skillet of this fragrant and spicy spaghetti comes together in 10 MINUTES and costs less than 90 cents per serving!
Also, this simple homemade spaghetti dish is likely healthier than an expensive last-minute takeaway, and if you go for whole grain pasta you'll get more natural fiber and micronutrients than white pasta. Plus, extra virgin olive oil features a long list of health benefits and coats your pasta beautifully.
This is simple, real, food.
MORE DELICIOUS PASTA RECIPES READY IN 10 MINUTES?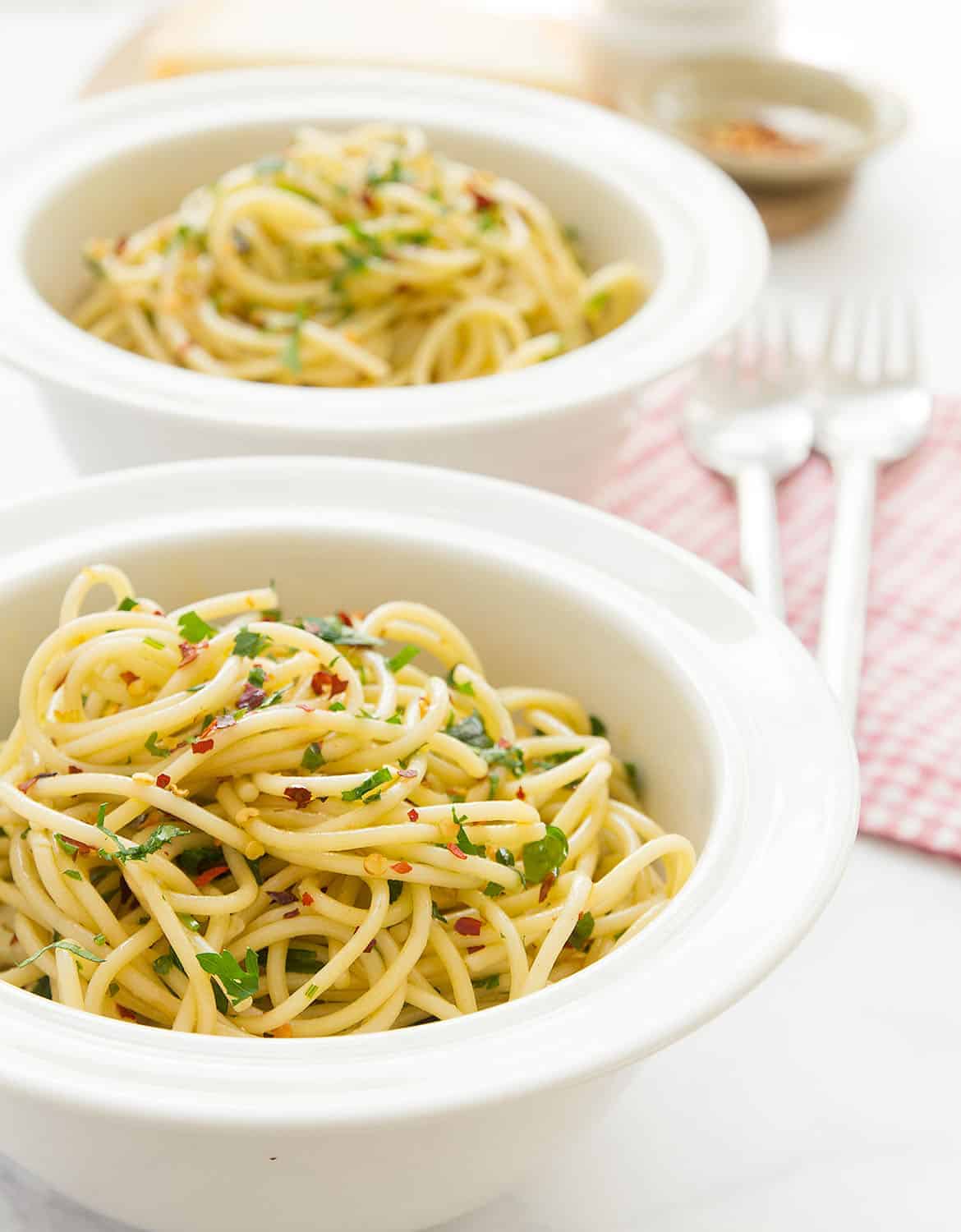 Recipe updated: originally posted in November 2018, I've tweaked the post adding more notes and new pictures.
RECIPE NOTES & TIPS
Only a few basic ingredients, but their quality will make the difference! Pasta, garlic and olive oil are the key ingredients in this recipe.
PASTA
What's better than spaghetti? Long pasta is simply perfect with garlic and olive oil, you will love wrapping spaghetti or linguine around your fork!
And when you chose pasta, have a proper look at the label and go for durum wheat semolina pasta. Pasta brand matters, and although premium quality pasta is a bit more expensive than basic pasta, it's resilient, it has a more robust texture.
EXTRA VIRGIN OLIVE OIL
Extra virgin olive oil is the flavor you want here.
A good extra virgin olive oil smells and tastes good, clean and fresh. The flavor can be fruity, floral, herbal or even subtle, but never overpowering in a way that indicates rancidity.
Tasteless olive oil or other regular vegetable oil won't work.
WOULD YOU LIKE TO ADD A TWIST?
To make it more special, for people who think this spaghetti with garlic and olive oil is too simple, add a further burst of flavor by including a couple of anchovy fillets and fry them along with the garlic and chili flakes.
Also, marinated artichokes, olives or sun-dried tomatoes will take this simple dish to the next level with a Mediterranean twist.
This is a tasty, inexpensive and one of the most crowd-friendly dishes for your last-minute parties, or just the thing when you get home late or don't feel like cooking.
Simple food is the best.
And if you make this spaghetti with garlic and olive oil, let me know! Leave a comment, rate it or tag a photo #theclevermeal on Instagram. I would love to hear from you!
Print Recipe
SPAGHETTI WITH GARLIC AND OLIVE OIL
Simple, fragrant and inexpensive, this spaghetti with garlic and olive oil is so good, cheap, satisfying and ready in a flash!
Recipe updated: originally posted in November 2018, I've tweaked the post adding more notes and new pictures.
Ingredients
1 lb

(450 grams) spaghetti, or other long pasta

1/2 cup

(120 ml)

extra virgin olive oil

4-5

garlic cloves, finely sliced

1

tsp

dried chili flakes, or to taste (or 3 fresh chillies)

1/4 cup

fresh parsley, coarsely chopped

1/4 cup

grated parmesan cheese, plus more to serve (optional, if you don't keep it vegan)

salt, to taste
Instructions
Bring a pot of salted water to the boil and add spaghetti. Cook until al dente: the spaghetti is soft but still has a little bite.

While the spaghetti is cooking make the sauce: If you don't use dried chili flakes, remove the seeds from the chilies and finely chop. Peel and finely slice the garlic cloves.

Heat the olive oil gently in a frying pan. Add the garlic and chili and cook gently for a few minutes, or until the garlic is pale gold, which will be enough time for the flavorings to infuse the oil (take care not to burn it!). Stir in chopped parsley.

Drain the spaghetti still "al dente", reserve 1/2 cup cooking water.

Add spaghetti to the frying pan, stir well to coat with the oil, add some starchy cooking water, as much as needed to ensure the pasta is moist and juicy*.

Cook on medium heat for 30 seconds, stirring a couple of times.

Sprinkle the spaghetti with extra chopped parsley, and grated parmesan cheese if you don't keep it vegan. Enjoy!
Notes
Tips: Heating the garlic and chilli too much will send it bitter. Make sure the garlic doesn't get any darker than pale gold. Cooking water: add pasta water gradually, you might not need all of it. You don't want to water down the flavor, but only make spaghetti nice and moist. NOTE: Nutritional values are estimates only (the amount of calories doesn't include parmesan cheese).
Nutrition
Calories:
693
kcal
|
Carbohydrates:
86
g
|
Protein:
15
g
|
Fat:
32
g
|
Saturated Fat:
5
g
|
Sodium:
41
mg
|
Potassium:
302
mg
|
Fiber:
4
g
|
Sugar:
3
g
|
Vitamin A:
593
IU
|
Vitamin C:
1
mg
|
Calcium:
36
mg
|
Iron:
2
mg