This post may contain affiliate links. Please read my disclosure policy for more details.
These delicious easy vegan appetizers are what you'll need for your holiday parties.
The most incredible, healthy, and budget-friendly party food perfect to please a crowd!
Vegan doesn't mean you're going to miss out on yummy and delicious meals, not at all! These wholesome vegan appetizers are just fabulous, not only are they packed with flavor, but they're healthy, easy to make, and budget-friendly.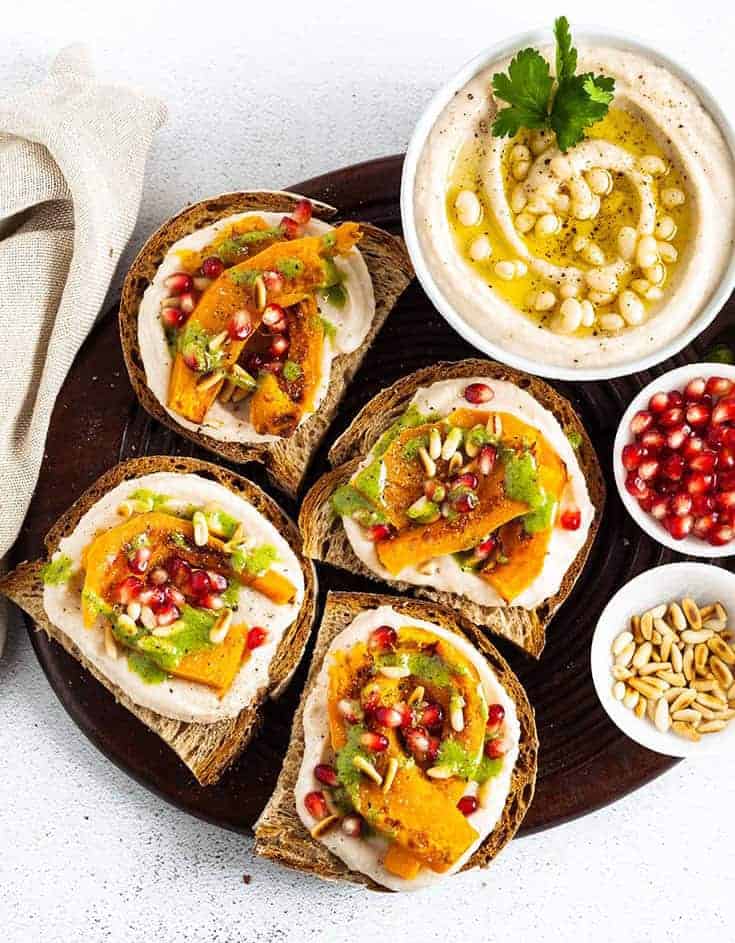 Sharing delightful and scrumptious food with our family and friends is one of the best things in life. I loooove that!
Have a look at this colorful and tempting list of 50 appetizers, they will look amazing on your table. I'm definitely sure they will make everybody happy.
1. BEETROOT HUMMUS IN 5 MINUTES by The Clever Meal
You're going to be dipping everything into this creamy, beautiful and vibrant beetroot hummus! It looks stunning, it's cheap, healthy and it all comes together in 5 minutes!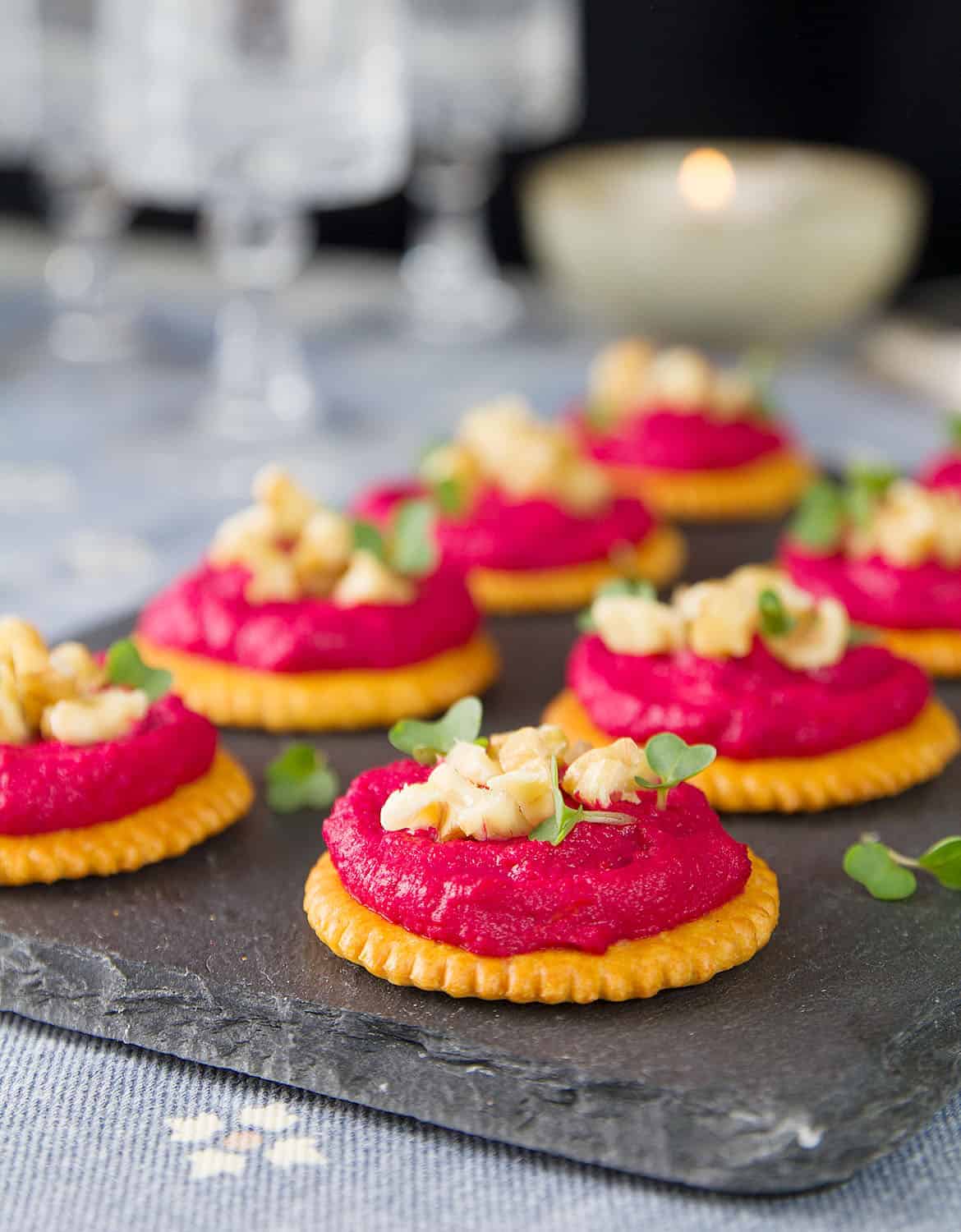 2. VEGAN TOMATO FLATBREAD by Green Evi
This tomato flatbread looks so colorful! Just roll out your favorite pizza dough, top with tahini, garlic, and tomatoes, and share with your friends!
3. CHICKPEA BRUSCHETTA WITH SUNDRIED TOMATOES by The Clever Meal
Who doesn't love bruschetta? This simple and bursting with fresh flavor bruschetta will please everyone's tastes in no time and make the perfect party food!
4. 10-MINUTE VEGAN TZATZIKI by The Clever Meal
This creamy, garlicky, and dairy-free vegan tzatziki sauce is perfect for dipping or served with pita bread, olives and crudites. Plus, it makes healthy and festive vegan canapes in no time!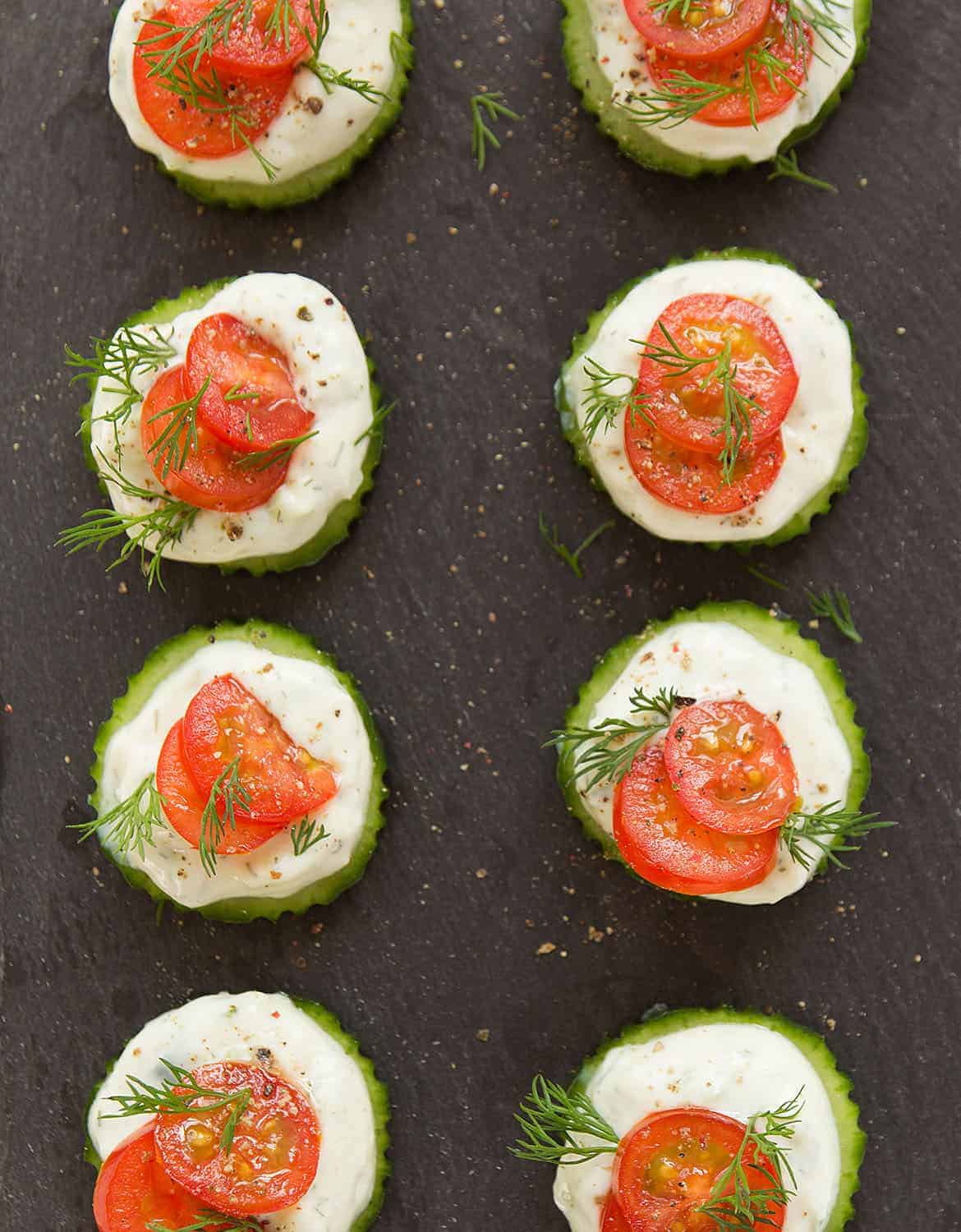 5. VEGAN NASHVILLE HOT CAULIFLOWER BITES  by Vegan Richa
These cauliflower wings are flavorful, hot, and delicious! Serve with vegan ranch or other dips, they are super yummy and perfect for a party.
6. NO-KNEAD ITALIAN FOCACCIA by The Clever Meal
This delicious garlicky focaccia couldn't be easier: it's NO-MESS, NO-KNEAD, NO-MIXER and is ready in 1 HOUR.
Follow this simple step-by-step recipe.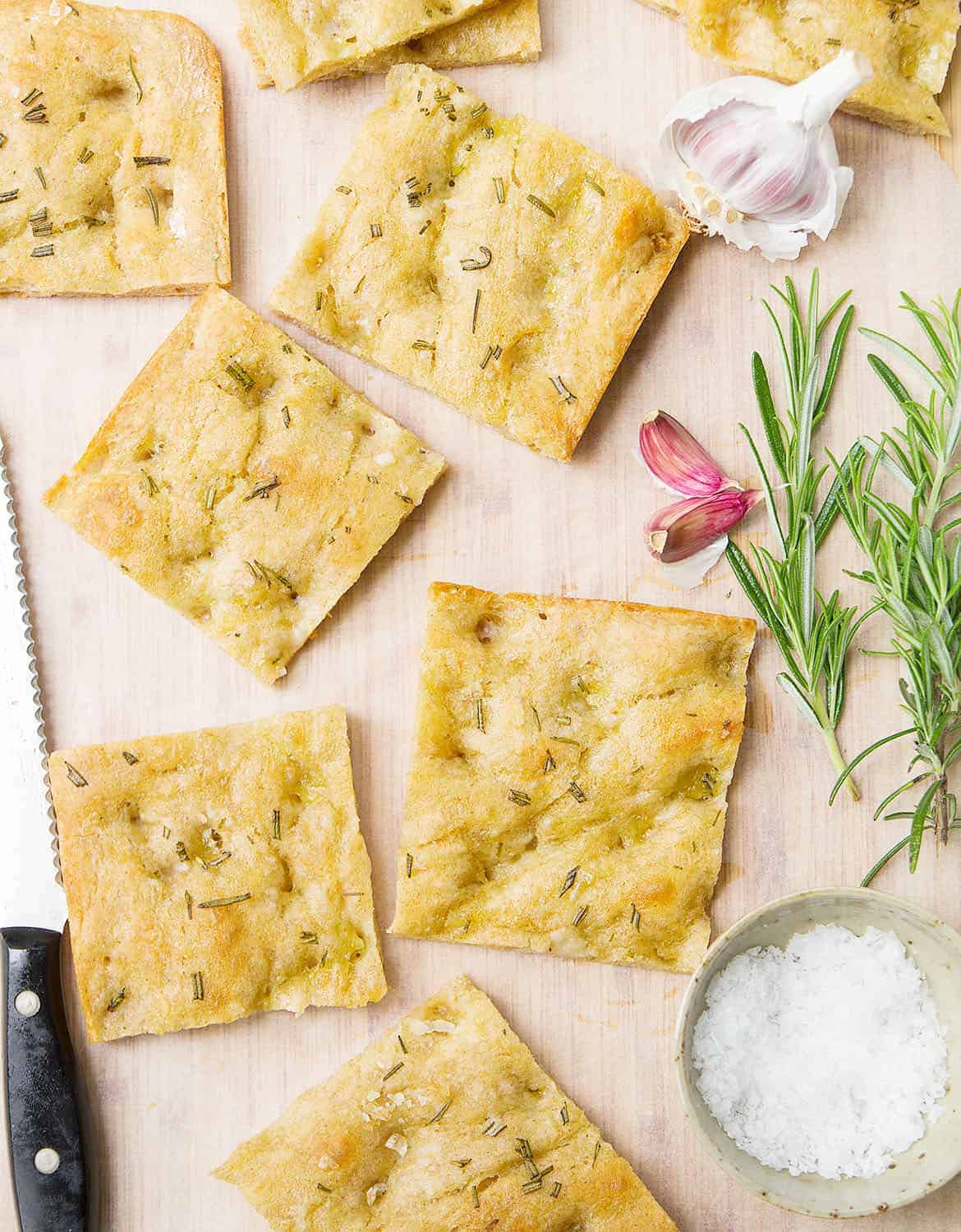 7. SWEET POTATO AVOCADO TARTARE by Love and Lemons
Impress for less with this super easy and healthy avocado tartare!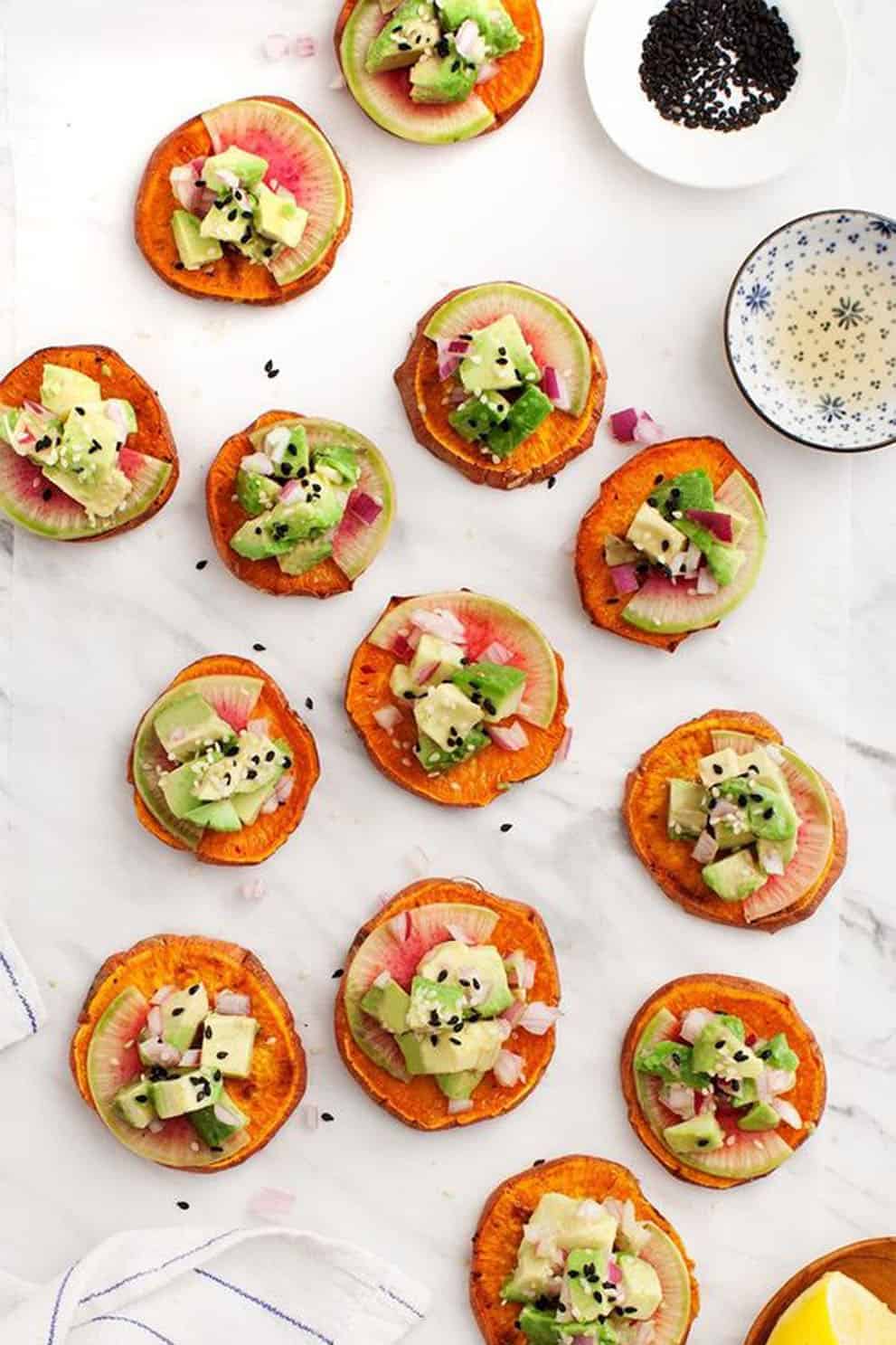 8. SMOKY BEANS ON TOAST by The Clever Meal
These little toasts are topped with scrumptious smoky cannellini beans. They are full of Italian flavors like fresh garlic and a good drizzle of extra virgin olive oil; so simple, so healthy and so delicious.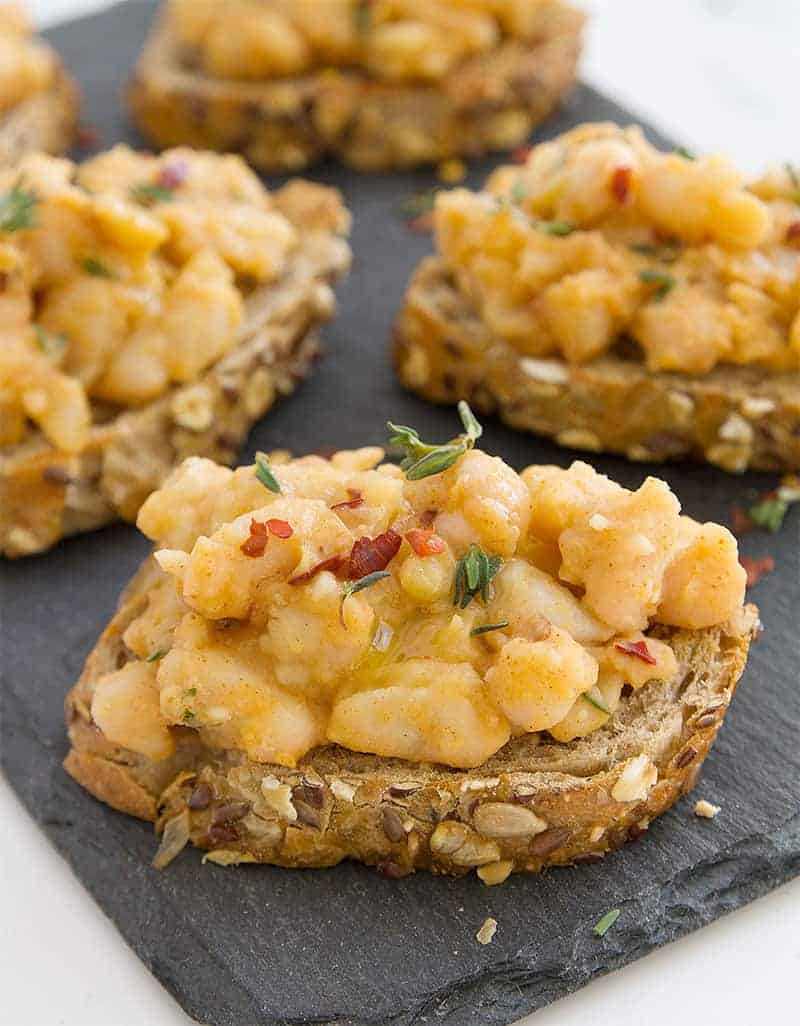 9. VEGAN PATE' EVERYONE WILL LOVE! by Lauren Caris Cooks
This pate' looks delicious, a rich spreadable bowl of goodness. Serve a big bowl of this with some crusty bread and everyone will dig in.
10. SLOW ROASTED TOMATO HUMMUS by How Sweet Eats
A ton of flavor for this easy and delicious tomato hummus ready in only 20 minutes.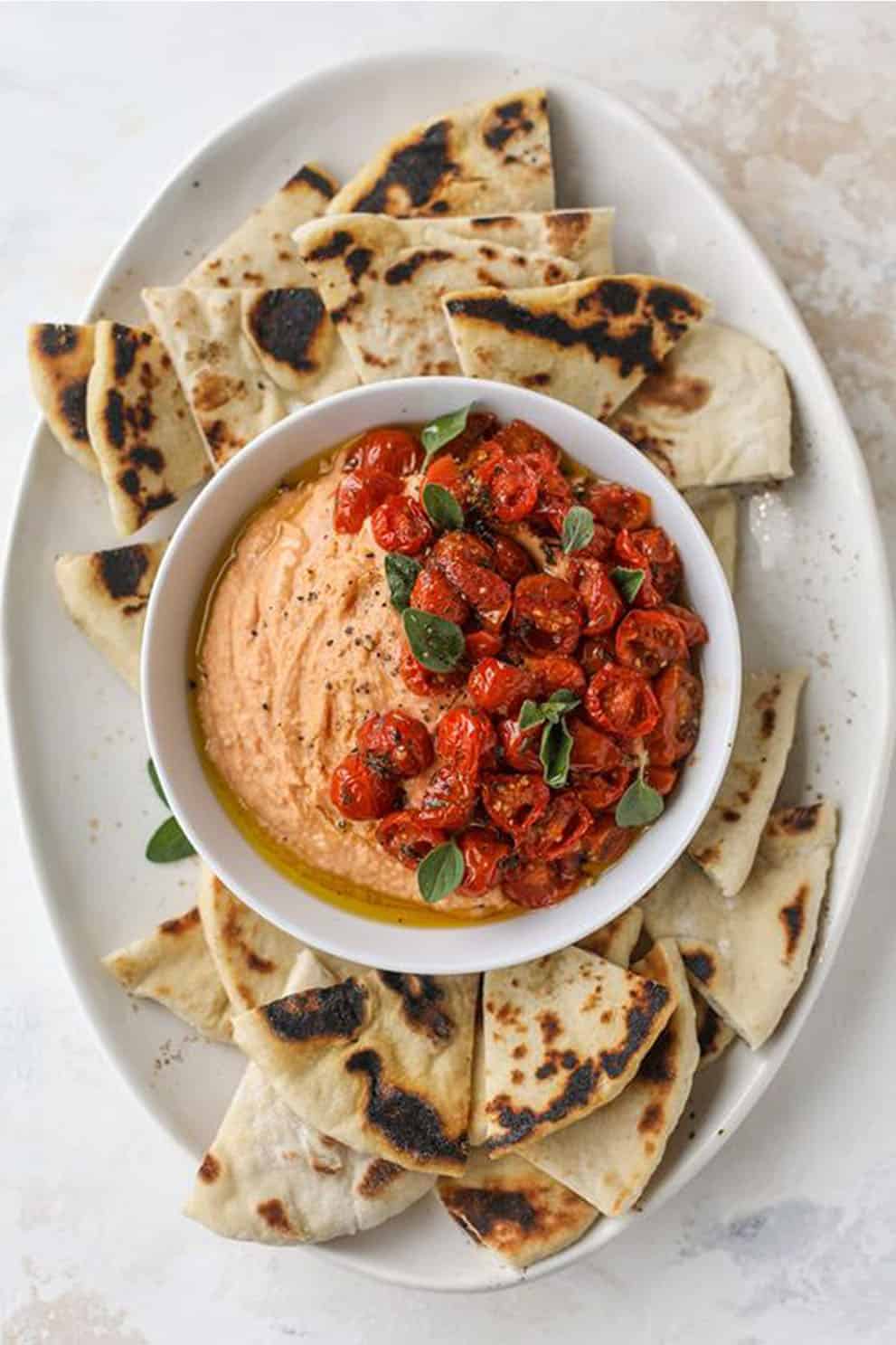 11. VEGAN NACHO CHEESY KALE CHIPS by Simply Quinoa
These kale chips are tossed in a vegan nacho sauce then baked to perfection, super crispy. They're easy, healthy and perfect for a dinner party.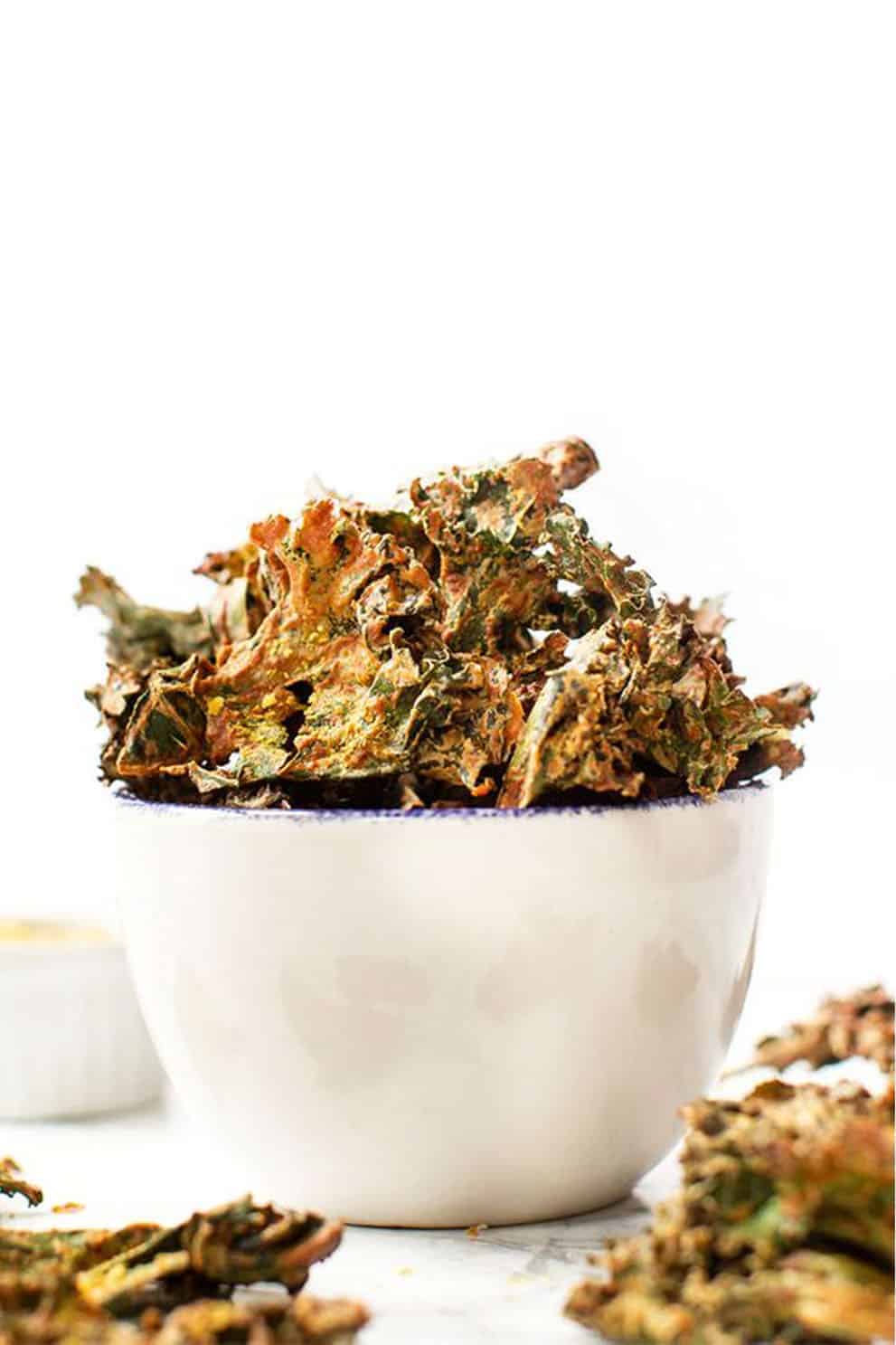 12. GREEN PEA AND COCONUT SPREAD by Green Evi
What not to love about this pea and coconut spread?! They look vibrant and bright, delicious and creamy.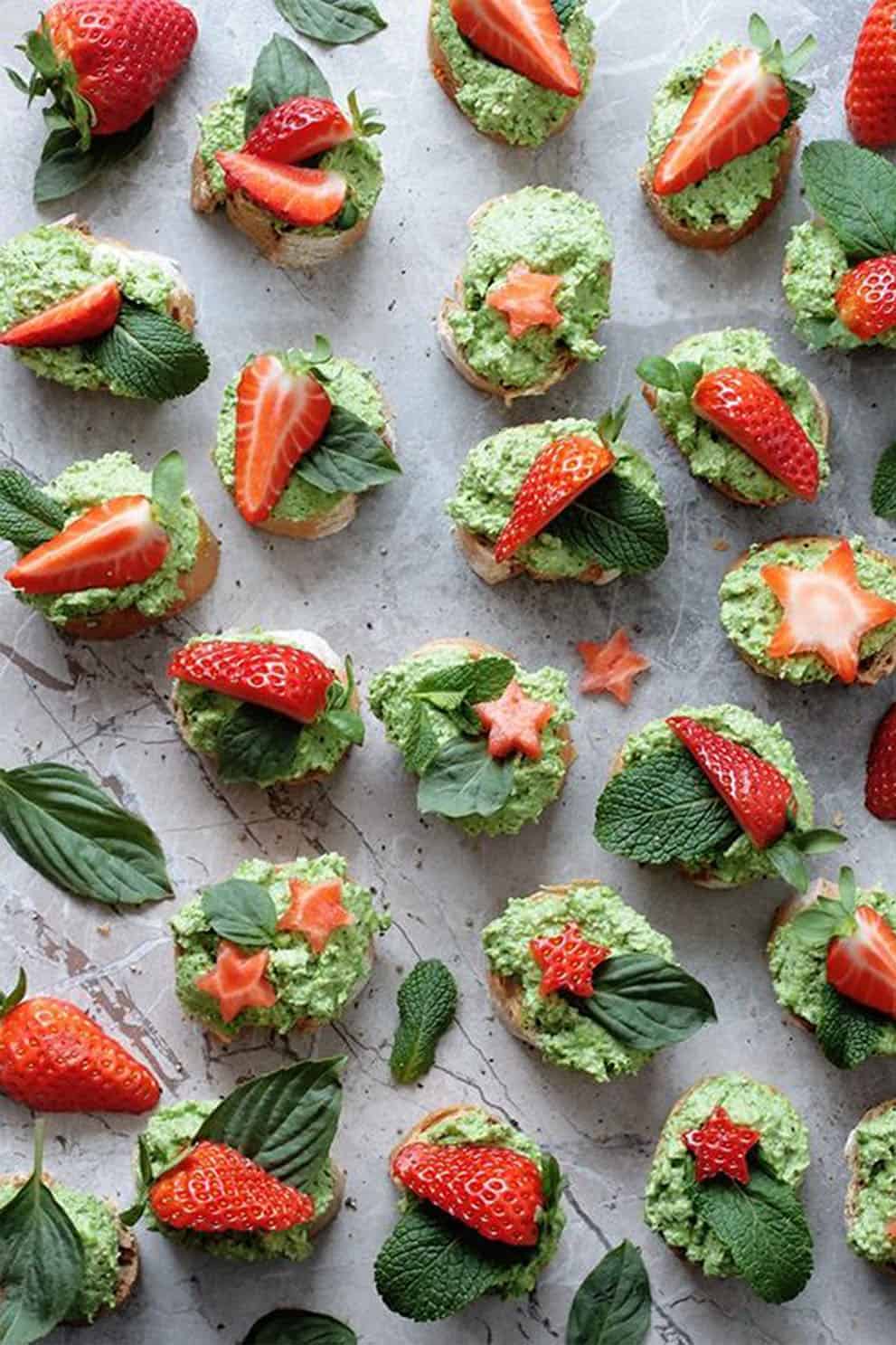 13. VEGAN SUMMER ROLLS WITH DIPPING SAUCE TWO WAYS by Lauren Caris Cooks
These summer rolls are served with a fresh mango dipping sauce and a creamy peanut butter dipping sauce. The perfect snack or appetizer for the warm months.
14. VEGAN BUFFALO QUINOA BITES by Simply Quinoa
These simple bites are a quick and healthy appetizer or snack, and are perfect for parties! Served with a creamy ranch dipping too!
15. CRISPY BAKED SWEET POTATO FRIES by Love and Lemons
Make the best crispy baked sweet potato fries for your party. They're nutritious, vegan, and gluten-free.
16. VEGAN CHEESY BROCCOLI QUINOA BITES WITH SRIRACHA AIOLI by Blissful Basil
These vegan cheesy broccoli quinoa bites with sriracha aioli are hearty, flavorful, and totally snack-worthy. They make a crowd-pleasing appetizer and are also a hit with little ones.
17. CHICKPEA SHAWARMA DIP by Minimalist Baker
This amazing shawarma dip is creamy, fresh, and loaded with goodness. This is a perfect appetizer, a burst of colors and flavors, delicious with pita bread or vegetables.
18. GRILLED MAPLE MUSTARD BRUSSELS SPROUTS by Jessica in the Kitchen
This recipe will be your new favorite vegan appetizer! One bite of these delicious veggies and you'll be wondering where have these grilled Brussels sprouts been your entire life.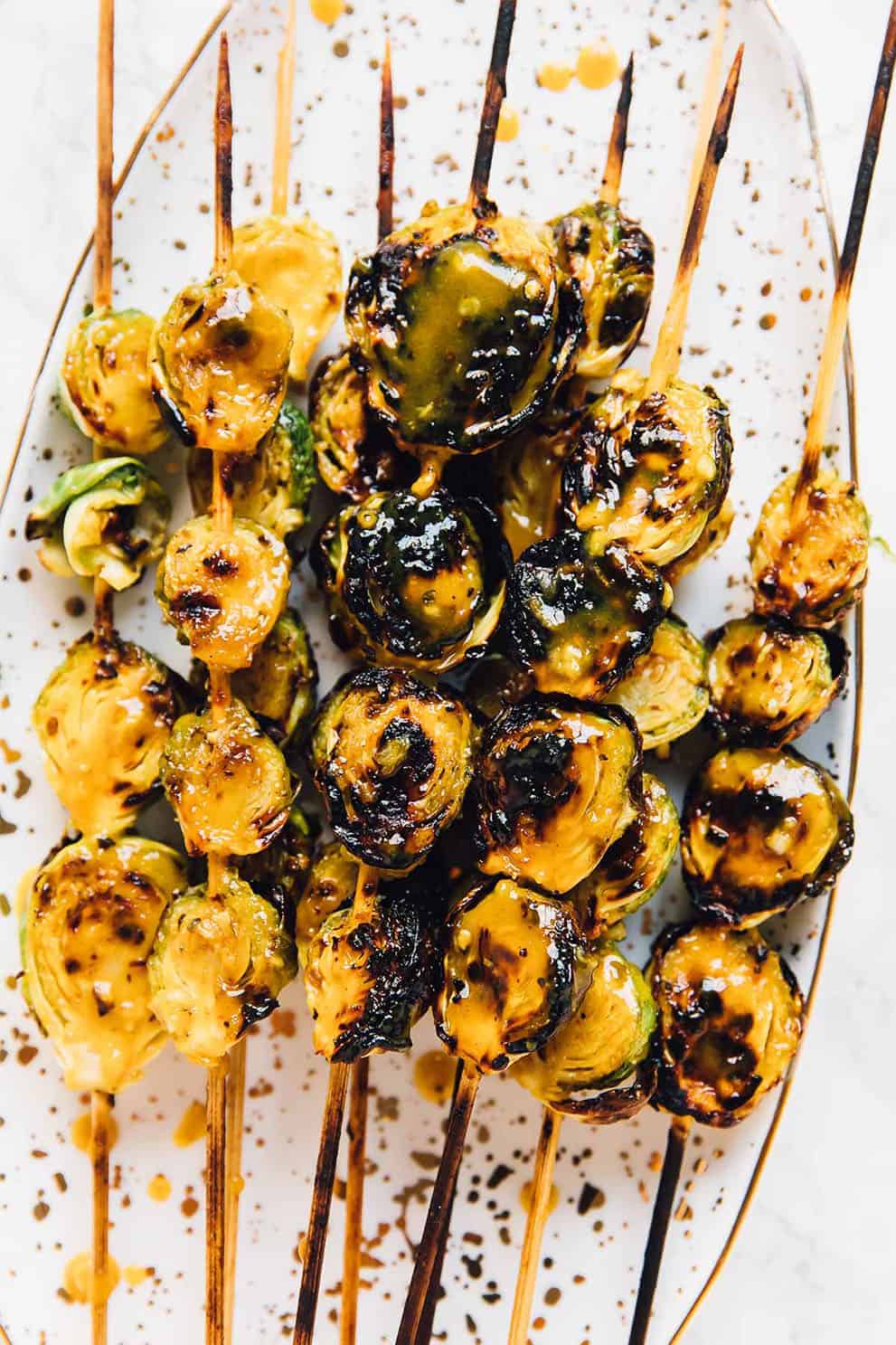 19. VEGAN CAPRESE PIZZA by Blissful Basil
This beautiful and mouthwatering vegan pizza is crispy, garlicky and topped with cashew mozzarella and plenty of fragrant basil. It's fresh, crunchy, delightful.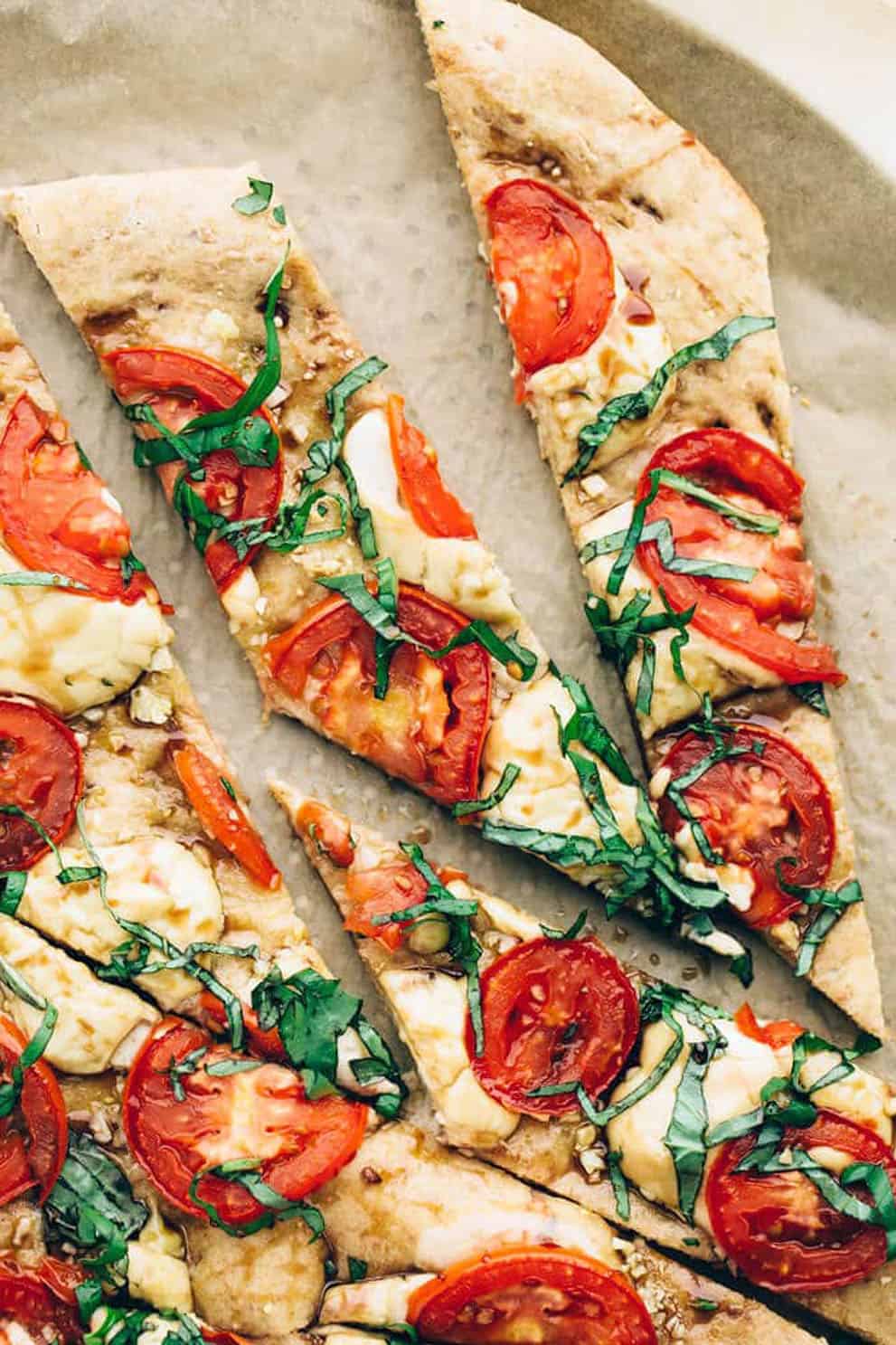 20. VEGAN MINI SHALLOT BHAJIS WITH MINTED YOGURT by UK shallots.
Enjoy the taste of India with these little bite-sized bhajis. They are so spicy, light, and addictively crisp, the perfect vegan appetizer for a party! Ready in 25 minutes.
21. White bean artichoke basil toasts by Pinch of Yum
These little toasts are piled high with the most simple 10 minute artichoke + spinach + chickpea salad and they taste delicious. A healthy and easy recipe, and it makes an irresistible vegan appetizer.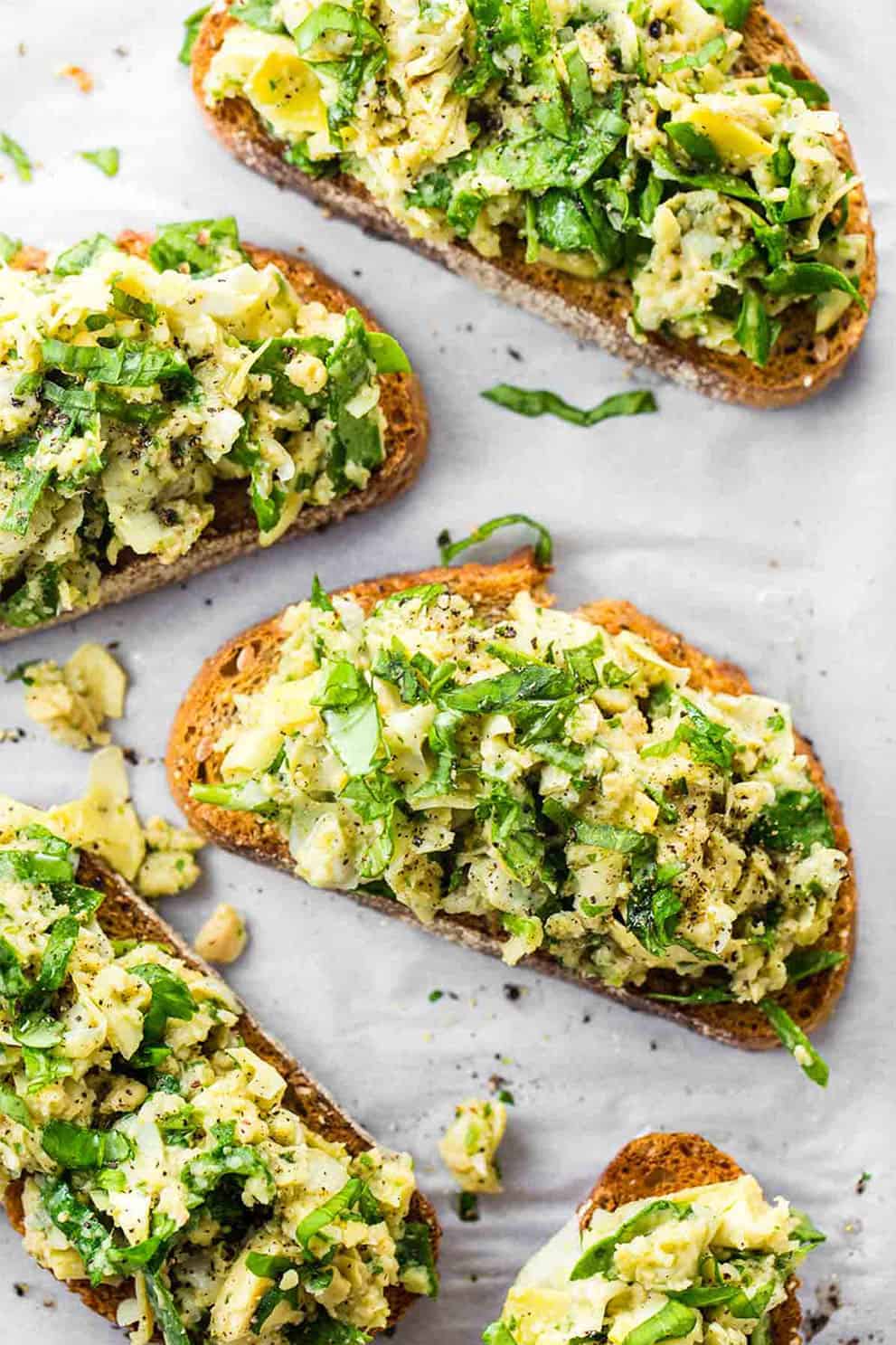 22. VEGAN TENDER TERIYAKI MEATBALLS by Full of Plants
Tender, meaty, and glazed with a garlicky, sweet and salty sauce, who can resist? These meatballs are definitely a crowd-pleaser, whether you have vegans or meat eaters at your table!
23. VEGAN THAI CORN FRITTERS by Lazy Cat Kitchen
These beautiful and flavorsome corn fritters are quick to whip up and make the best vegan appetizers or dinner-party starter. This vegan version is very easy to make and you can use inexpensive canned corn kernels.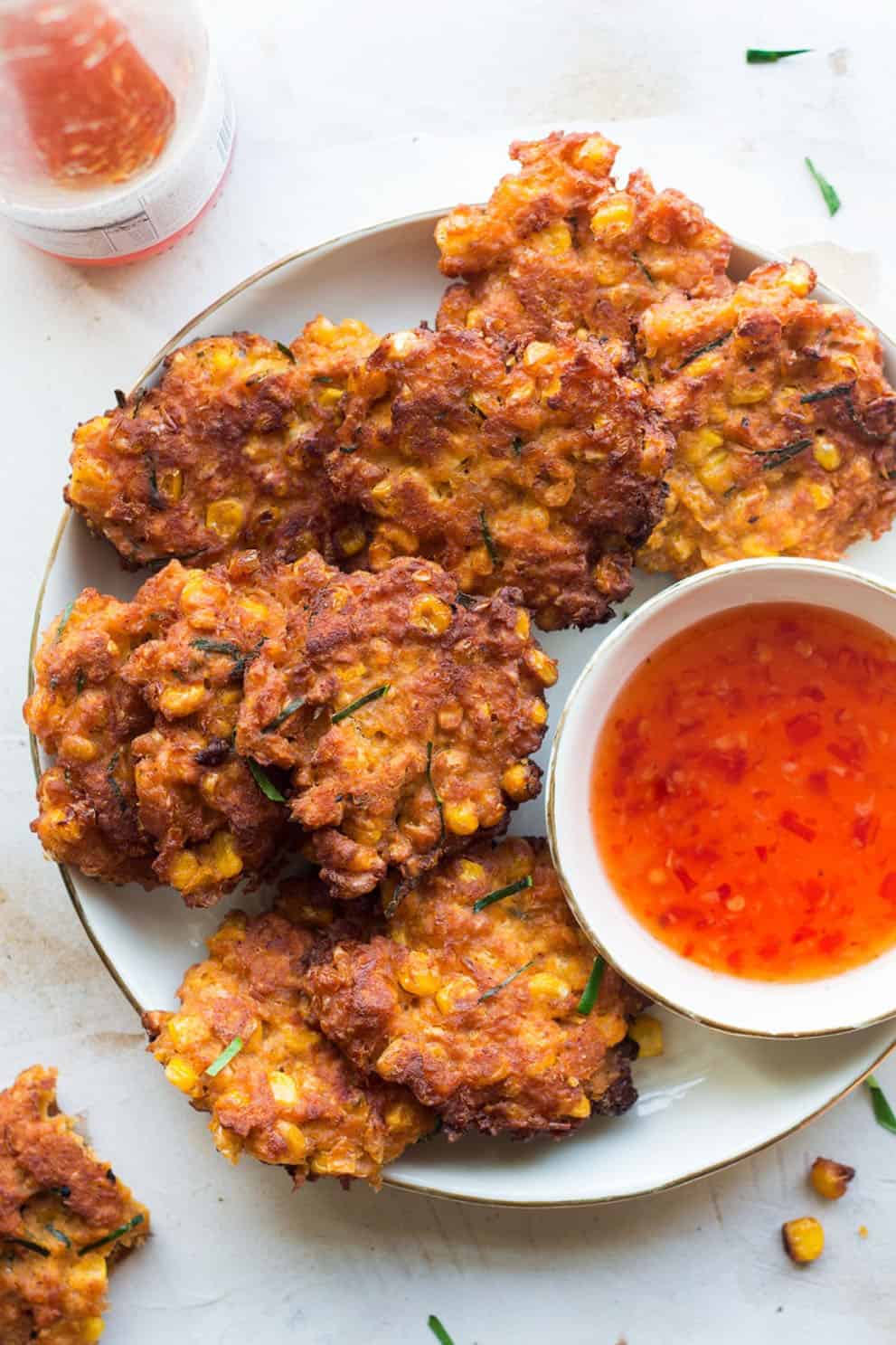 24. THAI MANGO CABBAGE WRAPS WITH CRISPY TOFU AND PEANUT SAUCE by Cookie+Katie
Wow, mango salsa, crispy baked tofu, and an irresistible peanut sauce on cabbage leaves. These colorful salad wraps are light and delicious!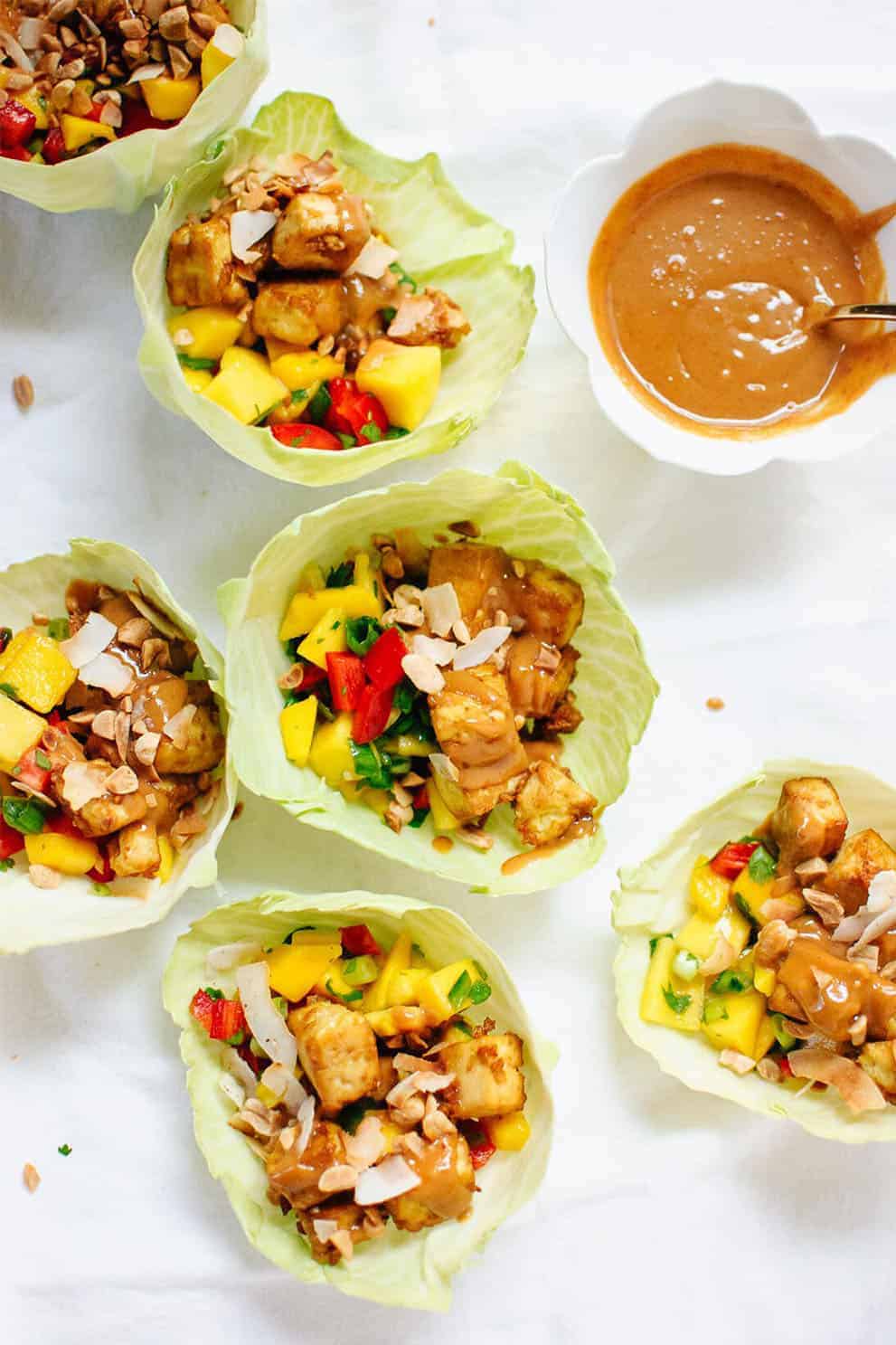 25. BEST GUACAMOLE RECIPE by Salt & Baker
This bowl of creamy avocados is blended with fresh cilantro and juicy diced tomatoes is simply delicious. Super easy to make, a vegan appetizer packed with amazing health benefits.
26. VEGAN BAKED CAULIFLOWER WINGS WITH HERB GARLIC DIP by Veggie Dessert
These delicious cauliflower wings are a great vegan alternative to chicken wings, a perfect appetizer to share with your friends! They have a crispy coating with herbs and spices and are endlessly moreish. The shape is perfect for dipping into a creamy and herby dip.
27.  SWEET POTATO + AVOCADO BITES by Blissful Basil
These little bites are mouthwatering, colorful, flavorsome, they will look stunning on your table. The potatoes are roasted to perfection and topped with a creamy mixture of avocado and lime juice. Oh yes, 100% deliciousness!
Vegan, healthy, and inexpensive.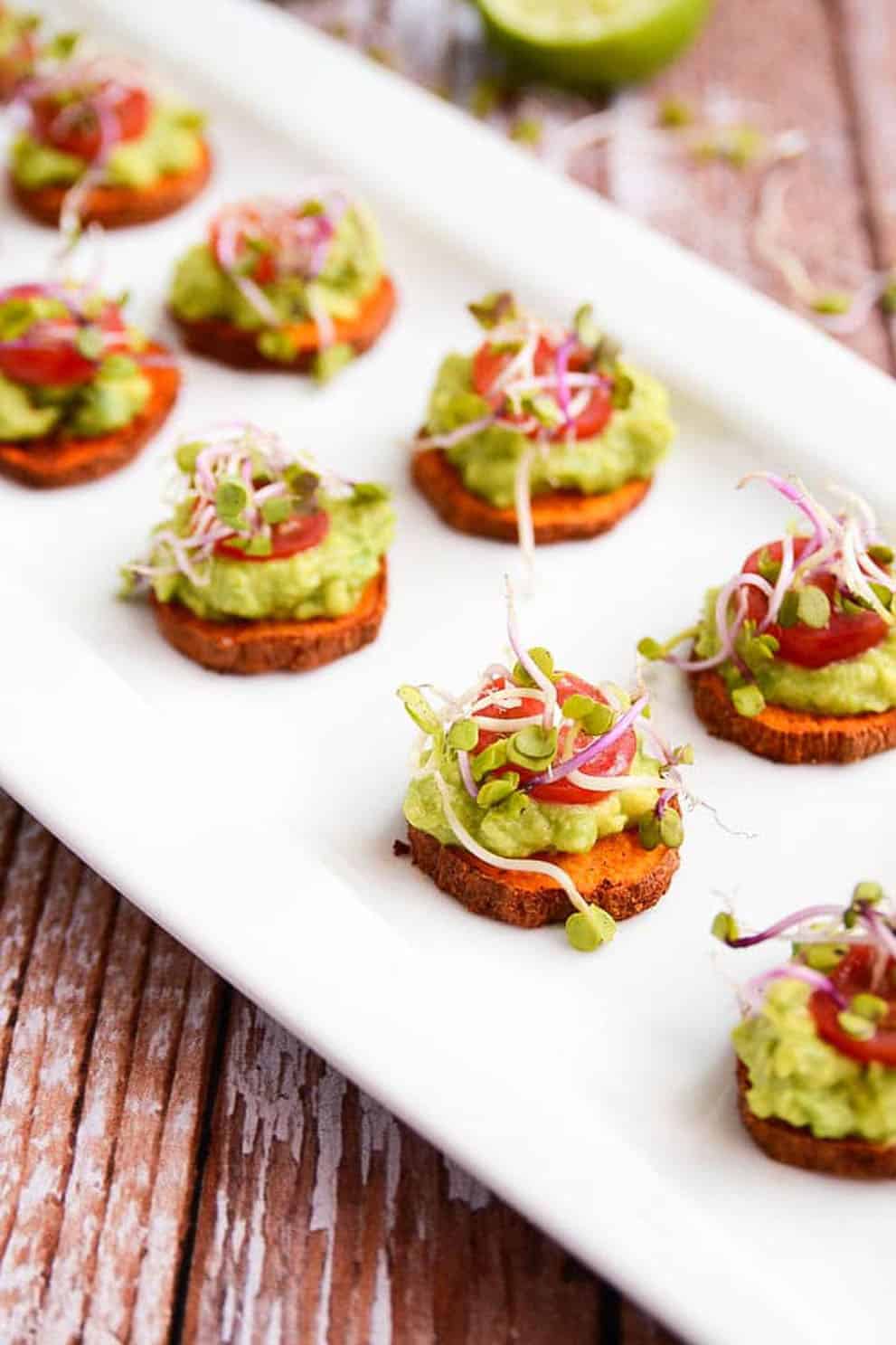 28. GLUTEN-FREE VEGAN SAUSAGE ROLLS by Rhian's Recipes
This is another great appetizer for parties! Packed with white beans and mushrooms, these little bites are full of flavors, crispy and satisfying. Healthy, rich in protein and inexpensive, these vegan sausage rolls are mouthwatering.
29. CRISPY BAKED ONIONS FRITTERS (PAKODAS) by My Food Story
These onion fritters or pakodas are crispy and addictive, you will never believe are baked in the oven and not fried!
So delicious, packed with flavors and healthy, they make a perfect and inexpensive party food ready in 30 minutes.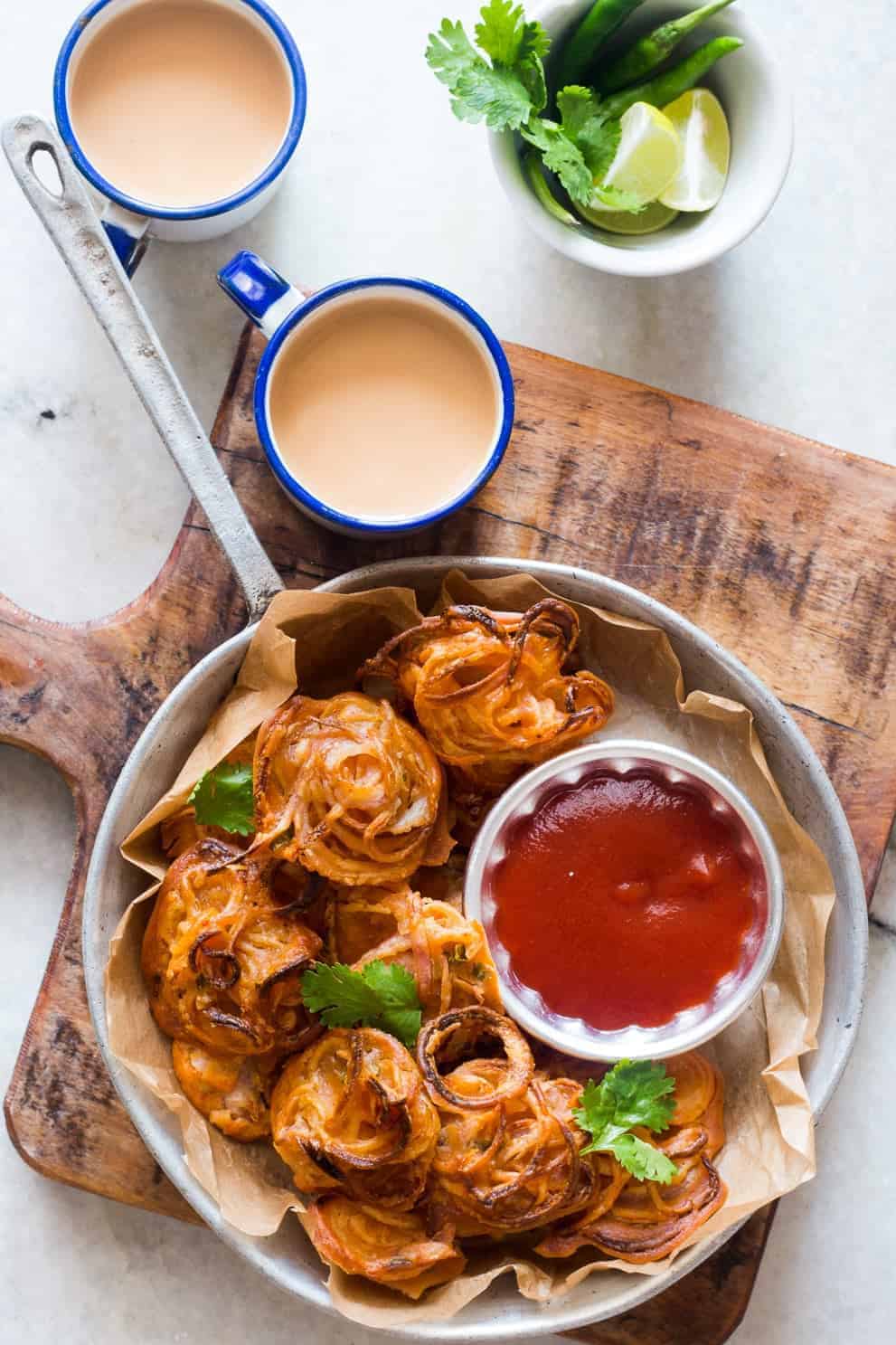 30. GARLIC HERB VEGAN ALMOND CHEESE SPREAD by Delightful Adventures
This creamy almond cheese spread is loaded with flavor and amazing health benefits.
It looks and tastes so good and it's great on crackers and as a veggie dip. This is a perfect party appetizer, so easy to make and ready in 10 minutes.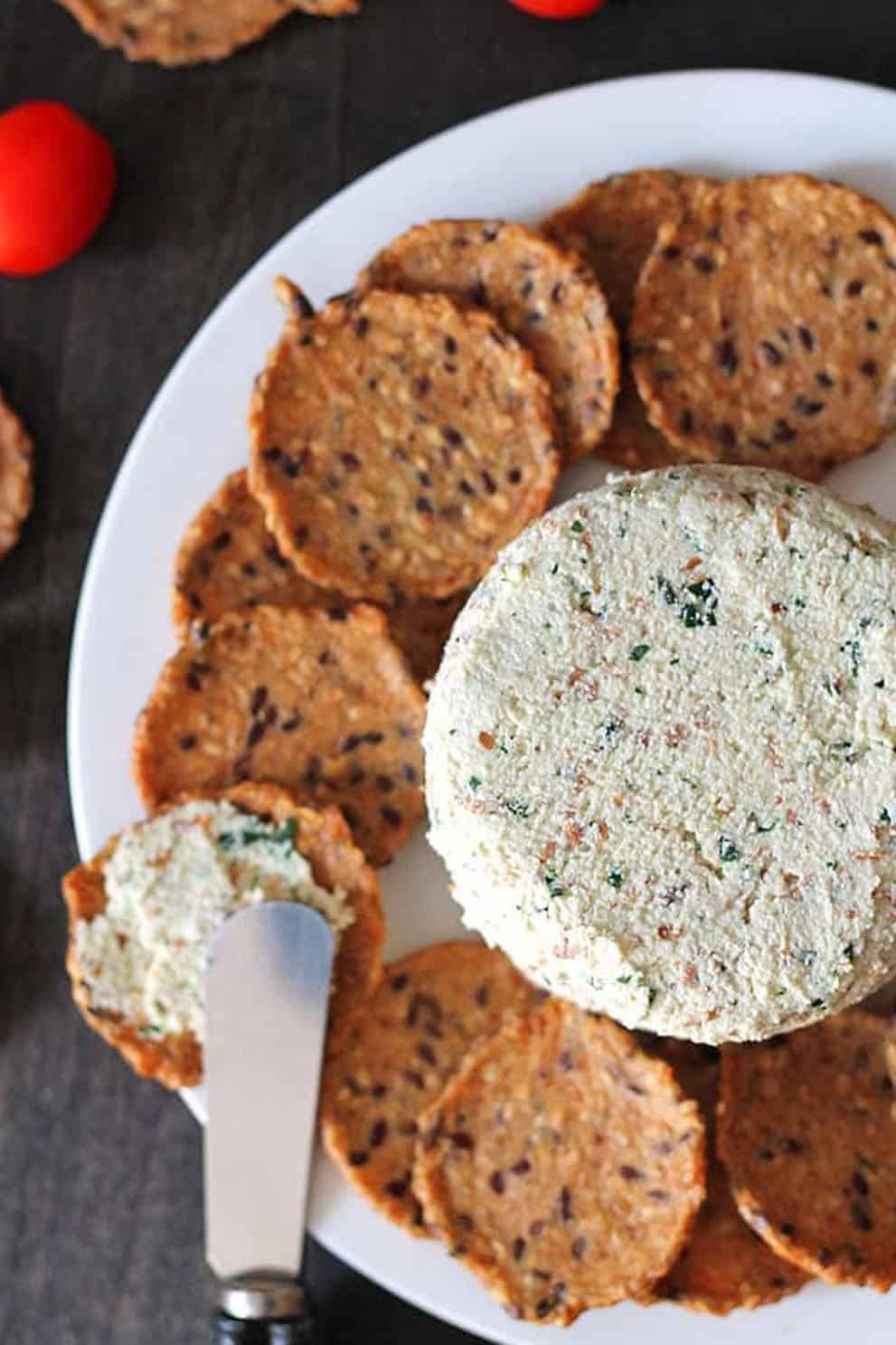 31.  AIR FRYER SWEET POTATOES FRIES by Recipes from a Pantry
These vibrant orange crispy potatoes are full of flavors and easy to make. You can season them with paprika and garlic and they are perfect for a sharing plate. Inexpensive, easy and packed with excellent health benefits.
32. GREEN PEA HUMMUS + A SPRING MEZZE by Occasionally Eggs
This beautiful and protein-packed hummus is made with peas, chickpeas, and lemon for a lighter, sweeter variation of vegan hummus. That lovely pastel color looks stunning on a party table, it tastes delicious and it's ready 10 minutes.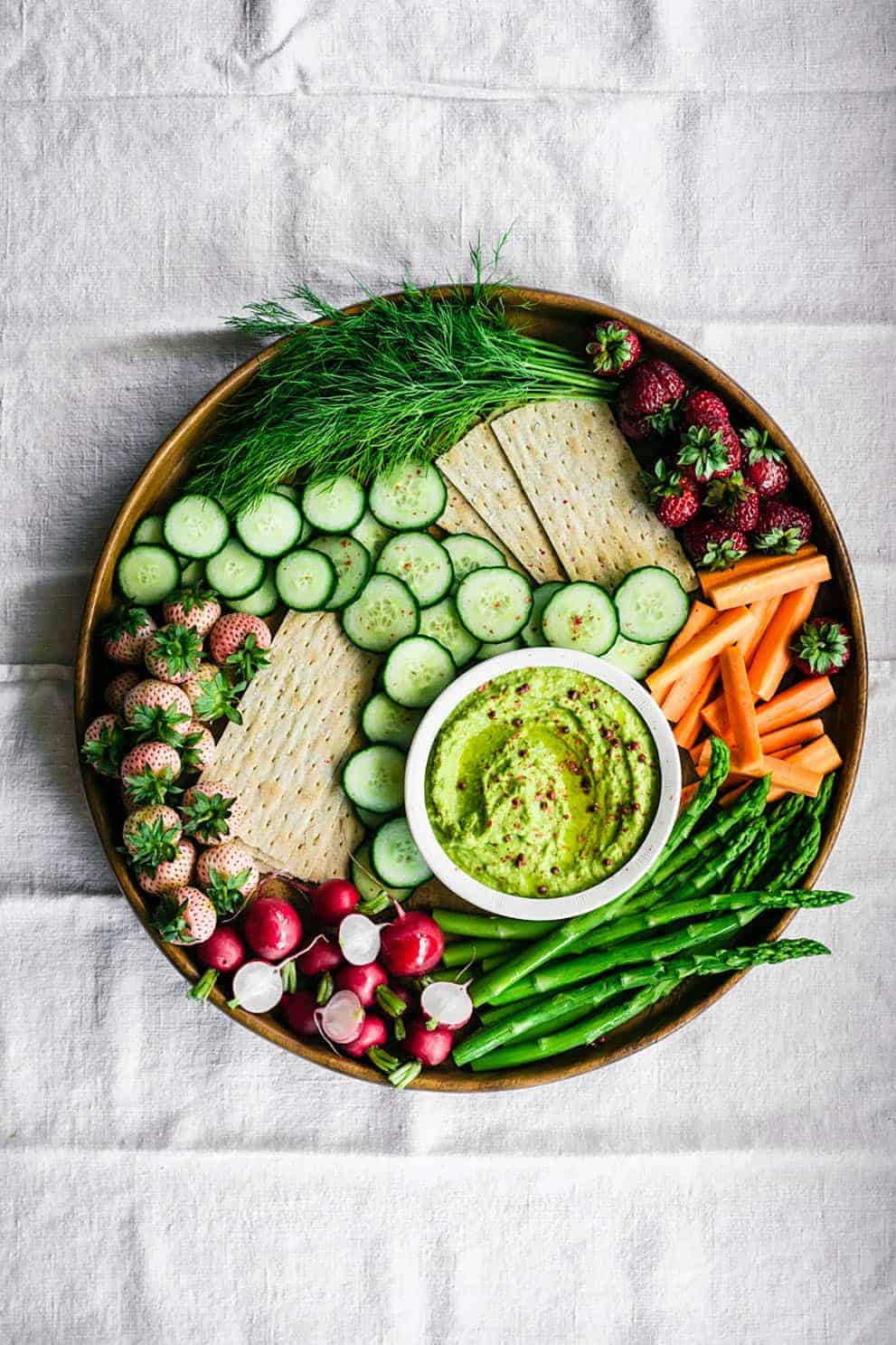 33. VEGAN SPINACH ARTICHOKE CUPS by Vegan Huggs
This scrumptious savoury filling in crunchy phyllo shells makes a fantastic appetizer for your holiday gatherings.
So little, elegant and inviting, these vegan bites are ready in only 20 minutes and they are amazing!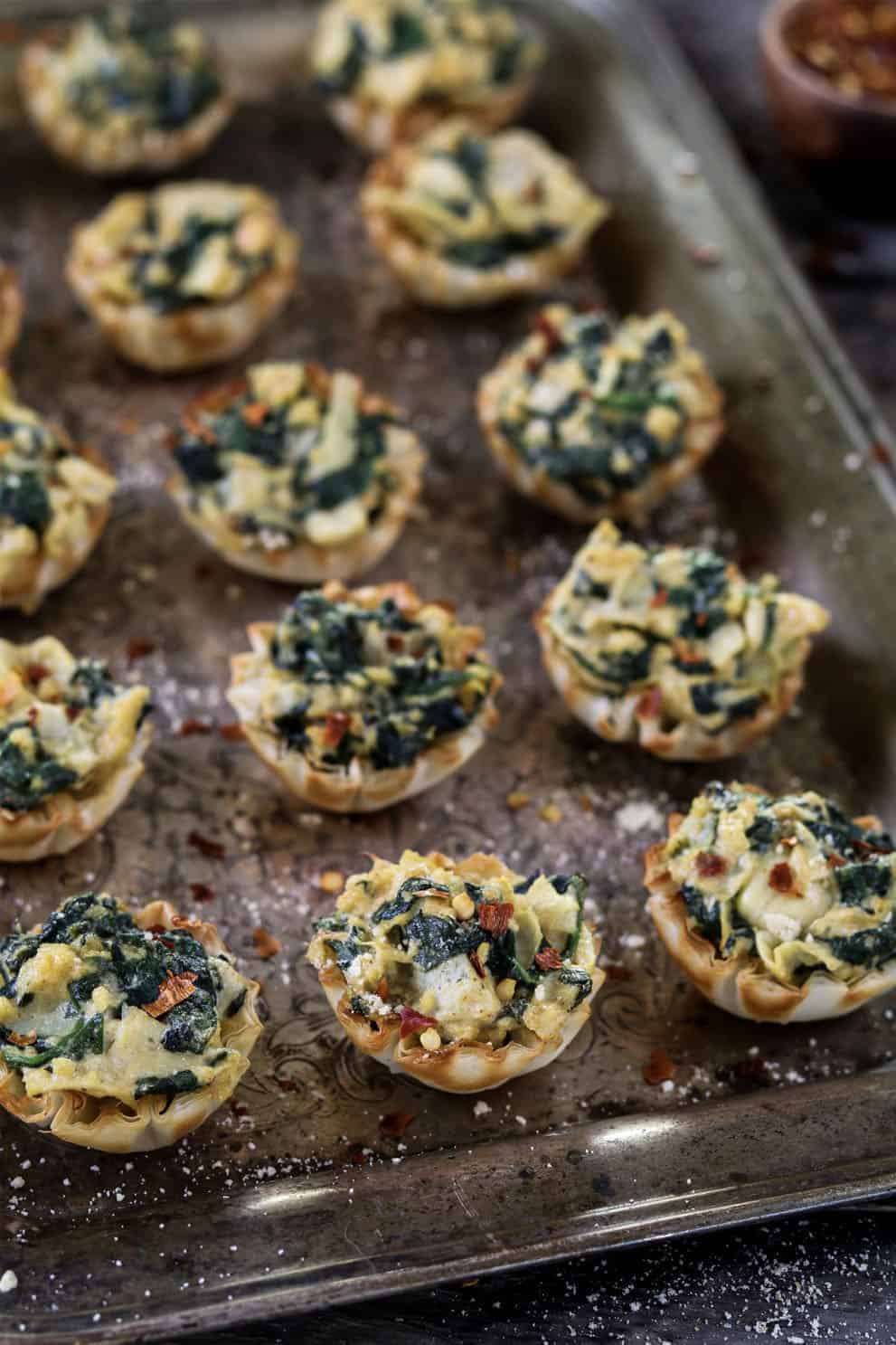 34. SEEDY AND CHEESY TUILES (VEGAN + GF) by Full of Plants
These thin and crispy savory tuiles are cheesy and packed with roasted sunflower seeds and pine nuts. Perfect with salsa or cold dips. If you are looking for crispy chips to enjoy with guacamole or hummus? This is the recipe!
35. FALAFEL by Recipe tin Eats
Delicately spiced with a beautiful fresh herb flavor, these falafels are the perfect balance of flavor, texture and you can't-stop-eating-them. They look so delicious, just perfect for your party table!
36. MINI CRISPY EGGPLANT PIZZAS by Minimalist Baker
What not to love about these irresistible 10-ingredient eggplant pizzas that are gluten-free and vegan?! Cornmeal and vegan parmesan crusted, baked till crispy, this easy recipe makes a delicious appetizer for a party!
37. HUMMUS QUESADILLAS by Cookie + Katie
These quesadillas are so easy to prepare and they are made with hummus instead of cheese. They are filled with spinach and olives and they look and taste absolutely delicious!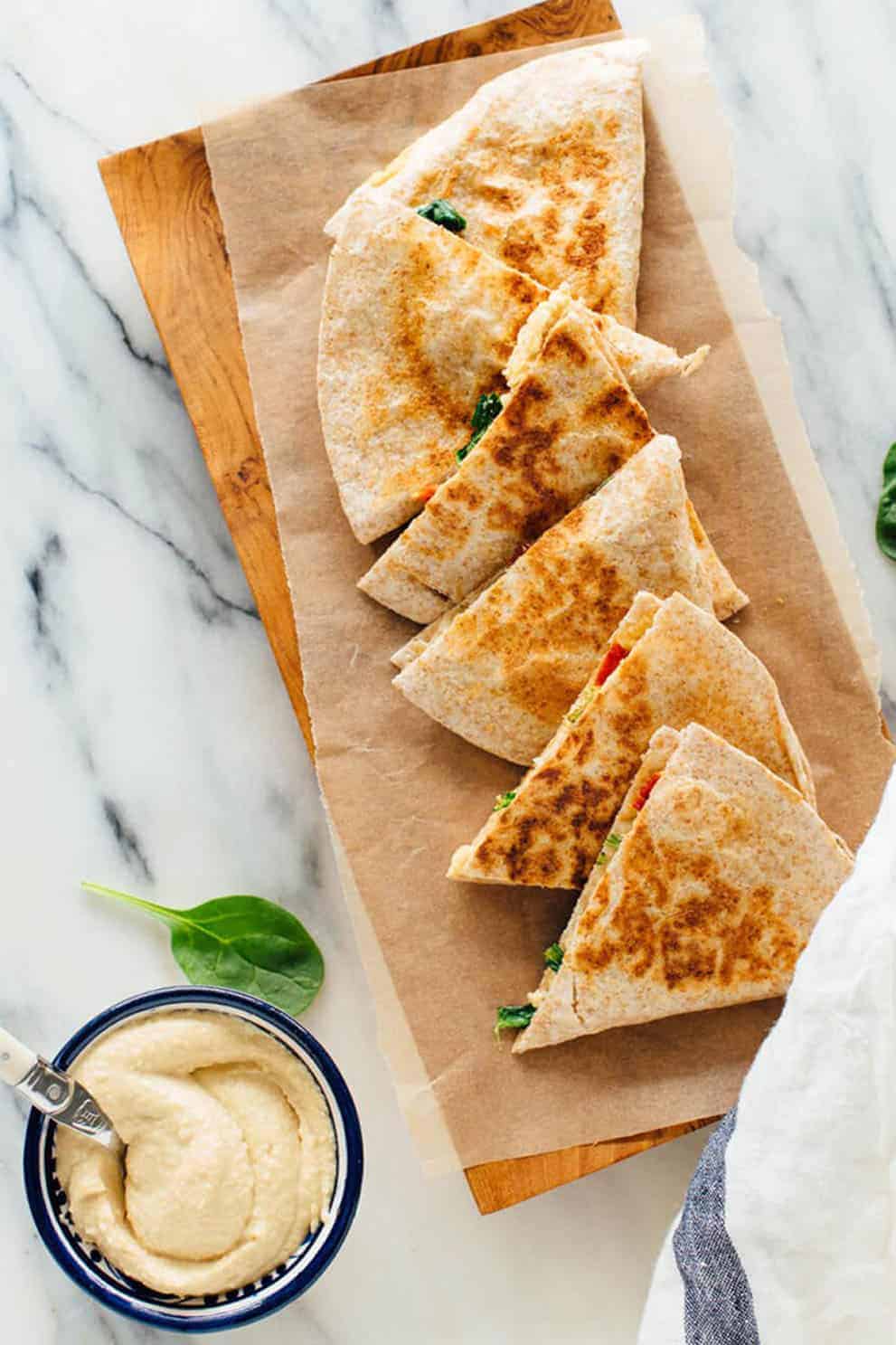 38. VEGAN CRANBERRY "GOAT CHEESE" CROSTINI  by Jessica in the Kitchen
This Vegan cranberry goat cheese crostini is a super quick and easy 10-minute appetizer that's bound to please your guests! It's a great recipe for using up leftover cranberry sauce and they look amazing!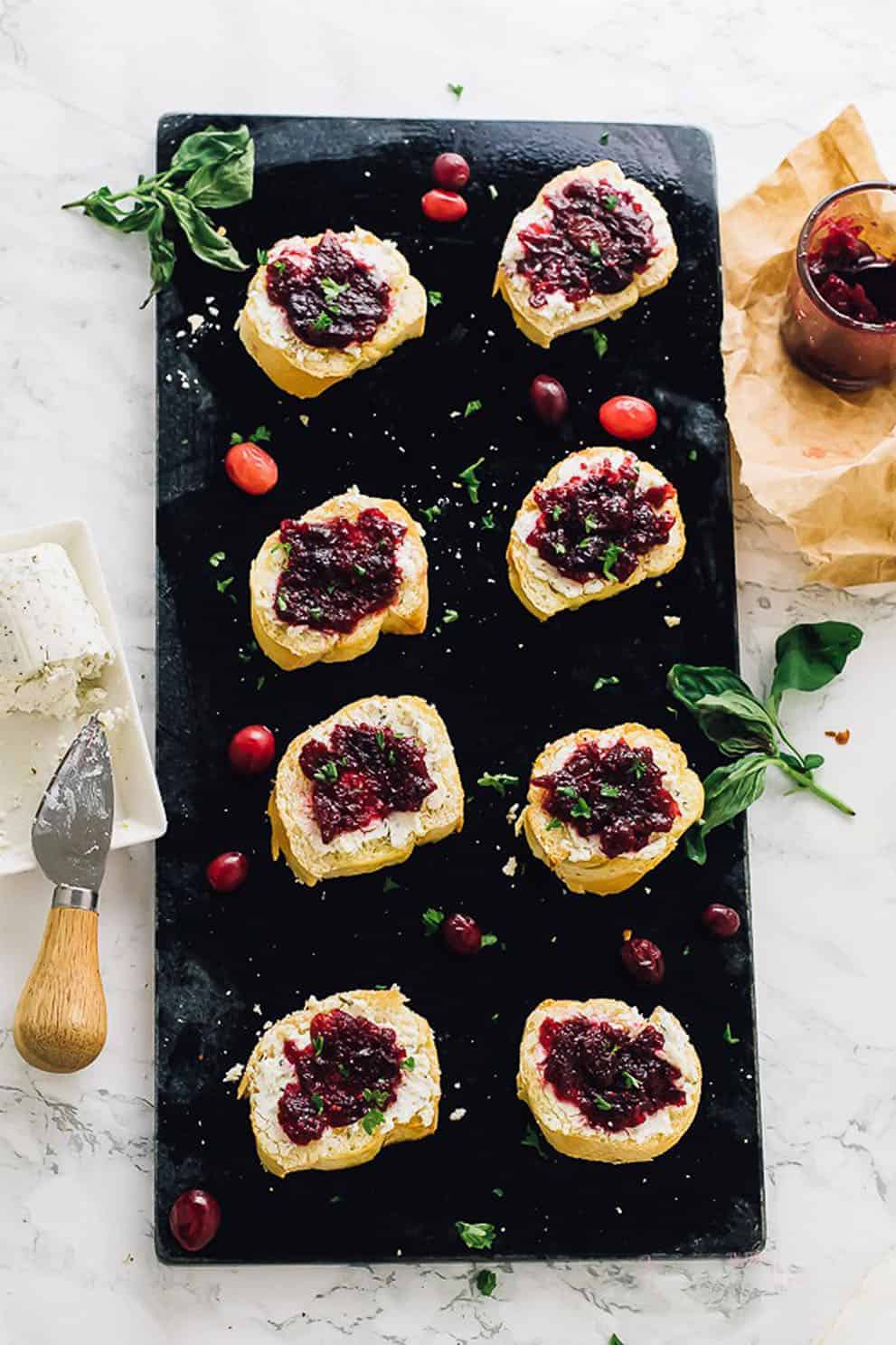 39. VEGAN EDAMAME PESTO DIP by Cotter Crunch
This wholesome appetizer dip is creamy, healthy, and flavorful.  Nut free, rich in plant protein, and made with less than 6 ingredients.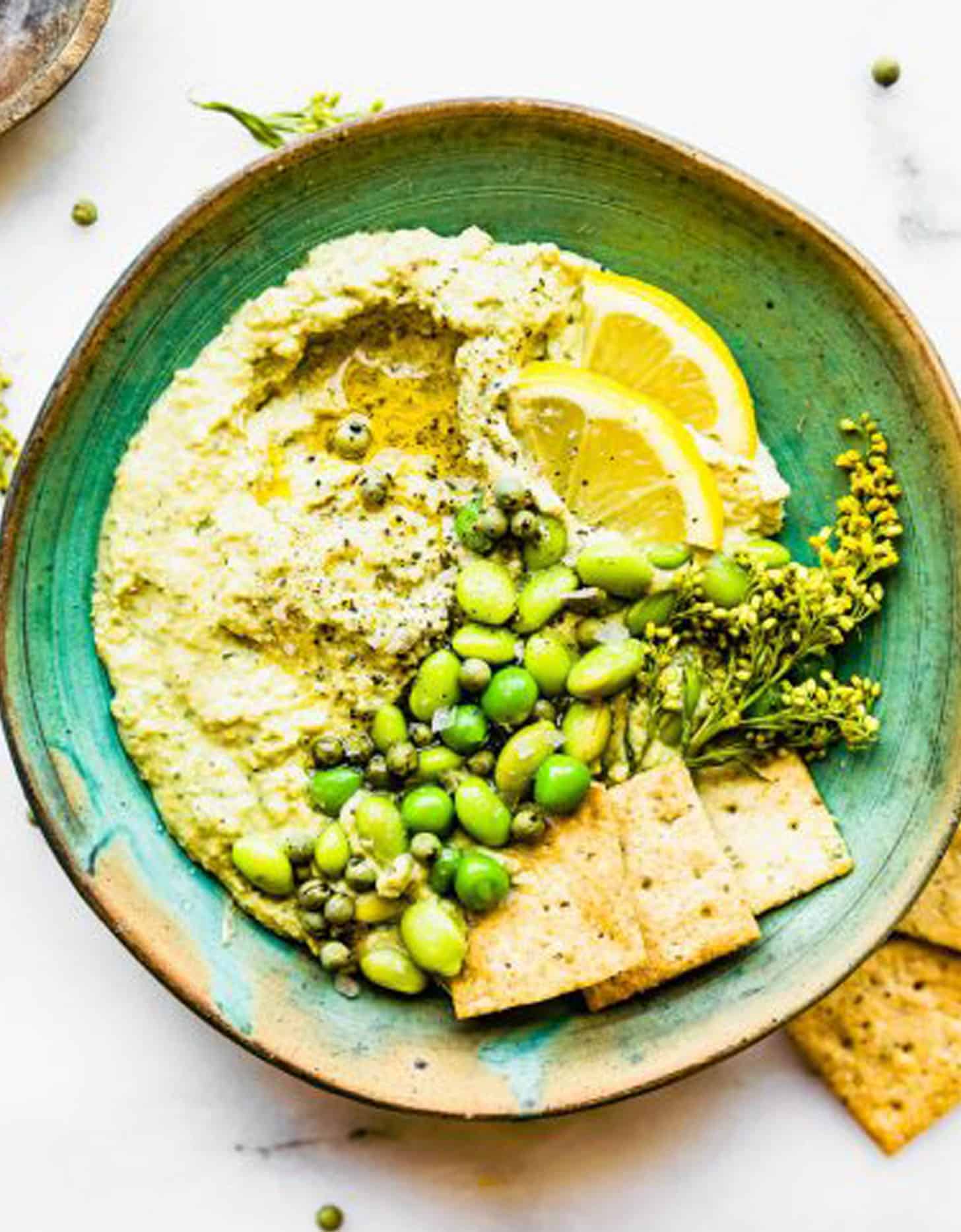 40. VEGAN BAKED FALAFEL (GLUTEN FREE) BY Joy Food Sunshine
These falafel are healthy, gluten-free, dairy-free, vegan and packed with flavors. So easy to make and delicious: bake all the ingredients and bake!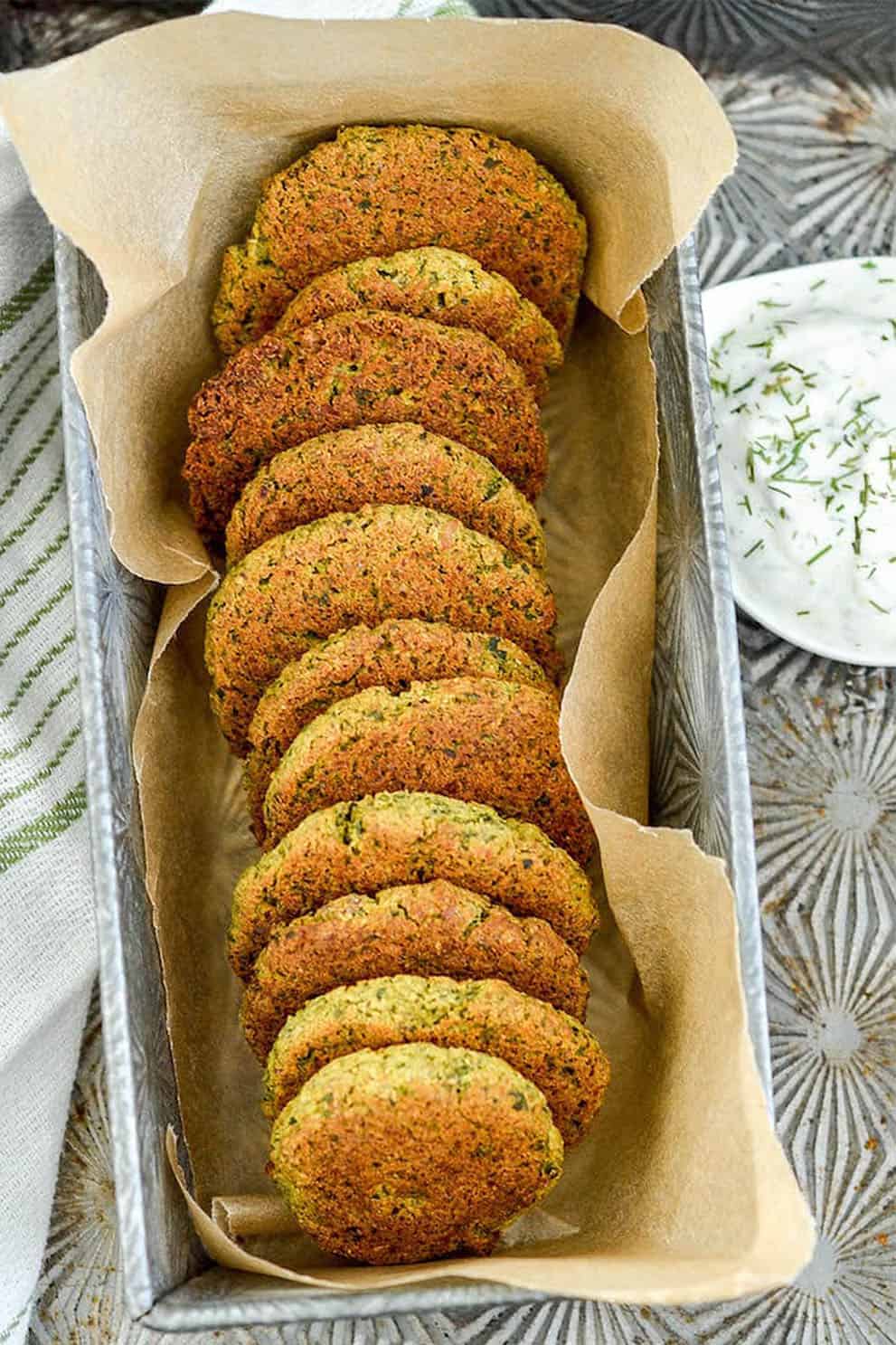 This hummus is made with chickpeas, tahini, lemon, olive oil, and garlic, it's a great standby pantry dip for your guests and parties! Creamy and smooth, it's completely incomparable to the thick, sour store-bought hummus. Delicious, healthy, easy, and inexpensive.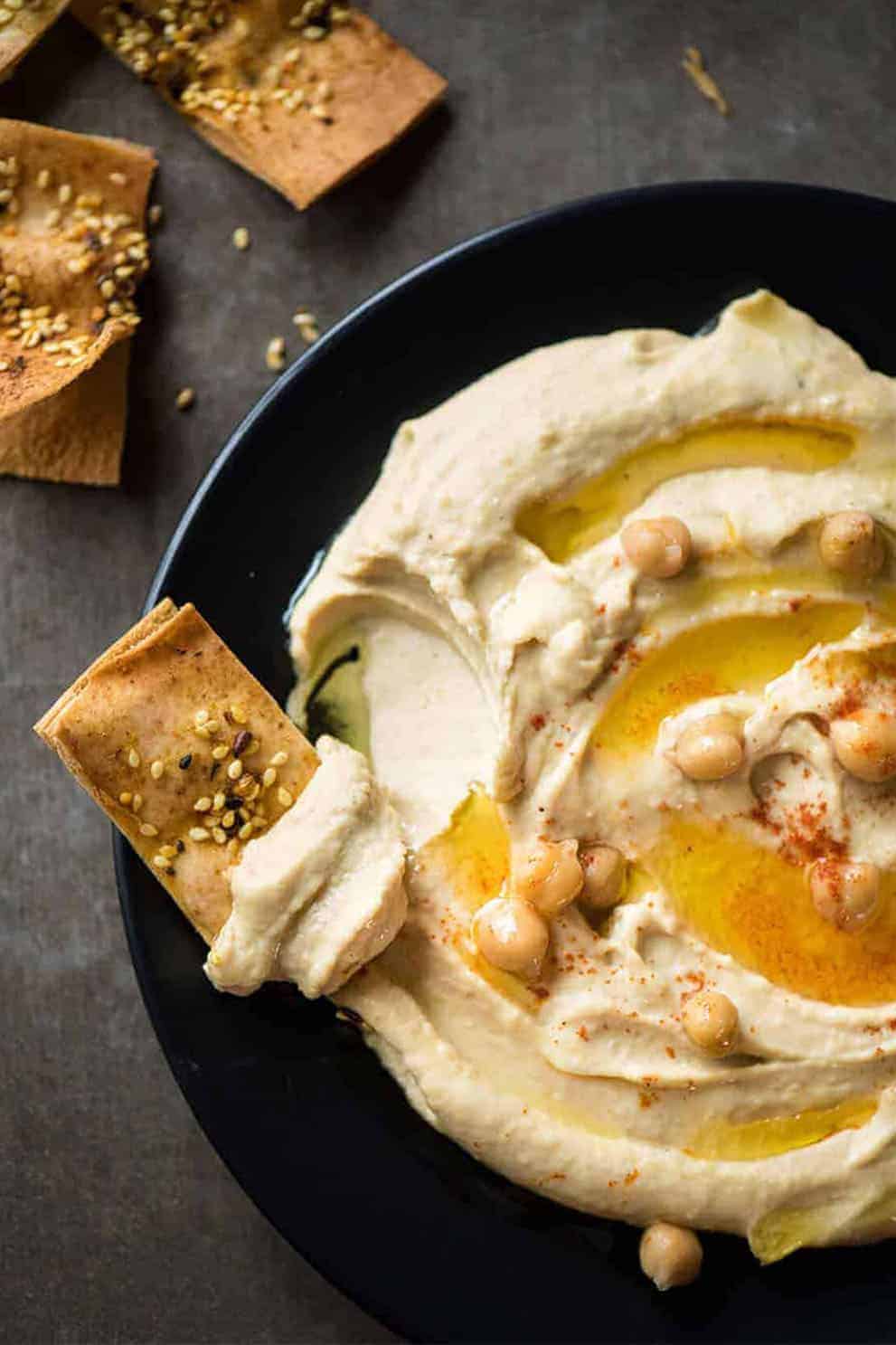 42. VEGAN QUICHE MUFFINS WITH SUN-DRIED TOMATOES AND SPINACH by Jessica in the Kitchen
These vegan quiche muffins sun-dried tomatoes and spinach are loaded with protein and so much flavour, they are perfect for any occasion, and they look amazing for a party table!
43. BAKED KALE CHIPS by Joy Food Sunshine
This delicious and healthy snack is made with only 5 ingredients and is a fantastic way to sneak some crispy greens into your appetizers!
44. SWEET POTATO TATER TOTS (7 INGREDIENTS & VEGAN  by Jessica in the kitchen
These potato tater tots are so easy to make with only 7 ingredients! This recipe makes a great snack as well as an elegant and flavorsome appetizer.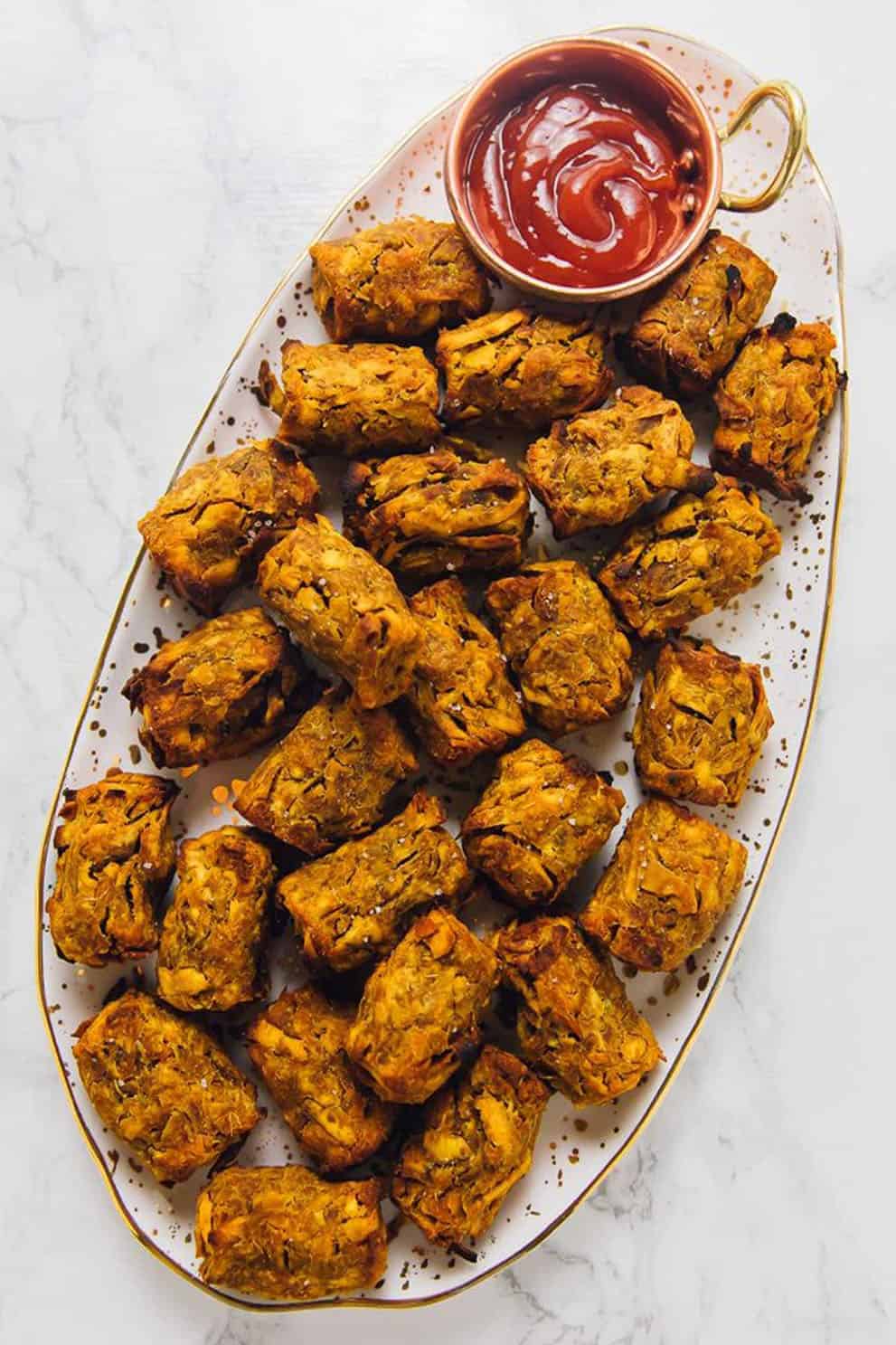 45. VEGGIE BROWN RICE SUSHI by Minimalist Baker
Easy, 10-ingredient sushi with sticky brown rice and vegetables. Hearty, healthy, and delicious this colorful and fresh appetizer looks stunning.
46. BBQ CAULIFLOWER WINGS by The Green Life
After they're baked once, the cauliflower florets are tossed in a homemade BBQ sauce and then baked again until they become beautifully browned and slightly crispy. Delicious!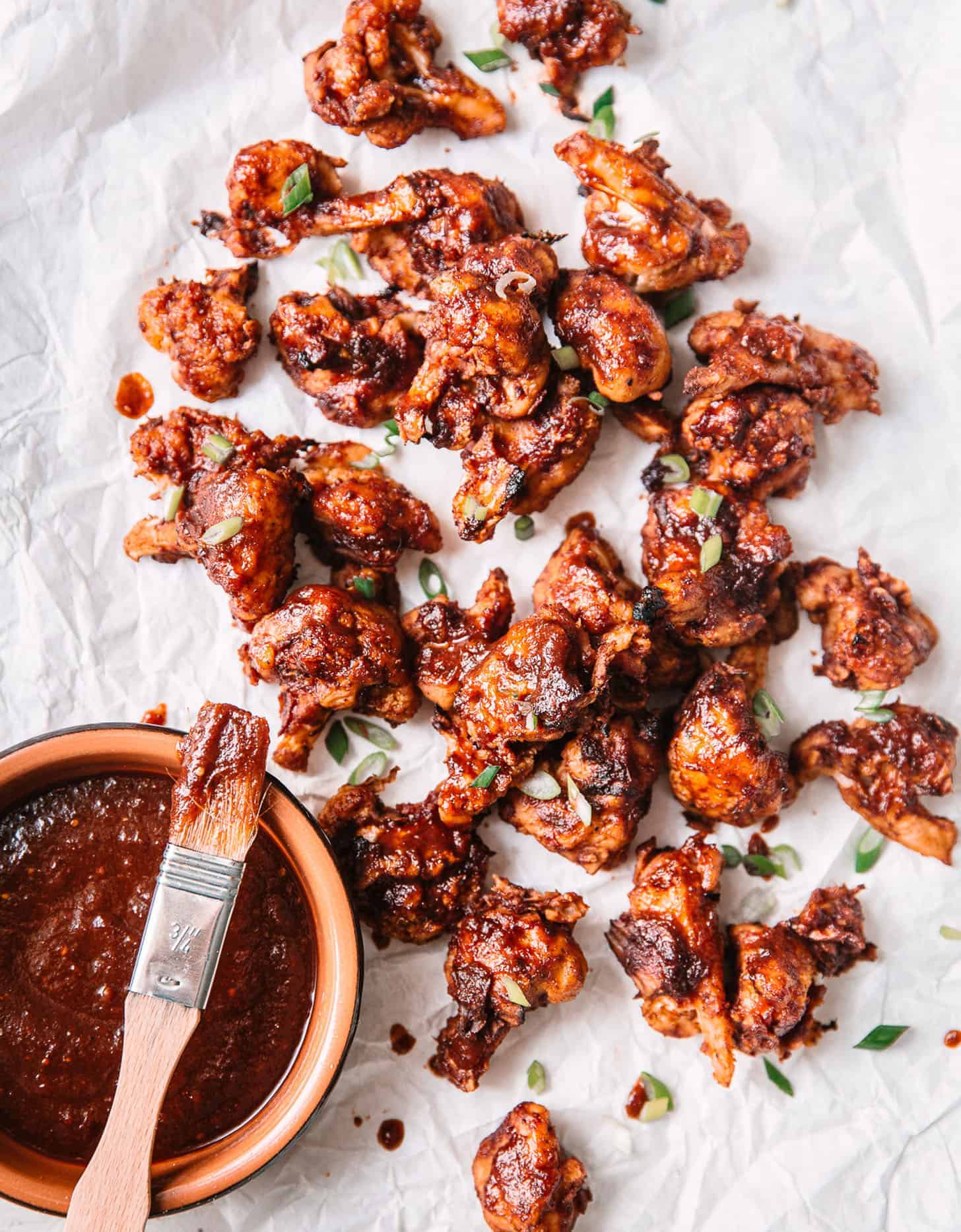 48. BAKED SWEET POTATO WEDGES by The Simple Veganista
Roasted to perfection, these baked sweet potato wedges make a delicious appetizer served with aioli sauce, and they are so easy to make!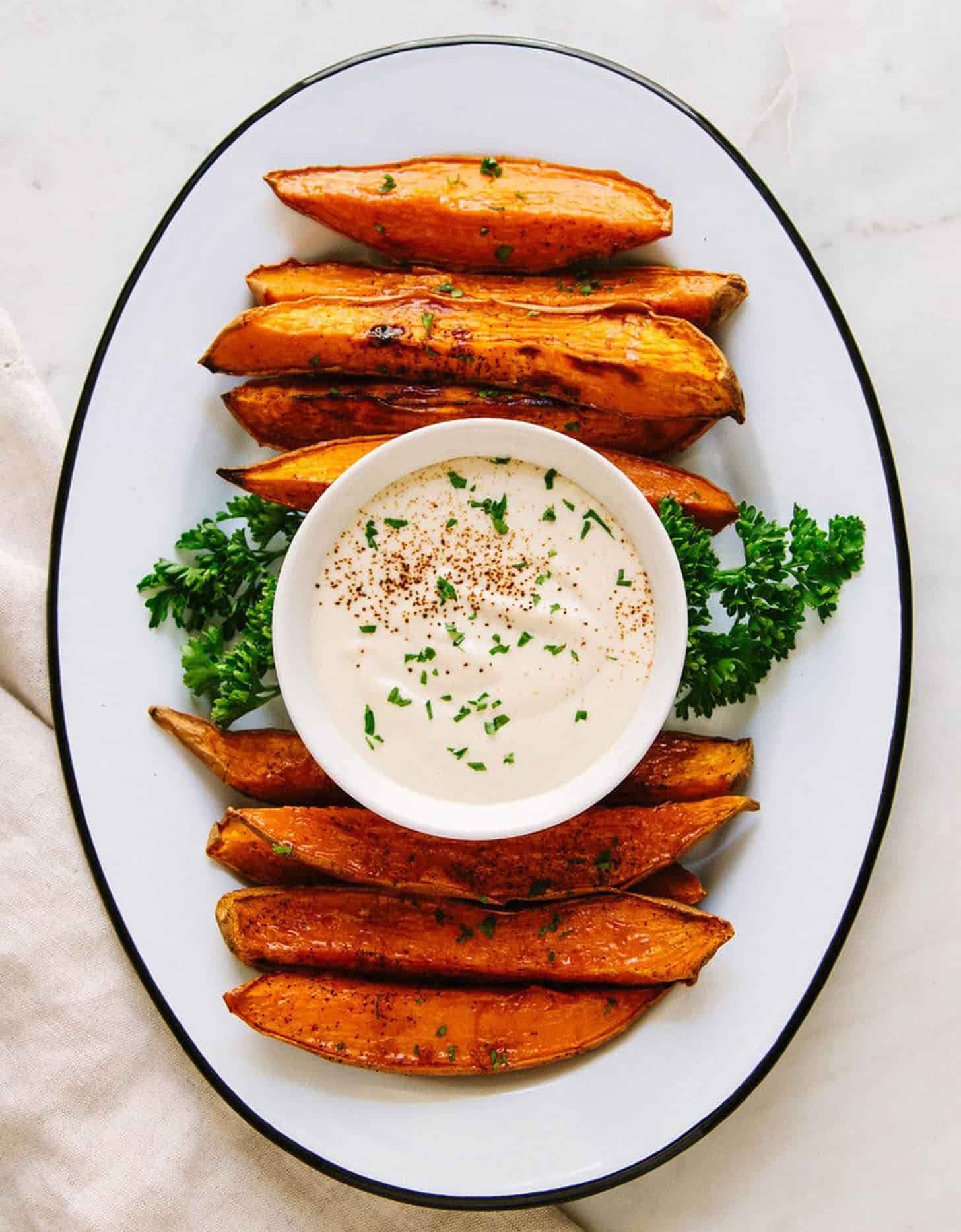 49. EASY VEGAN SALSA CON QUESO by Cotter Crunch
This easy and colorful vegan salsa con queso is an easy warm cheese dip recipe that will disappear as quickly as you make it!
50. RAW VEGAN SUSHI ROLLS by The Simple Veganista
Raw vegan sushi rolls are gluten-free, grain-free, and so easy to make. Perfect for a light and colorful appetizer!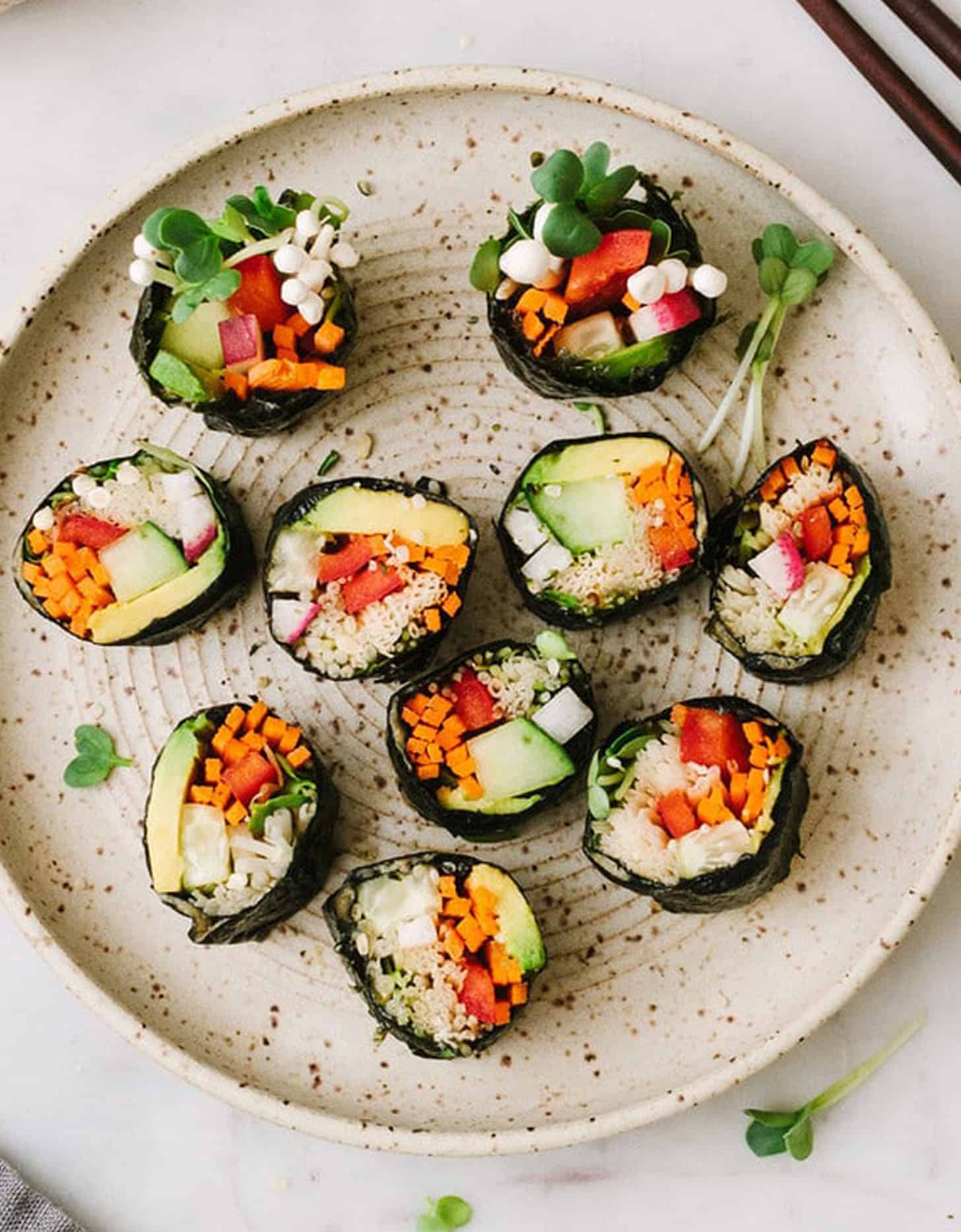 What do you think about this fabulous list of vegan appetizers? Aren't they perfect for your amazing gatherings?
I can't stop eating them with my eyes, so delicious and easy to make.
Last but not least, they are clever, inexpensive and healthy. I love that, don't you? : )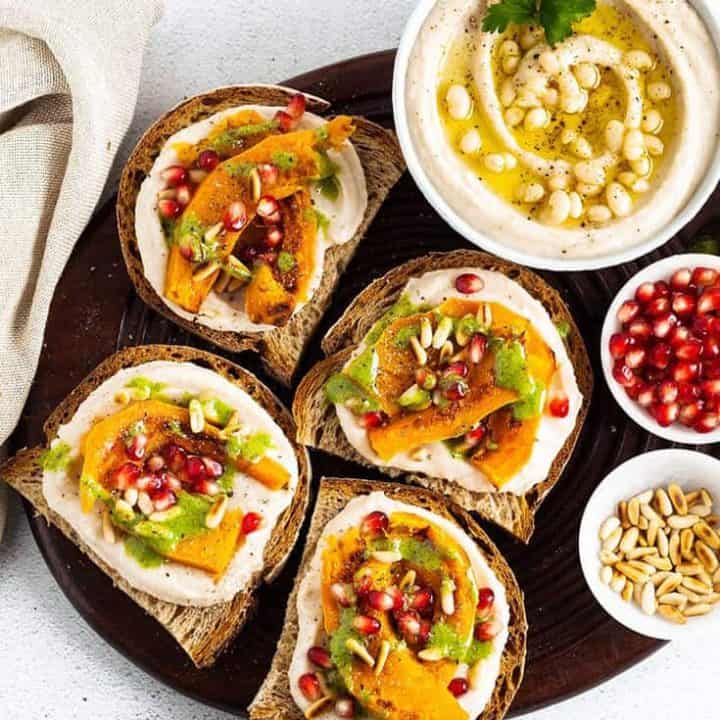 Print Recipe
Easy vegan appetisers