This post may contain affiliate links. Please read my disclosure policy for more details.
You're going to be dipping everything into this creamy delightful beet hummus! It makes a super easy party appetizer and snack, and it looks and tastes fabulous. It's also healthy, vegan, gluten-free.
Best part? It all comes together in less than 10 minutes!
The holidays are quickly approaching and gatherings and dinner parties are right around the corner. To make the festive menu a breeze, today I share this fabulous beet hummus recipe as its colours and flavours bring life to any dining table.
Originally published about 3 years ago, this twist on classic hummus has been one of my fav healthy vegan appetizers ever since.
I love it because it's loaded with nutrients and taste so delicious. I can make it ahead, it's versatile, spreadable, dippable, and I can turn it into a fabulous appetizer in no time.
All you need is beetroot, chickpeas, tahini, lemon, garlic, cumin, olive oil and seasoning. Blend everything together and you're in business.
The cooked beets bring sweet, earthy flavor and a ton of health benefits, the cumin adds its aromatic warmth while the zesty lemon brightens everything.

I think these ingredients provide a lovely balance of flavors and a luscious smooth texture that will make you come back for more.
Make a double batch, it keeps well in the fridge, and it's also great to have it on hand just for day-to-day use as a snack with your fav veggies, crackers, or as a spread on your sandwiches.

List of the ingredients
Chickpeas
Canned beets
Lemons
Olive oil
Cumin
Garlic
Salt & pepper
How to make Beet Hummus
(Note: this is a quick description, the full recipe is at the bottom of the page)
Place all the ingredients into a food processor or into a high-speed blender. I use a Vitamix and I always get the best results.
Blend until super smooth, taste and adjust the seasoning to your liking.
Transfer to a bowl, cover and refrigerate for a little bit so that the hummus chills nicely and flavors deepen.
Serve with crispy crackers, toasted pita bread and crudités.
Recipe notes & tips
Beet hummus ingredients
Beets: convenient canned or vacuum-packed beets are economical, provide amazing nutritional benefits, and work perfectly for this recipe.
Chickpeas: protein-packed chickpeas, also known as garbanzo beans, are the star ingredient in every hummus recipe. For convenience, I use canned chickpeas, but if you use dried chickpeas make sure to soak them ahead of time, and let them boil for a bit longer than you normally would, until they become very soft.
Tahini: it's essentially like a sesame version of peanut butter. It's rich, nutty and slightly bitter paste made from toasted sesame seeds. It's a must ingredients for hummus that provides extra flavor and texture.
Garlic: we use only 1 garlic clove, just to give the hummus a pop.
Cumin: this bold spice adds lovey warm notes, please don't skip it.
Extra virgin olive oil: good-quality extra virgin olive is essential for flavor and nutritions.
Lemon: we use lemon juice and zest here, but the lemon flavor will be quite delicate, not overpowering.
Salt & pepper: I give you the amount of salt and pepper in the recipe, but please make sure to adjust it to your taste if needed.
Are beetroots good for you?
Beetroots are low calories but rich in manganese, magnesium, and iron essential for bones, muscles, brain, and healthy hair. They have been associated with numerous health benefits, including improved blood flow, lower blood pressure, and increased exercise performance.
This beet salad and chocolate beet cake are also great ideas to incorporate convenient, healthy beets into your diets.
Serving suggestions
You can enjoy this healthy creamy beet hummus with veggies or crackers (or straight off a spoon) as a quick snack, but you can also serve it as a crowd-pleaser appetizer!
Let's see how to impress for less:
Make it fancy. Place a heaping big dollop of hummus in the center of a large plate or in a small bowl, and with the back of a spoon give a few nice swirls on the top.
Drizzle. Add a good drizzle of extra virgin olive oil on top.
Garnish. Add some chopped walnuts and some seeds (sesame, chia or poppy seeds look great), but chopped parley or coriander will do as well.
Make a colorful platter. Serve with crispy crackers, toasted pita bread, and seasonal crudités such as cucumber, carrot or pepper stripes.
Make canapés. You can also top small crackers with a little dollop of beet hummus and decorate them with walnuts and baby watercress. Don't they look lovely?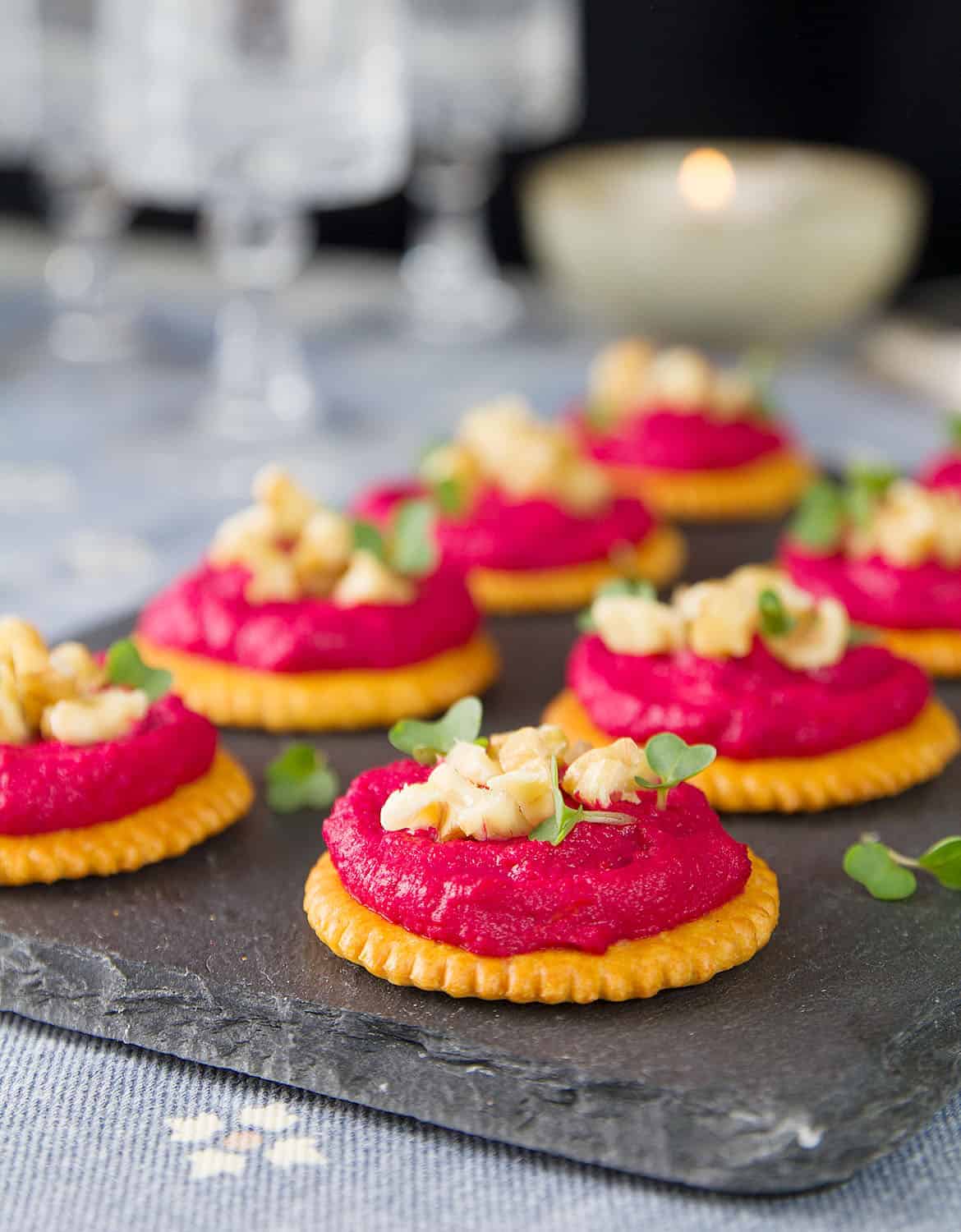 How long does this beetroot hummus keep?
It keeps well for up to 4 days in the refrigerator, stored in an airtight container, so it's perfect if you're planning to make it ahead.
And if you have beet leftovers you can make a double batch of hummus, or you can freeze them for next time (just don't be tempted to add too many beets to the recipe, that will spoil the texture!).
More easy appetizers?
If you are looking for appetizers or party food recipes to impress your guests, check out these collections of vegan appetizers, delicious party food ideas, terrific 40+ Italian appetizers and 25 dairy-free appetizers!
Just to name a few of my favorites:
If you make this beet hummus, or if you have any questions, just let me know in the comments or rate the recipe. I would love to hear from you!
And for more recipe updates, subscribe my newsletter and follow me on Instagram, Pinterest and Facebook.
Print Recipe
Beet Hummus
You're going to be dipping everything into this creamy delightful beet hummus! It makes a wonderful party appetizer and snack, and it looks and tastes fabulous. It's also healthy, vegan and gluten-free.Recipe Update: originally posted in October 2019, the recipe has been updated with new photos and notes.
Ingredients
1 can

(14oz/400 grams) chickpeas, drained (but reserve some of the water)

7 oz

(200 grams) cooked beetroots, cubed and drained

2

Tablespoons

tahini sauce

1

lemon, zest and juice

4

Tablespoons

extra virgin olive oil

1

garlic clove, sliced

1 ½

teaspoon

ground cumin

¾

teaspoon

fine salt, or more to taste

⅛

teaspoon

black pepper, to taste
Garnish (optional)
nuts (walnuts or pine nuts)

Seeds (sesame seeds, chia or poppy seeds)

extra virgin olive oil
Instructions
Place all the ingredients into a food processor or in a high-speed blender.

Blend until smooth and ultra creamy. if it looks too thick, you might gradually add some of the reserved chickpea liquid or some water until the desired consistency is reached.

Taste ad adjust the seasoning according to your own taste. You might want to add a bit more salt, pepper, lemon juice. Taste and adjust seasonings to your liking.

If time allows, transfer the hummus to a container and let is rest in the fridge for about 30 minutes until the flavors can meld.

Serve it in a large plate or in a small serving bowl, make a nice swirl on top with the back of a spoon, top with chopped walnuts, seeds, and a drizzle of extra virgin olive oil. Serve with crackers, pita bread, or crudités on the side.
Notes
Dried chickpeas: if you use dried chickpeas, make sure you soak them in water overnight and cook them in boiling water until they're very soft. Drain them and keep in mind you need about 

1 ½ cup for this recipe.
Storage: It keeps well in the fridge for 4 days.
Chickpea water: if you prefer a lighter hummus, the chickpea cooking water can be used instead of the olive oil (but it delivers less flavor).