This post may contain affiliate links. Please read my disclosure policy for more details.
Find the perfect nibble and bite among these delicious dairy-free appetizers, they taste outrageously good and your guests will not stop eating them.
I can guarantee you nobody will miss the cheese!
It's impossible to stop nibbling on warm pieces of Italian focaccia, spicy olives and bruschetta. Creamy, decadent dips and crispy crackers and breadsticks, amazing falafels and smoked devil eggs.
All terrific recipes without any dairy ingredients.
They're easy to make, and most of them keep well in the fridge, perfect to make ahead and to serve when your guests arrive.
Whether you're lactose-intolerant or just want to cut back on your dairy intake, you'll love these delicious dairy–free appetizer recipes.
Enjoy!
Not only dairy-free appetizers…
Here more ideas to add to your dairy-free menu, a few salads and desserts that you might love:
More appetizers recipes
If you plan to make dairy-free appetizers and also appetizers that might contain dairy products, you might be interested in these collections of terrific 40+ Italian appetizers, 40+ Party food ideas and colourful vegetarian appetizers!
Whether you plan a dinner party, potlucks or any other special occasion, I hope that a few of these lovely recipes will be on the menu!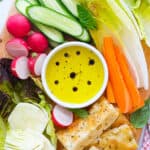 Print Recipe
25+ Dairy-free Appetizers
Pinzimonio is one of the easiest, simplest and most versatile Italian antipasti. It's light, healthy, delicious and absolutely perfect to celebrate local, seasonal, fresh produce.
Ingredients
Pinzimonio
3

Tablespoons

extra virgin olive oil

½

teaspoon

balsamic vinegar or lemon juice (optional)

¼

teaspoon

fine salt, plus more to taste

⅛

teaspoon

freshly ground black pepper, or to taste
Crudités (use more veggies if you like!)
1

fennel bulb, sliced

4

small carrots, cut into sticks or sliced lengthwise

1

small cucumber, sliced lengthwise

4

radishes, cut into halves

1

endive or romain salad, use the whole leaves
Instructions
Place the ingredients for pinzimonio in a small serving bowl and whisk until well combined. You can also place them into a glass jar with lid and shake until they are emulsified. Taste and adjust the seasoning to your taste.

Pour the pinzimonio into small serving bowls, one per guest if you wish.

Trim the veggies, remove filaments, cut each vegetable into slices or sticks, and separate salad leaves. Wash them well under cold runny water and pat them dry with a kitchen towel.

Arrange all the veggies on a serving platter or on a wooden board and serve them along with the pinzimonio.