This post may contain affiliate links. Please read my disclosure policy for more details.
This easy breadstick recipe doesn't require a stand mixer and makes irresistible long, fancy, crispy breadsticks, aka grissini. Serve them with cheese, olives, salads or charcuterie board. Seriously, they're addictive!
Make a double batch if you have friends around, they will be gone in no time!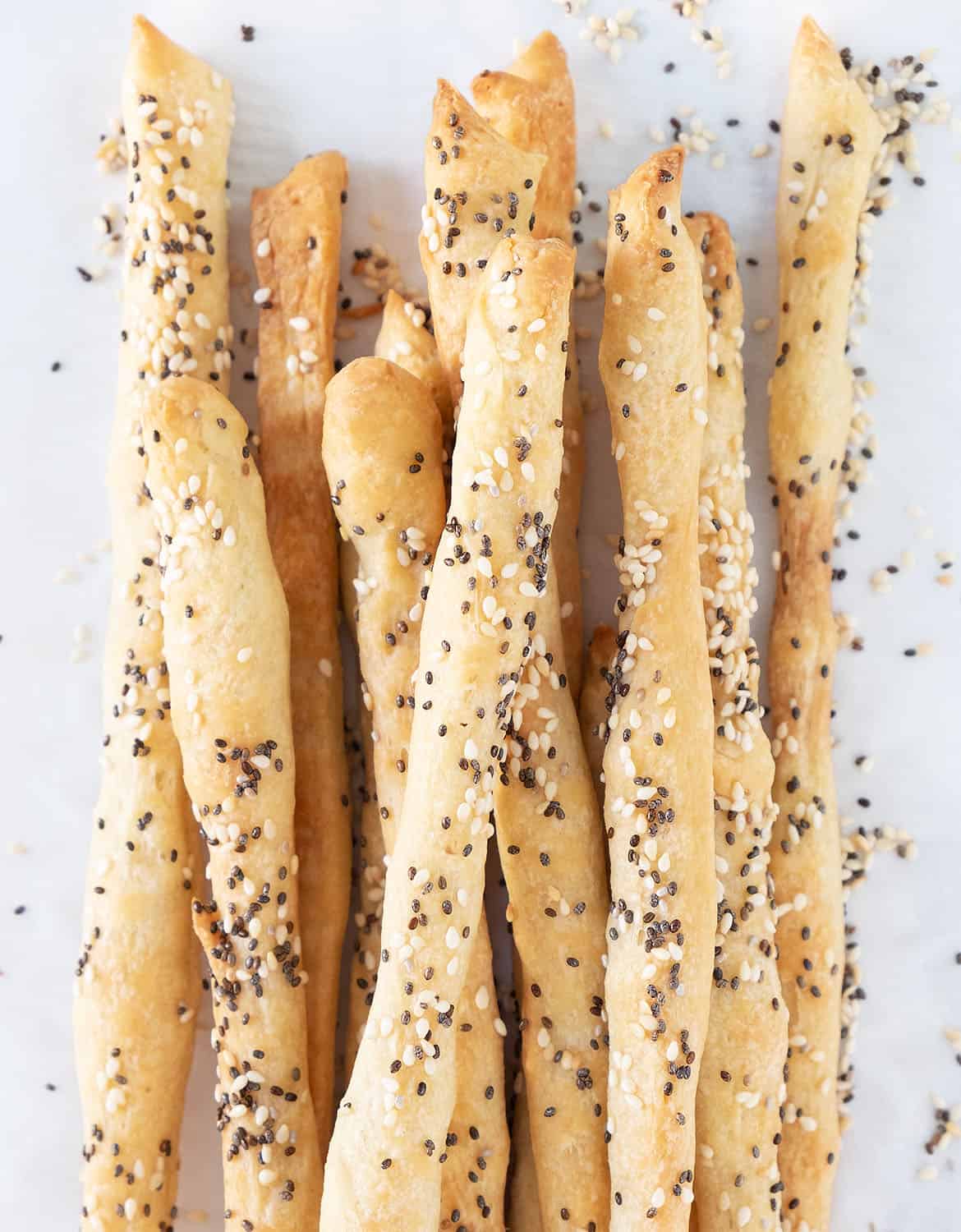 Friends, this is not a copycat recipe that makes Olive Garden breadsticks or pizza HUT breadsticks. These are amazingly crispy Italian breadsticks called "grissini stirati" – literally pulled-apart breadsticks – and they come from Turin, my hometown 💛.
Are you following? So let's talk it through!
These breadsticks are not chewy and soft, but they're long, thin, rustic, super crispy AND absolutely delicious.
Grissini are a must in every Italian restaurant and bakery. They are made with a handful of simple ingredients and are rich in olive oil which brings plenty of flavor and an irresistible texture.
Best part? You can make homemade breadsticks right now.
The recipe is so easy and the dough is pliable and a breeze to put together. You can also customise them with your favorite seeds, dried herbs, or spices, parmesan cheese, garlic.
They can only get better!
Although economical and easy, these long, golden grissini breadsticks look impressive on every appetizer platter. They also go beautifully with any dish, from soups and salads to cheese, and make a perfect snack on their own.
You guys, if you have never tried freshly made Italian breadsticks, it's time to give them a shot. I mean, now. : )
What ingredients you need
Bread flour or all-purpose flour
Instant yeast (or active dry yeast)
Salt
Water
Olive oil or extra virgin olive oil
Seeds (optional) I used sesame and chia seeds
How to make breadsticks from scratch?
(Note: full recipe at the bottom of the page)
Whisk flour, yeast, and salt in a large bowl.
Add warm water, olive oil and stir well with a wooden spoon.
Knead by hands for about 1 minute. As you can see the kneading is minimum and no dough hook attachment is required (just your hands : ).
Flatten the dough into a rectangular shape on a parchment-lined baking sheet.
Brush liberally with olive oil or melted butter.
Sprinkle with seeds and cover loosely with plastic wrap.
Let it rise until fluffy (total time: 1 hour).
Cut crosswise into 1/2-inch-wide strips (I use a pizza cutter!).
Grab each strip and pull at the end to make it longer and thinner. That's why we call them "grissini stirati" (pulled-apart), and no worries if they look a bit wobbly, they're meant to be rustic and uneven :).
Bake for about 20 minutes until golden brown and crusty!
Recipe notes & Faqs
What are breadsticks made of?
Let's have a look at the ingredients and at some FAQ's:
Flour: all-purpose flour, bread flour, spelt flour, or even a mix of those flours, they all work just fine in this breadstick recipe.
Yeast: I used instant yeast which can be added directly to the dry ingredients, but any kind of yeast mixture works as long as you let the dough rise until doubled in size. It might take 1 hour or a bit more. If you use Active dry yeast, follow the manufacturer's directions and make sure it's still active and not expired.
Extra virgin olive oil: olive oil or extra virgin olive oil are the best ingredients for this breadstick recipe. Not only are they essential to create a crispy texture, but they have a lot more flavor than other vegetable oils. Alternatively, you can brush them with melted butter before baking.
Salt: fine salt for the dough, but you can experiment with any kind of flaky or smoked salt for the top!
What are breadsticks eaten with?
Breadsticks are good with basically everything!
In Italy, they're served on wooden boards or in baskets along with bread, and they go so well with a huge variety of Italian appetizers such as marinated mozzarella, olives, or and any kind of dish you would serve with crusty bread like pasta or your fav soup. They are also great with yummy dips like marinara sauce, sun dried tomato paste or green olive tapenade… all big flavors!
Variations for your homemade breadsticks
The classic Italian breadsticks from Northern Italy are usually pretty simple, mostly plain. But you can experiment with different ingredients, the recipe itself is very flexible: you can add 1/4 teaspoon of garlic powder to the dry ingredients, or small seeds (sesame seeds, poppy seeds, chia seeds), dried herbs (oregano and rosemary are the best), salt (smoked or flaked sea salt).
For or a more rustic look and texture, one of my favorite combinations is brushing them with extra virgin olive oil and then I use a fine layer of semolina flour for dusting.
Fancy cheese breadsticks?
For parmesan breadstick, use less salt (about 3/4 tsp) and add 1/4 cup of grated parmesan cheese to the dry ingredients. The savory parmesan cheese goes into the dough.
How long do breadsticks last?
They last up to 2-3 days if stored in a sealed bag or in air-tight container, but keep in mind that the weather affects greatly the texture. Here in rainy London, they last 1-2 days, but it's ok since they are so good that they never last that long 🙂
More Italian baking goods?
I'm sure you'll love these collections of 15 Italian Focaccia toppings, 17 Veggie pizza recipes and 25 delicious pizza toppings. Below a few of our favorite recipes:
I hope you'll enjoy these amazing breadsticks as much as we do, and if you make it or if you have any questions, please leave a comment, rate it, or tag a photo #theclevermeal on Instagram (without posting the recipe, please!).

I would love to hear from you!
Print Recipe
Breadsticks (aka Grissini)
This quick easy breadstick recipe makes irresistible crispy breadsticks you can customise with your favorite seeds or herbs. They're perfect as a snack or served with your cheese or charcuterie board. The recipe yields 16-20 long breadsticks.
Recipe update: the recipe has been originally published in December 2020 and updated today.
Ingredients
2 cups

(250 grams)

bread flour or all-purpose

1

teaspoon

fine salt (or ¾ tsp if using parmesan cheese)

1

teaspoon

instant yeast (or active dry yeast)

½ cup + 1 Tbsp

(135 ml)

lukewarm water*

¼ cup

(60 ml)

olive oil or extra virgin olive oil

2-3 Tbsp

seeds (poppy seeds, sesame, or chia seeds) (optional)
Instructions
Place flour, yeast, salt in a bowl and mix them thoroughly with a whisk. If using parmesan cheese or garlic powder, add them now.

Stir in water and olive oil, mix well with a spatula (keep in mind if you might an extra touch of water is using cheese or if using whole grain flour). Transfer the dough to a lightly floured surface and knead until smooth, it will take about 1 or 2 minutes (the dough should be pliable and easy to work with).

Place the dough on parchment-lined baking sheet and using your fingers gently flatten it into a rectangle (it should be approx 11 x 7 inches).

Brush liberally with olive oil (or melted butter) sprinkle with seeds, cover loosely with plastic wrap, and let it rise for about 1 hour in a warm place.

After this rest, preheat the oven to 400°F/205°C and line 2 baking sheets with parchment paper.

With a pizza cutter cut the dough crosswise into ½ inch strips. Grab each strip at the end and pull it gently until longer and thinner, then place it on the baking sheet. It's ok it they look uneven and bubbly, however, try not to make them too thin otherwise all the thinner sections will burn easily in the oven.

Baking time may vary from 15 to 20 minutes, it depends on their size and on the oven. Bake for 15 minutes and then check if they're already golden and crusty. You might want to bake them for 5 minutes longer. In my oven it takes 20 minutes .
Notes
Lukewarm water means only mildly warm, it's neither hot nor cold. Freezable: after kneading, you can freeze the dough in an airtight freezer bag. Defrost completely, then let the dough puff up a again before proceeding with shaping and baking.
Nutrition
Calories:
77
kcal
|
Carbohydrates:
10
g
|
Protein:
2
g
|
Fat:
3
g
|
Saturated Fat:
0.4
g
|
Polyunsaturated Fat:
0.4
g
|
Monounsaturated Fat:
2
g
|
Sodium:
130
mg
|
Potassium:
20
mg
|
Fiber:
1
g
|
Sugar:
0.04
g
|
Vitamin A:
0.3
IU
|
Vitamin C:
0.002
mg
|
Calcium:
2
mg
|
Iron:
0.2
mg