This post may contain affiliate links. Please read my disclosure policy for more details.
The delicious smell of freshly baked focaccia is simply irresistible, and with these 15 YUMMY focaccia toppings your focaccia will be the perfect crowd pleaser.
Ready to bake? Everybody will love it, guaranteed.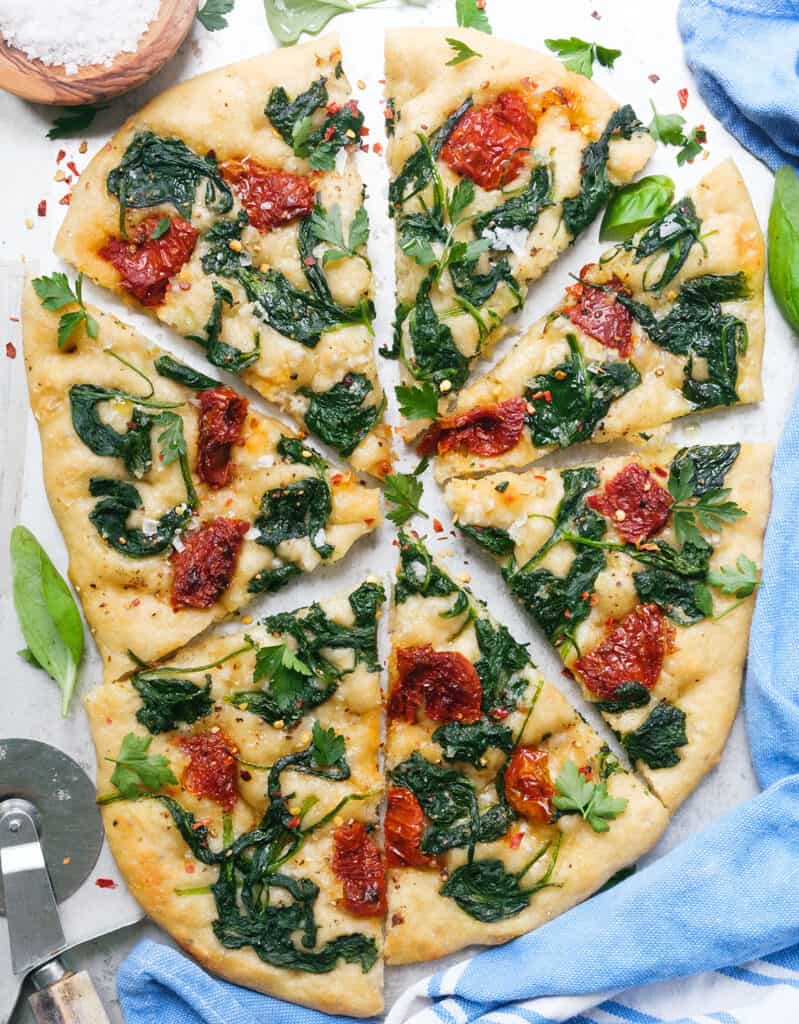 Baked until golden and crispy, perfectly fluffy, drizzled with extra virgin olive oil which soaks perfectly into all of those little dimples poked in the bread, the classic Italian focaccia is the ultimate carbohydrate comfort food!
It's hearty, economical, satisfyingly chewy, perfect for sharing, and when it comes to focaccia toppings, the sky is the limit!
Sprinkle fresh or dried herbs such as rosemary, thyme, basil or oregano to add a beautiful aromatic flavor.
Add caramelised onions, roasted veggies, cherry tomatoes, juicy olives, red onions, grapes, feta cheese, tomato sauce, the combinations are endless to turn a moist focaccia into a scrumptious meal.
How to make focaccia
The recipe to make focaccia dough is a no brainer, so easy to make by hand or stand mixer and uses just a handful of basic ingredients:
Flour
Yeast
Water
Salt
Sugar (optional)
Extra virgin olive oil or olive oil
You can use your favorite recipe (there are soooo many recipes!) or you're more than welcome to make my super easy 1 bowl focaccia which is a no knead focaccia recipe… easy peasy, you'll fall in love with it! : )
What to serve with focaccia
Focaccia goes so well with just about anything, from salads to soups, and it's perfect for sharing, especially along with Italian appetizers.
Serve soft, moist focaccia with Italian cheese, Parma ham, spicy olives, sun dried tomato paste, marinated mozzarella, caprese skewers or pinzimonio for an authentic Italian dinner. Or use focaccia to make scrumptious sandwiches!
Here I've gathered a few delicious ideas guaranteed to turn your plain focaccia into a real treat. Just cut into slices, make sure you share it, and keep the wine flowing! : )
Focaccia Toppings
From herbs to tomatoes, from olives to onions, these are the best focaccia toppings that will make your focaccia absolutely delicious and perfect for sharing!
If you love pizza and Italian bread…
Looking for Italian pizza and bread recipes? I've got you covered with some of my favorite recipes like these easy panini bread or pesto bread, or you can bake some of the best pizza recipes ever! Below a few ideas:
Lastly, if you make a darn good focaccia using one of these scrumptious focaccia toppings, or you have a question, let me know by leaving a comment. I would love to hear from you and get your feedback! x
And for more recipe updates, subscribe my newsletter and follow me on Instagram, Pinterest and Facebook.
Print Recipe
20+ Yummy Focaccia Toppings
When it comes to the amazingly delicious focaccia toppings, the sky is the limit. In this recipe, I share one of my favorite focaccia toppings made with spinach and sun dried tomatoes, definitely a crowd pleaser.
Ingredients
2 cups

(250 grams) unbleached all-purpose flour, plus more for dusting

¾

teaspoon

fine salt

1 ½ 

teaspoon

dry instant yeast (or Active dry yeast, see notes)

¾ cup + 1 Tbsp

(200 ml)

lukewarm water

2 Tablespoon

(30 ml)

extra virgin olive oil
Brine
4 Tablespoons

(60 ml)

extra virgin olive oil

4 Tablespoons

(60 ml)

warm water

¼

heaped teaspoon

fine salt

1 garlic clove, grated
Topping
¾ cup

wilted spinach (about 9oz of fresh spinach)

6-8

sun dried tomatoes, packed in olive oil

1

teaspoon

flaky sea salt
Instructions
Follow this easy focaccia recipe through step 11, including shaping the focaccia, adding the brine and preheating the oven.

Top with wilted spinach (see notes in the card below) and chopped sun dried tomatoes.

Bake in the preheated oven until golden and crusty. It takes about 15-20 minutes.

Let it cool for about 10 minutes before slicing, drizzle with some extra virgin olive oil, and enjoy!
Notes
Brine: if you use a smaller round pan (for example a 9 inches/25 cm

Ø)

you need to reduce the brine by half.
To cook the spinach: warm ½ Tablespoon of olive oil in a large skillet and cook the spinach in two batches until it shrinks and turns soft but still bright green. Season with salt and pepper.
Storage: focaccia is best the day it is made but can be stored in an airtight container, at room temperature, for up to 1 day. Plus, it freezes very well.
Measurements: I use both US cups and grams. The cups of flour are leveled: fill the measuring cup all the way to the top letting the flour flow over a little.  Then, use the back of a knife to level the top off.
Flour: all-purpose flour is perfect for focaccia bread, but you can use also bread flour.
Yeast: Active dry yeast and instant yeast can be used interchangeably in this recipe. However, Active dry yeast needs to be activated in water and let it sit until slightly foamy before adding to the flour (follow the manufacturer's instructions). Also, you might need to extend the proofing time if needed.
Water absorption: water absorption is the amount of water taken up by flour and may vary significantly depending on the type of flour, brand, and weather conditions. When you add water to the flour, start with the amount stated in the recipe. If the liquid is not enough to achieve that dough consistency as shown in the pictures above, just add gradually a little extra water until the flour has been incorporated.
Warm oven method: preheating the oven at low temperatures creates a warm environment for the dough to rise in faster. This shortcut works great when you're in a hurry and want freshly baked focaccia ready in record time. 
Focaccia ready in 1 hour: follow the instructions in the recipe, except for the proofing time.  For the first proofing, cover bowl with a damp kitchen towel, then let rest in the warm oven for 20 minutes only. The second time, when the dough is in the baking tray, place it in the warm oven for 20 minutes. After this time, add the brine and bake as per the recipe.