This post may contain affiliate links. Please read my disclosure policy for more details.
Meet our favorite artichoke pizza! The golden pizza crust is topped with creamy mozzarella and artichokes marinated with hints of garlic, lemon and herbs. It's crispy outside, soft in the middle, flavorful and amazingly delicious!
The recipe uses my no-knead pizza dough, convenient canned artichoke hearts and an easy 5-minute homemade marinade.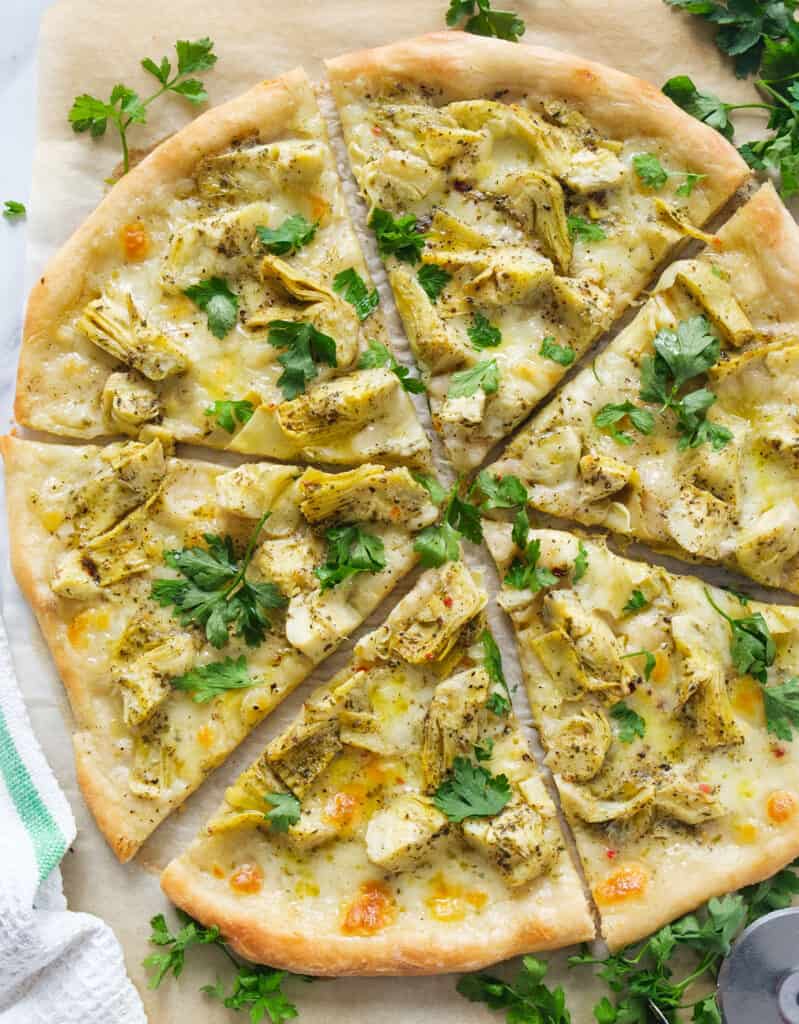 I love all things artichokes and I made this pizza for 3 times in a row last week, we were totally hooked, seriously. The dough and the terrific artichoke topping come together in a snap, perfect for an impromptu pizza night!
For the marinade, I combined olive oil, lemon juice, garlic powder, dried parsley and Italian seasoning. Plus a pinch of chili flakes, salt and pepper.
The marinade is the key, it takes the canned artichokes to the next level. It's also easy to make and tastes WAY better than the marinades you find in jarred artichokes. And it's cheaper too.
For the dough, simply follow this recipe and the video below. It's super easy and great for beginners… and the pizza crust is amazing. But you're welcome to use your favorite pizza dough, if you insist ; ).
Ready to make and devour the most delicious artichoke pizza?
Video: how to make easy pizza dough
List of the ingredients
How to make artichoke pizza
(Note: this is a quick description with step-by-step photos, the full recipe is at the bottom of the page).
Start by making this dough.
Make the marinade in a bowl.
Slice each artichoke heart into 6 slices. These are my fav knives, affordable and perfect for these type of tasks.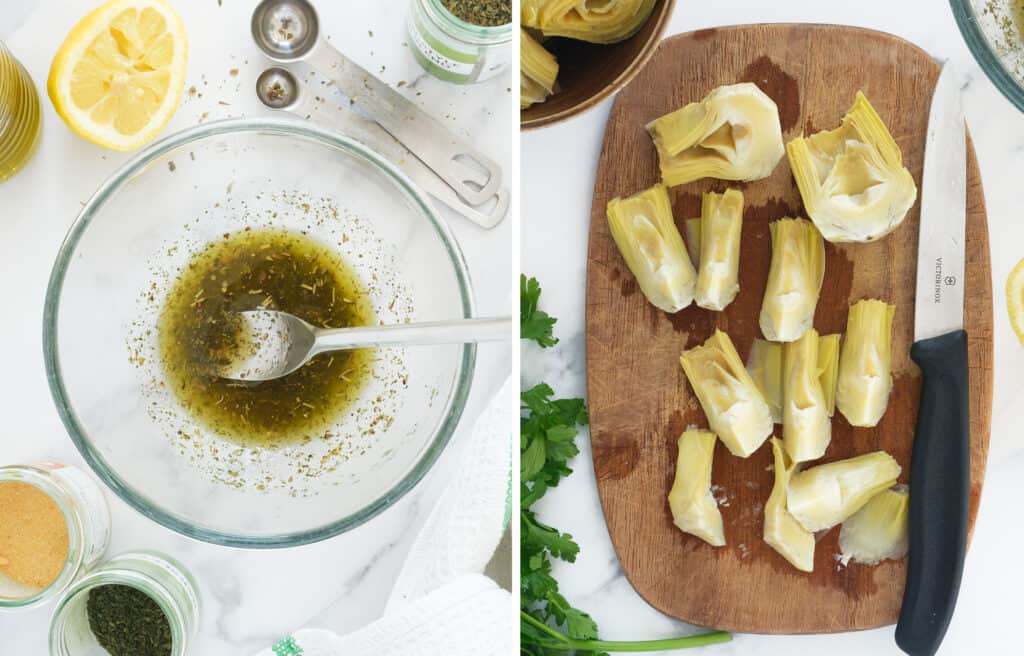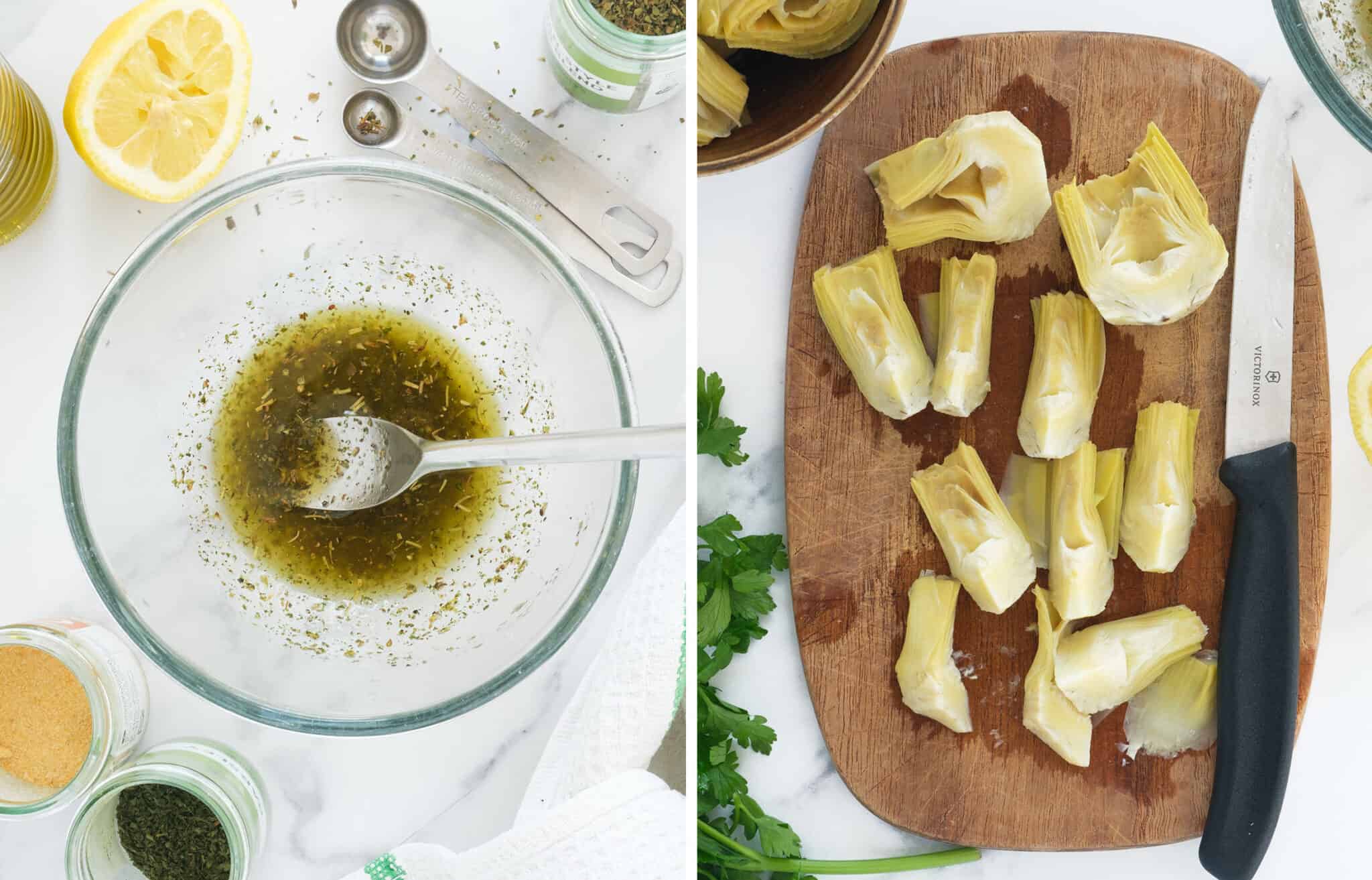 Gently toss the artichoke slices with the marinade.
Let them rest in the fridge or at room temp for at least 30 minutes.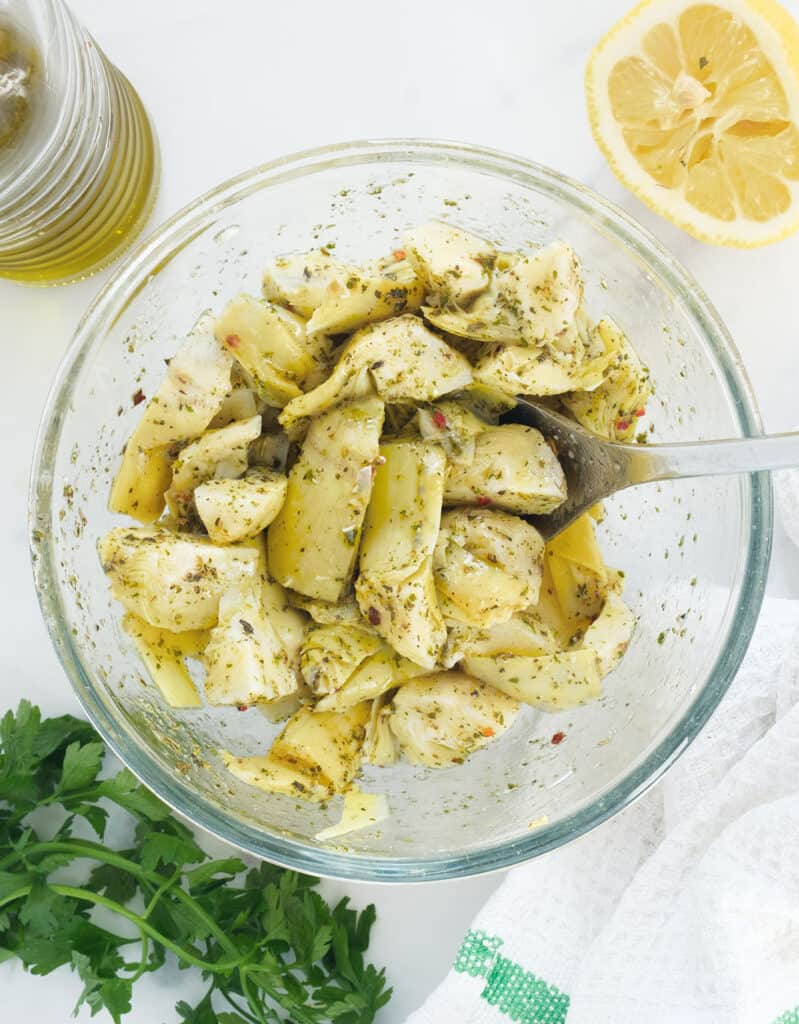 When the dough is ready, stretch it gently into a rectangular shape.
Top with mozzarella, artichokes, and drizzle with the rest of the marinade.
Bake in the preheated oven until golden and crusty (check the tips below).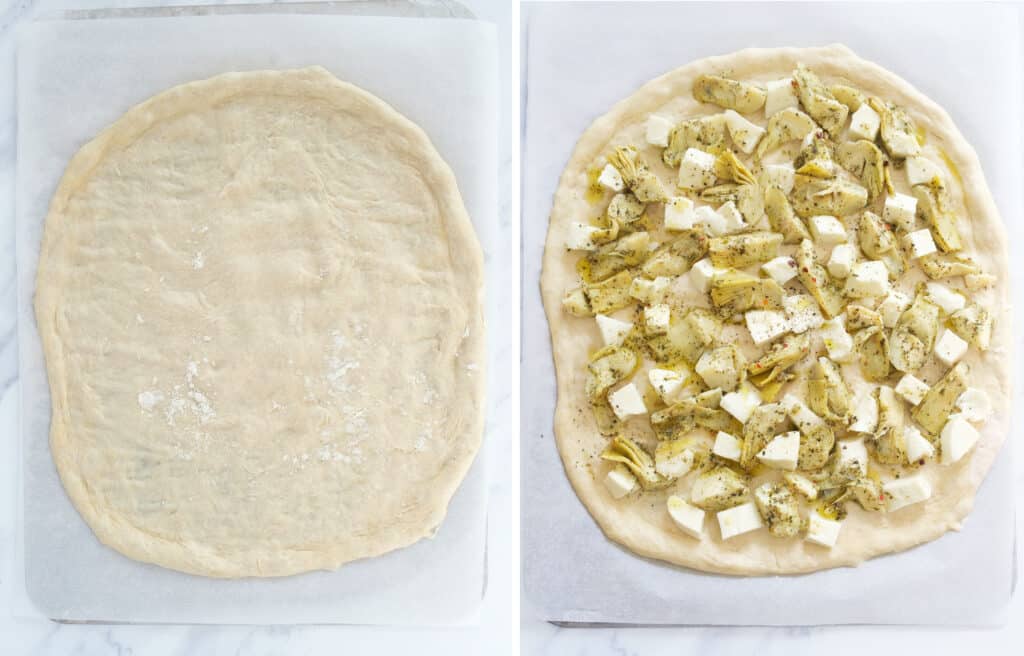 Recipe notes
Ingredients & substitutions
Pizza dough: I used my favorite easy no-knead pizza dough, it's easy to make in one bowl using all-purpose flour and instant yeast. But feel free to use your favorite recipe or a store-bought pizza dough if desired.
Mozzarella cheese: I think whole milk mozzarella in water is the best. If you go for it, keep in mind it's important to not overload the pizza because this mozzarella water content can make the crust soggy. Alternatively, shredded firm mozzarella works just fine.
Artichokes: although fresh artichokes are amazing, I'm glad for the convenience of these artichoke hearts. To save on calories and sodium, use canned artichoke hearts in water, not in oil. Alternatively, you can use the same amount of frozen artichokes, they're totally fine (see notes below for the frozen option).
Herbs: I made the marinade using Italian seasoning, dried parsley and I served it with fresh parsley leaves. But you can use only dried oregano or 1 or 2 Tablespoons of chopped parsley leaves instead of Italian seasoning.
Lemon: it's a must, it works beautifully with artichokes.
Garlic: use 1/4 tsp of garlic powder or 1 grated garlic clove.
Olive oil, salt and pepper: we know that canned artichokes can be pretty bland, so we need to add the right amount of olive oil, salt and pepper to add flavor. I prefer to use extra virgin olive oil, but regular olive oil is ok too.
Tips for success!
Make sure the flavor pops up. Taste the marinate and feel free to add a bit more garlic or adjust the seasoning if you wish. For more deliciousness, once you've topped the dough with mozzarella cheese and artichokes, pour the marinade over it and finish with freshly cracked black pepper.
Bake a crispy pizza crust. For a perfect pizza with artichokes, follow a few simple rules:
Place the rack in the lowest position close to the heating element. In my experience this is the sweet spot, but you know your oven, so feel free to use the position that works best with pizza.
Preheat the oven and make sure it's hot. This is a must for every oven and every pizza, and it's important to to give a burst of initial heat.
Bake your pizza on a hot pizza stone or pizza steel. Alternatively, you can preheat a baking sheet (see my tips in the recipe card!). When you preheat your oven, make sure one of them is inside so it is already hot and ready for your pizza to cook on it. This is essential to avoid soggy bottom and to make a nice, crispy crust.
Use parchment paper and a pizza peel or the back of a baking sheet to transfer your pizza to the hot stone. This helps, especially with a sticky high-hydration dough.
Artichoke pizza combinations
Simple, delicious, and flexible, this artichoke pizza recipe works beautifully with other delicious add-ins if you want more ideas!
Cheese: either a generous handful of grated parmesan cheese or pecorino Romano cheese along with mozzarella works beautifully, we love it.
Add more vegetable! Wilted fresh spinach, sauteed kale, grilled zucchini, grilled eggplant, and also a handful of fresh baby arugula before serving go very well with artichokes.
More add-ins: green or black olives, sun-dried tomatoes, or a dollop of pesto sauce… Delicious!
More delicious pizza recipes?
If you make this amazing artichoke pizza this weekend, or you have a question, let me know by leaving a comment. I would love to hear from you! x
And for more recipe updates, follow me on Instagram, Pinterest and Facebook.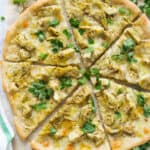 Print Recipe
Artichoke Pizza
In this amazing artichoke pizza the golden pizza crust is topped with creamy mozzarella and artichokes marinated with hints of garlic, lemon and herbs. It's crispy outside, soft in the middle, packed with flavor and totally delicious.The recipe yields 2 large portions or 6 slices.
Ingredients
Pizza dough
1

ball

Easy pizza dough (or store-bough dough)
Artichoke topping
5 oz

(150 grams) fresh mozzarella (or from ½ to ⅓ cup shredded firm mozzarella)

1

can

artichoke hearts, drained and cut into ½-inch slices (frozen are fine too)

2 ½

Tbsp

extra virgin olive oil

1 ½

Tbsp

lemon juice

1

tsp

Italian herb seasoning

¼

tsp

dried parsley

¼

tsp

fine salt

¼

tsp

garlic powder (or 1 grated garlic clove)

¼

tsp

black pepper
To serve
1-2

Tbsp

fresh basil leaves

¼

tsp

chili flakes (optional)
Instructions
Artichoke pizza
Make the marinade: place the ingredients for the marinade in 1 bowl, mix well, taste and adjust the seasoning if you wish. Place the artichoke slices in the bowl and toss gently with the marinade. Let it rest for at least 30 minutes.

Prepare the cheese: If using fresh mozzarella cheese in water, cut it into ½ inch thick pieces. If it's very watery, you may want to dab the mozzarella with the paper towel to remove excess moisture.

Shape the dough: when the dough is ready follow step 5, place the dough on a parchment paper sheet and starting from the center, gently press it out with your fingers until you get approx a 9×13 inch pizza. Then gently place the dough onto a pizza peel or onto the back of a rimmed baking sheet. 

Add the topping: top the dough evenly with mozzarella cheese, artichoke slices, and the marinade. Finish with freshly ground black pepper and a sprinkle of grated parmesan or pecorino cheese if desired (optional).

Bake the pizza: use the pizza peel to carefully transfer the pizza onto the preheated pizza stone. Bake the pizza until the cheese and crust are nicely browned. Each oven is different, keep an eye on it (e.g. in a forced fan oven it will take about 8-10 minutes).

Serve: allow the pizza to cool for a minute or two before adding the fresh parsley leaves (whole leaves, or lightly torn). Slice and serve immediately.
Notes
HOW TO MAKE FROZEN ARTICHOKE PIZZA? You can use frozen artichokes instead of canned ones. Frozen artichokes are already cooked, simply make sure you thaw and drain them before adding them to the marinade.
WHAT TO USE INSTEAD OF A PIZZA STONE? Each oven usually has a rimmed baking sheet that you can simply invert it and place on the lowest shelf of your oven before you preheat it. When the baking sheet is right-side up, taking the pizza in and out of the oven will be easier and the preheated baking sheet will make a nice and crisp pizza crust. To bake your pizza: place pizza and parchment paper onto a pizza peel onto the back of a baking sheet. When it's time to bake, slide the pizza onto the hot reverted baking sheet and bake until golden and crispy.
ARTICHOKE PIZZA LEFTOVERS: Cover leftover pizza tightly and store in the refrigerator up to 1 day or freeze up to 3 months. Thaw and reheat in the oven the frozen pizza leftovers until nice and crispy.