This post may contain affiliate links. Please read my disclosure policy for more details.
This EASY no-knead pizza dough is absolutely a game changer, even a novice can make the best homemade pizza crust with this simple, straightforward recipe.
All you need is to mix all the ingredients in 1 bowl. No mixer, no kneading are required for this foolproof homemade pizza dough.
I'm a huge pizza lover (so Italian, I know! LOL), and I've tried so many pizza recipes over the years. Different methods, 24 hours of proofing, high hydration doughs, folding, and more.
Some of those methods deliver very good pizza, but I was after a super easy everyday recipe: quick to whip up, and ready for impromptu pizza nights!
I made so many attempts I've lost count, and here is my take on the easiest pizza ever: crusty, amazingly delicious, and perfect with any topping of your choice.
Video: watch how to make it
List of the ingredients
Flour (all-purpose or bread flour)
Olive oil
Fine salt
Water
How to make this easy no-knead pizza dough
(Note: this is a quick description with step-by-step photos, the full recipe is at the bottom of the page)
Mix the dry ingredients in 1 bowl.
Add water and olive oil.
Mix with a spatula to incorporate the flour into the liquids (lumps are ok).
Let it rest for 1-2 hours in a warm place, until doubled in size and bubbly.
Pour the dough onto a large piece of parchment paper or into a baking pan.
Dust with some flour and stretch it.
Top with your favorite ingredients and bake! We love this easy no-cook pizza sauce!
Recipe notes
This quick pizza dough is meant to be a no-brainer, perfect for beginners and for impromptu pizza nights. Minimum effort, maximum result!
What kind of yeast for this easy pizza dough?
Instant yeast: it's convenient, and easy to use. You can stir it directly into the flour, no need to activate it in water first. Easy peasy.
Active dry yeast: you can use Active dry yeast instead, it's totally fine. However, dissolve the yeast in water first, let it stand until it gets foamy before adding to the dry ingredients (follow the manufacturer's directions).
Note: whatever yeast you use, make sure it's still active and not expired (see notes).
What kind of flour?
All-purpose flour: it's perfect for pizza, cheap, and widely available. Go for premium unbleached flour if possible and make sure you measure the flour correctly (see notes in the recipe card).

Bread flour: it's totally fine, it has a higher protein content and makes a crispier crust.

Whole-wheat flour: although rich in fiber and healthier, this type of flour makes a dense, less crusty pizza. If you wish to use it, I would advice using no more than a 1/3 of the flour.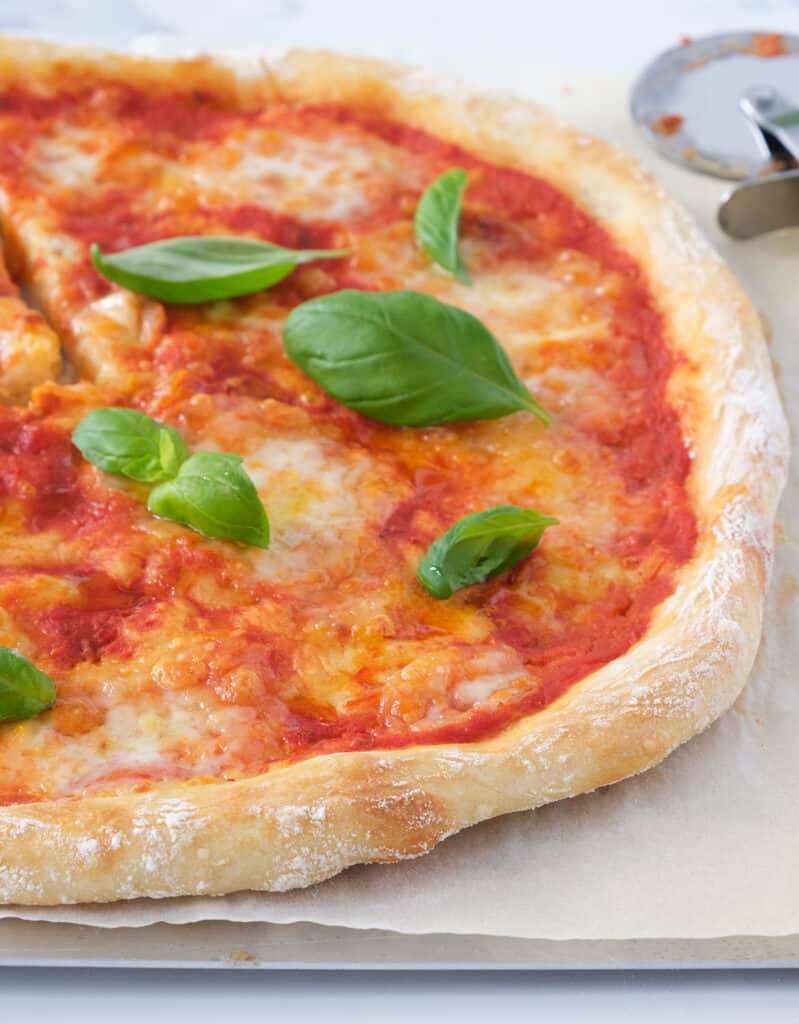 Easy no-knead pizza dough tips
High hydration dough
This is a high hydration dough, this means that the amount of water is over 80% of the amount of flour. That sounds like a lot of water, but let's see why to love it:
It's easy to make by stirring the ingredients in 1 bowl. Lumps are ok.
No kneading or handling are required.
It rises faster and more because the extra water will speed up the biochemical reactions.
It's very extensible and stretchy, perfect if you like thin pizza crust.
Ok, it's sticky… but once you sprinkle some flour over it, you can stretch it in a snap!
Rise and stretching
For a lighter, airier pizza crust, make sure the dough rises nicely and keeps its bubbles:
Place the dough in a warm place during the proofing time.
Let the dough rises until it's double in size.
Stretch the dough using your fingers.
Don't use a rolling pin: you don't want to push out gas and the bubbles!
Use parchment paper (alternatively, a large greased baking sheet works too).
This dough makes a large pizza (2 servings). But if you prefer to split it into portions before baking – for example if you want to use a pizza tray – a pizza scraper is very useful.
Preheat the oven
Let's see a few tips to turn this easy no-knead pizza dough into a crispy, delicious pizza:
Preheat the oven. Ideally, the higher you can go with the oven temperature, the better. However, most parchment paper is rated for use at temperatures no higher than 420 to 450 degrees, that's why the recipe states no more than 450°F/230°C.
Move the rack to the lowest position, close to the bottom heating element. You want to get as much heat from the bottom as possible in order to get a crispy and properly cooked crust. However, each oven is different, and you might find your sweet spot after a few attempts.
You can use a hot pizza stone or pizza steel! They both give the dough a burst of initial heat making it puffy and crusty at the same time. What to use instead of a pizza stone? A rimmed baking sheet works fine too, check the notes in the recipe card for more tips!
Use parchment paper: this easy pizza dough is a high-hydration dough, it means that the high water content makes it too sticky if you want to transfer your pizza from a pizza peel to a hot stone. This is why parchment paper comes in handy making easy this step.
Pizza dough ahead of time
Do you wonder if you can make it ahead of time? Yes, you can make it even the day before: mix the ingredients in the bowl, cover with plastic film, and refrigerate.
All you have to do is take it out from the fridge and let it rest at room temperature for 1 hour before baking.
Is this easy no-knead pizza dough freezable?
Yes! When the dough has risen enough and ready, place it gently into an airtight container greased with some olive oil (I use olive oil spray). Close the lid, and freeze for up to 1 month. For convenience, you might want to use a handy dough scraper to divide the dough into small pieces (as I did in the picture below).
When it's pizza time, remove your frozen dough from the freezer, let it sit on the counter for about two hours, it will thaw and soften until ready to use.
More easy delicious pizza recipes?
If you look for pizza recipes, you've came to the right place! Have a look at this collection of vegetarian pizza recipes, they all are amazing. Below you'll find some of our favorites:
If you make this easy no-knead pizza dough, or you have a question, let me know by leaving a comment. I would love to hear from you! x
And for more recipe updates, follow me on Instagram, Pinterest and Facebook.
Print Recipe
Easy No-Knead Pizza Dough (1-bowl)
This EASY no-knead pizza dough is a game changer, even a novice can make the best homemade pizza with this simple, straightforward, tested recipe. All you have to do is mix all the ingredients in 1 bowl and let it rest for 1 hour.
The recipe yield 1 large pizza (2 regular servings or 6 smaller servings).
Ingredients
1 ½ cup + 2 Tbsp

(220 grams) all-purpose flour or bread flour, plus more to sprinkle over the dough (pls, see notes)

½ tsp

fine salt

½ tsp

Instant yeast (or active dry yeast, see notes)

¾ cup

(180 grams) water, lukewarm

¾ Tbsp

olive oil
Instructions
In a large bowl mix flour, instant yeast, and salt until combined.

MIX IN 1 BOWL: add water, olive oil, and stir with a spatula to incorporate the dry ingredients into the liquid. While stirring, scrape the bottom of the bowl to make sure to gather all the flour. The dough looks sticky, not smooth, and lumps are totally fine.

LET THE DOUGH PROOF: cover the bowl with plastic wrap or a damp tea towel, place in a warm place, and let it rest for 1 hour (even 1 ½-2 hours if time allows), or just until the dough has doubled in sized and looks bubbly. 

PREHEAT THE OVEN: when the dough is ready, place the rack in the lowest position, preheat the oven to 450°F/230°C, and cut a large piece of parchment paper (if you use a pizza stone). Alternatively, grease or line with parchment paper a large baking pan.

SHAPE THE DOUGH: scrape the edges of the bowl with a spatula, pour the dough onto the parchment paper, and make sure you sprinkle some flour over it to reduce stickiness. Then, starting from the center, gently press it out with your fingers until you get approx a 9×13 inch pizza. Keeping some flour at hand helps during this step. Then let it rest for 10 minutes until the oven gets hot.

TOPPING: top with your favorite ingredients, I used tomato sauce, mozzarella, and fine salt.

BAKE: bake in the lower shelf of the oven for about 15 minutes, or until nice and crusty. However, keep in mind each oven is different, keep an eye on it (e.g. in a forced fan oven it will take about 8-10 minutes).
Notes
LUKEWARM WATER:  the water should be mildly warm.
YEAST: Active dry yeast and instant yeast can be used interchangeably in this recipe. However, Active dry yeast needs to be activated in water and let it sit until slightly foamy before adding to the flour (follow the manufacturer's instructions). Also, you might need to extend the proofing time if needed.
FLOUR: all-purpose flour is perfect for pizza, but bread flour works fine too. Whole-wheat flour instead, although healthier than white flour, makes a dense, less crispy pizza crust. If you wish to use it, I would advice using no more than a 1/3 of the flour, and keep in mind the water absorption might be different.
MEASURE THE INGREDIENTS CORRECTLY: a kitchen scale is always the best option, however, if you use US cups just make sure you use the spoon & level method. Essentially, don't scoop the flour out of the bag with your measuring cup because you could end up with more flour than you need. Use a spoon to transfer the flour from the bag into the measuring cup instead, than use the back of a knife to level off the top of the measuring cup.
WATER ABSORPTION: water absorption is the amount of water taken up by flour and may vary significantly depending on the type of flour, brand, and weather conditions. When you add water to the flour, start with the amount stated in the recipe. If the liquid is not enough to achieve the dough consistency, just add gradually a little extra water (1 or 2 Tbsp) until the flour has been incorporated.
WARM OVEN METHOD TO SPEED UP RISING: this is a trick to help you to make the dough rise faster. Basically, preheat the oven at low temperature, then turn it off and create a warm environment for the dough to rise in. Make sure the bowl is not in contact with hot surface, the oven should be slightly warm, not hot.
This shortcut works great when you run out of time.
WHAT TO USE INSTEAD OF A PIZZA STONE? Each oven usually has a rimmed baking sheet that you can simply invert it and place on the lowest shelf of your oven before you preheat it. When the baking sheet is right-side up, taking the pizza in and out of the oven will be easier and the preheated baking sheet will make a nice and crisp pizza crust. To bake your pizza: place pizza and parchment paper on a pizza peel or on a large tray and, when it's time to bake, slide the pizza onto the hot reverted baking sheet and bake until golden and crispy.
Nutrition facts: Please note that the nutrition values are based on an online nutrition calculator.  It's an estimate only and it should not be considered a substitute for a professional nutritionist's advice. The nutrition value is for the dough only, it doesn't include the topping.
Nutrition
Calories:
426
kcal
|
Carbohydrates:
80
g
|
Protein:
11
g
|
Fat:
6
g
|
Saturated Fat:
1
g
|
Polyunsaturated Fat:
1
g
|
Monounsaturated Fat:
4
g
|
Sodium:
584
mg
|
Potassium:
113
mg
|
Fiber:
3
g
|
Sugar:
1
g
|
Calcium:
16
mg
|
Iron:
5
mg