This post may contain affiliate links. Please read my disclosure policy for more details.
I'm in love with this beautiful, deliciously scented strawberry ricotta cake! The moist texture, the juicy strawberries, the vanilla and lemon hints, make this super easy one-bowl cake to die for, guaranteed.
It's the perfect fruity cake for all occasions, a breeze to whip up (no beating is required!), packed with amazing fresh flavors, and sure to impress!
The creamy, mildly sweet ricotta creates an amazing, dense texture which pairs beautifully with juicy strawberries and vanilla. This soft, fresh italian cheese with its delicate flavour keeps the lovely crumbs moist for days without weighting down.
And it's not too sweet, not too heavy, not too wet, it's just right and so yummy.
I'm talking about a marriage made in heaven, absolutely one of our favorite ricotta recipes! No food coloring, no flavorings, but only simple, fresh ingredients and cheerful strawberries.
And if strawberries are not in season or are too expensive for your tight budget, just go for frozen as I did: they're much cheaper, convenient, and work just fine.
List of the ingredients
Fresh or frozen strawberries
Whole-milk ricotta
All-purpose flour
Eggs
Sugar (caster sugar, light brown sugar, granulated is ok too)
Vegetable oil
Vanilla (extract or essence)
Lemon zest
Baking powder + pinch of salt
How to make this strawberry ricotta cake
(Note: this is a quick description with step-by-step photos, the full recipe is at the bottom of the page)
Stir eggs and sugar well in 1 bowl to dissolve the sugar.
Add the vegetables oil and mix again until well combined.
Add the ricotta, lemon zest and vanilla extract and stir until smooth.
Stir in the dry ingredients and mix until just combined (do not overmix).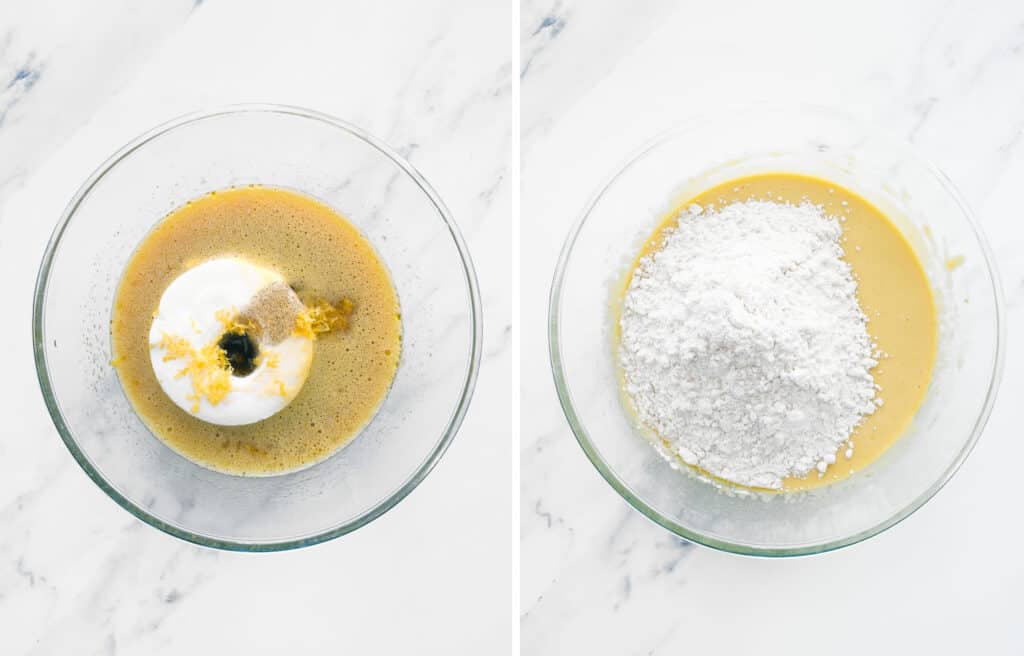 Pour the batter into a baking pan, I used this 9 x 3 inch deep.
Place the strawberries on top.
Bake for 40 minutes and serve dusted with powdered sugar. Enjoy!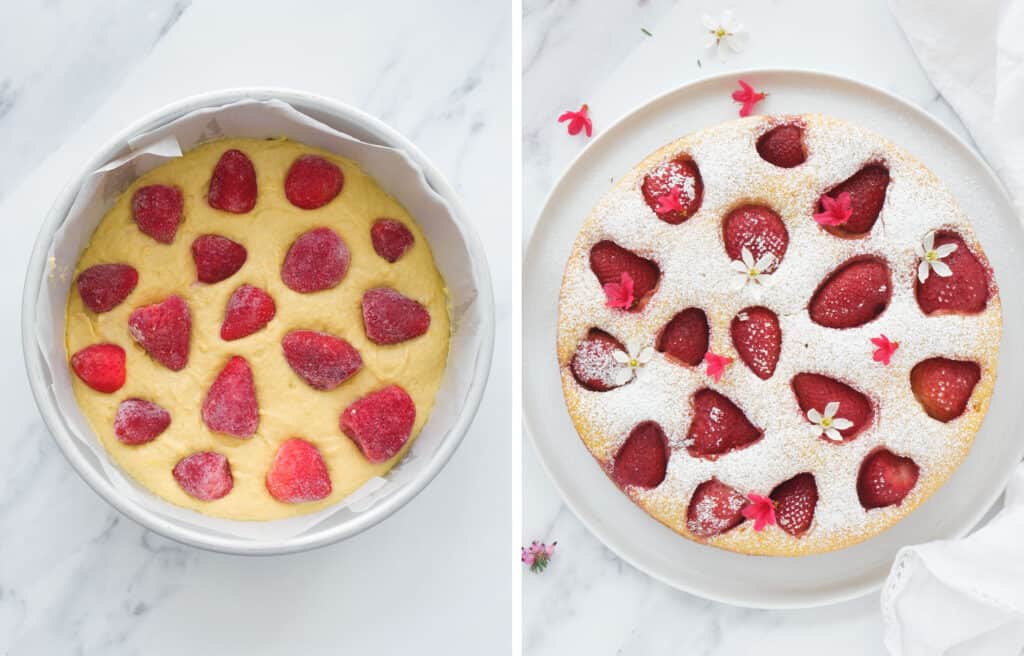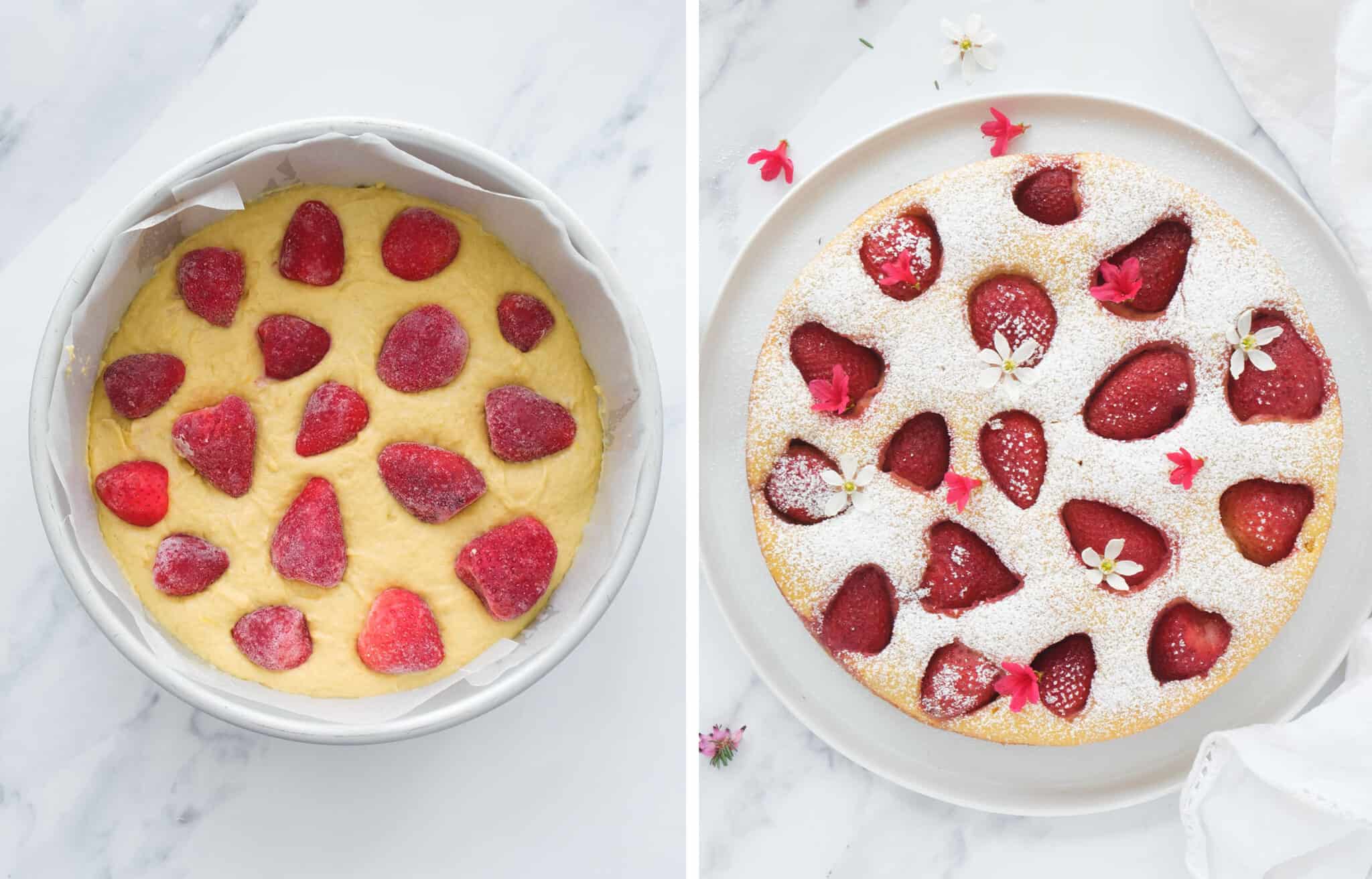 RECIPE NOTES & TIPS
Strawberry ricotta cake ingredients
RICOTTA: whole milk ricotta is best, its fat content and moisture improves your cake texture. I used 1 cup/250 grams of ricotta (they don't sell 15oz container here in the UK). But if you buy a large container of ricotta, check below how to use up your leftovers!
STRAWBERRIES: you can use either fresh or frozen strawberries. However, frozen strawberries are convenient, available all year round, and save you money.
The recipe is also great to use up your not-so-perfect or not-so-fresh strawberries: cut them into pieces, and fold into the batter as I do in this strawberry bread. Don't waste!
SUGAR: the recipe calls for only 1/2 cup, and that's just a fraction of the amount of sugar used in regular cakes. But you can really save yourself that extra cup of sugar with such beautiful ingredients, and you won't miss out on deliciousness!
VANILLA & LEMON ZEST: their lovely flavor shine in this cake! You can use only zest or only vanilla if that's all you have at hand, but don't skip both.
VEGETABLE OIL: I used expeller pressed canola oil (rapeseed oil here in the UK).
FLOUR, EGGS, BAKING POWDER, PINCH OF SALT: as usual in cakes.
Baking tips to make this strawberry ricotta cake
ROOM TEMPERATURE INGREDIENTS: make sure eggs and ricotta are at room temperature.
DO NOT OVER MIX THE BATTER: working flour too much can produce gluten, which creates a dense, rubbery cake.
MEASURE THE INGREDIENTS CORRECTLY: a kitchen scale is always the best option. And if you use cups, it's important you don't scoop the flour out of the bag with your measuring cup because you could end up with more flour than you need. Use a spoon to transfer the flour from the bag into the measuring cup instead, than use the back of a knife to level off the top. I find this post helpful to explain this spoon & level method.
OVEN: make sure you preheat the oven and, let me state the obvious, do not open the oven door for the first 25 minutes (at least).
How to use leftover ricotta?
I've got you covered. If you buy a large container of ricotta, I promise you won't have leftover ricotta sitting in the fridge. These terrific recipes are perfect to use the versatile, creamy ricotta:
More delicious one-bowl cake recipes?
If you make this strawberry ricotta cake, or you have a question, let me know by leaving a comment. I would love to hear from you! x
And for more recipe updates, follow me on Instagram, Pinterest and Facebook.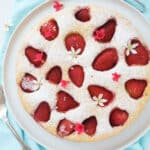 Print Recipe
Ricotta Strawberry Cake (easy 1 bowl recipe).
The moist texture, the vanilla and lemon hints, and the juicy, cheerful strawberries make this easy one-bowl strawberry ricotta cake to die for. It's perfect cake for all occasions: a breeze to whip up, packed with fresh flavor, and sure to impress.
Ingredients
3

eggs

½ cup

(100 grams) sugar (caster or brown sugar)

⅓ cup + 1 Tbsp

(85-90 grams) oil (canola or vegetable oil)

1 cup

(250 grams)

whole-milk ricotta

1 tsp

vanilla extract (or essence)

1

lemon zest

1 ½ cup + 2 Tbsp

(200 grams) all-purpose flour (spooned and leveled)

2

tsp

baking powder

pinch of salt

18-20

(approx 300-350 grams) strawberries, fresh (top removed) or frozen

2 Tbsp

Powdered sugar, to decorate (optional)
Instructions
Preheat the oven to 350°F /180°C, place the shelf in the middle position, and grease and line a 23 cm / 9" cake pan with parchment paper (a loose bottom cake pan is best).

In a large bowl, stir sugar and eggs vigourously until well combined.

Stir in vegetable oil and mix well. Then add ricotta, lemon zest, vanilla extract and mix well with a whisk or a spatula until smooth.

Mix flour, a pinch of salt and the baking powder in a second bowl, than add these dry ingredients onto the liquid ingredients, stir until combined and the flour is incorporated, but do not over mix.

Pour the batter into the cake pan, smooth the surface, top with the whole strawberries pushing them gently into the batter.

Bake for about 35-40 minutes or until skewer inserted into centre comes out clean. 

Stand 15 minutes in the cake pan before removing from the pan. You might need to turn out onto cooling rack if you don't use a loose bottom cake pan.

Serve a room temperature dusted with powdered sugar if you wish. Enjoy!
Notes
STORAGE: it keeps well for 4 days, the texture stays nice. If the temperature is humid and hot, keep it in the fridge and bring to room temperature before serving. But you can keep on the counter covered with a cake dome or in air-tight container if the temperature in the room is cold. It freezes perfectly too.
SUBSTITUTIONS: you can replace strawberries with blueberry, raspberries or blackberries. You can also add to the recipe chocolate chips, fold them into the batter. 
Spooned & leveled: spoon the flour into the measuring cup (do not press it) than use the back of a knife to level off the top of the cup.
Nutrition facts: Please note that the nutrition values are based on an online nutrition calculator.  It's an estimate only and it should not be considered a substitute for a professional nutritionist's advice. The nutrition values are for 1 slice (assuming a cake cut into 10 slices).
Nutrition
Calories:
259
kcal
|
Carbohydrates:
29
g
|
Protein:
7
g
|
Fat:
13
g
|
Saturated Fat:
9
g
|
Trans Fat:
1
g
|
Cholesterol:
62
mg
|
Sodium:
203
mg
|
Potassium:
121
mg
|
Fiber:
1
g
|
Sugar:
12
g
|
Vitamin A:
187
IU
|
Vitamin C:
21
mg
|
Calcium:
116
mg
|
Iron:
1
mg