This post may contain affiliate links. Please read my disclosure policy for more details.
You'll love this delicious raspberry ricotta cake, it's moist, bursting with fresh juicy raspberries and vanilla hints. Plus, it's easy to make in one bowl, so simple, straightforward, and turns perfectly every single time.
It's one of our favorite cakes, perfect for any occasion, and easy to transport to potlucks, parties, and any picnics. Everyone loves it!
I love adding ricotta into the batter, it makes a moist, rich cake with a delicious melt-in-your-mouth texture. The fresh raspberries add extra deliciousness, they look so pretty, and no worries, they don't sink at the bottom!
If you've already tried my yogurt cake and strawberry bread, then you definitely have to give a go to this scrumptious raspberry ricotta cake. It's so easy to whip up and makes a real treat.
What ingredients you need
Fresh or frozen raspberries
Ricotta
All-purpose flour
Eggs
Sugar
Vegetable oil
Vanilla extract
Lemon zest (optional)
Baking powder
Salt
How to make raspberry ricotta cake
(Note: this is simply a quick explanation, the full recipe is at the bottom of the page)
Whisk well eggs and sugar in one bowl.
Stir in the vegetable oil.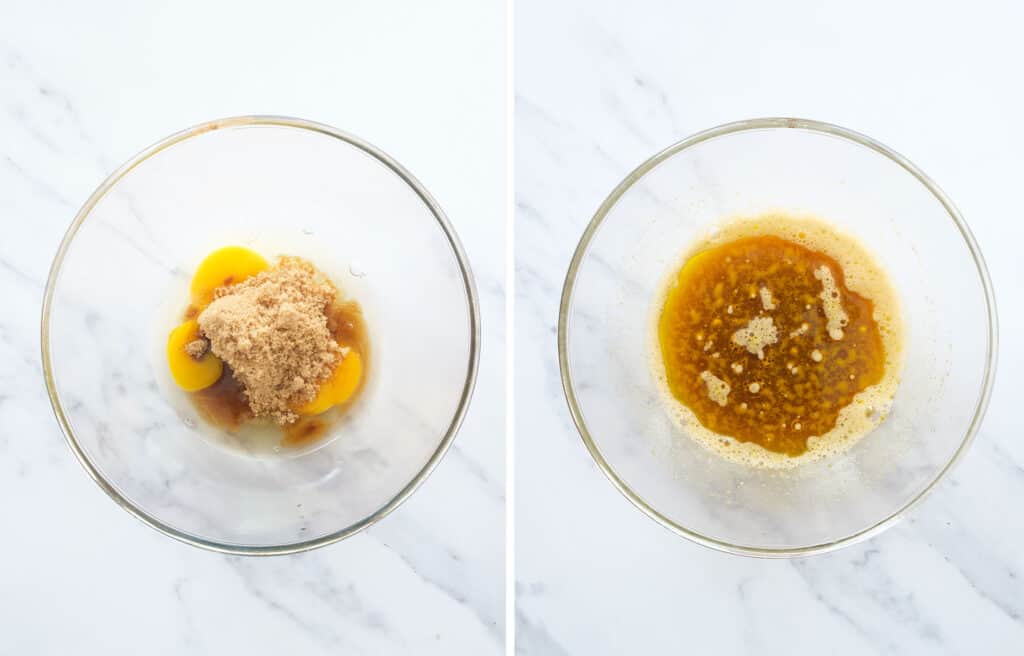 Add ricotta, vanilla, lemon zest and whisk well until smooth.
Add flour, baking powder, and salt.
Stir until just combined (do not over mix).
Add the raspberries, fold gently.
Pour into the baking pan and bake.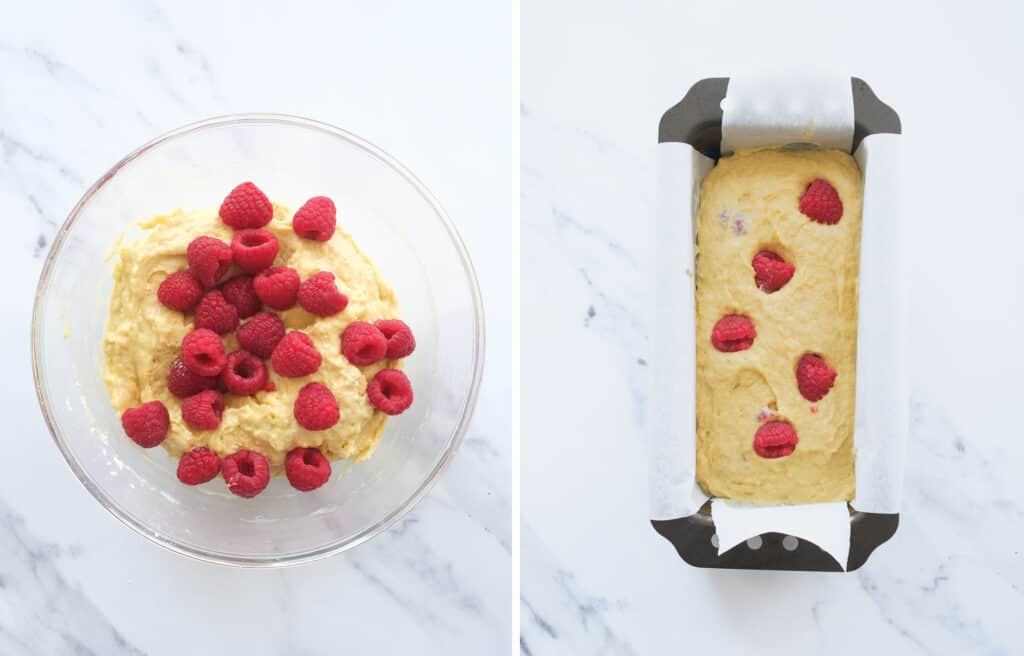 Recipe notes
Raspberry ricotta cake ingredients
Berries: both fresh or frozen raspberries work well. They don't sink at the bottom, hence no need to dust them in flour. Also, you can swap blueberries, strawberries or dark chocolate chips (approx ½ cup) for raspberries. It's so versatile!
Ricotta: whole or part skim is fine. I used 1 cup/250 grams of ricotta (they don't sell 15oz container here in the UK). But if you buy a large container of ricotta, check below how to use up your leftovers!
Vanilla extract & Lemon zest: I love using both, but feel free to use only lemon or only vanilla if it's all you have at hand.
How to use leftover ricotta?
Nothing goes to waste and you won't have leftover ricotta sitting in the fridge. Have a look at these terrific recipes, they're perfect to use the versatile, creamy ricotta:
More delicious easy cakes?
If you love super easy cakes, not overly sweet and packed with fruit, vegetables or chocolate, you've come to right place:
Psss, If you make this raspberry ricotta cake, let me know! Leave a comment, rate it or tag a photo #theclevermeal on Instagram.
I would love to hear from you!
Print Recipe
Raspberry Ricotta Cake
You'll love this delicious raspberry ricotta cake, it's moist, bursting with fresh juicy raspberries and vanilla hints. Plus, it's easy to make in one bowl, so simple, straightforward, and turns perfectly every single time.
Ingredients
2

large eggs, at room temperature

½ cup

(100 grams) sugar (I used unrefined cane sugar)

½ scant cup

(about 80 grams)

vegetable oil

1 tsp

vanilla extract

1

lemon zest (optional)

1 cup + 1 Tbsp

(250 grams) ricotta, possibly at room temperature

1 ½ cup

(190 grams)

all-purpose flour

1 ½ tsp

baking powder

pinch of

fine salt

1 ½ cup

(180-200 grams) raspberries (fresh or frozen)
powdered sugar to dust (optional)
Instructions
Preheat the oven to 350°F/180°C and place the rack in the middle position.

Grease a 9x5x2.5 inch loaf pan with butter, cooking spray, or simply line the pan with parchment paper (in this case there's no need to grease the pan).

Place flour, baking powder and a pinch of salt in a bowl and whisk well to distribuite the baking powder evenly.

In second bowl, whisk eggs and sugar until well combined.

Stir in the vegetable oil, then add ricotta, vanilla extract, lemon zest and mix well until smooth.

Add the flour mix and stir until combined, but do not overmix (a few lumps are ok).

Gently fold the raspberries by passing a spatula down through the mixture, across the bottom, and up over the top.

Scrape the batter into the prepared pan and smooth the top. Bake for 30 minutes at 350°F/180°C, the reduce the temperature to 340°F/170°C for a further 15-20 minutes. Each oven is different, check the doneness after 45 minutes, the cake is ready when a skewer inserted into the center of the cake comes out clean.

When the cake is done, remove it from the oven and place on a wire rack to cool. Serve dusted with some powdered sugar if you wish.
Notes
Do not overmix the batter: working flour too much can produce gluten, which creates a dense and rubbery cake.
Round baking pan: if you use a round baking pan (approx 9 or 10 inches diameter) check for doneness after 30-35 minutes
Storage: this raspberry ricotta cake keeps well for 4 days at room temperature, in an airtight container. It's also freezable.
Nutrition facts:
Please note that the nutrition values are based on an online nutrition calculator.  It's an estimate only and it should not be considered a substitute for a professional nutritionist's advice. The nutrition value is for one serving (the parmesan cheese and the final drizzle of olive oil are not included).
Nutrition
Calories:
244
kcal
|
Carbohydrates:
28
g
|
Protein:
6
g
|
Fat:
12
g
|
Saturated Fat:
9
g
|
Trans Fat:
1
g
|
Cholesterol:
45
mg
|
Sodium:
50
mg
|
Potassium:
89
mg
|
Fiber:
2
g
|
Sugar:
11
g
|
Vitamin A:
165
IU
|
Vitamin C:
5
mg
|
Calcium:
73
mg
|
Iron:
1
mg