This post may contain affiliate links. Please read my disclosure policy for more details.
This fabulous beetroot chocolate cake is moist, delicious, and loaded with nutrients. Blend all the ingredients, pour the batter into the cake pan, and bake!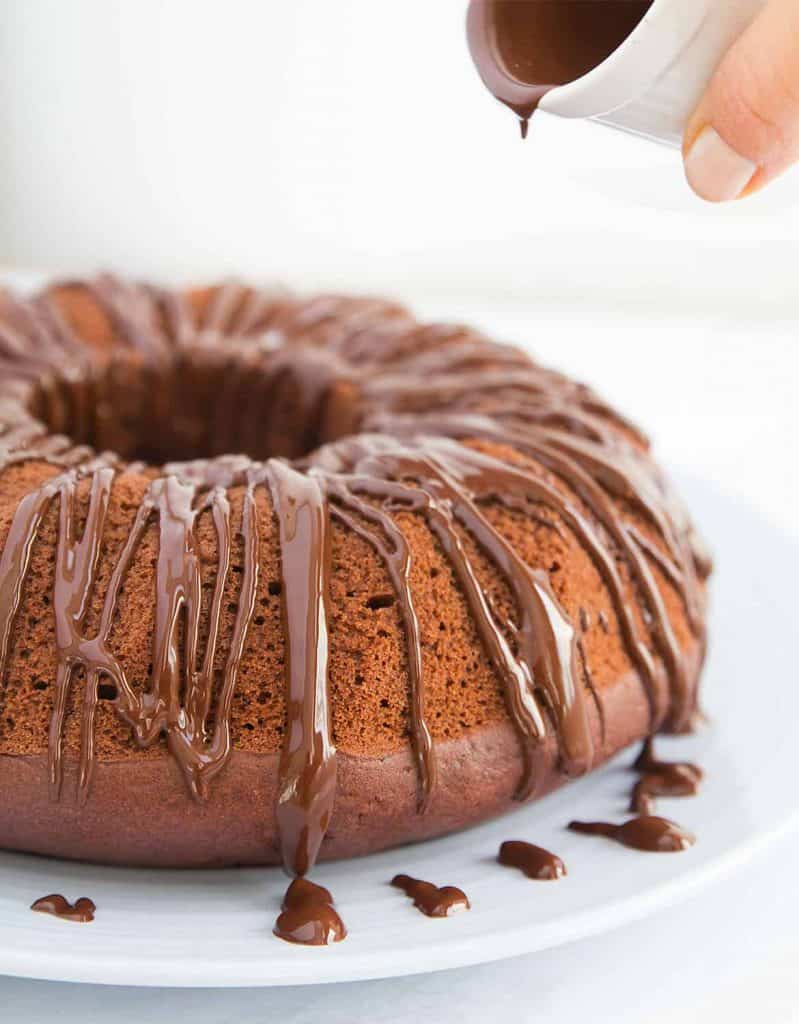 The healthy and convenient beetroot is the main ingredient in this recipe, but its flavor is very subtle. It lends moisture, lovely ruby color, and blends perfectly with cocoa powder and the indulgent dark chocolate.
Bonus? It's also SUPER EASY to make with this "ALL IN ONE" method, exactly like I do in this carrot cake, you can blend all the ingredients in a food processor in no time.
Yes, it's that easy, and you'll be amazed at how delicious and moist this chocolate cake with beets is.
And if you're not familiar with canned or vacuum-packed beets, keep in mind they're absolutely convenient, and bring fiber, nutrients, and zero fat into your cake!
They're also versatile and ready in no time, a brilliant ingredient for recipes like this beetroot salad or this super quick beetroot hummus!

Trust me, I baked this cake so many times, it always turns out perfect and everyone asks for the recipe. Plus, It's low sugar, packed with wholesome ingredients, and kids love it.
Just don't tell anyone it's packed with vegetables, and they'll ask for seconds!

So before I say anything else, look at this… isn't it delicious? ?
What ingredients you need
Beetroots (canned or vacuum-packed)
All-purpose flour or whole wheat flour
Eggs
Sugar
Vegetable oil
Cocoa powder
Vanilla essence (optional)
Baking powder
Dark chocolate bar or chips (optional)
And a food processor…
How to make it
Note: below is the summary of the steps, the full recipe is at the bottom of the post
Preheat the oven
Blend beetroots, egg, sugar, oil, vanilla essence, and cocoa powder
Whisk flour, baking powder, and a pinch salt
Add the dry ingredients to the food processor bowl
Blend just until combined, do not overmix!
Pour the batter into a greased cake pan
Bake for 30-35 minutes
Pour the melted dark chocolate over the top
I love this step, it makes the cake so pretty and delicious!
RECIPE NOTES & FAQ
This chocolate cake with beets is simply delish, healthy and so pretty, without being loaded with sugar or other fancy decorations. Just, simple, real, ingredients!
With less than 5 minutes of prep time, a food processor, all the magic happens and it will cost you around $5 (6-8 servings). For my bundt cakes, I always use this bundt pan, definitely inexpensive and good quality!
CAN CAKES BE HEALTHY?
It obviously depends on the ingredients, since the amount of sugar and fat makes a huge difference.
Plus, if you make your own cake from scratch using wholesome ingredients like beetroots, fiber-rich whole grain flour, unrefined cane sugar, and superfood dark chocolate, your cake will be definitely healthier than a regular one.
ARE BEETROOTS GOOD FOR YOU?
Yes, beetroots have been associated with numerous health benefits, they're low on calories and rich in fiber, essential to lower cholesterol levels, and to reduce appetite.
You also might like this beetroot hummus or this beetroot salad, two easy recipes to introduce beetroots into your diet.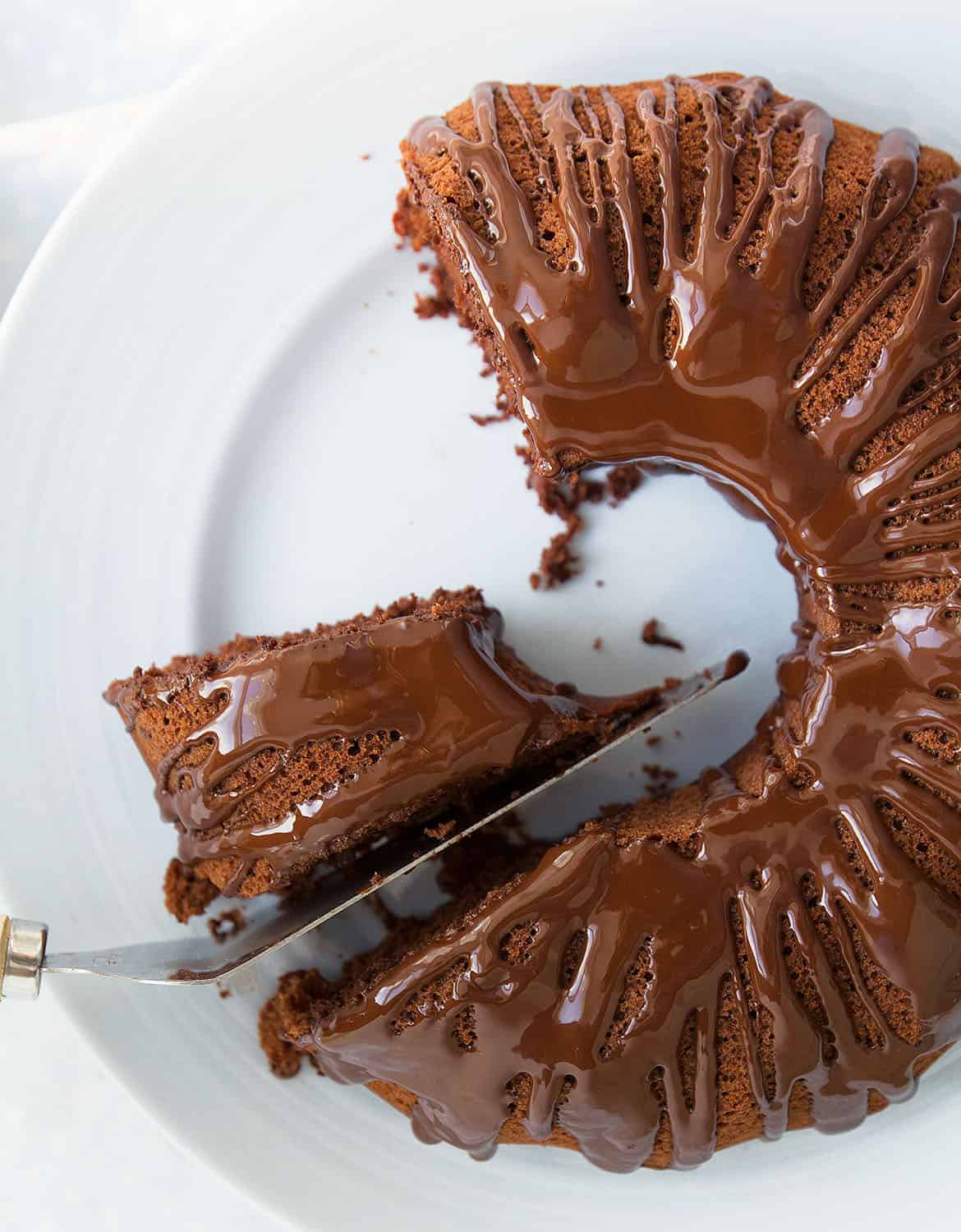 CAN I USE A FOOD PROCESSOR TO MAKE THIS CAKE?
I do love this "ALL IN ONE METHOD", all the ingredients are put into the bowl of the processor and whizzed until mixed into a cake batter.
It saves time and mess, you only use the food processor bowl and, best past, you don't grate the beetroots!
However, you have to blend the ingredients in a certain order, you can't simply throw all the ingredients into the food processor and blend. You will over-mix the batter, activating too much gluten, it will result in a cake with a heavy, bready texture. No, thanks! 😉
HOW TO MAKE THIS BEETROOT CAKE MOIST?
This blender beetroot cake is super easy and requires little effort, but keep in minds a few simple rules:
Use ingredients at room temperature
Mix the dry ingredients with the wet ingredients until just combined
Don't overmix the batter, that would ruin that lovely texture
Make sure the baking powder is fresh and not expired
Measure liquid, baking powder, and flour accurately
HOW TO STORE A BEETROOT AND CHOCOLATE CAKE?
It keeps well for up to 3-4 days at room temperature, in an airtight container. But do not refrigerate, I notice that refrigeration dries this type of cakes out! It's also freezable, but preferably without chocolate decoration since condensation might alter the appearance and texture of the chocolate.
If you love healthy cakes, super easy to make, you might check these delicious:
But if you look for more inspirations, you can't miss these amazing healthy cake recipes.
If you make this delicious and easy chocolate and beetroot cake, let me know! Leave a comment, rate it or tag a photo #theclevermeal on Instagram. I would love to hear from you!
Print Recipe
BEETROOT AND CHOCOLATE CAKE: EASY, HEALTHY, MOIST!
This beautiful cake is so delicious, moist, healthy, and easy to make: just blend all the ingredients in a food processor, and bake!
Ingredients
2

(7oz/200 grams)

medium beets, cooked

2

medium-sized eggs

1/2 scant cup

(80-90 grams)

vegetable oil

(I use expeller pressed canola oil)

1 1/4 cup

(170 grams)

all-purpose flour or whole wheat flour

1 1/2

tsp

baking powder

1/2 cup

(100 grams)

sugar

(I use unrefined cane sugar)

3 Tbsp

(20 grams)

cocoa powder, unsweetened

1/4

tsp

vanilla essence

(optional)

1/2

(50 grams) 70% or 85% dark chocolate bar, or more if you like

(optional)

Pinch

of salt
Instructions
Preheat the oven to 360F.

Grease or line your cake pan with parchment paper (Mine is a ring pan 8.6 x 4 inch-deep).

Whisk your flour in a bowl with 1 1/2 tsp of baking powder and a pinch of salt.

Place all the ingredients, except the flour, in a food processor and blend into a smooth consistency*

Add the flour in two steps, stopping to scrape down sides of bowl as necessary. Blend only for a few seconds until the flour is just combined with the rest of the ingredients, do not overmix (the pictures above show the main steps in the food processor).

Scrape the batter into the pan, level the top and bake in the middle shelf of the oven for about 30 minutes.

After 30 minutes check the cake by inserting a thin skewer/cake tester into the centre of the cake. If the cake is fully cooked then the skewer will come out clean, if there is still batter clinging to the skewer then return the cake to the oven for a further 3 minutes and test again.

When the cake is ready, remove from the oven and let it cool.

In the meanwhile melt the dark chocolate in the microwave or into a heatproof bowl placed over a pan of barely simmering water (a bain marie). Allow the chocolate to melt, stirring occasionally. Once melted leave it to set until a bit firm, but still runny.


Remove your cake from the pan and decorate with the runny dark chocolate sauce. 

Enjoy it!
Notes
* I always use a food processor, not a blender. A blender is ok to mix wet ingredients, but you run the risk to overmix the batter when as soon as you add flour.
To avoid overmixing, add flour by hand using a spatula, just until combined.
NOTE: Nutritional values are estimates only.
Nutrition
Calories:
281
kcal
|
Carbohydrates:
35
g
|
Protein:
5
g
|
Fat:
14
g
|
Saturated Fat:
10
g
|
Cholesterol:
41
mg
|
Sodium:
37
mg
|
Potassium:
202
mg
|
Fiber:
3
g
|
Sugar:
16
g
|
Vitamin A:
68
IU
|
Vitamin C:
1
mg
|
Calcium:
21
mg
|
Iron:
2
mg