This post may contain affiliate links. Please read my disclosure policy for more details.
This is my favorite recipe for pumpkin bundt cake! It's moist, lightly spiced, versatile, and absolutely perfect for dessert and afternoon tea. Bonus? You can make it easily in one bowl without lots of fancy equipment.
If you have been following me for a while now, you'll know that I'm not a big fan of cakes loaded with sugar and butter. From my popular yogurt cake to these delicious strawberry bread and zucchini bread, most of my cake recipes are easy to make and packed with yogurt, vegetables, or fruit. This recipe is no exception.
And it wasn't until I moved to San Francisco years ago that I realized how much I love pumpkin cakes. It wasn't something I grew up eating, but it was definitely something I fell in love with as soon as the fall started.
I also love this recipe because although it's made from scratch, it comes together in no time: mix all the ingredients in 1 bowl and the batter is done. So simple, not overly sweet, pretty healthy, and delicious.
It's also super versatile. You can top it with cream cheese frosting or leave it plain, you can use the same recipe to bake muffins or a sheet cake, and feel free to decorate if you wish!
List of the ingredients
1 can or 2 cups of pumpkin puree
Eggs
Brown sugar
Vegetable oil
Ground cinnamon
Pumpkin pie spices
Flour
Baking powder
Baking soda
Salt
Vanilla extract
Frosting (cream cheese, confectioner's sugar, milk), optional
How to make it
(Note: this is simply a quick description of the method, the full recipe is at the bottom of the page)
Whisk eggs and sugar in one large bowl.
Stir in vegetable oil, vanilla extract, and 1 can of pumpkin puree.
Add the dry ingredients.
Stir until smooth, but do not overmix.
Pour the batter into the greased pan (I always use this bundt pan, definitely good quality, and great price).
Bake for about 35 minutes.
Make the cream cheese topping (optional).
Decorate your pumpkin bunt cake and dust with cinnamon.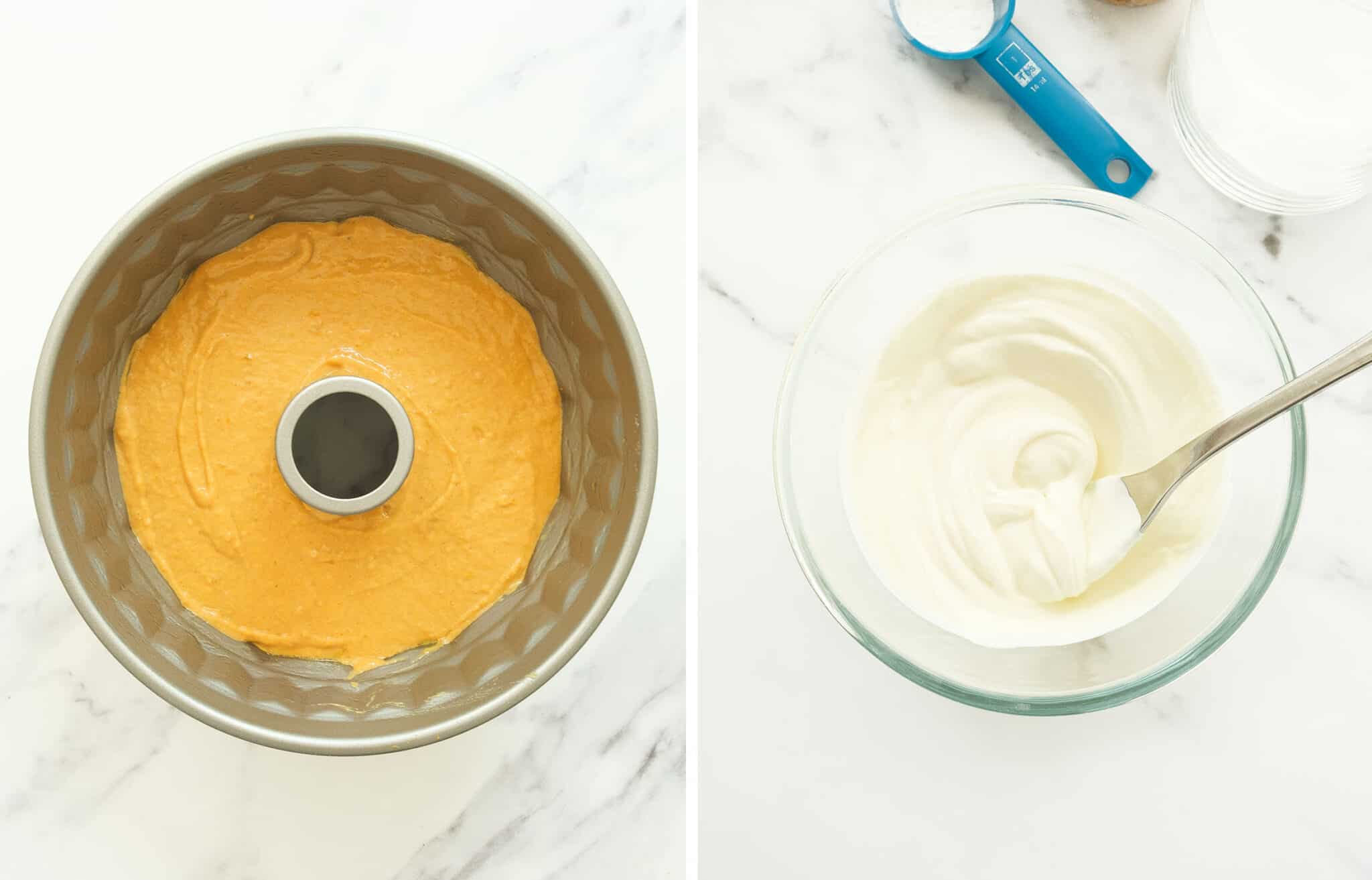 Recipe notes & tips
Pumpkin puree
Canned pumpkin puree is a convenient healthy ingredient for your desserts, just make sure you chose 100 percent pumpkin without any addition of salt or sugar. Plus, this recipe calls for a whole can and nothing goes to waste. Easy peasy!
However, if time allows, you can make amazing pumpkin puree from scratch following these simple tips from King Arthur Baking.
Spices
They're absolutely essential, but feel free to play around with them. I love mixing pumpkin pie spices and cinnamon, but you can use only cinnamon and ginger, or just pumpkin spices, either homemade or store-bought.
What's the frosting for this cake?
So just to clarify, what you see on the cake is not a traditional "frosting", but it's more like a silky cream cheese topping that contains a fraction of the sugar and zero butter. It's rich, but not overly sweet, and you can make it easily in one bowl.

However, if you wanted to get fancy, keep in mind that it's not stable and stiff enough for piping, but you can decorate your cake simply pouring the cheese topping with the help of a spoon.
I love keeping things simple, but feel free to swap it with your favorite cream cheese frosting recipe if desired, it will still be just as good.
Pumpkin bundt cake variations
This recipe is super versatile! For a healthy pumpkin cake, swap the cream cheese for dark chocolate chips, raisins, walnuts, or pecans. My favorite are walnuts or pecans, they are healthy and add texture and extra flavor.
You can cover your bundt cake with luscious dark chocolate as you'll see in this healthy blender chocolate beetroot cake. Delicious!
How long does this pumpkin bundt cake keep?
Unfrosted pumpkin cake keeps well at room temperature for up to 4 days. If you decorate with cream cheese, it keeps well in the fridge for up to 3 days. It's also freezable (without cheese) for up to 2 months (see notes).
Looking for more pumpkin recipes?
Here I pulled together a few delicious easy recipes to make the most of your pumpkins:
There's plenty of good recipes out there, but if you're after a super easy pumpkin bundt cake where the pumpkin and the spices are the stars of the show, this recipe is for you!
If you make this delicious pumpkin bundt cake recipe or if you have any questions, let me know! Leave a comment, rate it or tag a photo #theclevermeal on Instagram. I would love to hear from you!
And for more recipe updates, subscribe my newsletter and follow me on Instagram, Pinterest and Facebook.
Print Recipe
Pumpkin bundt cake
This easy 1-bowl pumpkin bundt cake is moist, lightly spiced, versatile, and absolutely perfect for dessert and afternoon tea. Bonus? it's not loaded with butter and sugar, and you can make it easily in one bowl without lots of fancy equipment.
Ingredients
2

large eggs

1 cup

(100 grams)

dark brown or brown sugar

1/2 cup

(120 ml) vegetable oil (I use expeller-pressed canola oil)

1 can

(15oz/420 grams)

pumpkin puree or 2 cups of homemade pumpkin puree

(not pumpkin pie filling)

1 tsp

vanilla extract

2 cups

(250 grams) all-purpose flour (spoon and leveled US cups)

1 tsp

pumpkin pie spice*

2 tsp

ground cinnamon

1 tsp

baking powder

1 tsp

baking soda

1/2 tsp

fine salt
Easy cream cheese frosting (optional)
3/4 cup

(5oz/150 grams) cream cheese

3-4 Tbsp

confectioner's sugar, or according to taste

3 Tbsp

milk
Instructions
Preheat the oven to 360°F (180°C), set the oven rack in the middle position, and grease a 9-inch bundt pan. 

Mix the wet ingredients: in a large bowl mix sugar and eggs until the sugar is dissolved. Then add vegetable oil, vanilla extract, pumpkin puree, and stir until smooth.

Mix the dry ingredients: mix all the dry ingredients in a bowl, or alternatively, add the flour to the wet ingredients and then sift the rest of the dry ingredients with a colander, this helps to spread spices and baking agents evenly.

Mix wet and dry ingredients until combined but do not overmix.

Pour and spread the batter into the prepared pan. Bake for about 32-35 minutes. Baking times vary, keep in mind the cake is done when a toothpick inserted in the center comes out clean.

Remove the cake from the oven and set the pan on a wire rack. Allow the cake to cool for about 15 min in the pan before unmolding and let it completely cool before adding any cream cheese topping or frosting.
Easy cream cheese topping (optional)
Mix all the ingredients into a bowl, taste, and make sure you're happy with the amount of sugar and with the consistency. You can add a bit more milk if you like.

When it's smooth and silky you can spread it on top of the cake. Done!
Notes
Storage: it keeps well, unfrosted, for up to 3 days at room temperature and up to 4 days in the fridge. It keeps well for up to 3 days in the fridge with the cream cheese topping.
Freezable: let the unfrosted pumpkin bundt cake cool completely, then wrap it in cling film and freeze for up to 2 months.
Pumpkin spice substitutions: you can use 1/4 teaspoon each: ground nutmeg, ground cloves, ground cinnamon, and ground ginger, alternatively, you can use only cinnamon.
Pumpkin cake variations: swap the cream cheese for 1

½ cup of dark chocolate chips, sultanas, raisins, walnuts, or pecans. Fold one of these ingredients into the cake batter as soon as it's just combined. 
Cream cheese topping: keep in mind this is not a traditional cream cheese frosting, and it's not pipeable.
Muffins: the recipe yields 12 large muffins, and baking time is 18-20 minutes, or until a skewer inserted into the center of a muffin comes out clean.