This post may contain affiliate links. Please read my disclosure policy for more details.
These moist and easy pumpkin muffins are so good and easy to make, perfect for a healthy Halloween breakfast.
This is one of my favorite methods: blend all the ingredients and bake.
Needless to say, a food processor is so handy when it comes to puree ingredients like carrots, beetroots or pumpkin, it definitely saves you the hassle of grating and the batter is ready in no time.
These muffins are soft, good and healthy, with hints of cinnamon, topped with crunchy sunflower seeds and not oversweet (I hate too much sugar, have I ever mentioned it? : )
What ingredients you need
Pumpkin
Eggs
Whole wheat or white flour
Cane sugar
Expeller pressed canola oil
Ground spices (cinnamon, ginger..)
Sultanas and seeds (optional)
Vanilla essence
Baking powder and a pinch of salt
And a blender…
Blend eggs, pumpkin, sugar, oil, spices and vanilla essence.
Add flour, baking powder and salt, in two steps, blending for a few seconds.
Add sultanas and blend again.
Topped with sunflower seeds and pumpkin seeds (optional ingredients) and bake.
Recipe notes
Flavor
If you are not a big fan of sultanas, and if you spare no expense, you can add dark chocolate chips, walnuts or hazelnuts instead for a more "luxury" kind of muffins : ) Guaranteed they will taste delicious.
And no problem if your cupboards don't offer a big array of spices, cinnamon will be just fine to add the right amount of spiciness to your muffins.
Do not overmix the batter because working flour too much can produce gluten, which creates a dense and rubbery cake.
Storage
they keep well for up 3-4 days at room temperature, in an airtight container. But do not refrigerate: refrigeration dries muffins and cake out! But they are freezable: store them in an airtight container and freeze for up to 1 month.
Looking for more blender recipes?
If you make this recipe, let me know! Leave a comment, rate it, or tag a photo #theclevermeal on Instagram. I would love to hear from you! Happy and healthy Halloween : )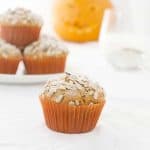 Print Recipe
BLENDER PUMPKIN MUFFINS
These delicious pumpkin muffins are packed with nutrients, moist and easy to make: blend the ingredients and bake.
Ingredients
2

eggs

2 cups

(9 oz)

pumpkin, diced

(250 grams)

2 cups

(9 oz)

whole wheat or white flour

(250 grams)

2

tsp

baking powder

1/2 cup

(7 oz)

unrefined cane sugar

(90 grams)

2/5 cup

(3 oz)

canola oil

(85 grams)

1/2

tsp

ground cinnamon

1/8

tsp

ground ginger

(optional)

1/8

tsp

ground nutmeg

(optional)

1/8

tsp

salt

1/2 cup

(3 oz)

sultanas

(optional)

5

Tbs

sunflower seeds or pumpkin seeds

(optional)
Instructions
Preheat the oven to 400 F.

Whisk your flour in a bowl with 2 tsp of baking powder and salt (if you're not using self-raising flour)

Place all the ingredients, except the flour, in a food processor and blend to a smooth consistency*

Add the flour in two steps, stopping to scrape down sides of bowl as necessary. Blend only for a few seconds until the flour is just combined with the rest of the ingredients, do not overmix (the pictures above show the main steps in the food processor).

Add sultanas and blend again for a few seconds.

Scoop the batter into the muffin cases, sprinkle with some seeds and bake in the middle shelf of the oven for about 10 minutes (at 400F)

After 10 minutes reduce the heat from 400F to 350F and keep baking for further 10 minutes.

After a total of 20 minutes check the muffins by inserting a thin skewer/cake tester. If the muffins are fully cooked then the skewer will come out clean, if there is still batter clinging to the skewer then return the cake to the oven for a further 3 minutes and test again.
Notes
* I always use a food processor, not a blender. A blender is ok to mix wet ingredients, but it might overmix your batter when you add flour. To avoid this issue, add flour by hand using a spatula.