This post may contain affiliate links. Please read my disclosure policy for more details.
Simple, fluffy and delicious, these cream cheese muffins are easy to make with ingredients you probably already have at home. They're perfect any time of the day, and every last crumb is SO GOOD.
Do you love cream cheese? Try some of these delicious recipes!
These muffins are made using soft cream cheese, which makes them moist and fluffy. They're also scented with fresh lemon zest and hinted with warming vanilla.
Try eating them warm, right out of the oven, tender and perfectly sweetened so they would taste great on their own, but even more delicious with a smear of raspberry jam, a touch of sweet cream cheese or a drizzle of honey.
This simple muffin batter base is also perfect with your fav add-ins (Hello chocolate chips, nuts and berries!). The options are endless.
The recipe is a no-brainer…beat eggs and sugar, add some wet ingredients, add some dry, bake into muffins and done.
And maybe the most exciting part? You should have everything on hand to make them right now.
Because your MONDAY truly needs some cream cheese muffins.
List of the ingredients
Cream cheese
Eggs
Sugar
Vegetable oil
Lemon & vanilla extract
Flour
Salt + baking powder
How to make cream cheese muffins
(Note: this is a quick description, the full recipe is at the bottom of the page)
Whisk or beat together your wet ingredients in one bowl.
Mix together the dry ingredients in a separate bowl.
Fold the dry ingredients in with the wet, and use a spatula to stir together until just combined, don't beat and try not to over-stir.
Fill your muffin cups, bake and ENJOY!
Note: bake the muffins for the first 5 minutes at a high temperature then reduce the temperature for the rest of the baking time. This initial hot burst lifts the muffins creating a solid dome, while baking at a lower temperature for the rest of the time cooks the center.
Recipe notes & tips
Ingredients and substitutions
Flour: all-purpose flour is the base for a light and fluffy cream cheese muffin.
Egg: one large egg to bind all the ingredients.
Sugar: you can use white sugar or brown sugar for the batter, but I've never tested honey or maple syrup in this recipe.
Cream cheese: it lends so much moisture (and calories as well, be aware! : )). I use soft cream cheese for this recipe (the spreadable sold in the tub, the only one I find here in the UK), but I think this recipe would work with the block cream cheese as well. If using the block, make sure you beat it well after adding an extra tablespoon of milk to the batter.
Vegetable oil: for a quick and easy muffin recipe we use olive oil here, we don't cream the butter in a stand mixer. Baking with olive oil is so convenient, the flavour is not overpowering, and keeps the muffins super moist. Canola oil or melted coconut oil can be used in place of olive oil.
Lemon zest and vanilla extract: for extra flavor, but you can use ground cinnamon, ginger or orange zest if desired.
Salt: for flavor.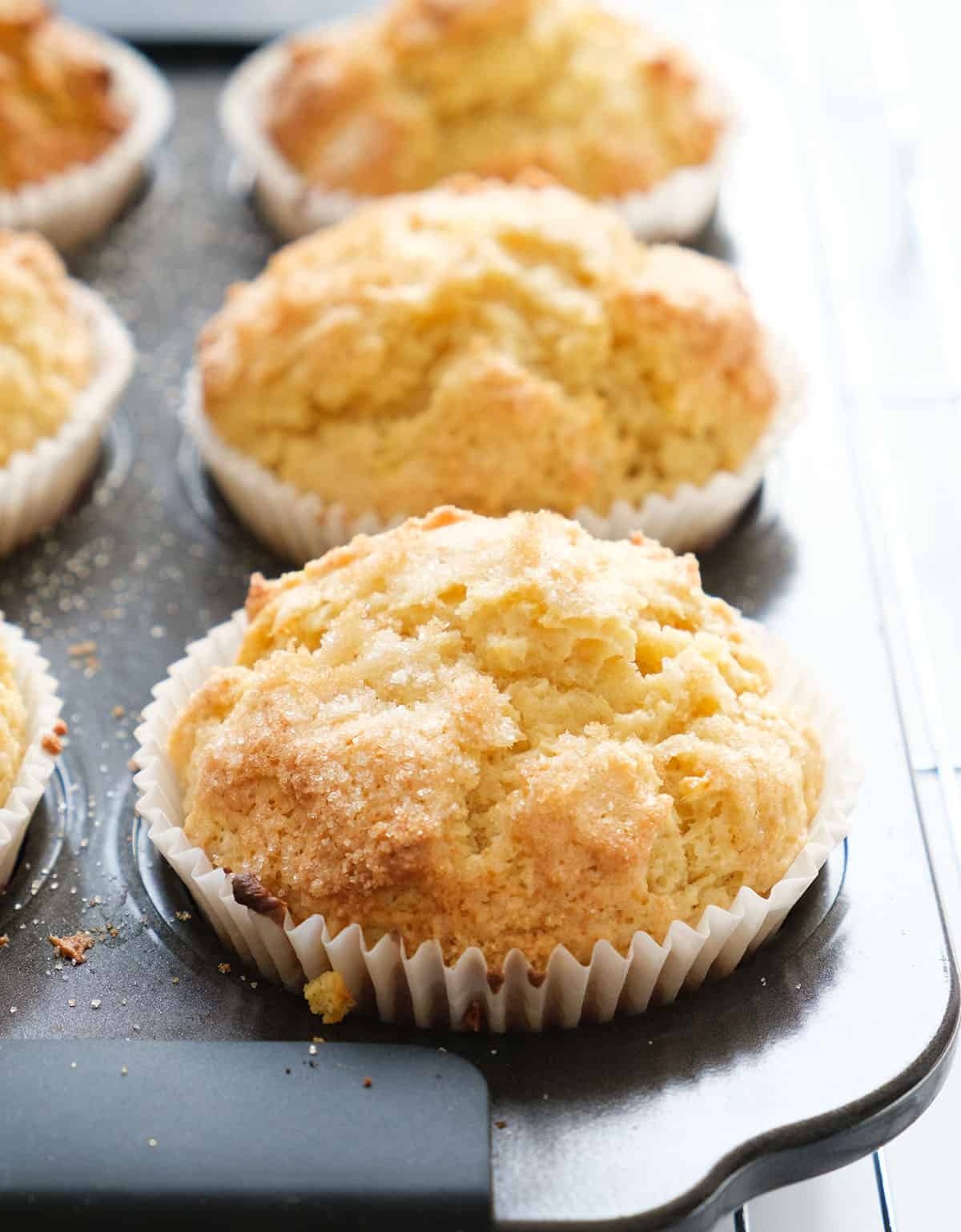 Baking tips
How to measure the ingredients: a kitchen scale is the best option. If you use cups, use a spoon to transfer the flour into the measuring cup and use the back of a knife to level off the top. But don't scoop the flour out of the bag with your measuring cup or spoon, as you'll end up with much more flour.
Use the ingredients at room temperature.
Do not over mix the batter, that would create a rubbery texture.
Preheat the oven and bake at high temperature for the first 5 minutes.
Test for doneness by inserting a toothpick into the center of a muffin, if it comes out clean, it's done! This will help you not overcook them.
They're easy to customize!
These cream cheese muffin recipe is so easy and gives you a huge range of variations! It's a very flexible recipe, allowing you to use up what you have on hand: chopped apples, chocolate chips, nuts, sultanas, dried figs, fresh or frozen berries like in these fabulous cream cheese blueberry muffins.
How to freeze them
Make a big batch and freeze the leftovers for up to 2-3 months. Cool completely and then place each in a freezer-friendly zipped-top bag or container. Thaw in the refrigerator or out on the counter. To warm up, microwave on high for about 20 seconds or bake at 300°F (149°C) for 5 minutes.
Muffins recipe you'll love!
And fore more cream cheese recipes…
Any cream cheese leftovers in the fridge? These amazing recipes are perfect for you!
Lastly, I hope you'll love these cream cheese muffins, and if you make them or if you have any questions, let me know! Leave a comment, send me a message, or rate it.
I would love to hear from you!
Print Recipe
Cream Cheese Muffins
Rich and delicious, these cream cheese muffins are easy to make with ingredients you probably already have at home.Enjoy for breakfast, or as an afternoon snack. Every last crumb is SO GOOD.
Recipe yields 6 muffins, but you can easily double it if using a 12-cup muffin pan.
Ingredients
1 cup + 2 Tbsp

(140 grams)

all-purpose flour

1

teaspoon

baking powder

1

teaspoon

baking soda

¼

teaspoon

fine salt

1

lemon zest

1

large egg

⅓ cup

(65 grams)

sugar

¼ cup

(60 ml) vegetable oil (I use light olive oil)

¾ scant cup

(130 grams)

soft cream cheese, not packed (I use the spreadable one)*

1

tablespoon

milk (any kind)

1

teaspoon

vanilla extract
Topping
1-2

tablespoon

sugar (preferably demerara or brown sugar)
Instructions
Preheat your oven to 425°F/218°C (conventional) or 400 °F/200 °C (if using a fan oven) and line a 6-cup muffin pan with liners or grease with oil or butter, (double the recipe if using 12-cup pan).

Whisk the flour, baking soda, baking powder, and salt together in a large bowl. Set aside.

In a large bowl, add the egg and the sugar and mix together with a whisk or electric mixer for a minute or until the mixture looks smooth and pale.

Then add olive oil or vegetable oil, cream cheese (use ¾ scant cup, this means use slightly less than the required amount), vanilla extract, lemon zest, milk and mix or beat until well combined.

Add the dry ingredients to the wet ingredients and fold with a spatula or a wooden spoon until just combined (in this step do not overmix).

Spoon the batter into the liners, and for nice crispy tops sprinkle the muffins with brown sugar, if desired.

Bake for 5 minutes, then keeping the muffins in the oven, reduce the oven temperature to 360°F/182°C (conventional) or 350°F/175 (fan oven). Bake for an additional 10-12 minutes or until a toothpick inserted in the center comes out clean. The total baking time should be about 15-17 minutes

Allow the muffins to cool for 5 minutes in the muffin pan before eating, or transfer to a wire rack to continue cooling. Muffins stay fresh covered at room temperature for a few days or in the refrigerator for up to 1 week.
Notes
Cream cheese: I use soft cream cheese for this recipe (the spreadable sold in the tub), but I think this recipe would work with the block cream cheese as well. If using the block, make sure you beat it well after adding an extra tablespoon of milk to the batter.
Storage:  muffins may be kept in an airtight container or bag at room temperature for 3 days, in the fridge for about a week. Alternatively you can freeze them for 2-3 months
Serving suggestion: we love slathering these cream cheese muffins with jam or almond butter, or grilling it cut-side-down in a cast iron skillet until they get toasted. Nutrition facts: the nutrition values are  for one portion and are based on an online nutrition calculator.  It's an estimate only and it should not be considered as a substitute for a professional nutritionist's advice. Please see my disclosure policies. 
Nutrition
Calories:
298
kcal
|
Carbohydrates:
30
g
|
Protein:
5
g
|
Fat:
18
g
|
Saturated Fat:
6
g
|
Polyunsaturated Fat:
2
g
|
Monounsaturated Fat:
9
g
|
Trans Fat:
0.003
g
|
Cholesterol:
49
mg
|
Sodium:
430
mg
|
Potassium:
70
mg
|
Fiber:
1
g
|
Sugar:
12
g
|
Vitamin A:
335
IU
|
Vitamin C:
1
mg
|
Calcium:
73
mg
|
Iron:
1
mg