This post may contain affiliate links. Please read my disclosure policy for more details.
This delicious pasta with zucchini is ready in about 15 minutes and requires only 5 ingredients. A simple recipe that turns plenty of zucchini into a perfect family meal.
Oh zucchini, how I love them! They're inexpensive, super versatile, and cook quickly.
They are also extremely low on calories and packed with health benefits.
And if you want to make the most of your zucchini (nobody wants to eat bland boiled veggies!) you have to saute' them in olive oil with a good amount of garlic. Stir frequently over medium-high heat, they will absorb plenty of flavors, especially when they start to brown.
Last step: cheese! Don't skip the parmesan (I can't live without parmesan, I'm Italian!) and make it extra delicious with a bit of cream cheese or ricotta. I leave it optional, but if you fancy a creamier pasta dish, go for it!
Whatch how to make it
If you've got loads of zucchini in your fridge, this is your recipe: super easy to pull together and definitely a family favorite.
What ingredients you need
Pasta
Zucchini
Garlic
Olive oil
Parmesan
Cream cheese or ricotta (optional)
Salt & pepper (and chili flakes, if you like)
How to make it
Note: the full recipe is at the bottom of the post
Cook your pasta until al dente
Gently fry garlic and olive oil in a large non-stick pan
Add the zucchini, salt, and pepper
Saute' zucchini, stirring often, until golden
Drain pasta, reserve cooking water
Add pasta, cheese, and a bit of cooking water to the pan
Toss to combine and your pasta with zucchini is ready!
Recipe notes & tips
ZUCCHINI
Look for zucchini that are firm and small or maximum to medium size. Stay away from large zucchini which are flavorless and contain large seeds. Zucchini are also super versatile, and work great in desserts like in this moist zucchini bread!
PASTA
The brand matters, if you ask me. Have a proper look at the label and go for durum wheat semolina pasta. You want a more robust texture when you toss your pasta with the rest of the ingredients over medium heat, otherwise, it becomes overcooks in seconds. And overcooked pasta is depressing!
CHEESE
What kind of cheese? Freshly grated Parmesan, of course! 😉
Its intense nutty flavor is absolutely perfect for this pasta with zucchini. But as I said above, you can make it even better and comforting if you add a small amount of cream cheese or ricotta. Even a touch of cream would work if you have it on hand. And if you have ricotta leftover, you can use it in this delicious lemon ricotta pasta as well.
Pasta with zucchini variations
Make it vegan: this recipe would still be nice without the cheese. Stir fry your pasta with zucchini without adding any cooking water. To boost the flavor, you might add toasted breadcrumbs like in this broccoli pasta. It's delicious!
Add more vegetables: peas and asparagus work beautifully in this recipe.
Add protein: pan-fried chicken, salmon or shrimp are other great additions.
This simple pasta dish is easy and very versatile, you can make your favorite flavors or protein of your choice to make it your own!
More quick pasta recipes
If you make this recipe, let me know! Leave a comment, rate it, or tag a photo #theclevermeal on Instagram. I would love to hear from you!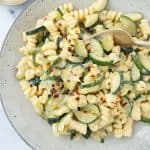 Print Recipe
Pasta with zucchini and parmesan
This pasta with zucchini is your go-to recipe when you want a delicious, satisfying pasta dish loaded with vegetables. It's ready in about 15 minutes, it requires only 5 ingredients and turns plenty of zucchini into a perfect summer meal.
Ingredients
1/2 lb

(220 grams)

pasta

1½

Tbsp

olive oil

3-4

garlic cloves, minced

1 lb

(450 grams) zucchini, cut into slices or cubes

(approx 3 medium-sized zucchini)

1/2 cup

(40 grams)

parmesan, grated

1/4 cup

(60 grams) cream cheese or ricotta (optional)

salt and pepper, to taste
Instructions
Pasta
Cook your pasta in a large pot of salted boiling water according to the packet instructions, but drain 1 minute before the end of the cooking time.

Before draining, reserve about 1/2 of cooking water.
Zucchini
While the pasta is cooking, in a large pan (see notes) heat the olive oil, add the garlic and gently fry for about 30 seconds, until golden and fragrant.

Add the zucchini to the pan, add salt and pepper and toss to combine. Start with 1/2 tsp of salt and a good pinch of pepper, but after a few minutes check if you're happy with the seasoning.

Fry the zucchini gently over medium-high heat, stirring frequently. You want the zucchini to turn slightly brown and absorb the flavor from the garlic, the oil, and the seasoning. Make sure you don't steam them. Cook until soft, 8-10 minutes should be enough.
Assemble and serve
Add pasta to the zucchini, stir to combine. Then add parmesan, cream cheese, (or ricotta). Stir well to combine for about 1 minutes over medium-high heat. Add a few Tbsps of pasta cooking water to make it moist, if needed (see notes).

Serve immediately with grated parmesan cheese, freshly ground black pepper or chili flakes, if you like.
Notes
Pasta: I prefer short cut pasta like fusilli or rotini in this recipe (it makes easier to catch pasta and veggies in the same bite!), but any pasta will work just fine.
Zucchini: I cut my zucchini vertically into 4 quarters and then into slices. You can simply slice or dice them, just keep more or less the same size.
More veggies, less pasta: if you prefer  to increase the amount of zucchini, go for it. You can use 2 lb of zucchini rather than 1, just make sure you get a large pan and adjust the seasoning and the olive oil.
Pan or skillet: Get a pan big enough to hold all the ingredients you are cooking. You want to be able to move the zucchini around easily so they don't just steam.
Pasta water: add just a small splash of pasta water until you make the pasta moist. Don't add all the water in one go, you might not need it.
Leftovers: this pasta doesn't freeze well, but it keeps in the fridge for a couple of days. Add a tiny amount of water or milk to loosen up and reheat in the microwave.

Note: the nutritional values are only estimates for 1 serving. They are provided by an online nutrition calculator and they should not be considered as a substitute for a nutritionist's advice.

 
Nutrition
Calories:
482
kcal
|
Carbohydrates:
62
g
|
Protein:
15
g
|
Fat:
20
g
|
Saturated Fat:
7
g
|
Cholesterol:
28
mg
|
Sodium:
183
mg
|
Potassium:
595
mg
|
Fiber:
4
g
|
Sugar:
6
g
|
Vitamin A:
626
IU
|
Vitamin C:
28
mg
|
Calcium:
138
mg
|
Iron:
2
mg