This post may contain affiliate links. Please read my disclosure policy for more details.
This simple, healthy, and economical broccoli pasta is packed with amazing flavors and it's so easy to throw together in only 20 minutes.
Combine superfood broccoli, chili, garlic, pasta, and olive oil, and you're guaranteed to create a terrific meal in a jiffy.
Believe me, it's so good it makes you LOVE broccoli!
This Italian pasta dish is very popular in Southern Italy. I cook it the way my mum used to with plenty of broccoli, fragrant garlic, chili flakes, extra virgin olive oil, and (wait for it)… a generous sprinkle of toasted "pangrattato".
Pangrattato (crispy breadcrumbs), has the ability to add not only flavor but also incredible texture to a dish.
But don't take my word for it, you need to try it yourself!
What ingredients you need
Broccoli
Whole wheat or white pasta
Breadcrumbs
Garlic
Chilli flakes
Olive oil or extra virgin olive oil
Lemon (optional)
Salt
How to make broccoli pasta
(Note: this is a quick description, the full recipe is at the bottom of the page)
Cook pasta and broccoli in the same pot of boiling salty water.
Drain and reserve 1/2 cup the cooking water.
In a large skillet toast the breadcrumbs and set aside.
In the same skillet saute' garlic and chili flakes until fragrant.
Add pasta, broccoli and some cooking water to the pan and toss well to coat.
Serve with the toasted breadcrumbs, and more chili flakes if you like.
Recipe notes
Broccoli
When buying broccoli, choose heads with tight, green florets and firm stalks. The cut ends of the stalks should be fresh and moist looking. Avoid broccoli with dried out or browning stem ends or yellowing florets (I know, I'm stating the obvious!) Trim off the florets slicing straight through the broccoli stem close to the crown and break the crown into several florets.
Is broccoli healthy?
Yes. Broccoli belongs to the cruciferous family, it's very low on calories and offers an excellent nutritional profile.
It's a good source of fiber and protein, iron, potassium, calcium, selenium, and magnesium as well as vitamins A, C, E, K. Broccoli is also high in many plant compounds, the most abundant one is called sulforaphane.
Sulforaphane has been suggested to be a potent anticancer and antimicrobial phytochemical.
Why does this broccoli pasta taste so good?
Take your time and warm the oil slowly and patiently over a low flame, so the flavor of the garlic and the chili have a chance to infuse the oil.
It's also important to save some of the broccoli and pasta cooking water which emulsifies with the oil and contributes to the creaminess of the final dish.
Some fresh lemon juice lightens up the broccoli adding a fresh punch to the dish, and the toasted breadcrumbs will take the dish to the next level!
Cooking time
I like my broccoli pretty tender, I love when it breaks up and coats the pasta, that's why I allow it to cook for about 8 minutes. Plus, cooking pasta and broccoli together adds more flavor to the dish.
But If you like your broccoli crisp, add it to the pasta water a bit later, making sure not to overcook the pasta (I enjoy overcooked broccoli, but coping with overcooked pasta is out of the discussion!).
More delicious vegan pasta recipes?
Firstly, if you like broccoli you'll love this homemade cavatelli and broccoli (simply skip the cheese, and make it vegan!). And for more vegan pastas, here I've gathered a few ideas for you:
If you make this healthy and super tasty vegan broccoli pasta, let me know! Leave a comment, rate it or tag a photo #theclevermeal on Instagram. I would love to hear from you! x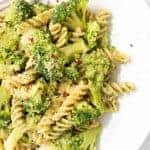 Print Recipe
Vegan broccoli pasta with breadcrumbs
This simple vegan broccoli pasta recipe can be prepared in a jiffy and is a winning combination of amazing and vibrant flavors. It's delicious, healthy, economical and so easy to throw together in 20 minutes. A recipe that makes you want to eat tons of broccoli!
Note: the post has been updated with new pictures and nutritional values, but the recipe is still the same.
Ingredients
1/2 lb

(220 grams)

short pasta shapes (fusilli, penne, rotini…)

1 lb

(450 grams) broccoli, cut into small florets (cut in half the big ones)

2

large garlic cloves, minced

4

Tbsp

breadcrumbs, toasted

1/2

lemon, juice (optional)

1/4

tsp

chili flakes

salt and pepper to taste
Instructions
Split the broccoli into medium-small florets. Pare away the tough skin from the stalk and cut it into thick strips or small bites. Wash them.

Put pasta in a large pot of boiling salted water. When the water return to a boil, drop broccoli into the pasta water and leave the burner high enough to keep a rolling boil.

Cook pasta until al dente.

Meanwhile, in a large frying pan, over a low flame, warm 1 Tbsp of olive oil and gently fry the breadcrumbs and a pinch of salt, stirring constantly for about 5 minutes until crisp and golden. Spoon onto a plate and wipe the pan clean.

In the same frying pan, over a low flame, warm the rest of the olive oil and fry gently the garlic and chilli flakes for 2-3 minutes (do not let it burn or it will be bitter).


Drain broccoli and pasta, add them to the pan adding gradually the reserved cooking water as much as you need to combine everything.

Mix well stirring with a spoon and allow to stew over medium heat for a further minute, during which time broccoli will break up taking on an almost creamy aspect. Add a swirl of olive oil, taste and adjust the seasoning with extra salt and black pepper if needed.


Transfer to a serving bowl, sprinkle with toasted breadcrumbs, and freshly squeezed lemon juice to lighten up the dish (optional). Add extra chili flakes and a drizzle of olive oil. Serve immediately.
Notes
Leftovers: it keeps well in the fridge for up to 3 days.
These quantities yield to 3 generous or to 4 smallish portions. 
NOTE: Nutritional values are estimates only.
Nutrition
Calories:
503
kcal
|
Carbohydrates:
75
g
|
Protein:
16
g
|
Fat:
16
g
|
Saturated Fat:
2
g
|
Sodium:
155
mg
|
Potassium:
664
mg
|
Fiber:
7
g
|
Sugar:
5
g
|
Vitamin A:
984
IU
|
Vitamin C:
134
mg
|
Calcium:
114
mg
|
Iron:
3
mg