This post may contain affiliate links. Please read my disclosure policy for more details.
Let the homey flavors speak for themselves with this hearty vegetable barley soup. It's so easy to throw together, it's healthy, filling, low fat, and costs less than $1 per serving.
Plus, you can easily customize this terrific recipe with any leftover vegetables. I usually go for carrots, celery, onion, and frozen peas, they're always in my fridge, but you can mix up any seasonal veggies or whatever you have on hand.
Then saute' your veggies in olive oil with aromatic oregano and bay leaves, and let simmer on the stove for about 30 minutes until the barley softens and the flavors mingle.

It's worth waiting, and you'll get your 5 a day plus a portion of high-fiber whole grain in one delicious meal.
Make a big batch of this barley soup, freeze it or bring it to work for lunch. It's even better the next day.
What ingredients you need
Frozen peas
Onion
Garlic
Carrots
Celery
Potato
Tomato paste
Broth
Olive oil
Thyme, bay leaves, oregano
Salt & pepper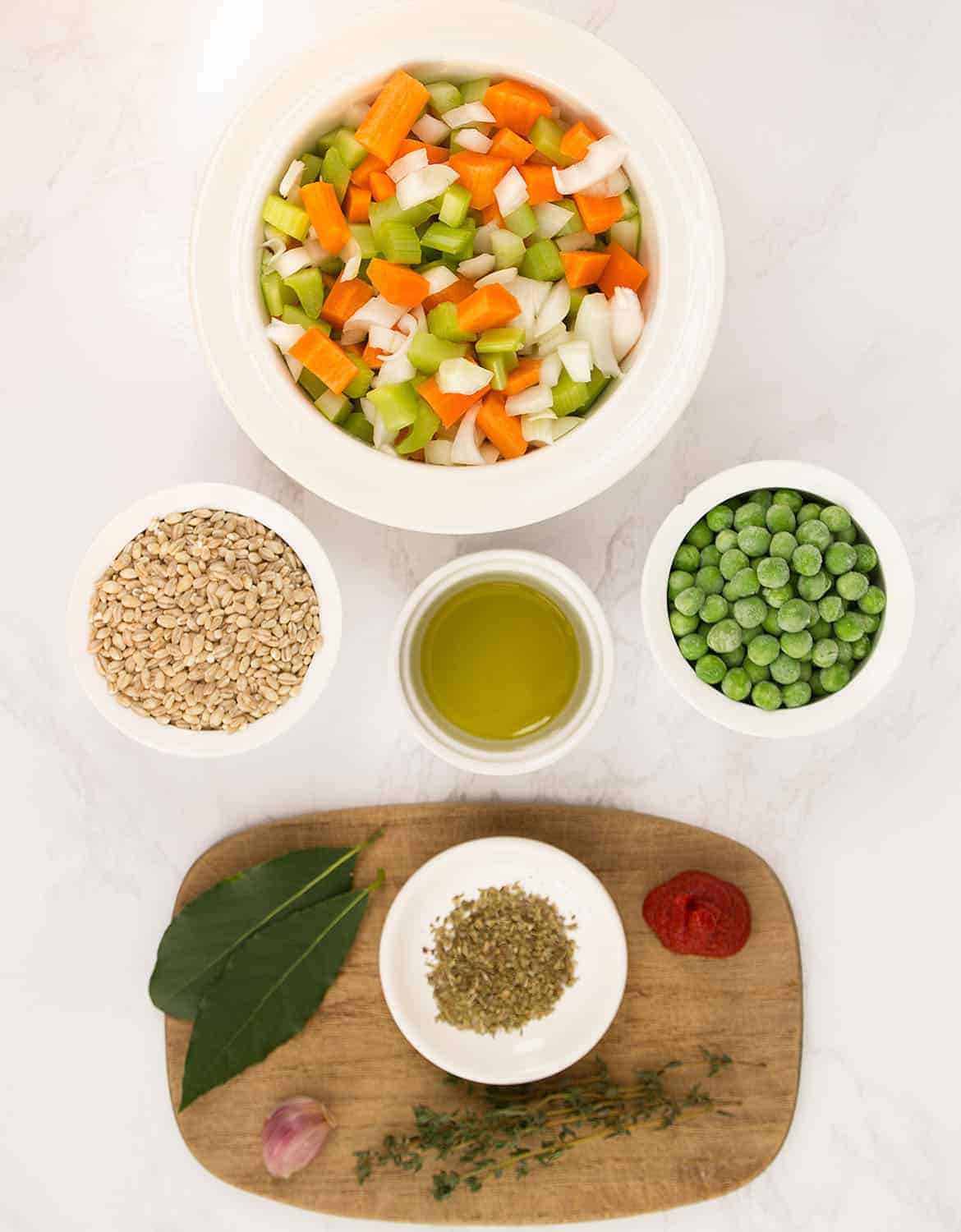 How to make it
Saute' carrots, onion, celery in olive oil for about 5-7 minutes (soffritto)
Add garlic and herb and stir until fragrant, about 1 minute
Stir in barley, tomato paste, and the potato cubes
Add broth, cover and cook for about 20-25 minutes
Stir in frozen peas
Cook for a further 5 minutes
Taste and adjust the seasoning
Remove bay leaves and thyme sprigs
Serve with a drizzle of olive oil and grated parmesan if you like
Doesn't it look delicious? Enjoy 🙂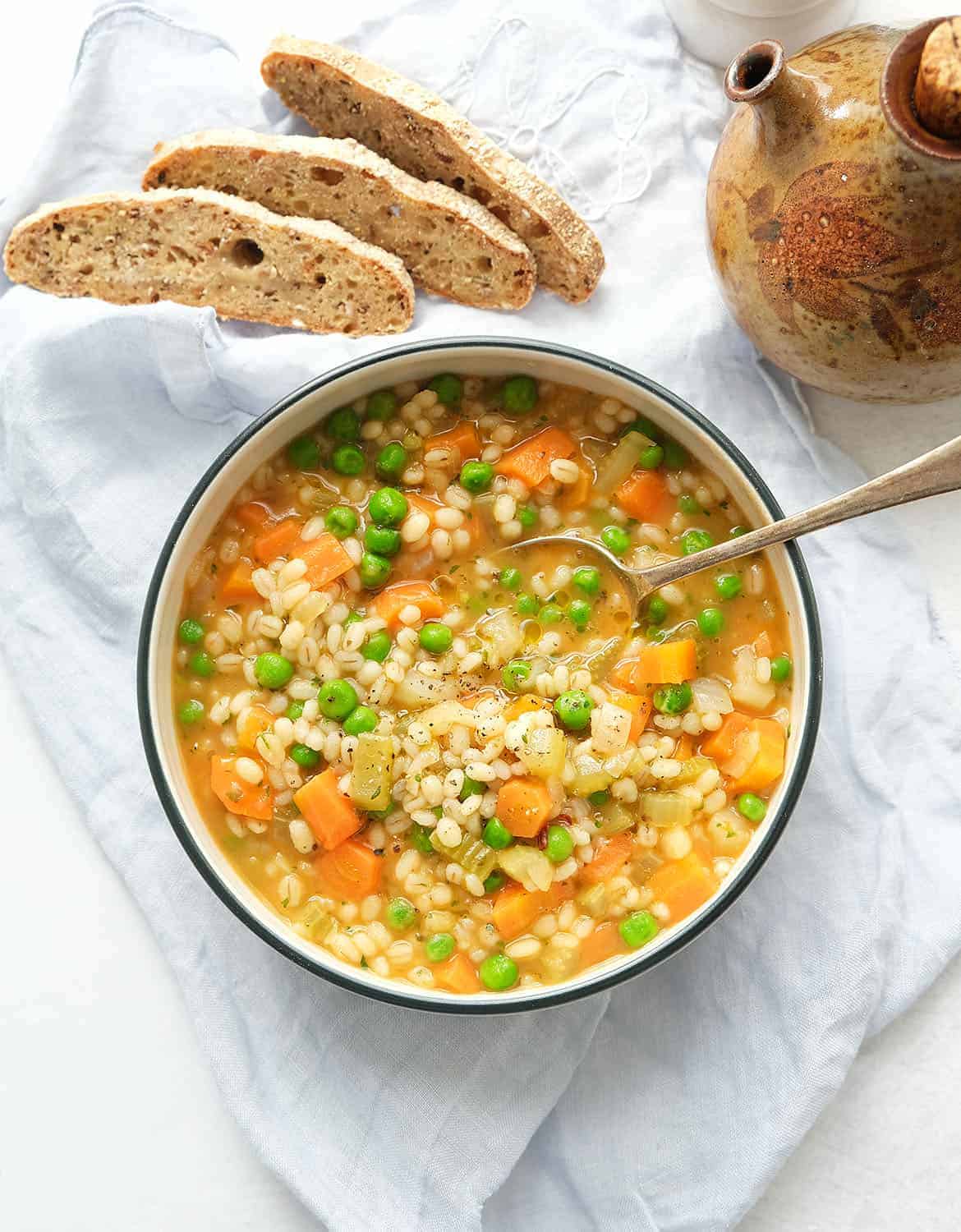 RECIPE NOTES & FAQ
IS BARLEY SOUP GOOD FOR YOU?
YES. Barley is a versatile and inexpensive whole grain, it's rich in fiber and other important folates and minerals like selenium, great for heart health. Plus, the fiber content makes you feel fuller for longer, promoting weight loss.
Last but not least, adding plenty of veggies to this recipe turns a simple barley soup into a nourishing meal packed with nutrients.
WHAT IS BARLEY?
Cooked barley is a cereal grain with a slightly chewy texture and nutty flavor, similar to brown rice.
It's a versatile whole grain for many different dishes, from stews to soups and salads. It's inexpensive and easily available, especially if you buy it from the bulk section or pulse section.
Plus, it's easy to cook, and it can be interchanged with rice in many recipes. However, barley is not gluten-free.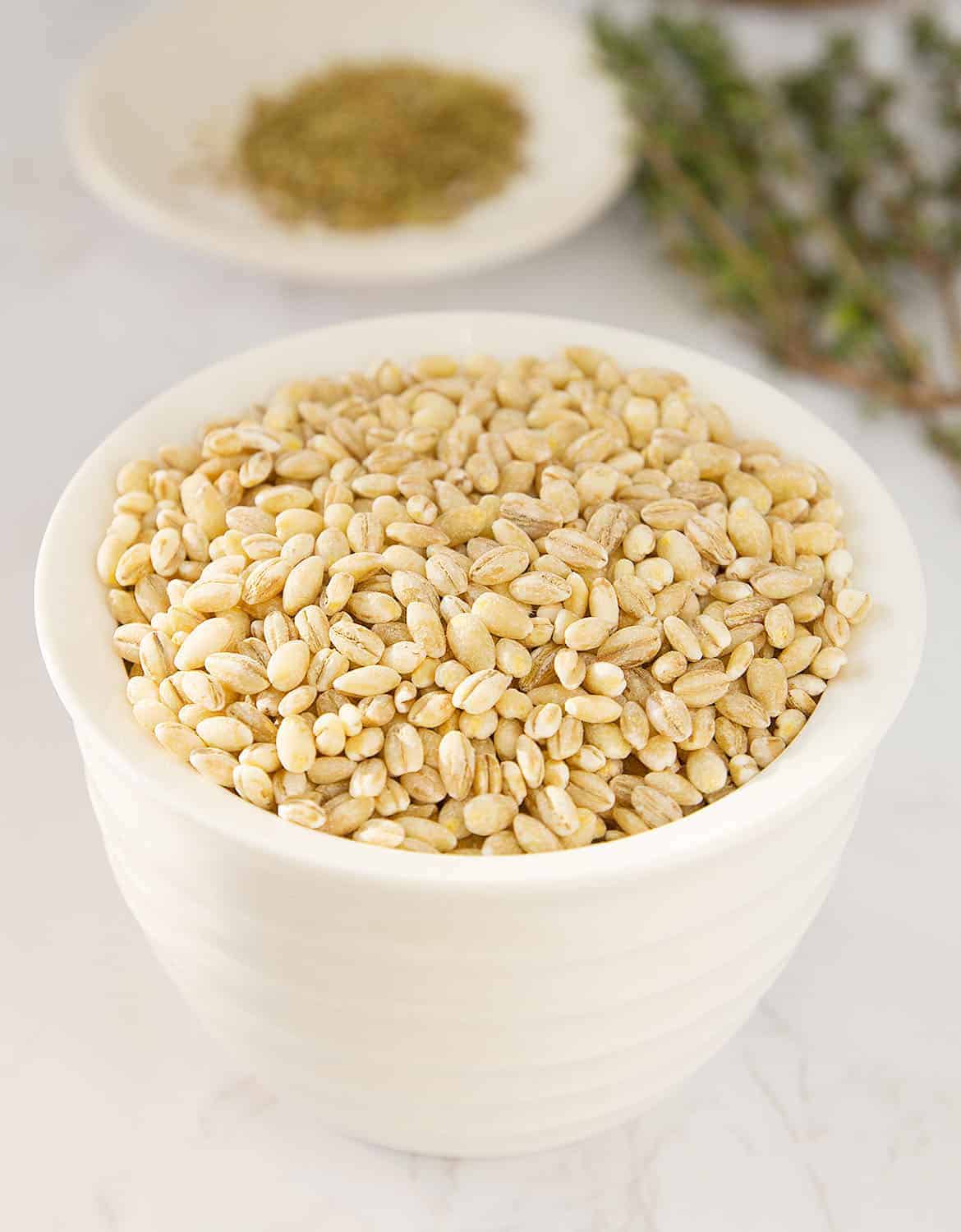 WHAT KIND OF BARLEY DO YOU USE IN SOUPS?
There are two types of barley: hulled barley and pearled barley.
Hulled barley is the healthies kind of barley, with only the outermost hull removed and very rich in fiber, while pearled barley has been processed to remove its fibrous outer hull and some or all of the bran layer. For this reason, pearled barley cooks faster than hulled barley and is the most common for soups and salads.
CAN I SUBSTITUTE THE BARLEY?
Yes, if you don't have any barley on hand, you can use whole grain rice, regular rice, spelt, bulgur or even short pasta shapes. However, make sure to adjust the cooking time accordingly.
CAN YOU FREEZE BARLEY SOUP?
Yes, this barley soup freezes well.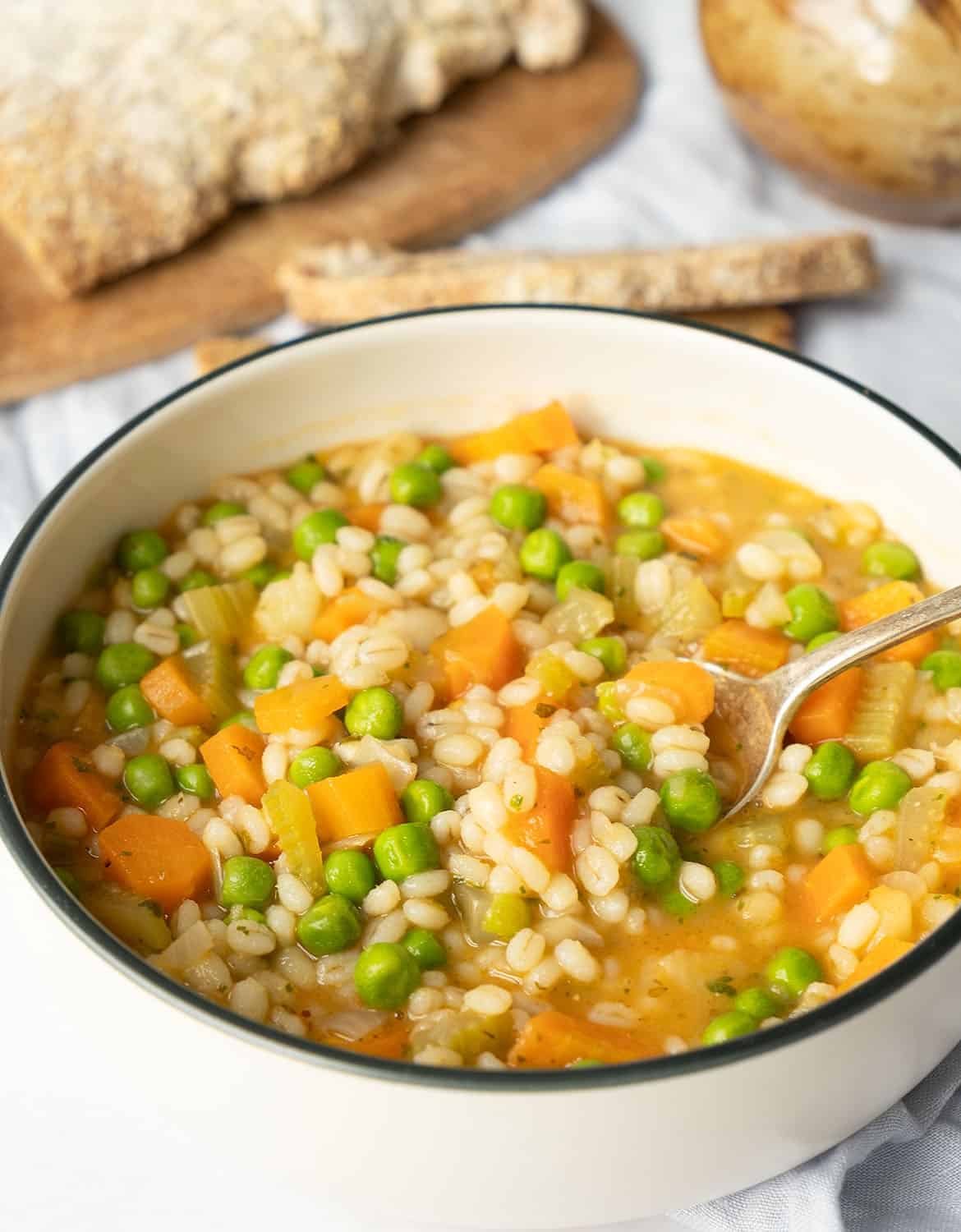 VEGETABLE BARLEY SOUP VARIATIONS
You can easily customize this barley soup with any orphan ingredients in the vegetable fridge drawer. I usually add carrots, celery, onion, and frozen peas, but you can mix up any veggies of your choice or whatever you have on hand.
Vegetables: you can add summer vegetables like zucchini, green beans or fresh tomatoes, just in the last 5 minutes of cooking. In winter, you can add mushrooms, squash, cabbage, kale at the beginning, when you add the barley to the pot.
Beans: canned chickpeas or canned white beans are rich in protein and work great, add them alongside barley if you wish.
Chicken: if you're not vegetarian or vegan, you can add chicken too. Sometimes, I add a couple of raw skinless chicken legs at the beginning, when I stir in the broth. They cook for about 30 minutes, making the broth richer and flavorsome. Then I remove the chicken flesh from the bone with a fork and discard the bones. Delicious.
Looking for more hearty soups?
If you like this vegetable barley soup, let me know! Leave a comment, rate it or tag a photo #theclevermeal on Instagram. I would love to hear from you! x
Print Recipe
Barley soup
Let the homey flavors speak for themselves with this hearty and simply delicious barley soup. It's easy to make, cheap, packed with vegetables, filling, and you can't stop eating it!
Note: the post has been updated with new pictures and the recipe has been slightly tweaked.
Ingredients
3/4 cup

(130 grams)

pearled barley, rinsed and drained

1 cup

(130 grams) frozen peas (or other beans)

4 ½ cups

water or vegetable broth, plus more if needed

1

Tbsp

tomato paste, or 1 diced tomato

1

Tbsp

olive oil, plus extra for drizzling

1

garlic clove, minced

1

medium-sized onion, diced

1

large celery rib, sliced

2

large carrots, diced

1

medium-sized potato, cut into cubes

1

tsp

oregano

2

bay leaves

3

thyme sprigs

(optional)

salt and pepper, to taste
Instructions
Warm the olive oil in a large pot over medium heat. Once the oil is shimmering, add the diced onion, carrot, celery. Cook, stirring often, until the onion has softened and is turning translucent, about 7 minutes.

Add garlic, thyme, oregano, bay leaves, and stir for about 1 minute.

Add the barley, cubed potatoes, tomato paste, and give a good stir.

Then add the vegetable broth, a good pinch of salt and pepper. Raise the heat and bring the mixture to a boil, then cover the pot, reduce heat and cook gently for 25-30 minutes or until the barley is tender. If you need more liquid or if you prefer a thinner soup, add an extra cup of water or broth now.

When the barley is cooked, add the peas and cook for a further 5 minutes.

Turn off the heat, then remove the thyme sprigs and the bay leaves. Taste and season with salt and pepper*. (I usually add a pinch of salt at the beginning + 1/2 tsp later. You might need more salt, depending on your vegetable broth and on your personal preferences.)*

Divide into bowls, drizzle with olive oil or extra virgin olive oil, and more freshly ground black pepper if you like. If you don't keep it vegan, serve with freshly grated parmesan cheese for extra flavor. Enjoy!

NOTE: The nutrition data provided are estimates only.
Notes
Seasoning: If you use a broth that tastes quite salty on its own, it's important to adjust the seasoning at the end and not at the beginning as you never really know how strong the salt from the broth is. I would start only with a good pinch of salt, no more than that.
Leftover: it keeps well in the fridge for up to 3 days. t's also freezable: divide among airtight containers (leaving 1-inch space at the top), and freeze up to 1 month.
Broth: both vegetable or chicken broths are fine.
I usually make my own vegetable broth cooking vegetable scraps and herbs for 10 minutes. 
But when I'm short on time I go for hot water and vegan low salt vegetable broth cubes.

NOTE:

Nutritional values are estimates only.
Nutrition
Calories:
249
kcal
|
Carbohydrates:
48
g
|
Protein:
7
g
|
Fat:
4
g
|
Saturated Fat:
1
g
|
Sodium:
946
mg
|
Potassium:
609
mg
|
Fiber:
10
g
|
Sugar:
8
g
|
Vitamin A:
5954
IU
|
Vitamin C:
26
mg
|
Calcium:
64
mg
|
Iron:
4
mg