This post may contain affiliate links. Please read my disclosure policy for more details.
With less than 150 calories per serving, this warming and tasty vegetarian cabbage soup is one of the healthiest and cheapest soup recipes ever, and it's ready in less than 30 MINUTES.
Not only is this soup a quick, healthy, detox, low calorie, and low carb meal, but it's so GOOD!
It's not watery or boring, and it doesn't taste of boiled cabbage, but it's a filling, hearty soup with a great chili kick that warms you up.  And it's packed with flavor, texture and lots of vegetables cooked in a rich tomato broth.
Yes, plenty of onion, carrots, celery, cabbage, and cauliflower.
The amazing cauliflower is perfect to thicken this soup and sometimes I use it as a low carb substitute for potatoes. Then I add chili flakes, paprika, and ground coriander to boost the flavor and you know what?
My husband and I love it (and he's not the world's biggest fan of cabbage, just saying : )
More nutrients, fewer calories, but tons of flavor, the right amount of spices, and a delicious thick texture.
What about crusty bread to dunk?
What ingredients you need
Cabbage
Cauliflower or potato (optional)
Canned tomatoes
Onion, carrots, celery
Garlic
Bay leaves
Spices (paprika, chili flakes, ground coriander)
Vegetable broth
Salt & pepper
RECIPE NOTES & TIPS
You'll love this vegetarian cabbage soup, it costs about $1 per portion per portions, it's packed with vegetables and it's on the table in no time!
IS CABBAGE GOOD FOR YOU?
YES. Cabbage is part of the cruciferous vegetable family and has an outstanding nutritional profile. It's particularly high in fiber, vitamins, and antioxidants. Also, cabbage is extremely low on calories and carbs: according to the USDA National Nutrient Database, 1 half cup of shredded cooked cabbage (75 grams) contains 17 calories and 4 grams of carbohydrate.
However, despite its low calorie/carb content, this cabbage soup is healthy because it is loaded with vegetables and nutrients and you'll get your 5-a-day all in one big bowl of warming soup!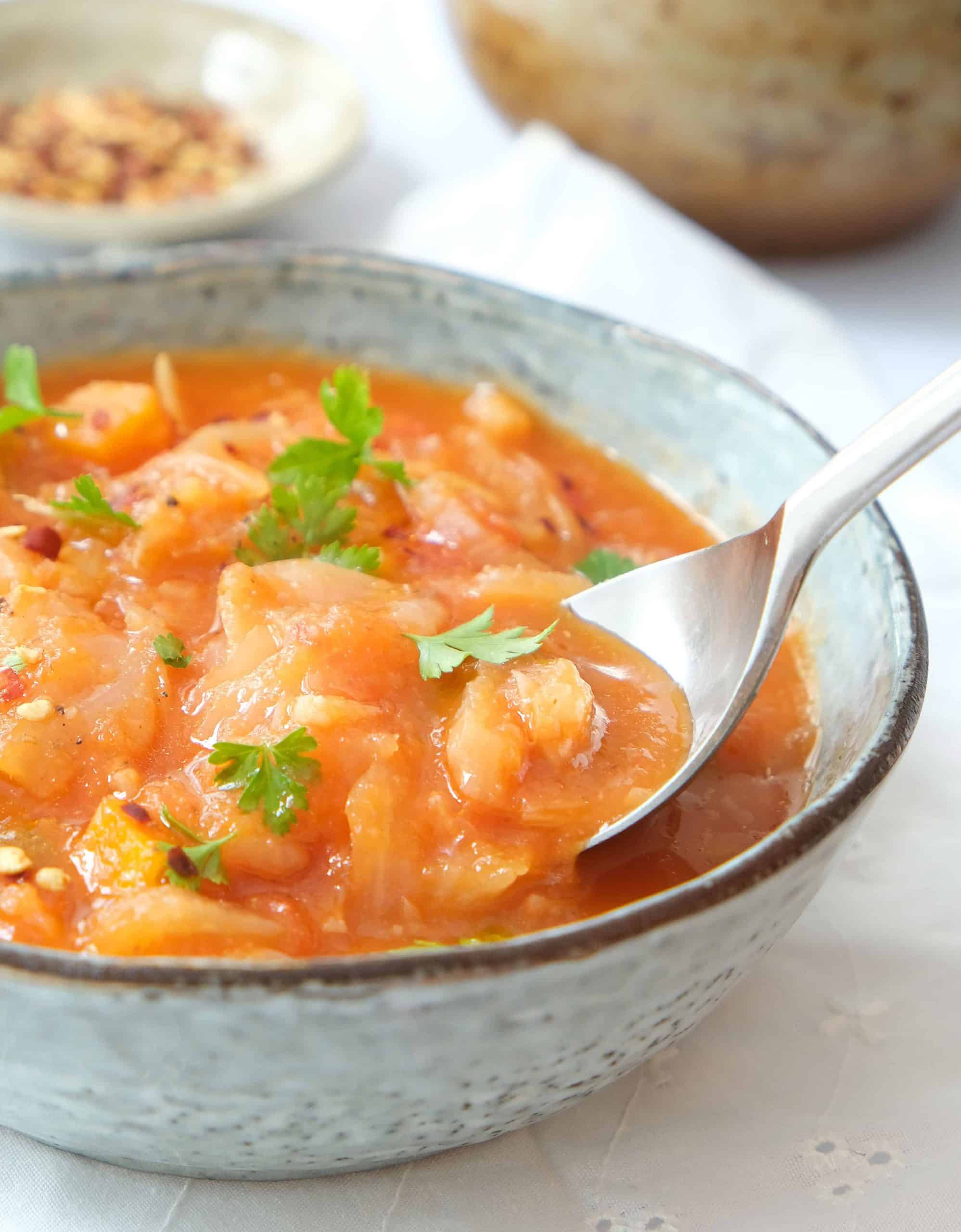 HOW TO MAKE THIS CABBAGE SOUP TASTE GOOD?

Start cooking slowly plenty of diced carrots, celery, onion, and garlic in a bit of olive oil. In Italy, this is called "soffritto" and creates a flavorsome base for basically any savory dish. To create a more complex flavor, add to this vegetable base the spices and the bay leaves.
Both cauliflower and tomatoes make this soup richer. Plus, if you whiz up the soup just a little bit using a blender stick, or transferring some into a blender then add it back, the soup will get a thicker texture. You can swap cauliflower for a medium-sized potato, they both make the soup thicker. Skip both if you wish.
Serve with chili flakes, they make a huge difference!
MORE LIGHT SOUPS
Or if you look for another cabbage recipe, you might like this crunchy cabbage salad with apples.
If you try this delicious vegetarian cabbage soup, let me know! Leave a comment, rate it or tag a photo #theclevermeal on Instagram.
I would love to hear from you!
Print Recipe
Best vegetarian cabbage soup
With less than 150 calories per serving, this healthy warming vegetarian cabbage soup is packed with flavor, texture, and plenty of vegetables cooked in a rich tomato broth.
Ingredients
1 lb

(450 grams) cabbage, shredded

1 can

(14oz/400 grams)

diced tomatoes

1/2 lb

(220 grams) cauliflower or potatoes, cut into chunks* (optional)

4

cups

vegetable broth

2

large carrots, cut into chunks

2

celery ribs, sliced

1

large onion, diced

2

garlic cloves, minced

3-4

bay leaves

1

Tbsp

olive oil

1

tsp

paprika

1/2

tsp

chili flakes, or according to your taste

1/2

tsp

ground coriander

(optional)

salt & pepper, according to taste
Instructions
Warm the olive oil in a large pot over medium heat. Once the oil is shimmering, add onion, carrots, celery, garlic, chili flakes, paprika, ground coriander, and bay leaves. Cook, stirring often, until the onion has softened and is turning translucent, about 5 minutes.

Add the cabbage and give a good stir for about 1 minute.

Add the cauliflower florets, canned tomatoes, broth and a good pinch of salt.

Raise the heat and bring the mixture to a boil, then cover the pot, reduce heat and cook gently for 25 minutes.

When the soup is cooked remove the pot from heat, then remove the bay leaves.

Blend about 1/3 of the soup with a blender or a stick blender and return it to the pot. Careful, the soup is hot. Try to blend mainly the cauliflower (or the potato chunks, if you use potatoes).

Taste and season with salt and pepper. (I usually add a pinch of salt at the beginning + 1/2 tsp later. You might need more salt, depending on your vegetable broth and on your personal preferences. See notes)*

Serve with freshly ground black pepper or a pinch of chili flakes, a drizzle of olive oil. Enjoy!
Notes
I usually make my own vegetable broth, but when I'm short on time I use hot water and vegan low salt vegetable broth cubes.
Seasoning: If you use a broth that tastes quite salty on its own, it's important to adjust the seasoning at the end and not at the beginning as you never really know how strong the salt from the broth is. I would start only with a good pinch of salt.
Leftover: it keeps well in the fridge for up to 3 days. It's also freezable: divide among airtight containers (leaving 1-inch space at the top), and freeze up to 2 months.
* Cauliflower or potato? I'm not a doctor or a dietician, however, if you use 1/2 lb of potato rather than 1/2 lb of cauliflower, you'll increase the carb content. 
Protein: to make a more balanced meal, add 1 can of chickpeas or cannellini beans, they add flavor, protein and texture making this soup even more delicious. NOTE: nutritional values are per serving, calculated on a cabbage soup made with low sodium vegetable broth and 220 grams of cauliflower. They're estimates only.
Nutrition
Calories:
146
kcal
|
Carbohydrates:
25
g
|
Protein:
5
g
|
Fat:
4
g
|
Saturated Fat:
1
g
|
Sodium:
117
mg
|
Potassium:
846
mg
|
Fiber:
9
g
|
Sugar:
12
g
|
Vitamin A:
11519
IU
|
Vitamin C:
83
mg
|
Calcium:
125
mg
|
Iron:
2
mg