This post may contain affiliate links. Please read my disclosure policy for more details.
These delicious weight loss soups are a must if you plan to get in the shape and feeling better for summer. They're light, vegetarian, hearty and contain LESS THAN 200 CALORIES PER SERVING!
A big bowl of one of these freshly made soups will not only make a satisfying meal, but it will keep you fuller for longer and, given the low-calorie content, it will help you reach your weight loss goals!
And healthy and low-calorie doesn't mean you'll miss out on great flavor, not at all.
Added bonus? They're packed with wholesome ingredients, they give you a big portion of your recommended 5-a-day and the whole family will love them.
Pick from one of these delicious and low-calorie soup ideas, including classic recipes like roasted vegetable soups, minestrone or mushroom soup, the hearty bean or lentil soups that make a meal in themselves, to the more exotic vegetable soups with curry and coconut flavors.
Make up a big batch, take it to work or freeze it for later.
They all taste and look amazing!
Disclaimer: the nutrition values are based on an online nutrition calculator. It's an estimate only and it should not be considered as a substitute for a professional nutritionist's advice. Please see my disclosure policies.
1. VEGETARIAN CABBAGE SOUP by The Clever Meal
Calories: 146
This warming and tasty vegetarian cabbage soup is one of the healthiest and cheapest soup recipes ever, and it's loaded with flavor and texture!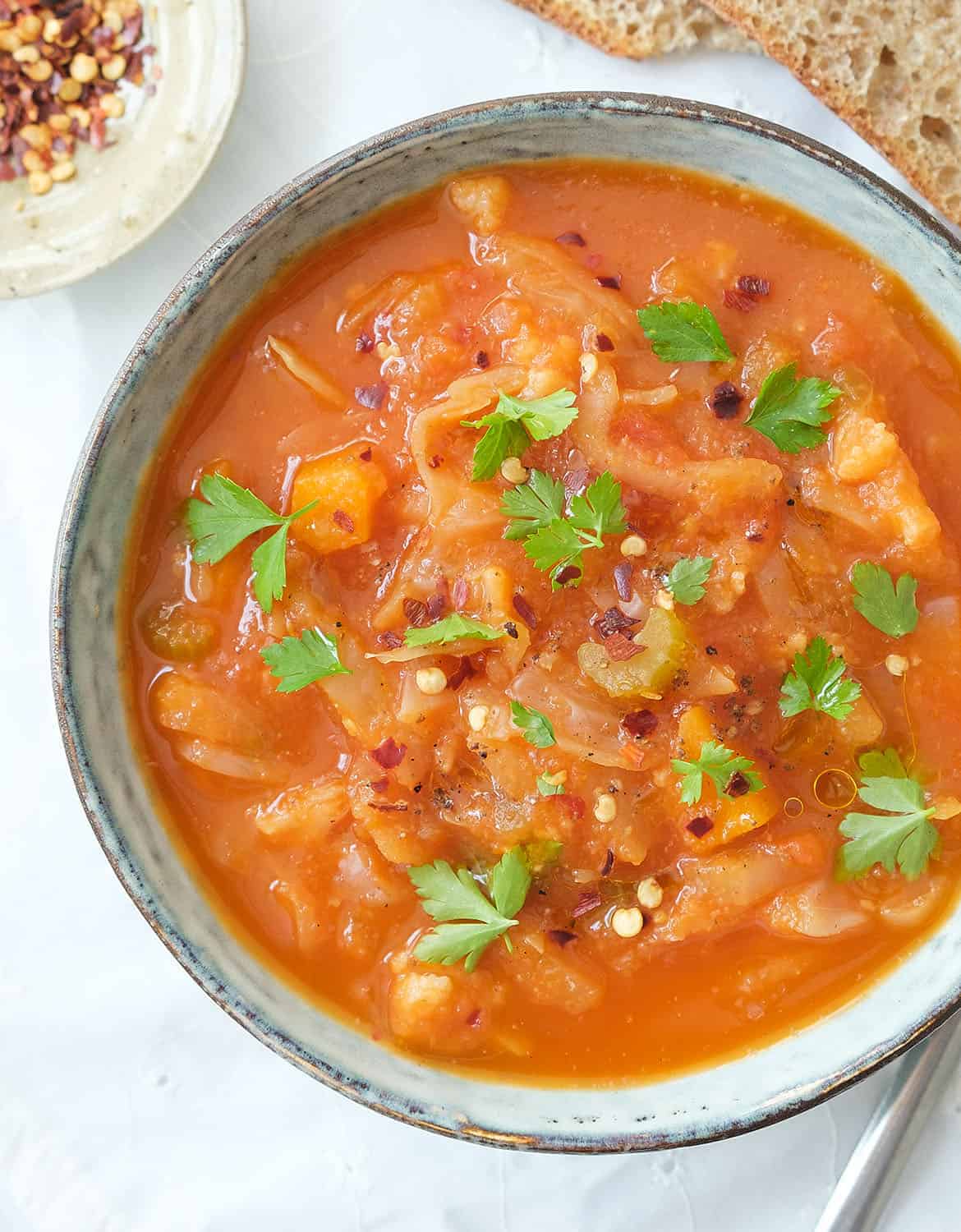 2. SPICY PUMPKIN AND CARROT SOUP by The Clever Meal
Calories: 107
This luscious spicy pumpkin carrot soup is packed with flavor and texture: the delicious pumpkin and carrot make an irresistible orange creamy soup, while curry, turmeric, and chili flakes are perfect to jazz up that delicate and sweet flavor.
3. CREAMY CARROT AND GINGER SOUP WITH TURMERIC  by The Clever Meal
Calories: 137
This bright vibrantly spiced creamy carrot and ginger soup makes the perfect detox winter warmer. Not only is this weight loss soup satisfying and nourishing, but it's easy to digest, and uses amazing anti-inflammatory and detox ingredients.
4. VEGAN WHITE BEAN & KALE SOUP by The Clever Meal
Calories: 191
This low-calorie white bean kale soup made with cannellini beans, everyday vegetables, lots of fresh kale, and pantry seasonings. It's budget-friendly, nutrition-packed comfort food. White bean and kale soup is a great way to get all the fiber in one meal!
5. CREAMY VEGAN SPINACH SOUP WITH LEMON by The Clever Meal
Calories: 96
Looking for delicious weight loss soups? This low-calorie vegan spinach soup is perfect, creamy and packed with nutrients. No half and half, no butter, no sour cream, only a potato and plenty of spinach.
6. TUSCAN WHITE BEAN SOUP by A Simple Palate
Calories: 128
This Tuscan White Bean Soup is an easy vegetable soup made with sautéed veggies, tomatoes, white beans, in a hearty tomato & vegetable broth!  It has so much flavorful, is easy to throw together, and is a soup you will make on repeat once you try it.
7. ROASTED SWEDE SOUP (ROUTABAGA SOUP) by Little Sunny Kitchen
Calories: 54
Healthy and weight loss roasted swede soup made in under half an hour. This soup contains your 3 a day, and it's made with very simple ingredients. It's a wonderful winter warmer! So creamy, tasty, and cozy.
8. INSTANT POT MINESTRONE SOUP by Spice Cravings
Calories: 167
This tasty and hearty Italian soup is a delicious blend of vegetables, herbs and fiber-rich beans simmered in a tomatoey broth.  Add quinoa instead of pasta, to boost the protein and make it gluten-free. The whole family will love it!
9. CREAMY CAULIFLOWER SOUP by Real + Vibrant
Calories: 142
This cozy, warm soup with this creamy cauliflower soup is low calories and loaded with veggies. This smooth, creamy and delicious soup is a perfect addition to any meal, or can be enjoyed alone, and made ahead of time!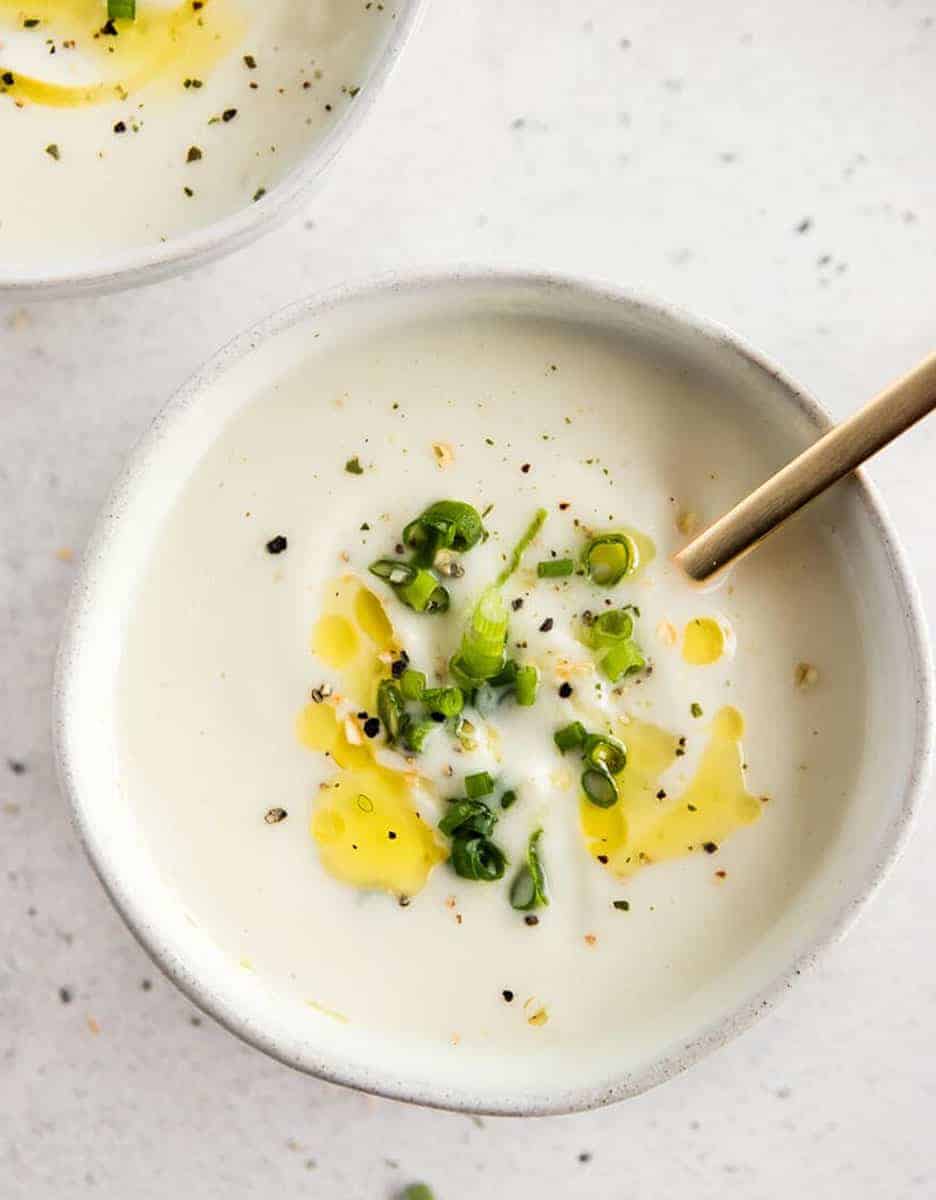 10. HEALTHY MUSHROOM SOUP by The Clever Meal
Calories: 213 (I know, I said max 200 calories, but this is so good!)
There's nothing better than a creamy and healthy mushroom soup once the weather starts getting cooler. It's insanely delicious, packed with nutrients, inexpensive, and ready in 25 minutes. You will love it!
11. BEET SOUP by Downshithology
Calories: 145
This delicious beet soup is jam-packed with nutrients and is hearty enough as a main course. A mix of beets, parsnip, ginger, onion and garlic, this blended version is creamy, savory, and rich in flavor.
12. LENTIL QUINOA SOUP by Profusion Curry
Calories: 97

This healthy vegetarian instant pot lentil soup is incredibly comforting, hearty and easy to make. It's loaded with simple and healthy ingredients, big flavors but low on calories.
13. TOMATO SOUP by Supergolden Bakes
This delicious homemade Tomato Soup is easy to make on the stove, Soup Maker or the Instant Pot. Packed with flavor, vegan or vegetarian.
Calories: 144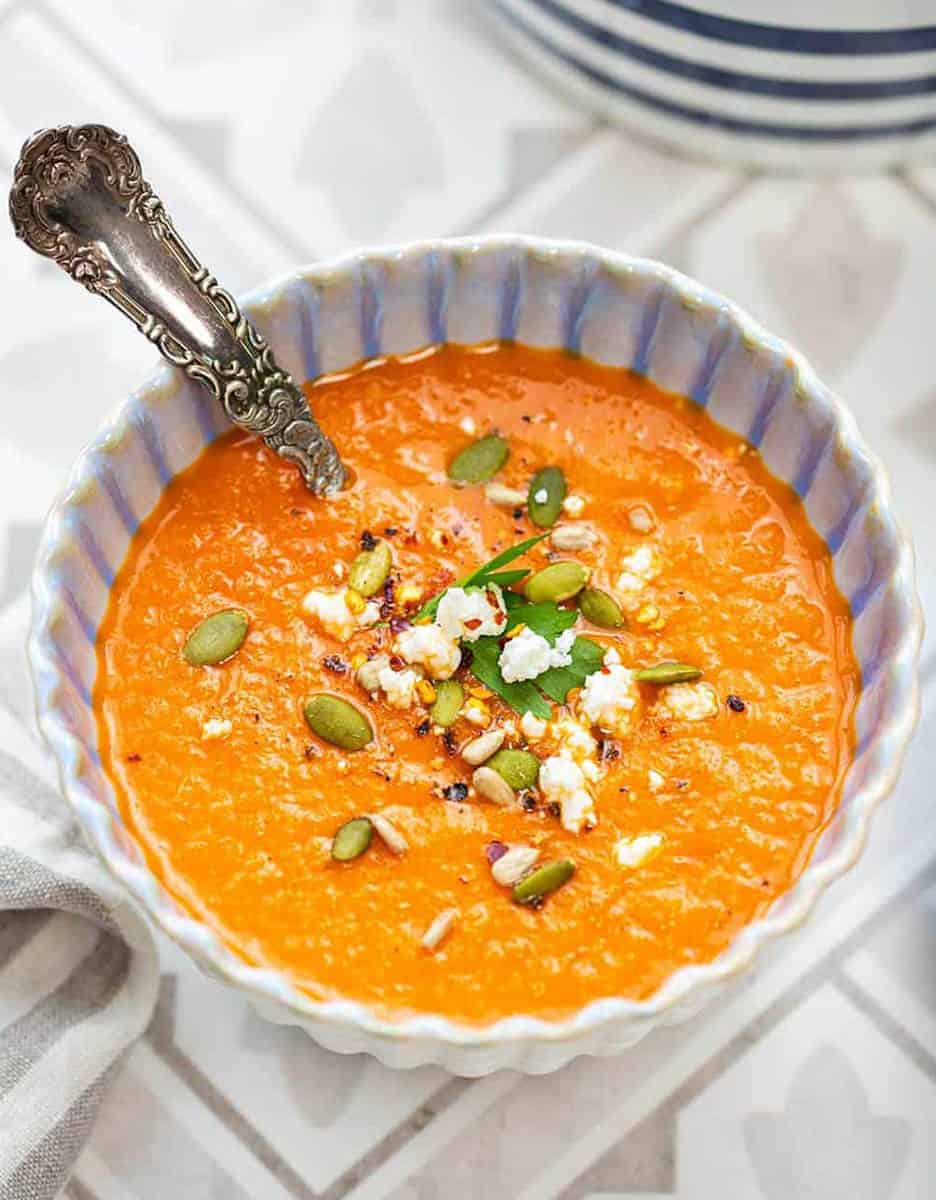 14. CURRIED PUMPKIN SOUP by Jennifer Banz
Calories: 163
This Pumpkin Curry Soup is so perfect for warming you up on a cool fall day. This is a dairy-free version and it's so rich and creamy using coconut milk. Can you believe this is ready in 20 minutes and has only 5.4 net carbs?!
15. THAI COCONUT SOUP by The Kitchen Girl
Calories: 125
This weight loss soup is a scrumptious, plant-based Asian soup loaded with fresh veggies, coconut milk, and flavorful green curry. It's the ultimate, mildly spiced, comfort food that can be made in the Instant Pot or on the stove.
Delicious, creamy and low-calories.
16. ZUCCHINI CURRIED SOUP RECIPE by A Fork's Tale
This low-calorie zucchini curry soup is so creamy and flavorful you would never guess it was healthy for you. It is simple to make and absolutely delicious.
Calories: 89
If you feel the need to revitalize your body (as I do!), try one of these inspiring healthy and weight loss soup recipes. They are easy to make, budget-friendly, and perfect for everyone.
Get all the antioxidants and vitamins, reduce the calories, set your body back to rights, and get ready for a well-deserved summer break!
Print Recipe
15 HEALTHY WEIGHT LOSS SOUPS (UNDER 200 CALORIES PER SERVING).
These delicious weight loss soups are a must for everyone after having indulged in the rich festive food. They're warming, vegetarian, hearty and contain LESS THAN 200 CALORIES PER SERVING!
Instructions
Choose your favorite recipe.

Click on the recipe name and get the full recipe!

Cook and enjoy some of these delicious low-calorie soups!
Notes
READY TO REVITALISE YOUR BODY? : )