This post may contain affiliate links. Please read my disclosure policy for more details.
There's nothing better than a creamy and healthy mushroom soup once the weather starts getting cooler. It's insanely delicious, packed with nutrients, inexpensive and ready in 25 minutes.
Super easy to make it from scratch, throw together just a few ingredients and then you get a bowl of warming and comforting soup in no time.
Forget canned soup loaded with salt and preservatives, this homemade soup is packed with goodness and big flavors, you will love it!
What ingredients you need
Mushrooms
Garlic
Onion
Thyme
Vegetable broth
Milk*
Flour
Light soya sauce
Olive oil, salt & pepper
How to make it
Saute' onion, garlic, thyme and mushrooms.
Add some oil and flour, stir and make a roux (thick paste).
Add vegetable broth, stir well, add milk and cook for about 15-20 minutes.
Reduce the heat and add a splash of soya sauce. Done.

RECIPE NOTES & TIPS
It's delicious and easy, ready in no time, healthy and budget-friendly:

Not only are Mushrooms good, but they are fat-free, low-sodium and low-calories. They're also packed with fiber, vitamins, important minerals like Selenium and antioxidants.
Make your homemade healthy mushroom soup, packed with great benefits, and ditch canned soups loaded with sodium, preservatives and other unnecessary ingredients.
If you love soupS ready in no time have a look at these tomato soup, white bean soup or red lentil soup.
INGREDIENTS

Mushrooms: Any combination of your favorite mushroom varieties would work in this soup, however, inexpensive Baby Bella or cremini work better than white mushrooms and they give more color and flavor.
Plenty of garlic, onion, and thyme! Their flavors really shine here and complement the earthy flavor of mushrooms without overpowering it. If you don't like thyme, you can also use parsley, oregano, tarragon, chives or what you prefer most.
Texture: I'm not a big fan of using butter or cream in soups, I think they add unnecessary fat and somehow they take away flavors. I make the roux just mixing a little of olive oil and flour, adding some milk at the end. I definitely prefer a light soup, but if you like a richer soup you can surely go for some heavy cream or half and half, it will taste delicious anyway. For a dairy-free/vegan option, you can use almond milk, this mushroom soup will be still nice and creamy.
Flavors: What really makes this soup to die for is the awesome combination of earthy mushrooms, fresh garlic, and herbs. Make sure you have these fresh ingredients alongside some good vegetable broth and you'll have the best soup ever.
Don't forget the final touch of soya sauce, for a great savory boost!
HOW LONG DOES THIS MUSHROOM SOUP KEEP?
It keeps well in the fridge for up to 3 days. I wouldn't advise to freeze them though; mushroom soups thickened with a flour-based roux might be a bit stodgy when thawed, they're ok, but not at their best.
This healthy mushroom soup is so good, hearty, and guaranteed to please every mushroom lover!
If you make this recipe, let me know! Leave a comment, rate it or tag a photo #theclevermeal on Instagram. I would love to hear from you! x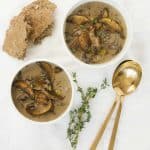 Print Recipe
HEALTHY MUSHROOM SOUP
Creamy, delicious and loaded with flavors, this mushroom soup is packed with excellent health benefits, insanely good, comforting and super easy to make.
Ingredients
1

lb

mushrooms

(baby bella, crimini...)

1

medium onion, diced

3

garlic cloves, chopped

2

Tbsp

olive oil

1

Tbsp

low sodium soya sauce

1/2

tsp

thyme, leaves (or 1/4 tsp of dried thyme leaves)

1/4

cup

all-purpose flour

2

cups

vegetable broth*

1

cup

milk

(whole milk, reduced fat milk or almond milk)

salt & black pepper to taste
Instructions
Slightly rinse the mushrooms with cold water to remove any dirt or debris and pat dry with paper towels (do not soak them).

Slice half of the mushrooms and roughly chop the other half.

In a large saucepan, heat 1 Tbsp of olive oil over medium-high heat. Add the onions and garlic and cook gently for about 3 minutes. Add the mushrooms, thyme, a good pinch of salt and pepper. Cook, stirring regularly, until the mushrooms start to brown, about 5 minutes. Spoon out 3 tablespoons of mushrooms and keep them for later (if you like to serve the soup topped with saute' mushrooms).

Stir in the second Tbsp of oil, add the flour and cook, stirring constantly for about 30 seconds to a minute.

The flour, the oil and part of the mushroom moisture will form a thick paste called roux that will thicken the broth.

Add the vegetable broth and stir while returning the mixture to a boil. You want

to dissolve all of the flour from the bottom of the pot. After a couple of minutes, as soon as the liquid comes up to a simmer, r

educe the heat to medium-low and add the milk.

Simmer uncovered, stirring occasionally, for about 15-20 minutes.

Finally, add the soya sauce and cook for a further minute.

Taste and adjust seasoning, as necessary (it depends on the salt content of your vegetable broth)*

Spoon the soup into bowls, garnish with the remaining mushrooms and a drizzle of olive oil. Serve with toasted bread on the side and enjoy!
Notes
I make my homemade vegetable broth simply cooking some sliced onions, celery, carrots and leftover veggies. It takes 5 minutes. I don't use any broth cubes or bullion.
The soup keeps well in the fridge for up to 3 days.
NUTRITIONAL FACT: nutritional values are estimates only (calculated using low salt vegetable broth and 1% fat milk).
Nutrition
Calories:
213
kcal
|
Carbohydrates:
22
g
|
Protein:
10
g
|
Fat:
11
g
|
Saturated Fat:
2
g
|
Cholesterol:
4
mg
|
Sodium:
379
mg
|
Potassium:
656
mg
|
Fiber:
3
g
|
Sugar:
9
g
|
Vitamin A:
157
IU
|
Vitamin C:
5
mg
|
Calcium:
110
mg
|
Iron:
1
mg