This post may contain affiliate links. Please read my disclosure policy for more details.
How to make croutons in a pan? it's a no brainer, and in less than 15 minutes you can have plenty of golden crispy croutons perfects for soups and salad.
A clever way to use up leftover bread!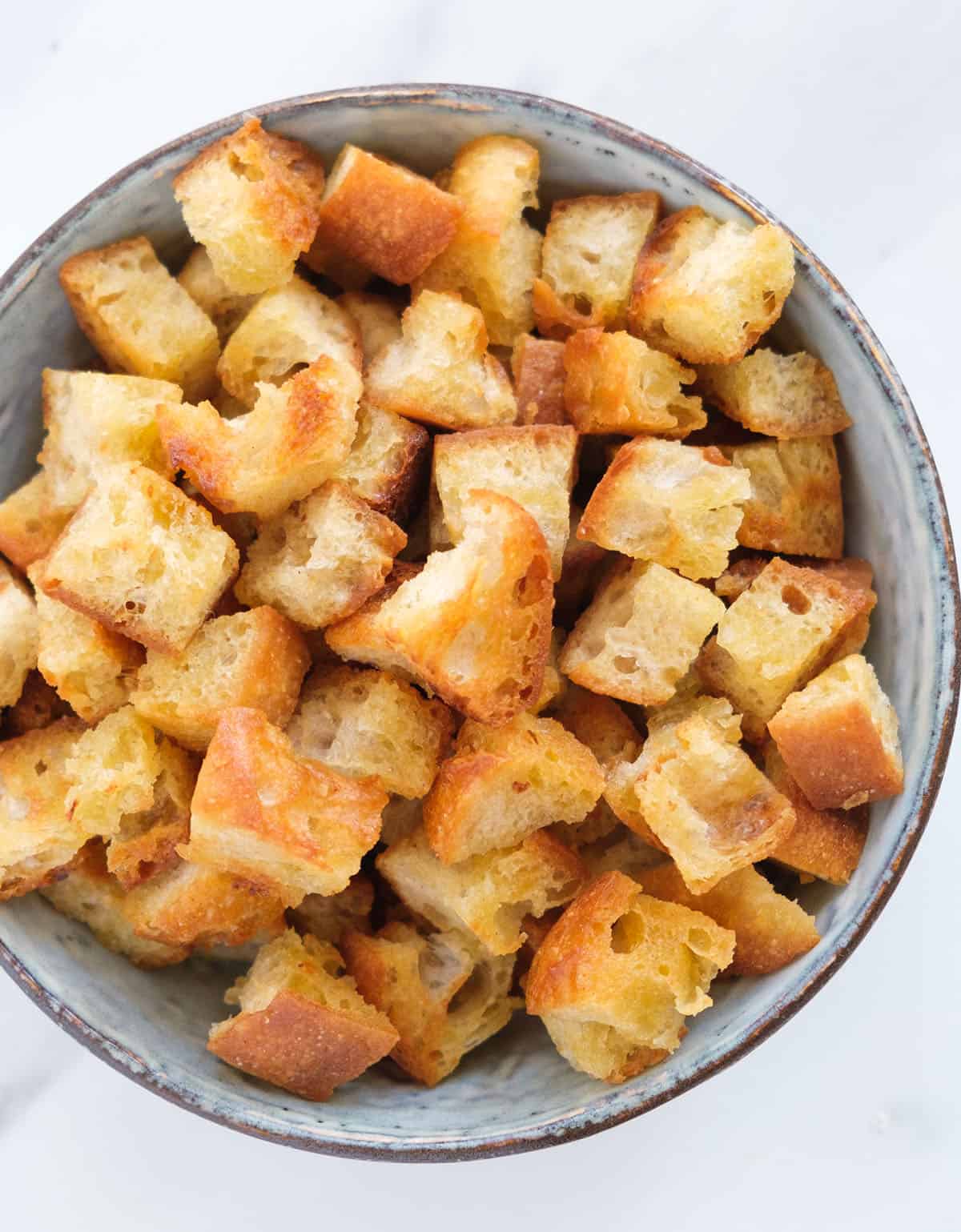 Stovetop croutons are win win. They taste a MILLION times better than store-bought croutons, they're incredibly easy to make, and no oven required.
Their deliciously crispy texture is crunchy on the outside yet slightly soft on the inside. This is because they are made with bread that hasn't been sitting on a shelf for months, as is often the case with store-bought croutons.
And when you add crispy golden croutons to your soups or salads, they instantly elevate the dish making it taste and look like a fancy restaurant meal.
Making your homemade croutons in a pan is also economical and you can customize them to your liking with different seasonings.
But let's see how to make croutons on the stove.
To start, gather a loaf of bread ad cut it into cubes. Any type of bread will do, but rustic sourdough or ciabatta are the best options here.
In a large pan, heat up some olive oil, add in a few smashed garlic cloves and let them infuse the olive oil with their fragrant aroma.
Once the oil is infused, remove the garlic, add in the bread cubes, salt and toss and cook the bread cubes until they are toasted on all sides.
Voila. Your homemade croutons are ready!
This is a basic recipe to make croutons in a pan, but you can get creative using different dried herbs, garlic powder, or your favourite seasoning.
So next time you're in need of some croutons, don't settle for bland pre-packaged stuff. Get your pan and turn leftover bread into fresh croutons perfect to take your meal to the next level!
List of the ingredients
Bread (any type, fresh or stale)
Olive oil
Garlic (optional)
How to make croutons on a pan?
(Note: this is simply a quick explanation, the full recipe is at the bottom of the page)
Cut your bread into bite-sized cubes and set aside.
In a large pan, heat up some olive oil over medium heat.
Add in a few smashed garlic cloves and let them infuse the oil for a couple of minutes, then remove them
Add the bread cubes, a pinch of salt, cook and stir often until they're crispy and golden. It takes about 7-8 minutes.
Serve your freshly made croutons with your fav salad or with creamy soups like this delicious broccoli soup or sweet potato soup. Enjoy!
Recipe notes
Best bread for croutons
For a truly delicious crunch, rustic sourdough or ciabatta is the best for its tangy flavor and hearty texture. But you can turn any type of bread into delicious croutons, including baguette, sandwich bread, panini bread and focaccia!
Ideally your bread should be at least a day or two old, that makes the cut easier, but if it's still fresh and soft, simply tear the bread into evenly-sized pieces.
Use good quality olive oil for best flavor
When I make my own croutons in a pan or in the oven, I use only good quality olive oil or extra virgin olive oil to give them a delicious, nutty flavor. Ok, you can cook your bread cubes using butter or vegetable oil, but extra virgin olive oil is the best in my option, and I can't change my mind! : )
How to store them
I prefer to make a small batch when needed, they are best when made fresh. But they can typically be stored in an airtight container at room temperature for up to 1 week.
If you want to store your croutons for longer, it's best to freeze them (see notes in the recipe card).
Fancy seasoned croutons?
Feel free to customize this croutons recipe by adding different herbs and spices for a different flavor profile and to suit your taste. For example, you could add a touch of extras (1/4 tsp for garlic and spices, scant 1/2 tsp for herbs) before removing the pan from heat.
Dried herbs: Italian herb seasoning, thyme, rosemary, oregano.
Spices: red pepper flakes, curry, sweet or smoked paprika.
Garlic: fresh garlic to infuse the oil (as per the recipe) or garlic powder.
How to enjoy them
Croutons are a classic topper for salads and creamy soups, they're great to turn a simple dish into something special. Here are a few of my favorite meals that pair wonderfully with these quick croutons made on the stovetop:
Can't be bothered to wait for the oven to heat up? Just make these easy croutons in a pan and if you have any questions, let me know! Leave a comment, rate it or tag a photo #theclevermeal on Instagram. I would love to hear from you!
And for more recipe updates, subscribe my newsletter and follow me on Instagram, Pinterest and Facebook.
Print Recipe
How to make croutons in a pan
Wondering how to make croutons in a pan? it's a no brainer, and in 10 minutes you can have plenty of golden crispy croutons full of flavor. No need to turn on the oven. Recipe yields exactly 4 cups of croutons (enough for 4 serving)
Ingredients
4 cups

(200 gr/7oz)

bread (ciabatta, baguette, sourdough is best…)

2-3

tablespoon

olive oil or extra virgin olive oil

3

garlic cloves, smashed (or ¼ tsp of garlic powder)

½

teaspoon

fine salt
Instructions
Cut your bread into even-sized pieces, about 3/4-inch cubes. I used ciabatta bread to make about 4 loosely packed cups of bread cubes.

Heat 2 tbsp oil in a large non stick pan (or well seasoned skillet) over medium-high heat. Add the smashed garlic cloves, slightly reduce the heat,  and let them hang out for a couple of minutes. Be careful not to burn the garlic, as it can quickly turn bitter.

Remove the garlic, toss in the cubed bread and spread them out possibly in a single layer. Sprinkle some salt, and don't stir for a couple of minutes until they start to brown on one side. Then start to toss them until they get toasted and crispy evenly, add an extra touch of olive oil on the bottom of the pan if needed. It takes about 7-8 minutes.

Transfer the croutons onto a serving plate or a bowl, and enjoy with your fav soup or salad.
Notes
Storage: they can be stored in an airtight container at room temperature for up to 1 week. Make sure they are completely cooled before storing them, as any residual heat can create moisture and lead to spoilage. Freezable: if you want to store your croutons for longer, it's best to freeze them in a resealable freezer bag and remove as much air as possible before sealing. To enjoy them, simply thaw the croutons at room temperature before adding them to your favorite dish. Croutons can be frozen for up to 2 months.
Nutrition facts:
 the nutrition values are for one generous portion of croutons (1 cup) and are based on an online nutrition calculator.  It's an estimate only and it should not be considered as a substitute for a professional nutritionist's advice. Please see my
disclosure policies.
Nutrition
Calories:
199
kcal
|
Carbohydrates:
24
g
|
Protein:
5
g
|
Fat:
9
g
|
Saturated Fat:
1
g
|
Polyunsaturated Fat:
2
g
|
Monounsaturated Fat:
5
g
|
Trans Fat:
0.01
g
|
Sodium:
527
mg
|
Potassium:
71
mg
|
Fiber:
2
g
|
Sugar:
3
g
|
Vitamin A:
1
IU
|
Vitamin C:
0.1
mg
|
Calcium:
63
mg
|
Iron:
2
mg