This post may contain affiliate links. Please read my disclosure policy for more details.
Comforting and simple, this carrot potato soup is a must-make for soup season. It's economical, easy to throw together with a few basic ingredients, and it makes a delicious, versatile family meal.
It's one of those clever recipes that come in handy when your fridge or cupboard are almost empty, and it's also great to use up forgotten carrots and potatoes.
It basically checks all of the boxes of everything I love in a cozy soup this time of year: it's filling, hearty, vegetarian and flavorful.
The sweetness from the sautéed onion and the aromatic herbs make an essential flavor base, while the thick texture comes from the potatoes that nicely break down as the soup simmers. Plus, with a quick whizz in the blender, you can get the benefit of both worlds: creamy soup with soft chunks of vegetables. YUM.
It's also versatile, kid-friendly, and so easy to customise with your whatever green, beans or grains you have on hand. That's a huge bonus for weeknight meals.
Once you see how good and easy it is, you'll be making it all the time!
Serve it with crusty bread like these panini rolls or this warm Italian focaccia, and you'll be in heaven!
List of the ingredients
Carrots
Potatoes
Celery
Onion
Garlic
Butter or olive oil
Herbs (Italian seasoning, thyme, dried and fresh parsley)
Salt & Pepper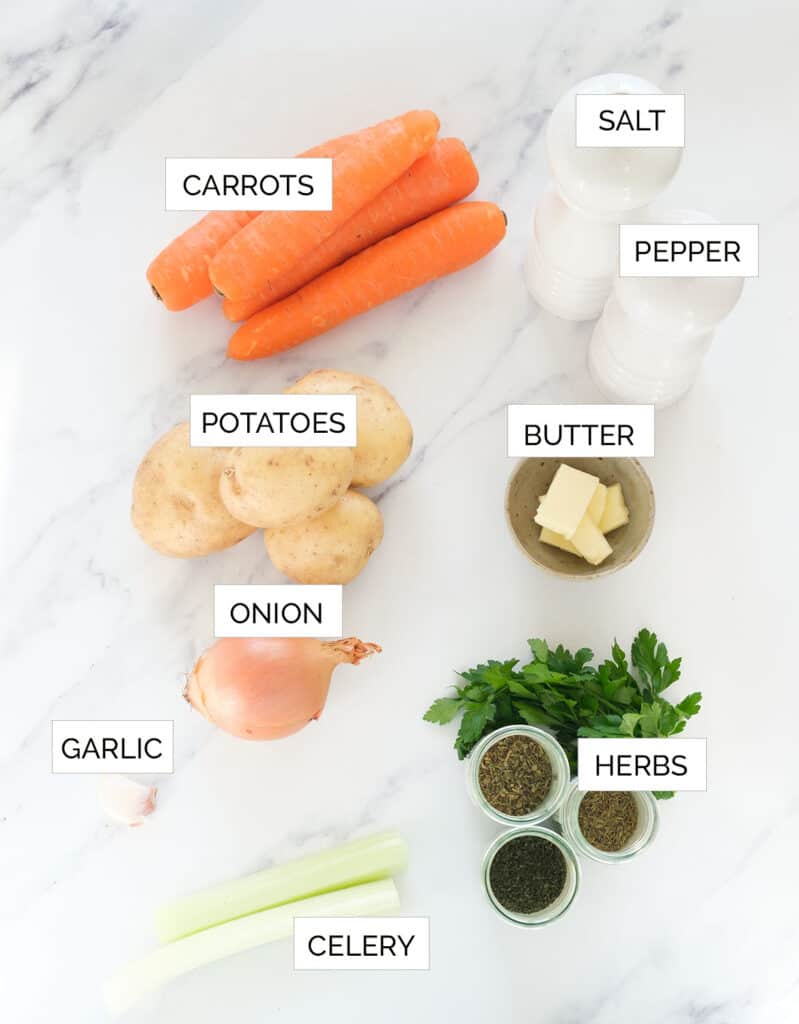 How to make carrot potato soup
(Note: this is a quick description with step-by-step photos, the full recipe is at the bottom of the page)
Saute' diced onion in butter or olive oil until soft, then add the garlic.
Stir in carrots, potatoes, celery, herbs, salt and pepper.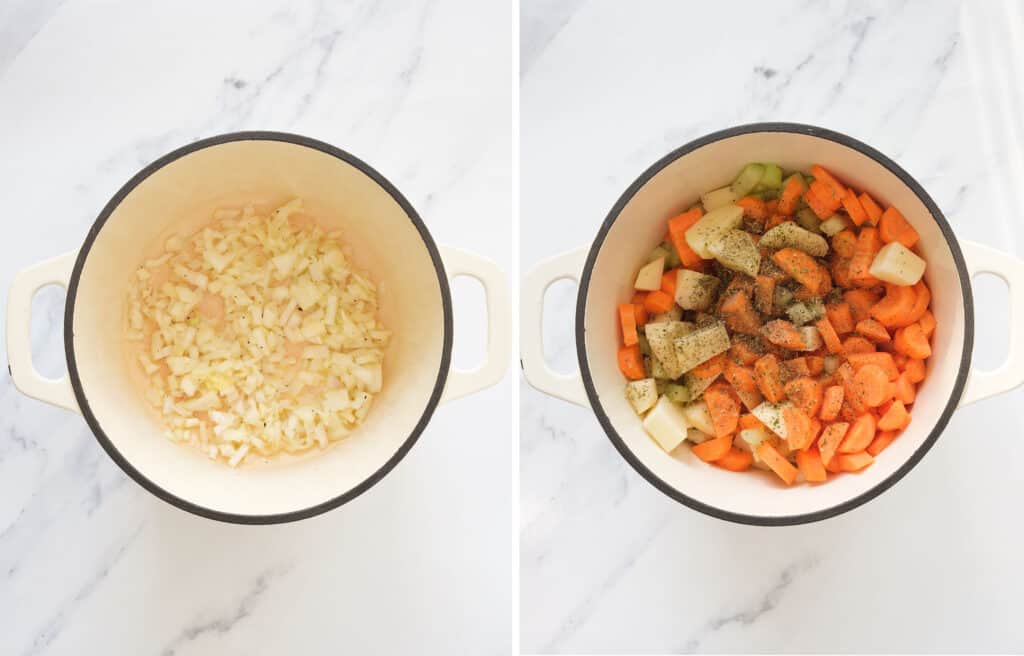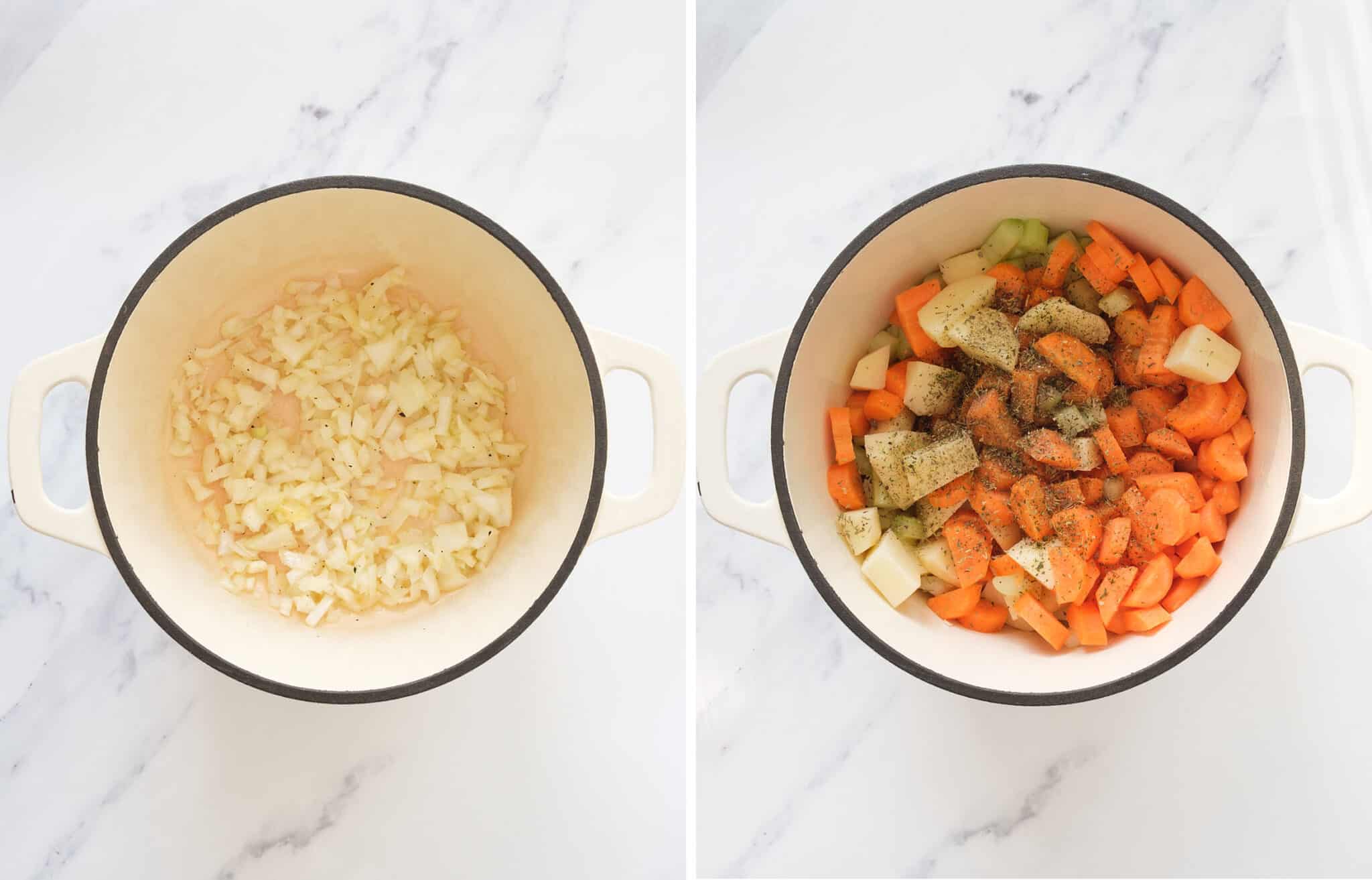 Add broth, bring to the boil, and cook for 20 minutes.
Turn the heat off, and blend part of the soup (about 1 cup). I use and love this stand blender, but you can also use an immersion blender.
This step is optional, but it gives you a more luscious texture!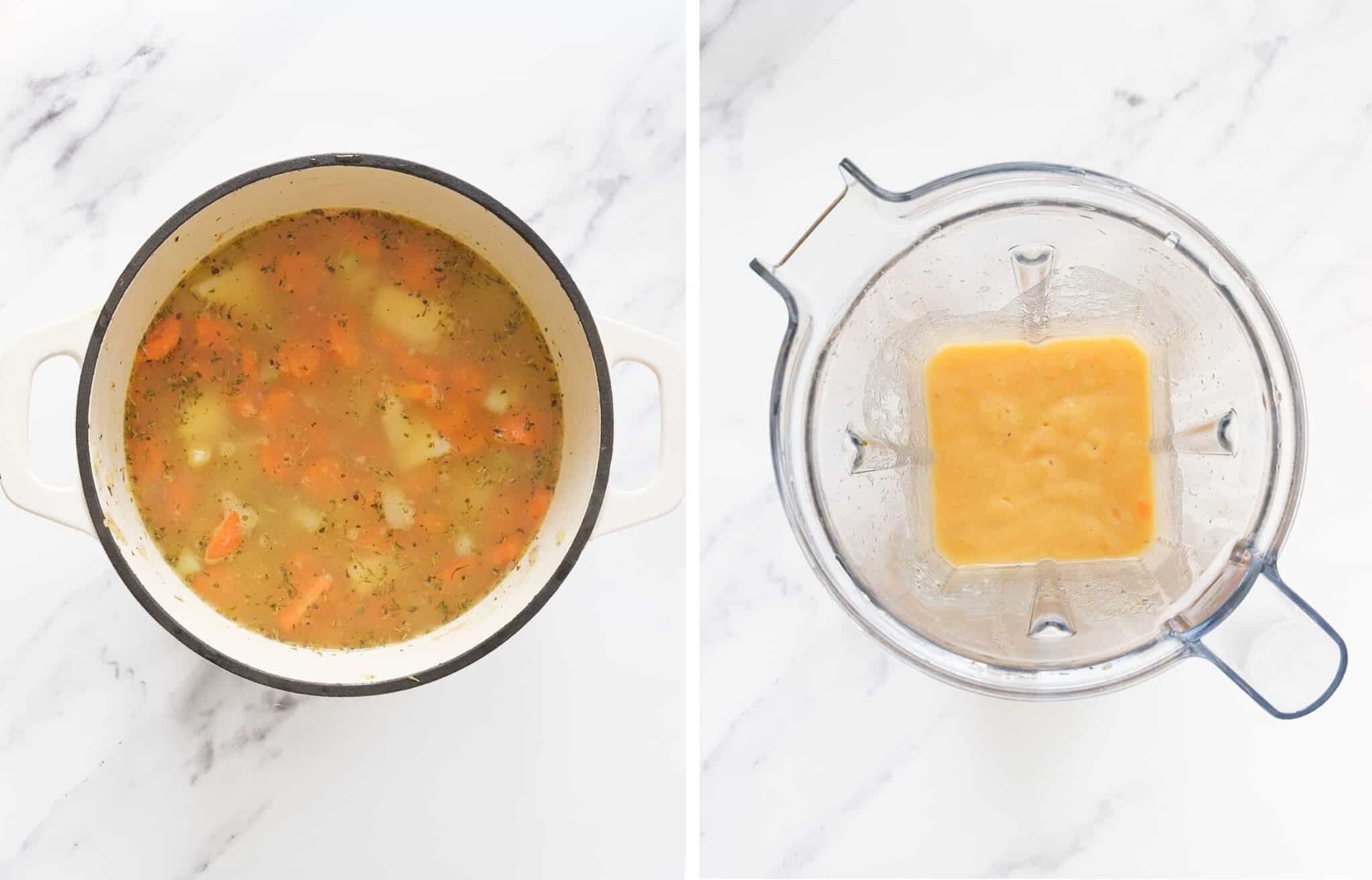 Return the blended soup to the pot and stir.
Adjust the seasoning to your taste.
Serve with chopped parsley, black pepper and crusty bread.
Recipe notes & tips
Carrot potato soup ingredients
Carrots: if you're like me, you have a bag of carrots in the fridge ready for this soup. These versatile vegetables are packed with health benefits and sweetness.
Potatoes: Yukon gold are a good choice, but if you cannot find them, any type of potato will work.
Onion & garlic: the sautéed onion in butter or in oil is a must. But I recommend going easy on garlic or it will overpower the buttery flavor and sweetness from the onion.
Butter or olive oil: this is one of few recipes where I use butter rather than olive oil. I love how that sweet smooth flavor works with the potatoes and the herbs. However, you're more than welcome to use olive oil and make it vegan, it works just fine.
Celery: it adds flavor and texture. You can use more celery if you wish.
Broth: I use low-sodium vegetable broth, but either any vegetable or chicken broth will work in this recipe
Herbs: I used Italian herb seasoning, dried thyme and parsley. Fresh parsley with its fresh herbal notes is more than a garnish here, but it's fine if you don't have fresh herbs on hand. This soup recipe is meant to be a no brainer, right? : )
Salt & pepper: their quantities depend on the broth you use. Add little salt at the beginning, then adjust the seasoning at the end until the flavor pops up.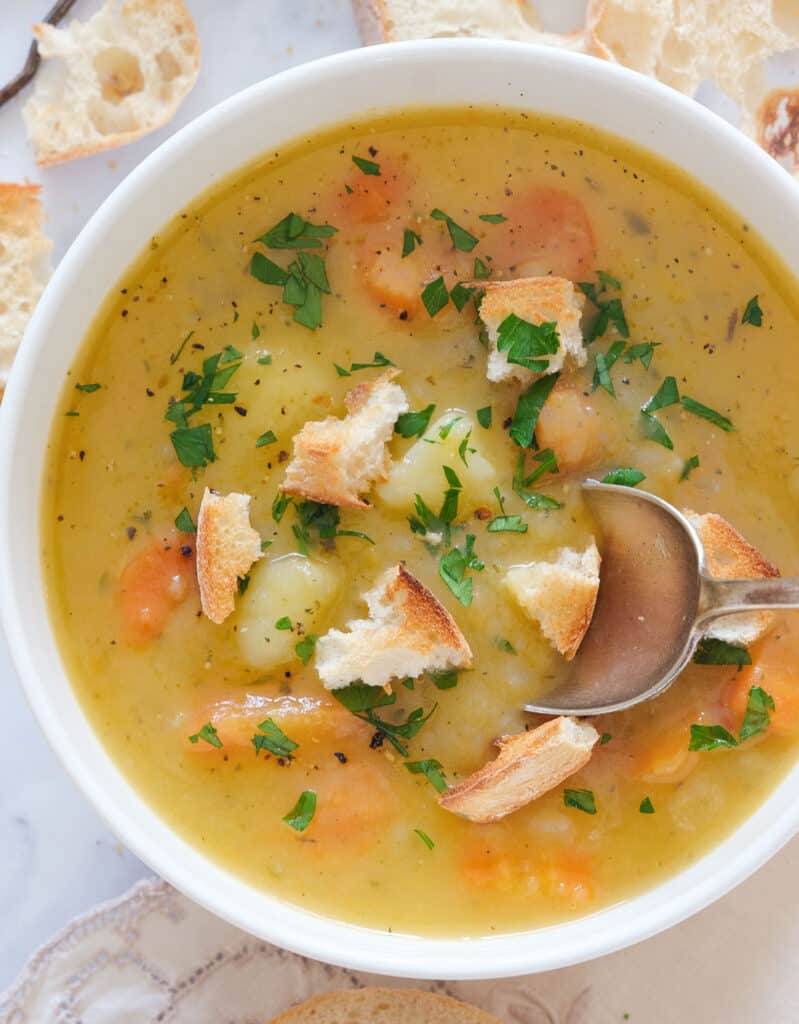 For a luscious texture…
I recommend blending part of this soup (about 1 cup) separately, possibly in a stand blender. I know, I don't like cleaning extra dishes either, but the resulting texture is worth the effort.
Blend just for a couple of seconds, you don't want to overwork the potatoes! Overworking potatoes can release too much starch and make the soup gluey.
More add-ins and variations?
This recipe is a breeze to customise. You can turn it into a full meal with just a few add-ins of your choice, and you can call it dinner!
Mix up the veggies: zucchini, mushrooms, diced butternut squash, parsnips, green beans will be great. Add them along with the potatoes.
More greens! Fresh baby spinach or baby kale, chopped collard greens would be delicious add-ins. Add them in the last couple of minutes of the cooking time.
Plant-based protein: feel free to toss in a can of white beans for extra protein, but any type of canned chickpeas or lentils will be great here. Make sure you drain them first, and add them along with the vegetables. If you go for frozen peas, stir them into the soup at the end and cook for a couple of minutes.
Grains: pearled barley, rice, or short-cut pasta or broken spaghetti would be great. I would advice cooking your fav grains separately according to the package directions, especially if they requires long cooking time.
Cheese: to add richness and extra flavor, stir in 1 Tbsp of butter or some grated cheddar or parmesan cheese before serving. YUM.
Note: if you add more ingredients, make sure to adjust the quantities of broth and salt accordingly until you reach the desired consistency and seasoning.
How to store leftovers?
You can store any soup leftovers in a sealed container in the fridge for 3-4 days. The soup will thick while sitting in your fridge, so you may just need to add a bit more water when you go to rewarm it. Hey, It's freezable too!
More delicious cozy soups?
If you're a soup lover, have a look here, you'll find all my favorite soups!
More recipes featuring carrots or potatoes?
If you're looking more recipes to use up these inexpensive, versatile vegetables, here a few of my favorites to use carrots:
And here a few clever recipes to use up the humble potatoes:
If you make this easy carrot potato soup, or if you have any questions, let me know! Leave a comment, send me a message, or rate it. I would love to hear from you!
And for more recipe updates, subscribe my newsletter and follow me on Instagram, Pinterest and Facebook.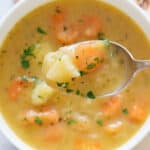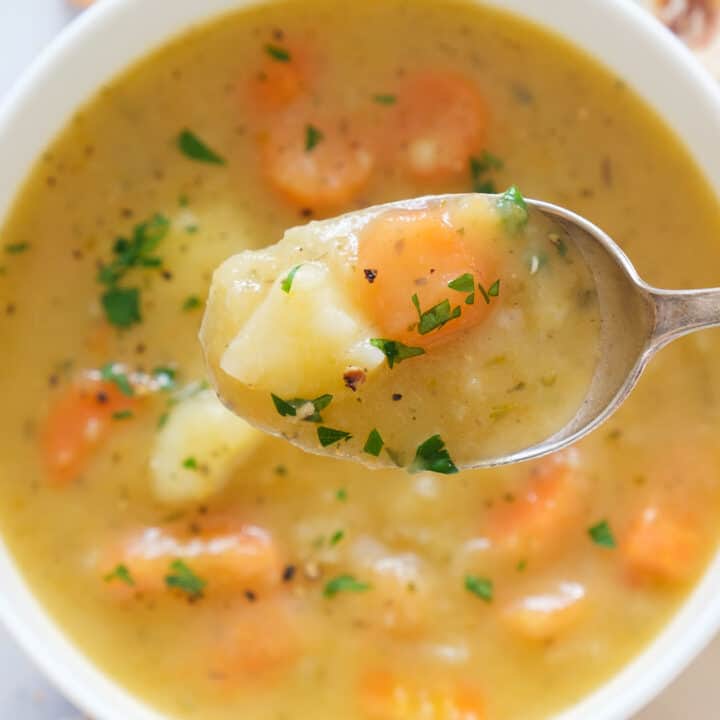 Print Recipe
Carrot potato soup
Comforting and simple, this carrot potato soup is a must-make for soup season. It's economical, easy to throw together with a few basic ingredients, freezes perfectly, and it's so delicious.
Ingredients
1

Tbsp

butter or olive oil

1

medium-sized onion, diced (any colour is fine)

1

garlic clove, minced or grated

1

celery stick, chopped

1 lb

(450 grams) carrots, peeled and diced*

1 lb

(450 grams) potatoes, peeled and diced*

1

tsp

Italian herbs

¼

tsp

dried thyme

¼

tsp

dried parsley (optional)

⅛

tsp

black pepper, plus more to serve

½

tsp

fine salt, plus more to taste*

2 ½ cups

(600ml) low-sodium vegetable broth

2-3

Tbsp

fresh parsley, chopped
Instructions
Melt the butter in a large pot over medium heat. Add onion, a pinch of salt and pepper, and sauté for 5 minutes, stirring occasionally, until soft and translucent. Add the garlic, and cook for an extra minute until fragrant.

Add carrots, potatoes, celery, herbs, salt and pepper to the pot. Give a good stir and cook for about 2-3 minutes to enhance their flavor.

Stir in the broth, bring to the boil, reduce the heat to a simmer, cover with a lid and cook for 20 minutes. Stir occasionally.

Turn the heat off, and let it cool slightly.

Transfer approximately 1 cup of the soup to a stand blender and whizz just until smooth. Be careful because it's still hot, and make sure you don't over blend. This way you get a creamier soup, but you can use a hand blender instead, or you can skip this step if you wish.

Return the blended soup to the soup, toss well to combine and taste to adjust the seasoning to your taste. It depends on the broth you used, you might need to adjust the salt. Stir in the parsley.

Serve with freshly ground black pepper, extra parsley, and crusty bread.
Notes
If you don't have a kitchen scale: 1 pound of carrots is about 5 medium-sized carrots, while 1 pound of potatoes is about 2 medium-sized potatoes (or 5 small-sized potatoes like the ones in the picture. They're not baby potatoes). 
Salt: start with 1/2 of salt and then adjust the seasoning at the end. But if you use chicken, beef or regular vegetable broth rather than low-sodium broth, it's important to adjust the seasoning at the end and not at the beginning, as you don't know how salty the broth is.  
Nutrition facts:
 the nutrition values are  for one serving and are based on an online nutrition calculator.  It's an estimate only and it should not be considered as a substitute for a professional nutritionist's advice. Please see my disclosure policies. 
Nutrition
Calories:
181
kcal
|
Carbohydrates:
35
g
|
Protein:
4
g
|
Fat:
3
g
|
Saturated Fat:
2
g
|
Polyunsaturated Fat:
1
g
|
Monounsaturated Fat:
1
g
|
Trans Fat:
1
g
|
Cholesterol:
8
mg
|
Sodium:
403
mg
|
Potassium:
896
mg
|
Fiber:
7
g
|
Sugar:
8
g
|
Vitamin A:
19069
IU
|
Vitamin C:
34
mg
|
Calcium:
71
mg
|
Iron:
2
mg