This post may contain affiliate links. Please read my disclosure policy for more details.
Looking for recipes with artichoke hearts? Here you'll find 15 delicious artichoke heart recipes perfect for any occasion!
From delicious pasta and pizza, to scrumptious artichoke dips and appetizers, you'll be spoilt for choice!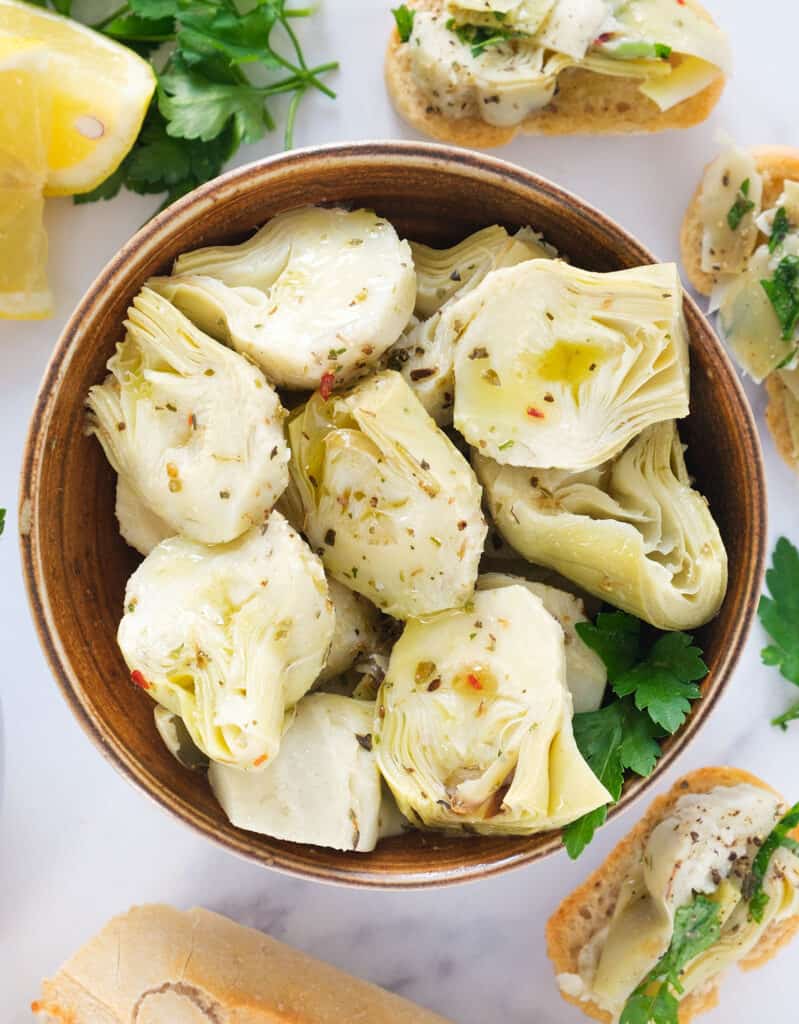 If you know me, I'm usually all about easy meals and inexpensive ingredients. But I confess that I've also a thing for the lush and not-so-cheap artichokes!

Well, if you ask me, they're one of my favorite veggies (or flowers, to be more precise!). Yes, because contrary to common belief, artichokes, usually classifies as thistles, are technically wild flowers and their "leaves" are actually petals.
But apart from being too much technical, artichokes are simply too good for being neglected or considered time-consuming. They have wonderful texture and flavor, and they are versatile and packed with health benefits.
Although fresh artichokes are absolute the best in term of texture and flavor, I find that both frozen and canned artichoke hearts in water are great for a moultitude of dishes. And they're convenient and definitely cheaper than their fresh counterpart (especially if you live in London like me!).
For this collection, I've gathered recipes using fresh artichokes and cooking tips, but also easy recipes using canned artichoke hearts… artichoke dips, anyone? : )
These are the perfect artichoke recipes for the holidays, for movie or date nights, or just any time you crave that delicious nutty flavor.
Let me know what you think!
Recipes with artichoke hearts
Firstly, what is an artichoke heart? It's the tender part of each artichoke, It's buried in the center under a fuzzy choke and covered with spiky outer leaves. The much appreciated artichoke hearts have a buttery texture and a delicate flavor.
Frozen, canned, or jarred artichoke hearts are already cooked and ready to use.
Have you ever tried pizza with artichokes? The golden crust is topped with creamy mozzarella and artichokes marinated with hints of garlic powder, lemon and herbs. The pizza dough is super easy to make, and the crust is crispy outside, soft in the middle and amazingly delicious!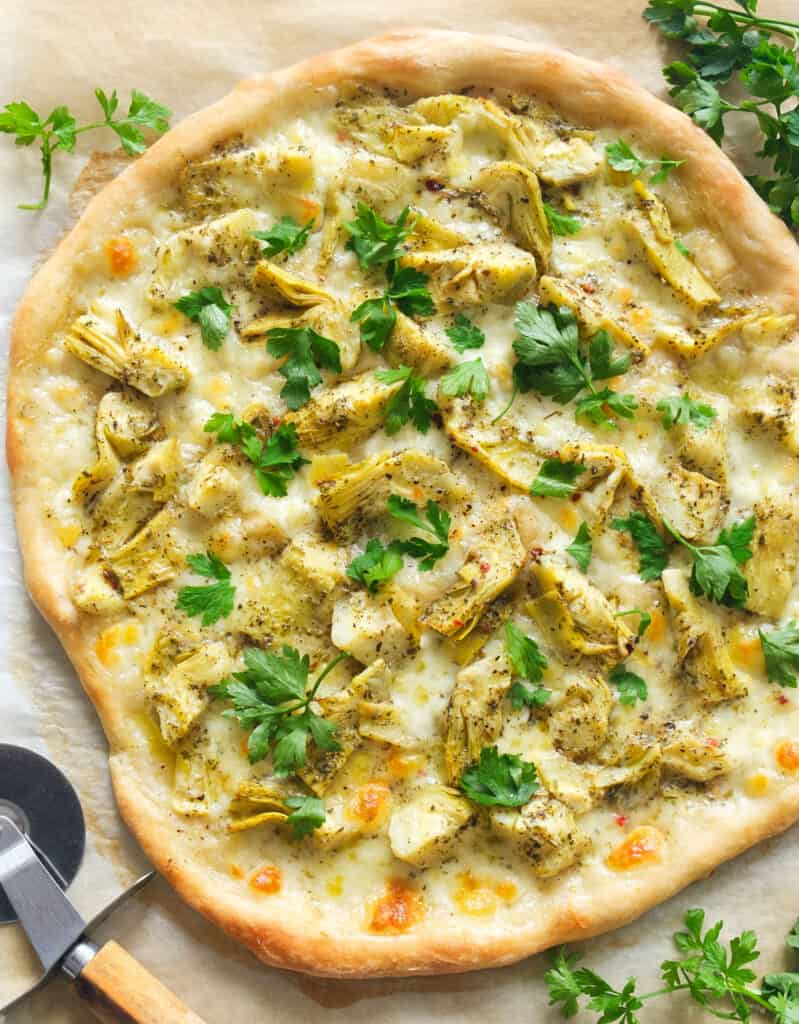 This pasta is one of the most delicious recipes that uses whole artichoke hearts. It's super quick to put together but utterly luxurious! It's a great weeknight treat, but also something that you can pull out of your back pocket when you've got company or plan a cozy date night.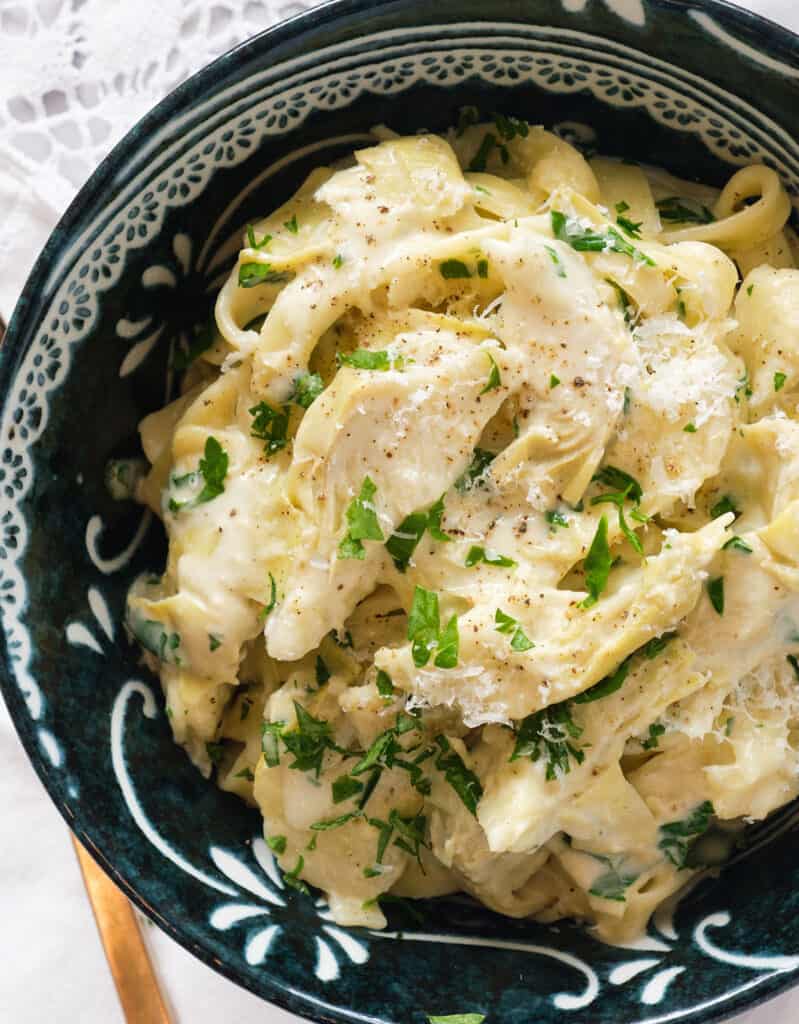 Artichokes make also delightful appetizers like this quick and easy bruschetta! The crispy bread is topped with a mix of artichoke hearts, creamy ricotta, tangy lemon juice, herbs and extra virgin olive oil. It's fresh, full of flavor, it requires no stove.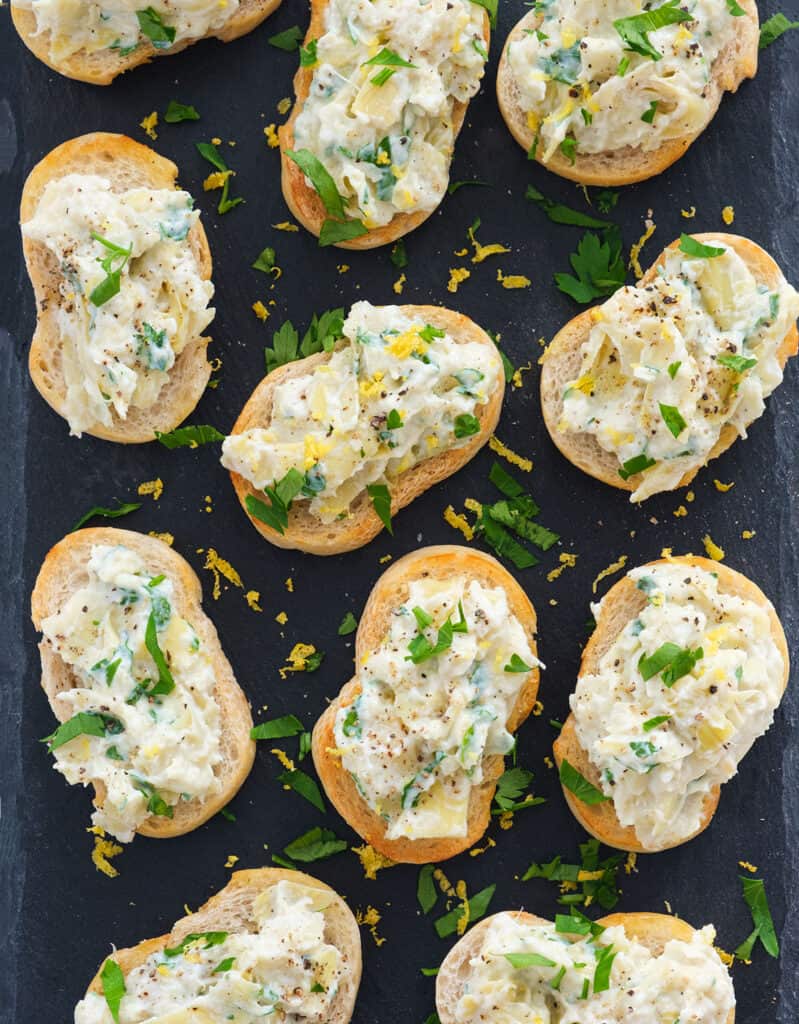 This quick artichoke salad turns a jar of marinated grilled artichokes into a fabulous starter or side dish perfect all year round. It's full of flavor and so simple to throw together in 10 minutes.
This lemon chicken pasta salad is the perfect spring and summer dish that combines marinated artichokes, pine nuts and parmesan. Prepare it ahead of time and everyone loves it.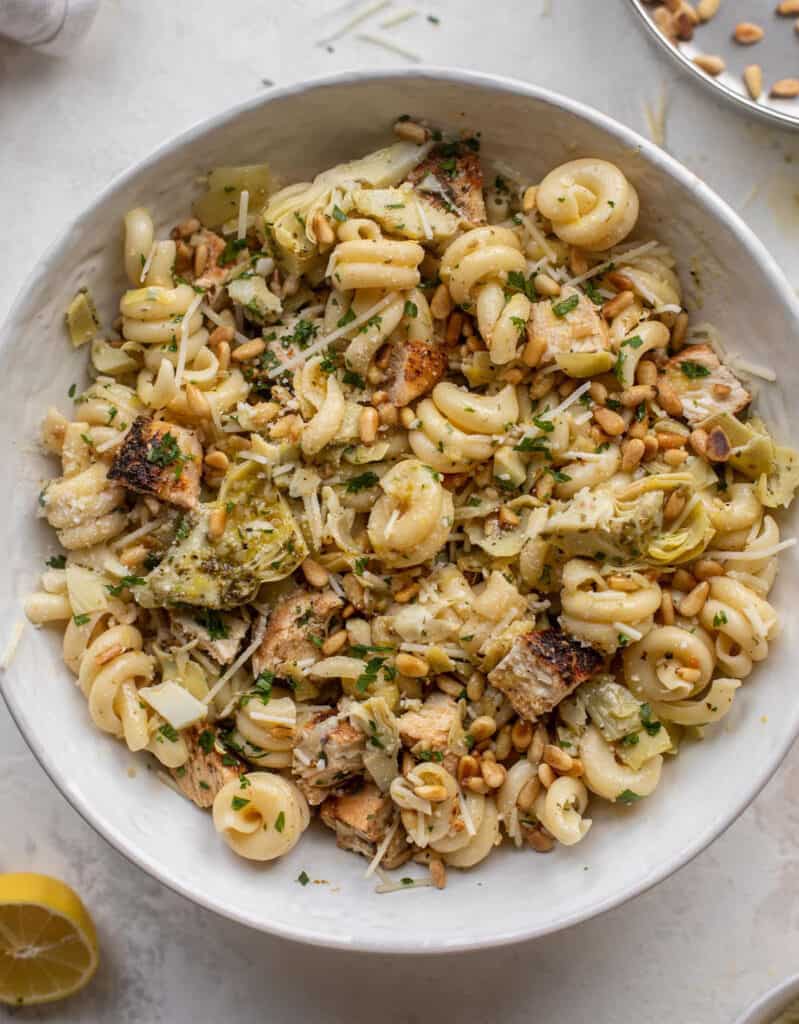 If you love spring vegetables and artichokes, this soup will become the perfect nourishing, refreshing spring meal for you. The recipe uses jarred or canned artichoke hearts and you can make it vegan if you wish.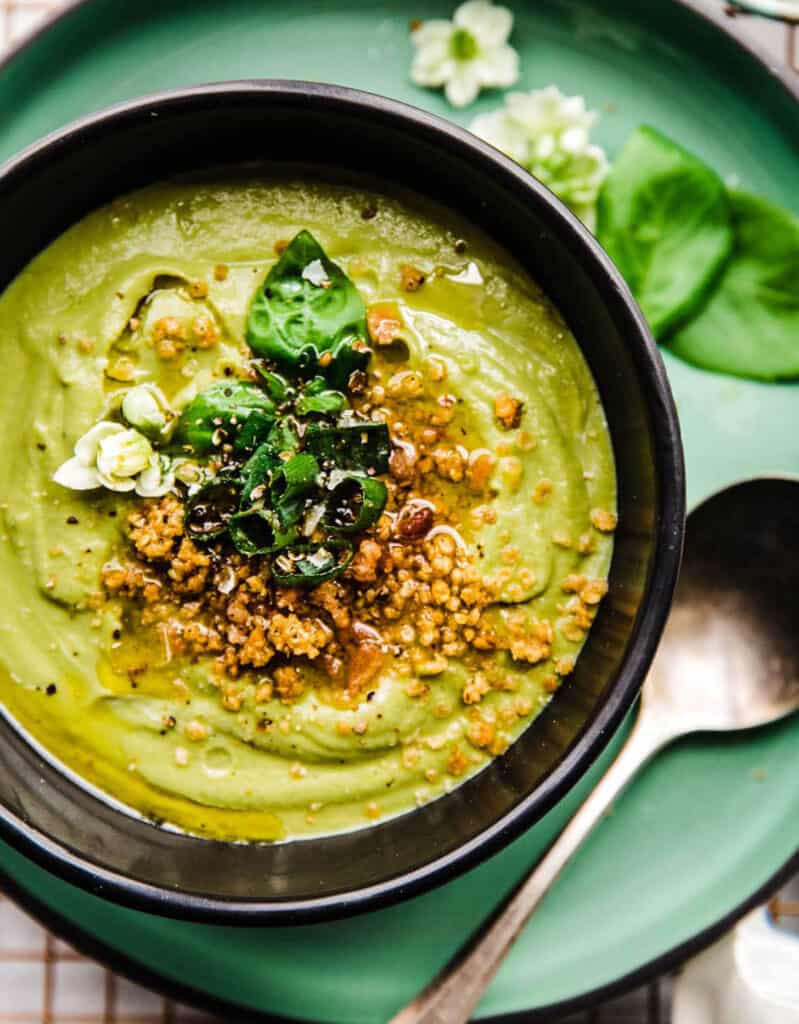 These little toasts make one of the best recipes for artichoke hearts. They are piled high with the most simple topping made with artichokes, spinach and chickpeas and they require no stove or oven time whatsoever.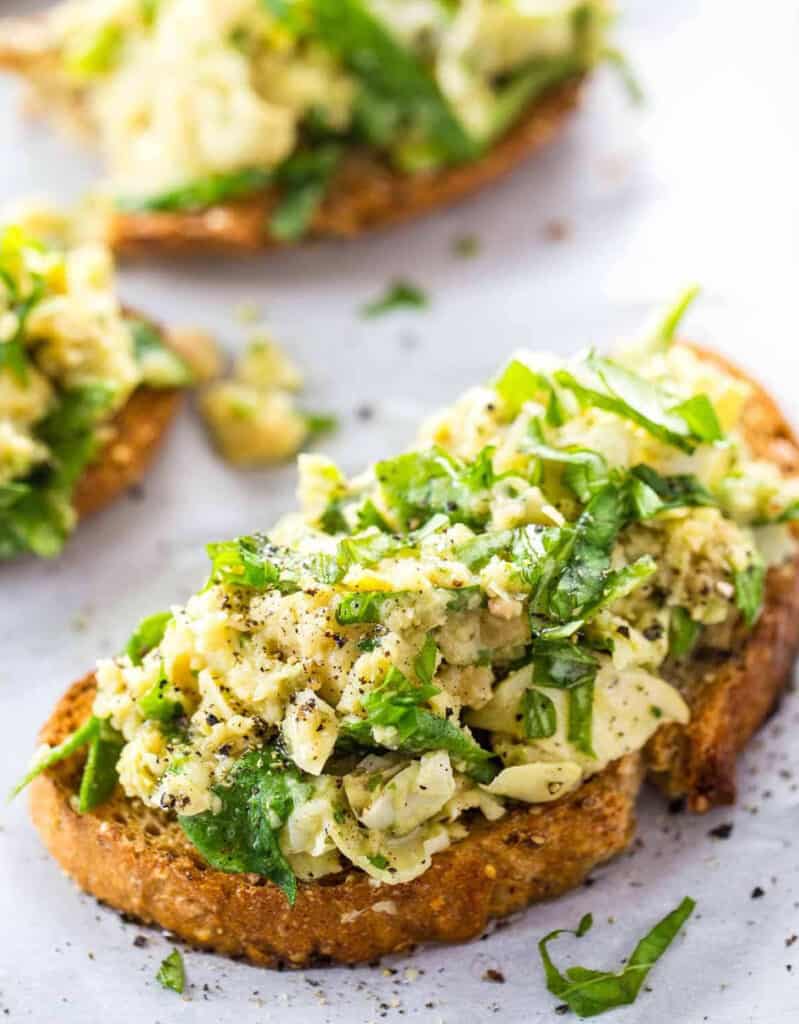 This delicious creamy soup has a rich texture and a fresh flavor. It uses artichoke hearts in brine, it's perfect for any season and occasion. Serve it with crispy crostini and you'll be you'll be in comfort soup heaven!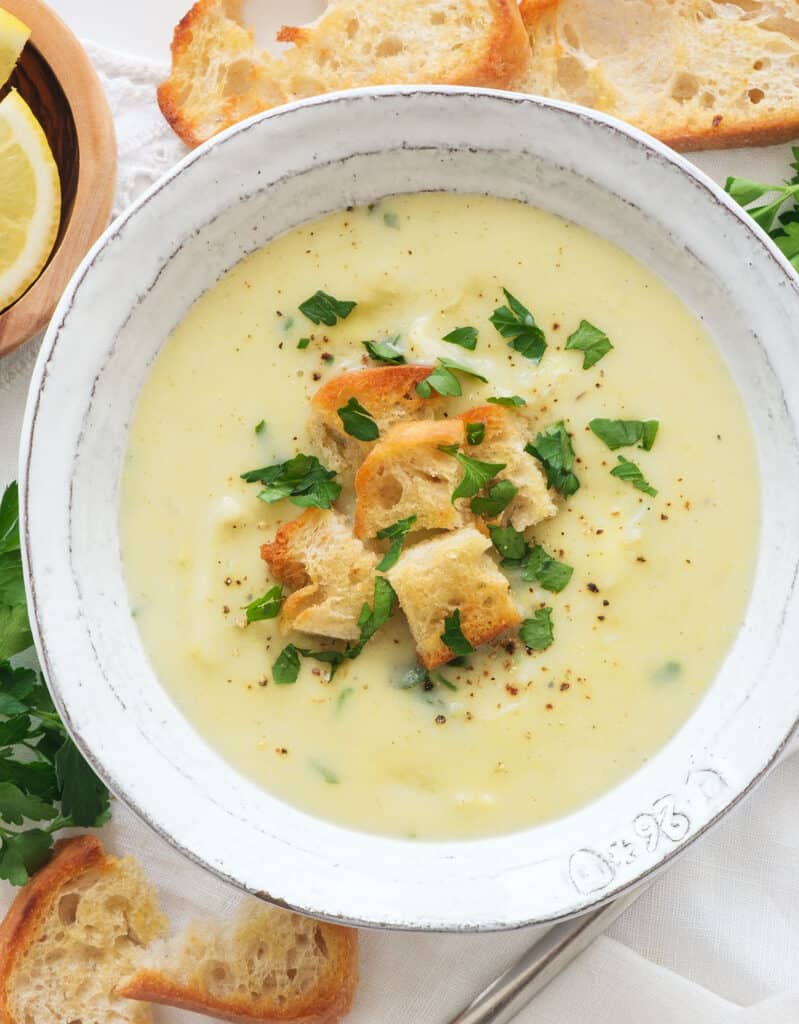 Artichoke dip recipes
This simple dipping sauce is always crowd pleaser! They're perfects for casual gatherings and movie nights, they're also easy to make and their flavor and texture are amazing.
This artichoke dip comes together in under 20 minutes with basic ingredients: spinach, artichoke, cream cheese, sour cream, plus green onions and poblano pepper or bell pepper. It's creamy and indulgent, yet tastes fresh and full of flavor.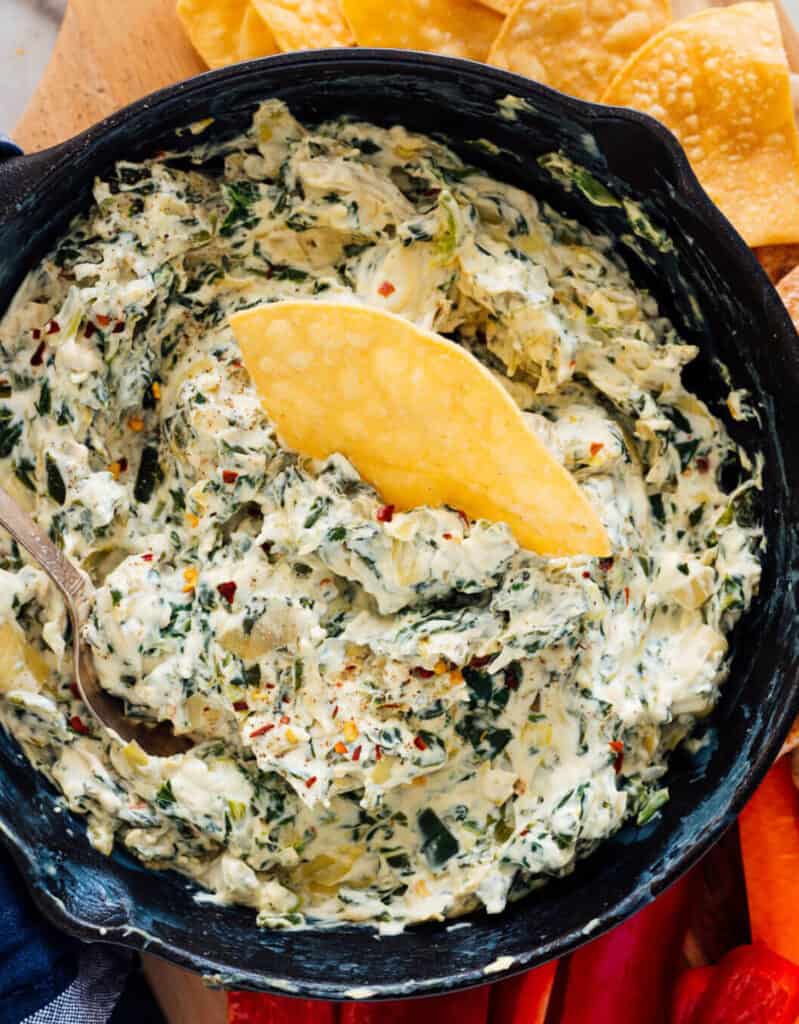 This artichoke dip recipe requires artichokes in brine, cream cheese and frozen spinach. You'll love the creamy texture and Nagi promises that your crackers won't break when you scoop this up.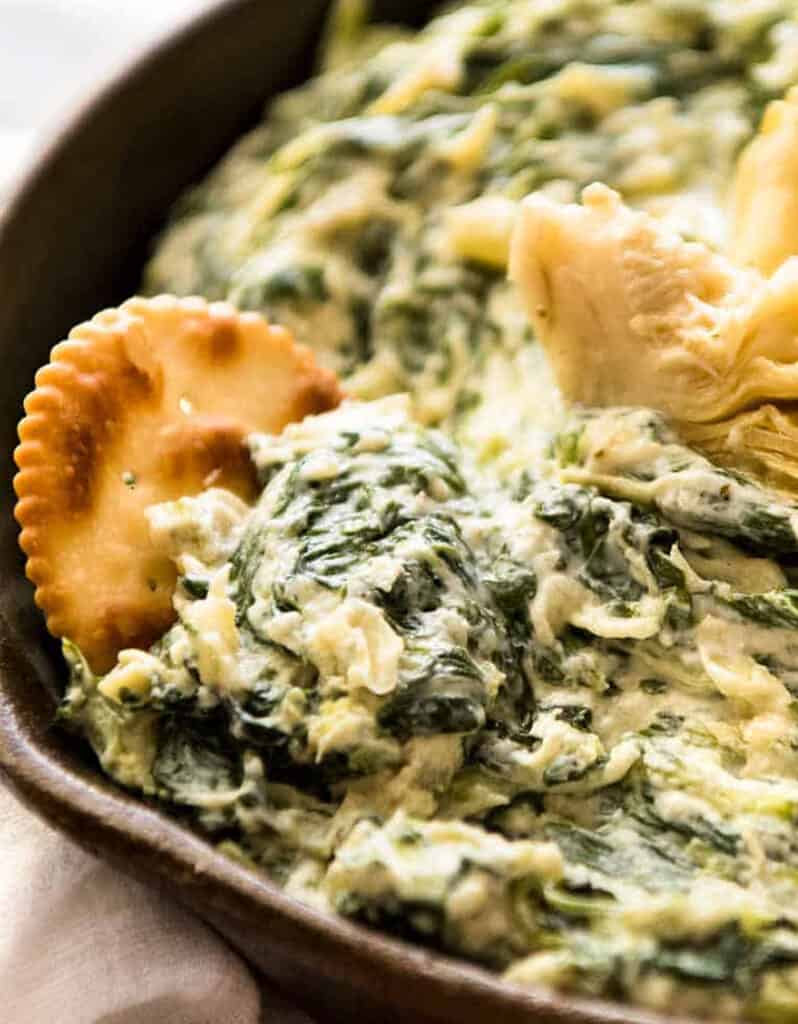 If you prefer the vegan option, this creamy and cheesy hot dip looks so flavourful and incredibly delicious. The recipe uses cashews and vegan milk instead of cream cheese. Yum, get the chips ready!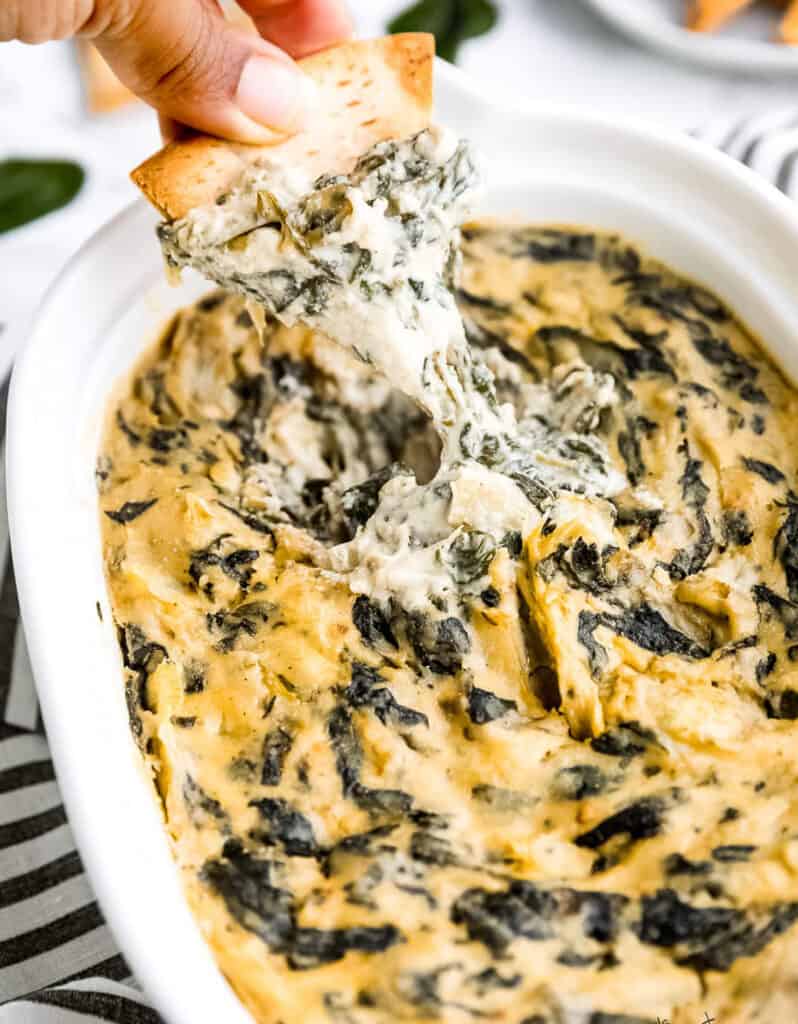 How to cook artichokes
After these delicious recipes that use cans of artichoke hearts, we might also consider to cook fresh artichokes from scratch!
These beautiful veggies are often considered expensive and time-consuming to cook, however, fresh artichokes totally worth the effort! If you find a good bargain at your local farmers market, you'll want to give them a try!
Here I've listed a few recipes to cook fresh artichokes. Once you learn how, it's a breeze!
If preparing artichokes for the first time can be daunting, don't let it intimidate you! This post with step-by-step photos describes how to steam fresh artichokes until tender and ready to be enjoyed with your favorite dip.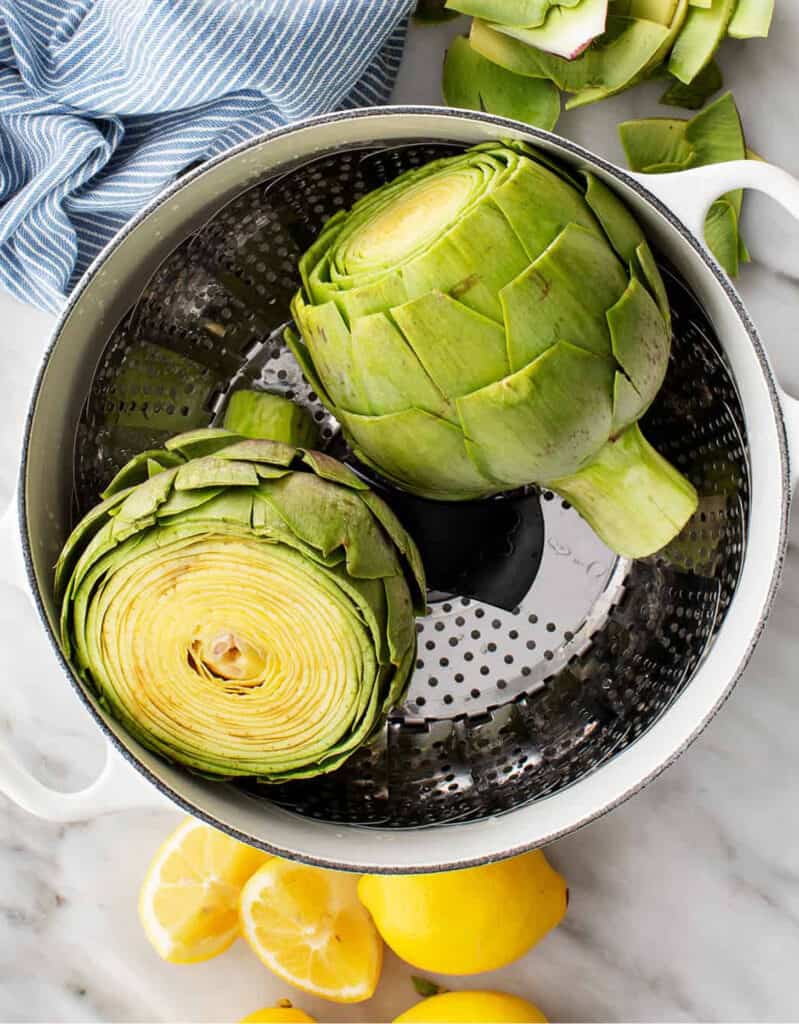 Most artichoke recipes are prepared by either boiling or steaming and take over an hour from start to finish. However, these easy Instant Pot steamed artichokes are ready in less than 20 minutes. Dunk their delicious tender inner leaves into your favorite vinaigrette and scrape them with your teeth. Delicious!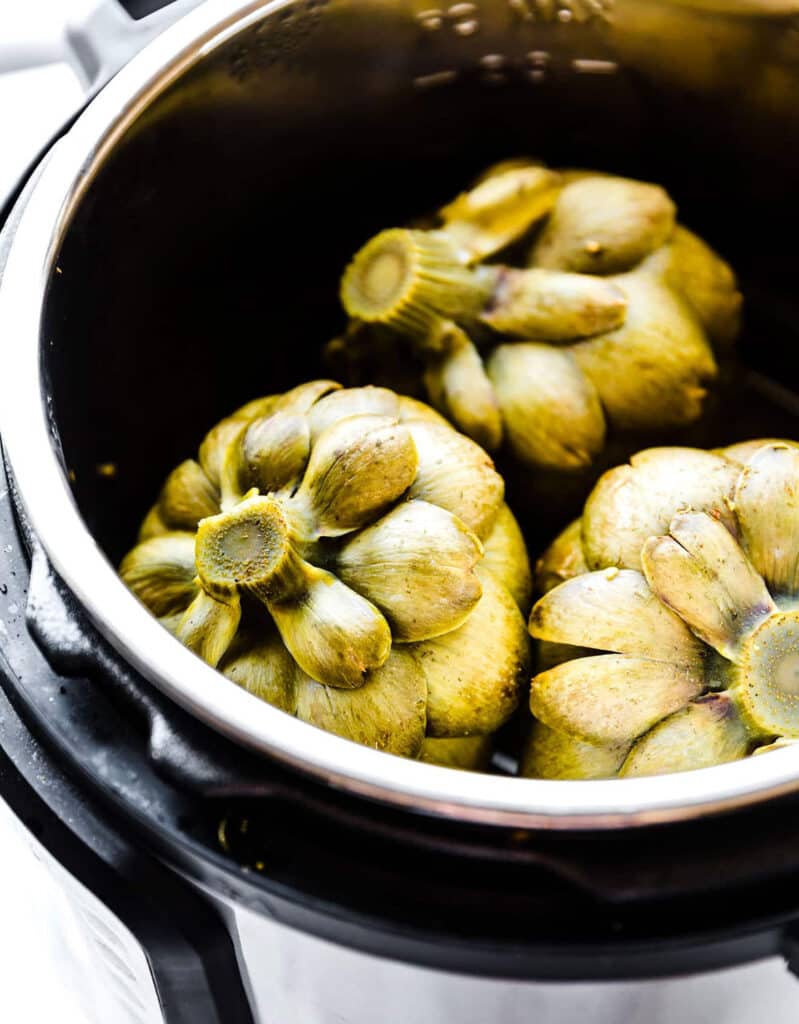 This is one the easiest, most delicious methods for how to cook artichokes in the oven! You'll love how the roasted artichoke halves are seasoned simply with lemon, garlic and olive oil, and finished with a layer of parmesan.
This is another recipe for roasted artichokes that can be made in minutes and it doesn't require much apart from good olive oil, garlic, lemon juice and salt. The flavour of the artichokes really shines through!
These baby artichokes are very easy to cook, easy to eat, and make a delicious starter or side dish. The recipes requires an air fryer and only 7 simple ingredients, plus I'll give you oven instructions if you don't have an air fryer.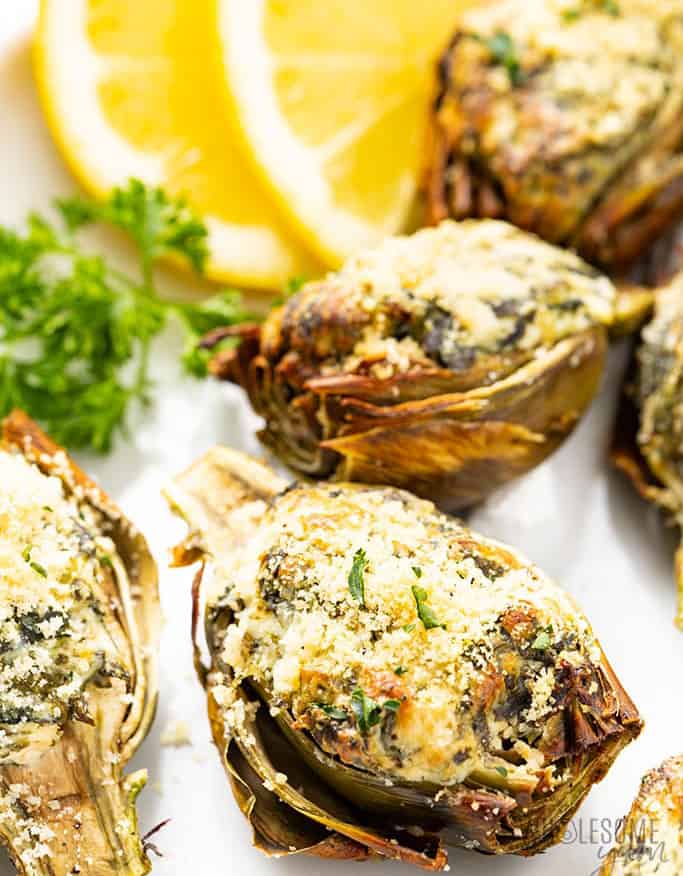 If you loved these artichoke heart recipes…
Here are a few more handful collections of recipes to scroll when you've got in your cupboard or in your fridge ingredients to use up and look for ideas:
If you try and love one these delicious artichoke recipes, or if you have any question, let me know in the comment below. I would love to hear from you!
Print Recipe
Artichoke Recipes: 15 Delicious Ideas!
Looking for recipes with artichoke hearts or tips of how to cook artichokes? Here you'll find 15 delicious artichoke recipes perfect for any occasion! Here is one of my fav pasta recipes that uses artichoke hearts and it's ready in 15 minutes.
Ingredients
Pasta
8oz

(220 grams) pasta (tagliatelle, penne, fusilli, linguine…)
Sauce
1 ½

Tbsp

butter

1

large garlic clove, pressed or grated

½

Tbsp

flour

¼

cup

dry white wine

¾

cup

whipping cream

⅓

cup

freshly grated parmesan cheese, plus more to taste

¼

tsp

fine salt, plus more to taste

⅛

tsp

black pepper, plus more to serve

1

can

artichoke hearts, slices or chopped

3

Tbsp

chopped parsley leaves
Instructions
PASTA
Bring a large pot of salted water to boil. Cook the pasta just until al dente according to package directions. Drain, and reserve about ½ cup of the pasta water.
ARTICHOKE SAUCE
When the pasta is about 5 minutes away from being done, melt the butter in large pan over medium heat. Add the garlic and stir for 10 seconds unitl fragrant, stir in the flour and cook for 30 seconds, stirring often.

Add the white wine and stir until the flour-butter mixture is incorporated into it, cook for about 1 minute while the mixture bubbles gently.

Stir in the cream, cook for a couple of minutes.

Stir in the parmesan cheese, salt and pepper, and turn the heat off. Add the artichokes, toss gently, taste and adjust the seasoning to your liking.

Add the drained pasta, the chopped parsley, and toss until nicely coated. This is when you might want to add a splash of the reserved pasta water until everything is moist.

Divide into 4 pasta bowls, and serve immediately with freshly ground black pepper and grated parmesan cheese.
Notes
For more notes and info about this recipes, please check this post which includes substitutions and more instructions.