This post may contain affiliate links. Please read my disclosure policy for more details.
If you wonder what to do with a can of cannellini beans, here you'll find 15 of the best cannellini bean recipes ever.
From creamy delicious soups to flavorsome salads, bruschetta, pasta recipes, toasts and much more!
There are so many occasions when you're tired, hungry and you crave something filling, satisfying, but simple and quick. And that's when the convenient Italian cannellini beans, with their fluffy texture and hearty flavor, will save your meal in no time.
Healthy, cheap, packed with nutrients and so convenient, canned cannellini beans are a great cupboard essential. They are so versatile and make the perfect, quick, delicious midweek meal for the whole family.
And I'm sure here you'll find the cannellini bean recipes you're looking for!
1. BEST WHITE BEAN SOUP by The Clever Meal
This creamy flavor-packed cannellini bean soup will blow your mind!
It's vegan, thick, comforting, tastes amazing, and it's one of my favorite cannellini bean recipes!
2. SMOKY BEAN ON TOAST, THE PERFECT BRUSCHETTA! by The Clever Meal
Not only vegan cannellini soup recipes but also amazing bruschetta! These little crunchy toasts are topped with scrumptious smoky beans, thyme, chili flakes, fresh garlic, and olive oil. Delicious!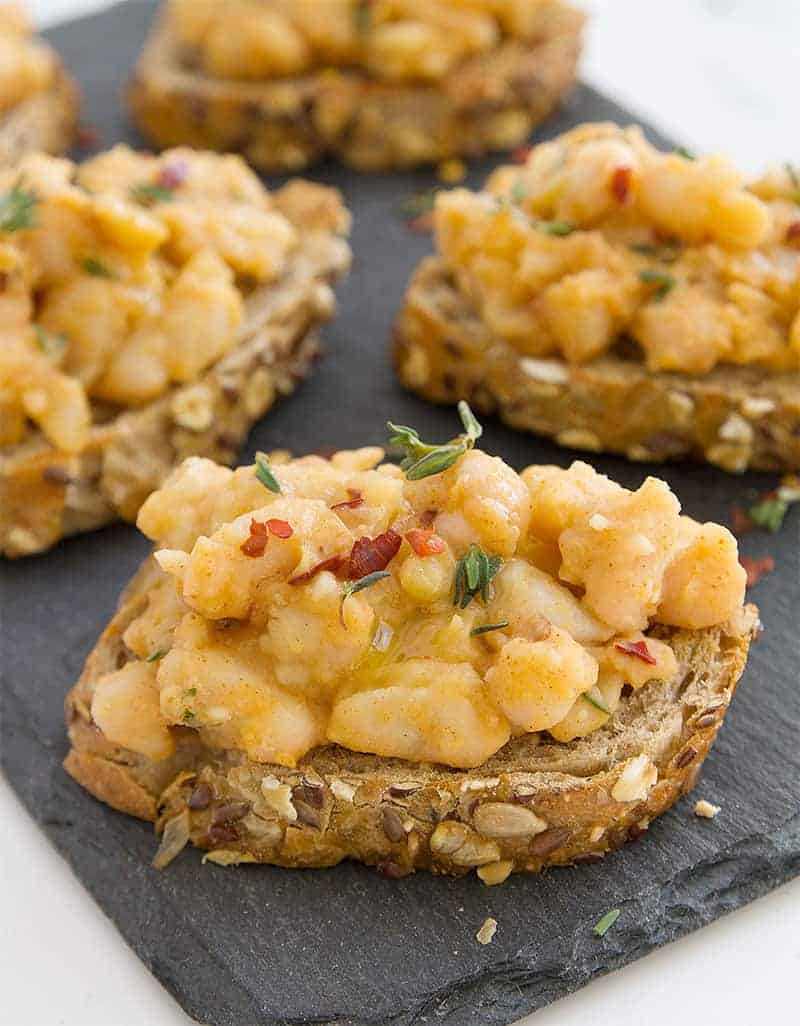 3. WHITE BEAN AND KALE SOUP by The Clever Meal
This hearty cannellini and kale soup is chock full of veggies and filling. It's the kind of soup that warms you up, healthy and full of flavor.
3. VEGAN CANNELLINI BEAN SALAD by The Clever Meal
This easy canned bean salad recipe combines cannellini beans and their amazing texture with juicy tomatoes, savory olives, and refreshing parsley. All tossed in a fantastic homemade lemon garlic dressing. So simple and so good!
5. WHITE BEAN PASTA  by The Clever Meal
This quick white bean pasta turn canned cannellini beans into a wonderful 1-pot family meal ready in less than 15 minutes packed with fresh ingredients.
5. THE ULTIMATE CRUDITE' PLATTER by Love & Lemons
This one is a luscious lemony white bean dip that whizzes up easily in the food processor, perfect for any party. Another fabulous vegan cannellini bean recipe!
6. ITALIAN WHITE BEAN SOUP by The Clever Meal
This is not an average bean soup, this is an awesome vegan soup with big flavor. I cook it the way my mum used to, loaded with chili flakes, parsley, and garlic, a burst of flavor. Needless to say, this is one of the best cannellini soup recipes I've ever had!
6. SUN DRIED TOMATO CANNELLINI BEAN SALAD by A Saucy Kitchen
What about a cannellini bean salad recipe with punchy and tangy sun dried tomatoes and ready in less than 15 minutes? Serve as a simple side, as a starter or enjoy as a light lunch or dinner.
7. FARMHOUSE CABBAGE SOUP WITH CANNELLINI BEANS AND KIELBASA by From A Chef Kitchen
Farmhouse Cabbage Soup with Cannellini Beans and Kielbasa is rustic, hearty and some of the best cannellini bean recipes you'll make all fall and winter long!
8. WHITE BEAN SOUP WITH CRUMBLED BACON AND SPICED BROWN BUTTER by How She Eats
This creamy and luscious soup is topped with crunchy bacon, some fresh herbs, and croutons. Delicious!
9. CREAMY LEMON ZITI WITH ROASTED ASPARAGUS by Veggie Inspired
A delicious pasta dish with a garlicky lemon dairy-free white bean sauce served alongside roasted asparagus. It comes together easily, perfect for a weeknight dinner.
10. TENDERSTEM ROYALE TOASTS WITH BEAN & LEEK MASH by Wallflower Kitchen
This leek & cannellini bean mash takes 5 minutes, is packed with protein and nutrients and tastes incredible. So creamy! Then top with vegetables like Tenderstem Royale which adds amazing color and crunch.
11. PASTA E FAGIOLI (ITALIAN PASTA AND BEANS) by Cookie & Katie
Lots of aromatics, crushed tomatoes, Tuscan kale, and pasta turn this cannellini bean recipe into a hearty meal-in-a-bowl situation. It'll warm you right up on cold days, and tastes even better the next day.
12. VEGAN TUSCAN KALE WHITE BEAN STEW by Blissful Basil
This vegan cannellini bean stew recipe is savory, satisfying, and comforting. Requiring less than 10 ingredients and this soup comes together in a pinch. It's the perfect meal for those busy winter weeknights.
13. VEGAN WHITE BEAN SOUP by Little Sunny Kitchen
Vegan white bean soup, made with potatoes, carrots, onions, rice, cilantro, and cannellini beans. This soup is nutritious, comforting and delicious!
14. SILVERBEET WITH CANNELLINI BEANS, HONEY, AND ALMONDS by Delicious Everyday
Quick, easy, and delicious! This super side pairs slightly bitter chard with sweet honey, cannellini beans and toasted almonds and comes together in easily in under 15 minutes.
15. INSTANT POT TOMATO WHITE BEANS by Running to The Kitchen
How to cook cannellini beans in instant pot? This recipe makes flavorsome cannellini beans in instant pot, served with crumbled feta and fresh basil.
NOTES & FREQUENTLY ASKED QUESTIONS:
You can find either canned or dried cannellini at your local store. And even if the dried counterparts deliver more flavor and a better texture, for convenience and zero prep time, canned cannellini beans are definitely a must-have staple in any cupboard.
ARE CANNELLINI BEANS GOOD FOR YOU?
Yes, they're an excellent source of fiber and important micronutrients. Plus, they're packed with protein and contain zero fat. Big bonus if you're vegan or if you simply try to throw together a delicious meat-free meal from things readily to hand.
BETTER CANNED OR DRIED BEANS?
Although canned cannellini beans work fine in any recipe, if you have the time, it's worth the effort to make your own beans at home, mostly because:
They're cheaper
They taste better
They freeze beautifully
You can use the bean cooking water as a flavorsome broth
HOW LONG DOES IT TAKE TO COOK CANNELLINI BEANS?
To speed cooking time, dried cannellini should be soaked before cooking.
Soak them in lots of cold water from a minimum of 5-6 hours to overnight. Drain and rinse, then put them in a large pan, cover with water and bring to the boil, reduce the heat, and cook until tender (it might take from 30 to 50 minutes).
Plus, cooking a big batch of beans, and freezing the rest, will save you energy and money!
TIP: it's a good idea to add a few bay leaves and pieces of vegetables such as carrots, celery or onion, into the cooking water. They will make the thick and nutrient bean broth delicious, which you can use to add flavor to soups and stews.
DO YOU HAVE TO COOK CANNED CANNELLINI BEANS?
NO, canned cannellini beans are so convenient and already cooked, that means they can be eaten without additional cooking. However, before using them in any recipe, drain and possibly rinse them.
In conclusion, canned or dried, in soups or in salads, in stews or in toasts, vegan or not vegan, the hearty and creamy cannellini beans are just delicious!
And if you enjoy one of these amazing cannellini bean recipes, let me know! Leave a comment, rate it or tag a photo #theclevermeal on Instagram. I would love to hear from you!
Print Recipe
15 Delicious cannellini bean recipes you will love!
There are so many occasions when you're tired, hungry and you crave something filling, satisfying, but simple and quick. And that's when the super convenient and delicious canned cannellini will save your meal with amazing soups, pasta dishes, bruschetta, dip, toasts, and flavorsome salads!