This post may contain affiliate links. Please read my disclosure policy for more details.
What to do with chickpeas? These 27 delicious chickpea recipes are absolutely perfect to turn your chickpeas, aka garbanzo beans, into healthy, economical and protein-packed meals for the entire family.
From creamy soups to chickpea curries to colorful salads, appetizers, burgers and wraps, there's a terrific chickpea recipe for every occasion.
Their flavor, texture, convenience and protein content, make these versatile legumes a must in every pantry!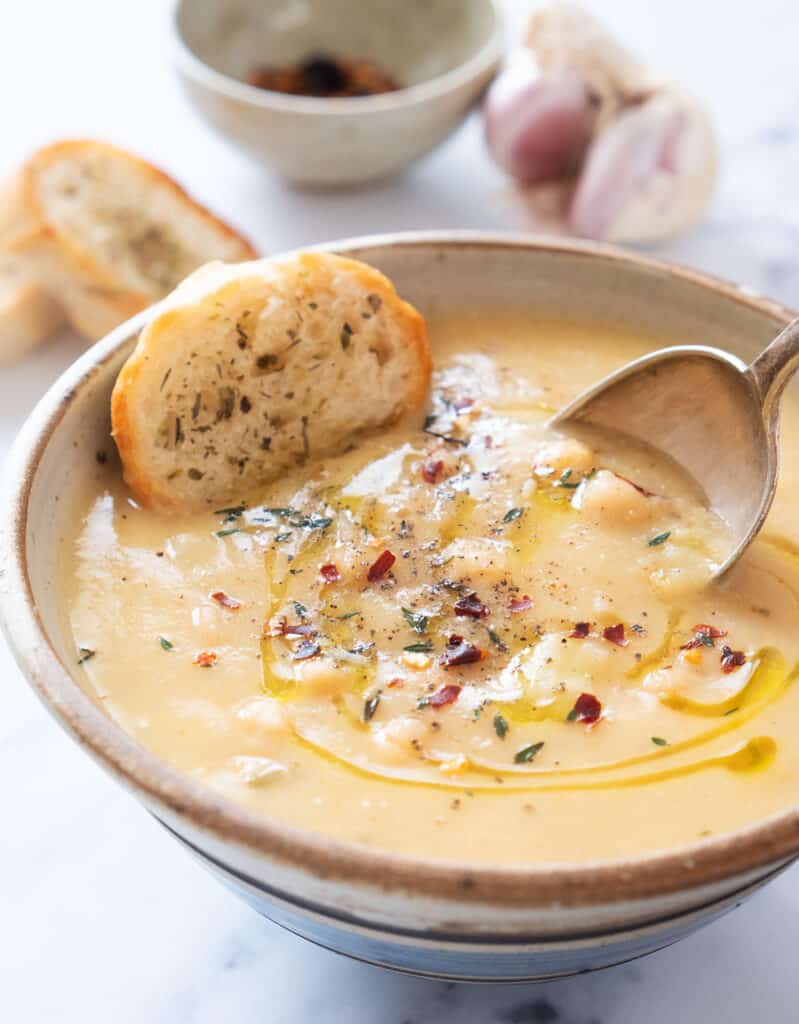 ARE CHICKPEAS HEALTHY?
Chickpeas are a fantastic source of plant-based protein, fiber, vitamins and minerals. They are naturally gluten-free, low in fat and calories, and can also help weight loss.
Essentially, chickpeas make a healthy, delicious meat substitute, they save you money, and the planet, too.
Below, you'll find over 27 of amazing vegan chickpea recipes that I love. They include comforting soups, tasty salads, and everything in between.
And if time allows, and you prefer to use cheaper dried chickpeas instead of canned, you'll find tips and instructions at the bottom of this page!
CHICKPEA SOUP RECIPES
These hearty chickpea soups are full of flavor, nutrients and make a delicious one pot meal that requires only crusty bread for dunking:
This vegan garlic chickpea soup is not only super easy, but it's also tasty and deliciously creamy. Made from a handful of basic ingredients, it comes together in less than 30 minutes.
Chickpea recipes for dinner? This hearty chickpea soup is full of flavor, it comes together in less than 30 minutes and requires cupboard staples and spinach from the freezer.
This soupy pasta with chickpeas or Italian pasta e Ceci makes a delicious one-pot family meal. It's budget-friendly, vegan, packed with protein, it comes together super fast and nicely warms you up!
Carrots and celery add color and fiber, noodles and chickpeas add protein and texture, and thyme and bay leaf marry all of the flavors together. This simple, 1-pot, plant-based is perfect for making ahead and enjoying as needed!
This soup is one of my favorite chickpea recipes, perfect for cozy, cold winter nights when you're craving something hearty and comforting yet healthy. It's also vegetarian, vegan and gluten freefor all to enjoy.
CHICKPEA DIPS & APPETIZERS
What about turning your canned chickpeas into colorful, healthy and tasty appetizer?
This creamy delicious hummus doesn't require you to boil the chickpeas for hours or to peel the chickpeas one by one. All you'll need are canned chickpeas, tahini, lemon juice, garlic, a pinch of salt, and a bit of water. And a blender, of course!
What can I do with a can of chickpeas? This crispy chickpea bruschetta is a brilliant idea. Smashed chickpeas with sun-dried tomatoes make a scrumptious topping when fresh cherry tomatoes are still out of season. Who doesn't love bruschetta?
How festive, coorful an deliciously creamy is this chickpea & carrot hummus? It's healthy, easy to make, full of lemon and garlic flavor, perfect for spreading or dipping!
MORE CHICKPEA RECIPES: SALADS
It's so easy to use canned chickpeas to make a fabulous salads full of texture and flavor:
If you look for recipes for chickpea salad, you have to give this spicy chickpea salad a try! It's vegan, healthy, it requires cupboard ingredients and comes together in a snap. It's perfect for meal prep, too!
This scrumptious Italian chickpea salad is so easy to whip up in 10 minutes. Chickpeas are tossed with tomatoes, mozzarella, red onion, extra virgin olive oil, and basil. The result is a flavorful salad that makes a light lunch, but it's hearty enough for a dinner side dish.
This refreshing lemon couscous salad with chickpeas is super easy to prepare and makes a delicious last-minute meal, side dish, or great to take to a potluck. It's a no-brainer!
CHICKPEA CURRIES
Add plenty of spices to your chickpeas and make a flavorsome curry to serve with rice, an easy, delicious and balanced meal:
This reach and creamy chickpea curry is magically ready in only 10 minutes, so delicious, filling and healthy. What's not to like?
This easy chickpea recipe is an absolutely divine vegan version of the popular classic dish! It tastes deliciously indulgent while remaining healthy and makes large portions that are perfect for meal prep.
In this chickpea recipe, the sweet, sticky General Tso's sauce turns the chickpeas into a little spicy, and obsessively tasty vegetarian meal!
CHICKPEA WRAPS & BURGERS
Not only soups and salads, you can transform a can of chickpeas into a terrific vegan burger or creative wrap or tacos!
These chickpea wraps make an easy and quick lunch for work or meal on the go! Served with a creamy ranch dressing, they look so filling and inviting.
These flavorful chickpea burgers are infused with sun-dried tomatoes and fresh herbs, that sounds absolutely delicious. They are an easy plant-based recipe perfect for any occasion.
A crispy, fragrantly spiced chickpea burger packed with plant-based protein, anyone? Serve this scrumptious veggie pattie with your favorite burger bun and spicy caramelized onions!
Can I use dried chickpeas instead of canned for these chickpea recipes?
Of course, not only are dried chickpeas cheaper than canned, but they also make the most environment friendly alternative. If you have the time to soak and cook them, go for dried chickpeas, it's a no brainer.
How many dried chickpeas make a can?
A can size is about 400gr/15oz, but it yields 250gr/9oz chickpeas (net weight) once drained. Essentially, to make the equivalent amount of a can of chickpeas, you have to use approximatively 125 grams or 3/4 cup of dried chickpeas.
How to cook dried chickpeas?
It's really simple to cook chickpeas , and obviously more time-consuming than opening a can, but a pressure cook or an instant pot to speed the cooking time are not essential.
My favorite method includes:
Overnight soak in plenty of water
Drain and rinse well
Cook in large pot full of water for at least 1 hour, or until tender
There's no need to add any salt at this stage, but a few bay leaves in the cooking water would be brilliant, if you have some on hand. When the chickpeas are done, drain, and let them cool. You can also let them rest in their cooking water until cold, they will get more tender, perfect for hummus or soups.
CLEVER TIP: cook at least 1 lb of dried chickpeas, drain, when they are cool divide them into small freezing bags, and freeze. You can use them later in your next chickpea recipe!
MORE INEXPENSIVE PANTRY-FRIENDLY RECIPES?
I love legumes, they've been my staples for as long as I can remember, here you'll find three collections of delicious recipes featuring lentils, peas and white beans!
Whether you already love chickpeas or are cooking them for the first time, I hope that a few of these recipes make it into your regular rotation too! Let me know if you have any questions, I would love to hear from you. 💛
Print Recipe
27 CHICKPEA RECIPES
This collection of amazing chickpea recipes is perfect to whip out your healthy delicious meal in a snap, and this creamy garlic chickpea soup is one of my favorite go-to meals!
Ingredients
1

Tbsp

olive oil or extra virgin olive oil, plus more for drizzling if you wish

3

large garlic cloves, minced

1

tsp

paprika

1

tsp

dried rosemary

½

tsp

dried thyme

¼

tsp

chili flakes (or crushed red pepper, same thing)

2

(15 oz each)

chickpeas

1

6oz-180 grams) large potato, diced

2 cups

(480 ml) low sodium vegetable broth

salt & black pepper, to taste
Instructions
Drain only one of cans of chickpeas and pour the second one with its liquid into a blender. Purée until smooth.

Heat the olive oil in a pot over medium heat, add the garlic and sauté for about 45/60 seconds, or just until fragrant.

Add the puréed chickpeas, the second can of drained chickpeas, the potato, parprika, thyme, rosemary, chili flakes, and some freshly cracked pepper and give a good stir. Add broth and stir again.

Place a lid on the pot, turn the heat up to medium-high, and bring the soup to a boil. Then turn the heat down to medium low and allow it to simmer for 25 minutes, stir occasionally.

Taste and adjust the seasoning according to your liking (it depends mostly on the salt content of your broth, I added about ¼ tsp of salt).

Serve hot with freshly ground pepper, a drizzle of olive oil if you wish, and delicious crusty bread for dipping!
Notes
Storage instructions: keep in the fridge, stored in an airtight container, for up to 3 days.
Freezable: divide among airtight containers (leaving 1-inch space at the top), and freeze up to 2 months