This post may contain affiliate links. Please read my disclosure policy for more details.
This delicious pasta with chickpeas or Italian pasta e ceci, is one of the best one-pot family meals you can cook in less than 30 minutes. It's budget-friendly, vegan, and uses a handful of cupboard essentials.

If you're looking for a delicious one-pot pasta recipe full of flavor, plant-based protein, and easy to make… here it is!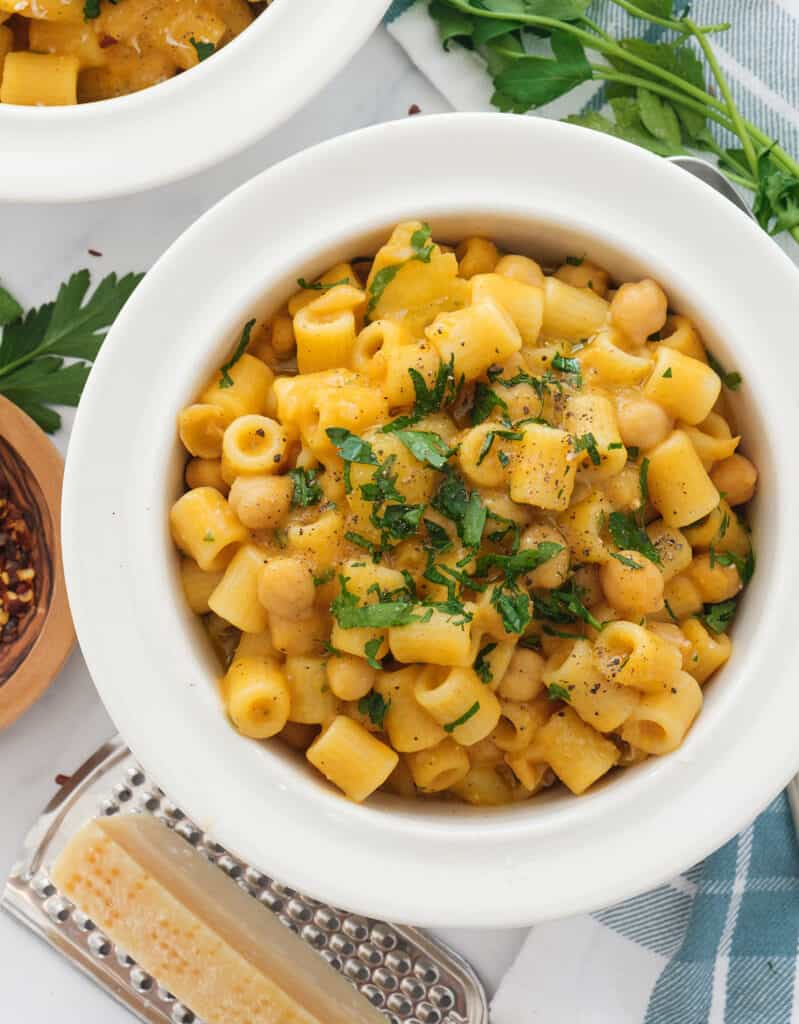 Pasta e ceci is more a stew than a soup. In Italy, this is the way we cook pasta with pulses, from these classic pasta e fagioli, pasta with lentils to this easy pasta with peas.
Once you sauté onion and garlic in olive oil, you just dump the chickpeas, rosemary, tomato paste, and broth. Cook, then puree or smash part of the chickpeas and potatoes, stir in pasta, and let it simmer gently.
Everything will cook in one pot until the pasta will absorb the liquid completely. And the longer it sits on the stove, the thicker and more delicious it will get.
The final result is a pot full of delicious pasta e ceci, so filling and satisfying!
List of the ingredients
Chickpeas
Short pasta (ditali, orecchiette, shells)
Onion
Garlic
Rosemary (fresh or dried)
Olive oil or extra virgin olive oil
Tomato paste
Potato (optional)
Parsley (optional)
Salt & pepper
How to make

pasta with chickpeas

(Note: this is a quick description with step-by-step photos, the full recipe is at the bottom of the page).
Saute' minced garlic and diced onion in olive oil.
Stir in chickpeas, diced potato, rosemary, tomato paste.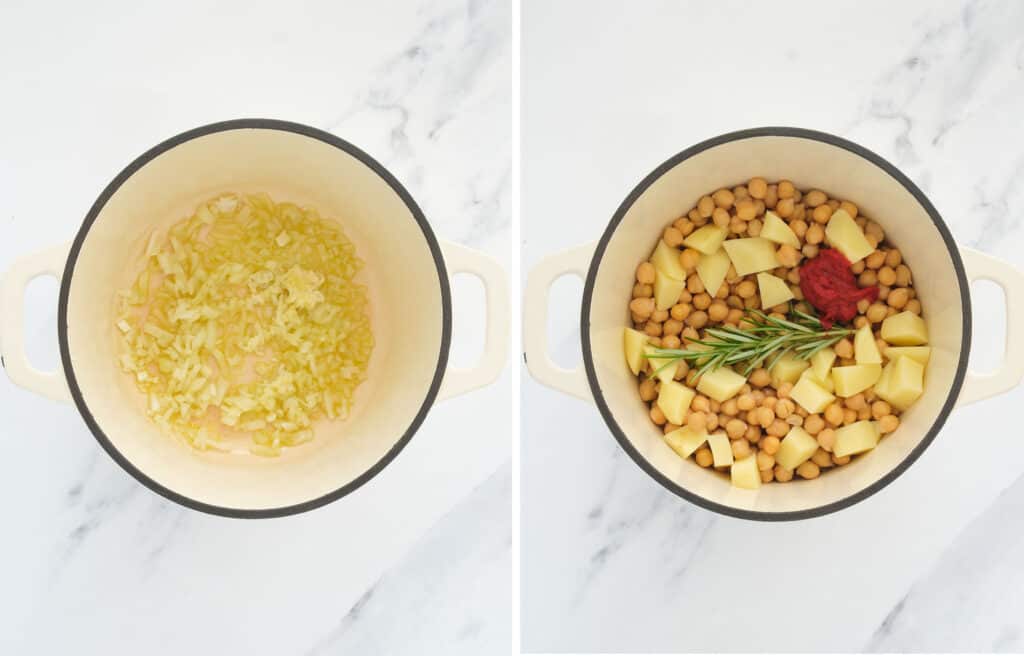 Give a good stir, and add broth, salt and pepper.
Cook for 10 minutes and turn the heat off.
Remove the rosemary, blend half of the chickpea or smash the potatoes with the back of a spoon. This step makes the broth thicker.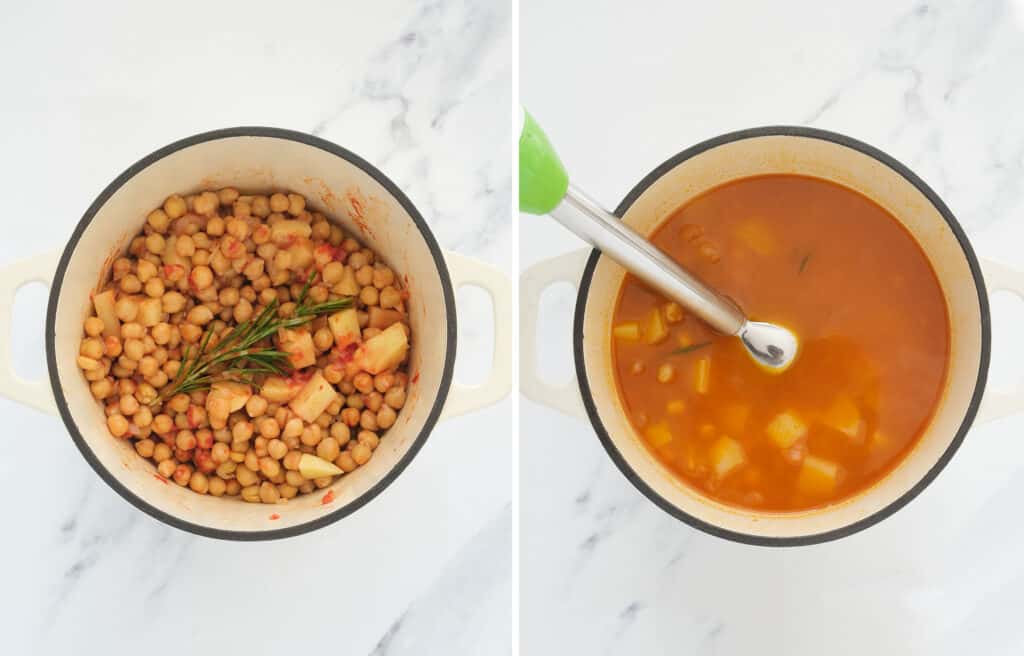 Bring to the boil, add the pasta, reduce the heat, and cook gently.
When the pasta is done, adjust the seasoning and stir in a handful of chopped parsley.
Serve with freshly ground black pepper, a drizzle of extra virgin olive oil and grated parmesan cheese if you wish.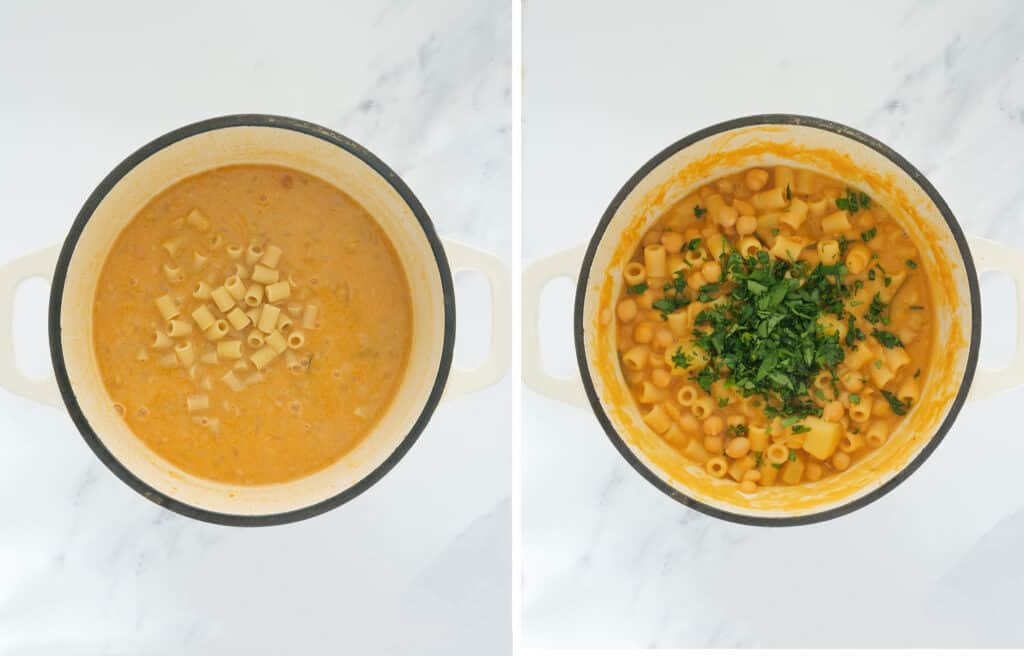 Are chickpeas healthy?
Chickpeas are nutrient-dense food rich in protein and fiber. According to a study published in the journal Nutrients, people who regularly consume chickpeas have higher intakes of several key nutrients. These include fiber, vitamins A, E and C, folate, magnesium, potassium, iron, and antioxidants.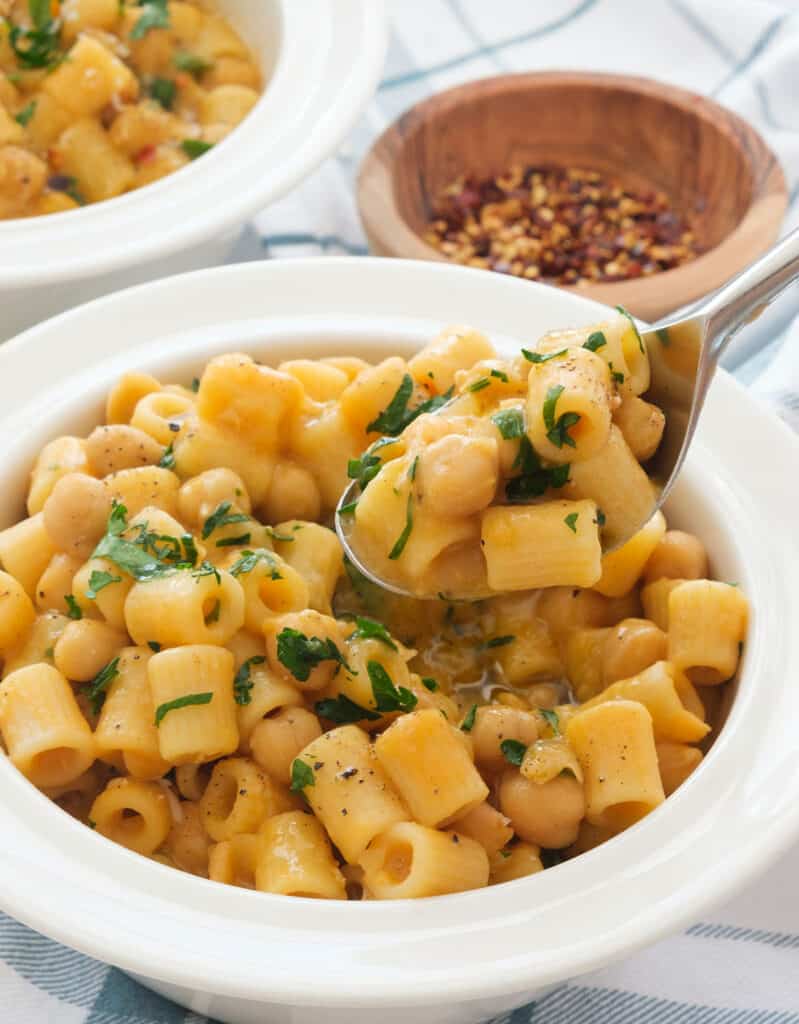 RECIPE NOTES & TIPS
Tips to cook pasta with chickpeas in 1 pot
There're many recipes of this pasta with chickpeas, but I love cooking mine all in one pot . Here there're a few tips:
Start with a soffritto base. Onion and garlic are a must, but you're welcome to add diced carrots and celery like I do with this soffritto recipe.
Cook pasta and chickpeas together, all in one pot, not separately!
Puree or smash some chickpeas and potatoes.
A small starchy potato lends a lovely texture.
Let the stew simmers and stir often.
Add water gradually only if needed, you don't want a watery broth.
Serve with freshly ground pepper, extra virgin olive oil and parmesan cheese.
Note: the quantity of liquid stated in the recipe card is an estimate. You might need to add or to reduce the amount of water according to the type of pasta.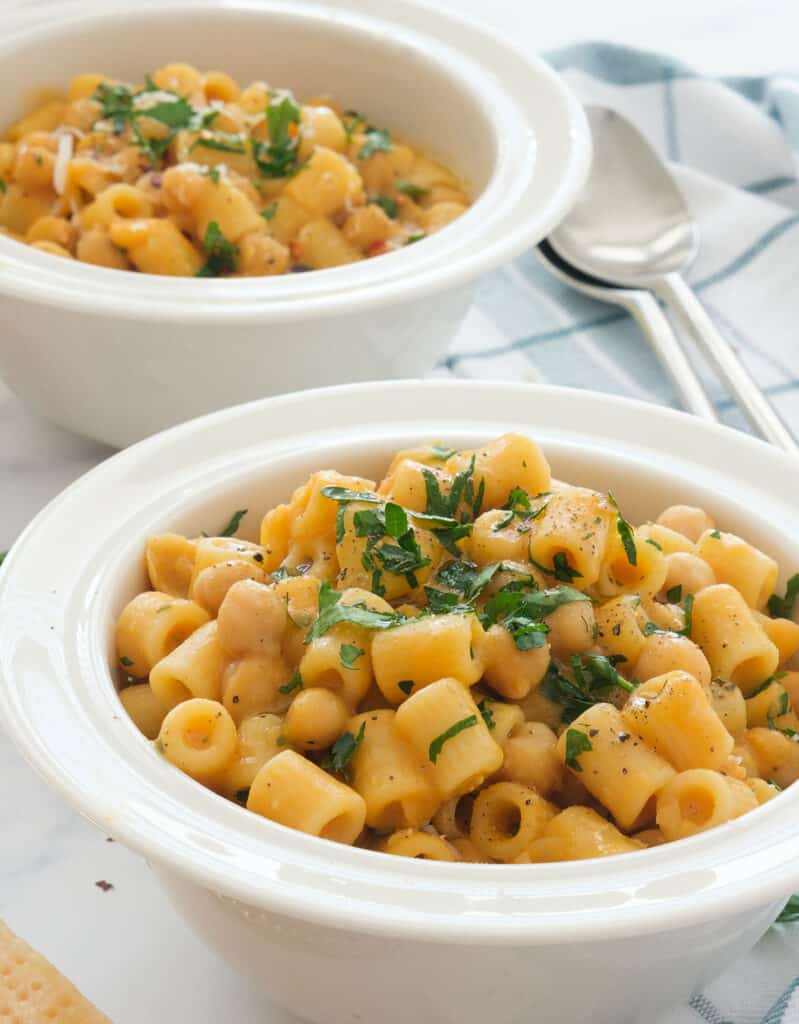 How long does it keep?
If you have any leftovers, you can store pasta with chickpeas in the fridge in a tight lid container for 2 days.
However, the pasta will absorb liquid as it sits. To reheat, add up to 1 cup of water until it's thinned to the desired consistency, then gently warm over medium-low heat.
More recipes with chickpeas?
The delicious and protein-packed chickpeas are one of the best cupboard staples ever: they're so versatile, healthy, and just perfect for a quick and healthy family meal.
If you love them as much as we do, don't miss this helpful collection of delicious chickpea recipes. Here are a few of our favorites:
If you make this pasta e ceci or if you have any questions, let me know! Leave a comment, send me a message, or rate it.
I would love to hear from you!
And for more recipe updates, subscribe my newsletter and follow me on Instagram, Pinterest and Facebook.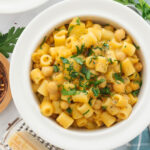 Print Recipe
Pasta e Ceci (Pasta with Chickpeas)
Pasta with chickpeas, in Italian pasta e ceci, is a delicious one-pot family meal ready in less than 30 mins. It's easy, vegan, creamy, healthy, and so good! Quantities yield 4 serving (approx 1½ cup each)
Ingredients
1

Tbsp

olive oil or extra virgin olive oil

1

medium-sized onion, diced

3

garlic cloves, minced or pressed

2 cans

(14oz/400gr each) chickpeas, drained
medium-sized potato, cubed

1

Tbsp

tomato paste

1

rosemary sprig (or ½ tsp or dried rosemary)

4 cups

(960 ml) low-sodium vegetable broth (or water), use more if needed

1

tsp

fine salt

⅛

tsp

black pepper

½ lb

(8oz/220 grams)

short pasta shapes (shells, orecchiette, ditali...)

2-3

Tbsp

chopped parsley (optional)
To serve (optional)
drizzle of extra virgin olive oil

freshly ground black pepper

grated parmesan or pecorino cheese (optional)
Instructions
Heat the olive oil in a large Dutch oven or heavy-based pot over medium heat. Once the oil is shimmering, add the diced onion, garlic, and cook until the onion has softened, about 5 minutes.

Add the chickpeas, the cubed potato, and the tomato paste, and the rosemary sprig. Stir to coat in flavor, about 1 minute. 

Then add vegetable broth or hot water, salt, pepper (1 tsp of salt is fine if you use water or low-sodium broth. But if you use regular broth, it's important to adjust the seasoning at the end and not at the beginning, see notes below).

Raise the heat and bring the mixture to a boil, then cover the pot, reduce heat and cook for 10 minutes until the potatoes are soft. 

Turn the heat off, remove the rosemary, and with an immersion blender puree only part of the chickpeas. Alternatively, smash chickpeas and potatoes with the back of a spoon or a potato masher. Be careful, the liquid is still hot.

Turn the heat on, bring to a light boil, and add the dried pasta.

Let it simmer and stir often (otherwise the pasta will stick to the bottom of the pot). Cook until the pasta is tender but still firm to the bite. You don't need to cover the pot with a lid, but make sure you keep an eye on it. If the soup seems too thick, add a touch of water and thin to the desired consistency.

When it's ready to serve, taste and adjust the season with salt and pepper according to your taste.

Stir freshly chopped parsley, divide into bowls and serve with a drizzle of olive oil, freshly ground black pepper, and grated parmesan or pecorino cheese if you don't keep it vegan. Enjoy!
Notes
Liquid ratio: 4 cups of water/broth is an estimate. You migh need to add or to reduce the amount of water according to the type of pasta and to your preference.
If you don't have an immersion blender: s

coop out about 1 and 1/2 cup of the chickpeas and some broth to a blender, puree until smooth and return it to the pot.
Seasoning: I usually cook pasta e ceci with water, but If you prefer to use regular vegetable or chicken broth,  keep in mind it might tastes quite salty on its own.  It's important to adjust the seasoning at the end and not at the beginning as you never really know how strong the salt from the broth is.
Serve immediately: pasta e ceci is best served immediately; as it sits, the pasta soaks up the liquid. If the soup gets too thick, you can thin it with a bit of broth or water
Freezable: the chickpea soup can be frozen, without the pasta, for up to 3 months. Defrost the soup in the refrigerator for 12 hours and then reheat it on the stovetop over medium heat until simmering, add the pasta, and cook until the pasta is ready.
NOTE: nutritional values are estimates only.
Nutrition
Calories:
472
kcal
|
Carbohydrates:
83
g
|
Protein:
19
g
|
Fat:
8
g
|
Saturated Fat:
1
g
|
Polyunsaturated Fat:
2
g
|
Monounsaturated Fat:
3
g
|
Sodium:
628
mg
|
Potassium:
671
mg
|
Fiber:
12
g
|
Sugar:
9
g
|
Vitamin A:
96
IU
|
Vitamin C:
10
mg
|
Calcium:
87
mg
|
Iron:
5
mg