This post may contain affiliate links. Please read my disclosure policy for more details.
This Italian pasta with lentils is one of the best nourishing meals you can cook using a few cupboard essentials. It's a simple yet delicious 1-pot recipe, healthy, vegan and amazingly GOOD.
Basically, it's the supreme example of how to turn basic inexpensive ingredients into a perfect weeknight meal for every family: economical, flavorsome, and full of nutrients.
I've been cooking this Italian pasta dish for ages, it has been one of my favorite staples since I was a kid. I love its simplicity, the homey flavor, the thick texture, the fact that it's so filling, packed with protein, and requires minimal ingredients.
Extra bonus? The day after tastes even better!
What ingredients you need
Green or brown lentils
Pasta
Fresh or canned tomatoes
Onion & garlic
Olive oil
Tomato paste
Bay leaves
Cumin
Broth
Salt & pepper
How to make it
Saute' onion in olive oil for about 5 minutes
Add garlic, tomatoes, bay leaves and cook another minute
Stir in lentils, cumin, tomato paste, pepper, and broth
Cook for about 20-25 minutes or until the lentils are soft
Add the pasta, salt and cook over low-medium heat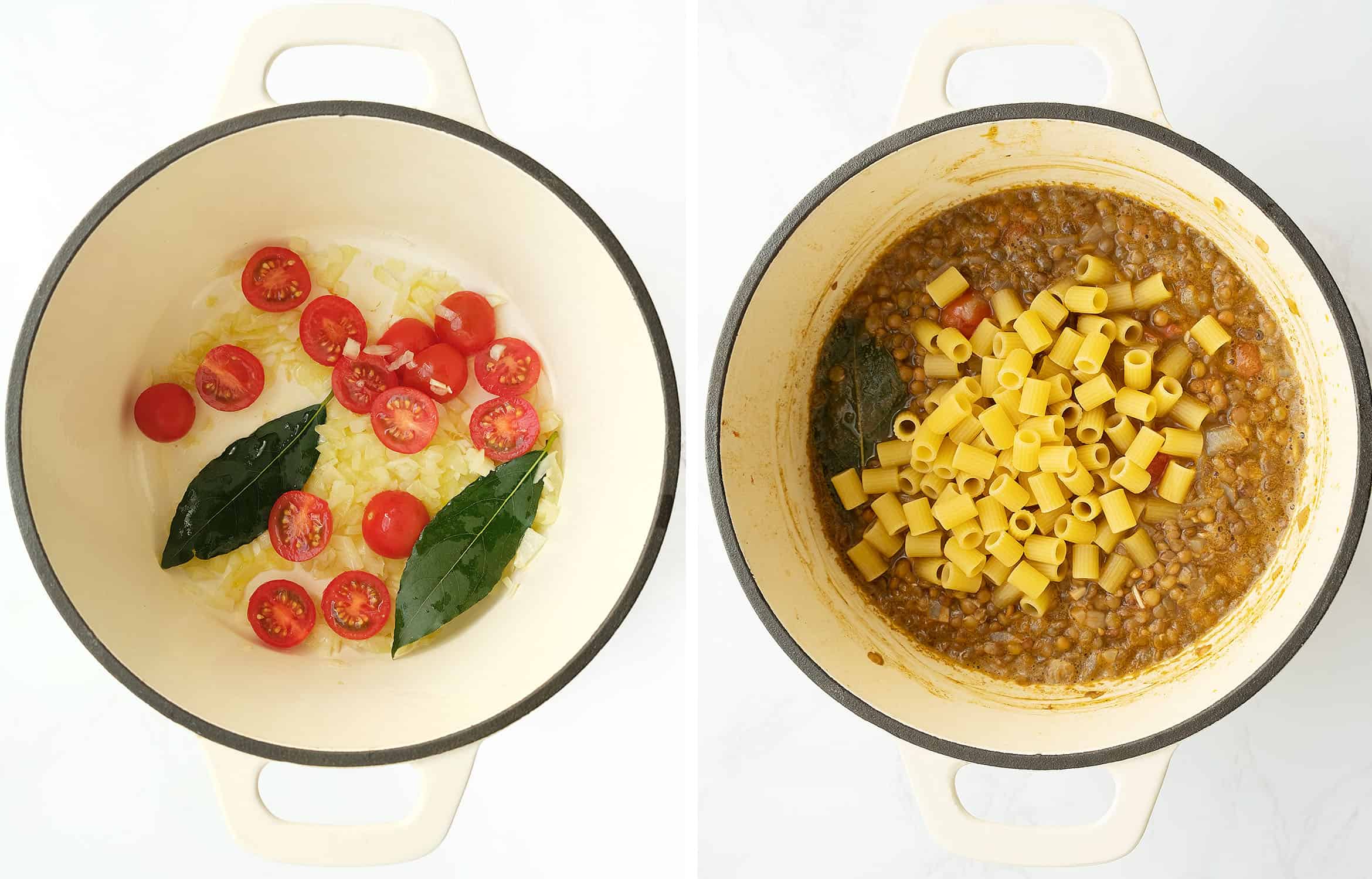 Cook all in one pot adding a touch of broth or water if needed
Serve with freshly ground black pepper and a drizzle of olive oil
Optional: Also, you can serve it with chopped parsley, chili flakes, and grated parmesan cheese!
RECIPE NOTES & TIPS
First things first, this easy 1-pot recipe makes a healthy balanced meal, costs less than $ 1 per serving and tastes delicious. Lentils are amazing cupboard essentials and buying them in bulk will save you money!
WHY IS THIS PASTA WITH LENTILS SO GOOD?
This pasta with lentils recipe is a must in every Italian family. It looks more like a stew than a pasta dish, and the pasta cooks while the lentil stew simmers.  In Italy, this is the way we cook pasta with pulses: slowly, in a broth packed with nutrients and flavor.
In this pasta with lentils, the flavor comes from the sauteed garlic, the onion, the bay leaves, the sweet tomatoes which make the broth richer, and the cumin to add depth of flavor.
To make things even better, don't skip a drizzle of olive oil and freshly ground pepper when you serve it. You will love it.
The most popular pasta shapes for this recipe are ditali or ditalini (basically what I used in these pictures) or any sort of small resilient pasta like orecchiette or shells are fine. However, often my mother used to break spaghetti into short pieces to make this recipe. That's another popular variation that works just fine.
ARE LENTILS GOOD FOR YOU?
Yes, lentils are super nutritious, low in fat, and high in minerals and fiber. Plus, they're a fantastic vegetarian source of protein which makes them an excellent replacement for meat in meals.
To make this pasta with lentils healthier and more nutritious, switch to whole-grain pasta, and you'll get more natural fiber and micronutrients than white pasta.
DO YOU HAVE TO SOAK LENTILS BEFORE COOKING THEM?
Not really. Because lentils are so small and cook quickly, you don't need to soak them in advance. They're done in about 25-30 minutes.
HOW TO STORE PASTA WITH LENTILS LEFTOVERS?
If you have any leftovers, you can store pasta with lentils in the fridge in a tight lid container for 2 days.
The pasta will absorb liquid as it sits and to reheat, add up to 1 cup of water until it's thinned to the desired consistency, then gently warm over medium-low heat.
MORE ITALIAN PASTA RECIPES?
If you make this delicious pasta with lentils or if you have any questions, let me know! Leave a comment, rate it or tag a photo #theclevermeal on Instagram. I would love to hear from you!
Print Recipe
PASTA WITH LENTILS
This Italian pasta with lentils is one of the best nourishing meals you can cook using a few cupboard essentials such as dried lentils and pasta. It's an easy yet delicious 1-pot recipe, healthy, vegan and amazingly GOOD.
Note
: chose US customary or metric/tap on servings to scale quantities!
Ingredients
1 ¼

cup dried brown or green lentils, rinsed

1 ¼

cup short pasta shapes (ditalini, elbows, orecchiette, mezzi rigatoni...)

5

cups vegetable or chicken broth, plus more if needed

8

cherry tomatoes, cut into halves (see notes)*

1

Tbsp

olive oil, plus more for drizzling

2

garlic cloves, minced

1

small-sized onion, diced

1

Tbsp

tomato paste

1/4

tsp

ground cumin

fine salt, to taste

1/8

tsp

black pepper, plus more to taste
Instructions
Heat oil in a large pot over medium heat. Add onion and saute' for 5 minutes.

Add garlic, tomatoes, bay leaves and stir for a minute (If you use canned tomatoes or only tomato paste rather than fresh tomatoes, add them along with the ingredients listed below).

Add lentils, cumin, tomato paste, broth, and pepper.

Increase heat and bring to simmer. Place lid on and turn the heat down to medium-low. Simmer for about 20-25 minutes or until lentils are soft.

Taste and adjust the seasoning according to your liking (see notes).*

Add pasta, cook gently over medium heat until al dente. Stir frequently!

If the stew seems too thick, gradually add a touch of water or broth and thin to desired consistency (note: the longer it sits on the stove, the thicker it will get). Taste, you might want to adjust again the seasoning before serving.

Serve with a drizzle of olive oil, freshly ground black pepper, and grated parmesan cheese if you don't keep it vegan. Also, garnish with chili flakes and chopped parsley for extra flavor if you like. Enjoy!
Notes
LENTILS: brown or green lentils are my favorite for this recipe.
RINSE THE LENTILS: place the lentils in a colander and make sure you pick out any debris or small stone, then give them a good rinse under runny water.
TOMATOES: fresh, canned or tomato paste make the stew richer and tastier. However, you can substitute fresh tomatoes with  ⅓ cup of canned diced tomatoes or an extra Tbsp of tomato paste. If you use only tomato paste, a total of 2 Tbsps is enough.
BROTH: the amount of broth is added gradually to the pasta, which absorbs it completely and retains its starch. And you want to stir often until the water is absorbed, otherwise, it will stick to the bottom of the pot.
SALT: if you use broth rather than water, it's important to adjust the seasoning when the lentils are done and you're about to add pasta, as you never really know how salty the broth is.  
NOTE: nutritional values are estimates only.
Nutrition
Calories:
513
kcal
|
Carbohydrates:
92
g
|
Protein:
29
g
|
Fat:
6
g
|
Saturated Fat:
1
g
|
Sodium:
56
mg
|
Potassium:
1043
mg
|
Fiber:
28
g
|
Sugar:
8
g
|
Vitamin A:
333
IU
|
Vitamin C:
18
mg
|
Calcium:
66
mg
|
Iron:
7
mg