This post may contain affiliate links. Please read my disclosure policy for more details.
Thick and full of nutrients, this butternut squash and chickpea soup is so warming, healthy, and freezes brilliantly. The only thing it needs is some hot crusty bread for dunking like these crusty panini rolls, easy pesto bread or this quick focaccia, and it makes such a delicious weeknight meal for the whole family.
If there's one thing I love about this weather, it's soup. I love mixing seasonal ingredients, plant-based proteins, herbs, spices, and turn them into healthy comfort food. In the last few weeks, this velvety butternut squash and chickpea soup has been my go-to soup recipe like this garlic chickpea soup and white bean & kale soup.
I love it because it's filling, vegan, nourishing, and deliciously creamy without a single drop of heavy cream. Also, I love to add a touch of this flavorsome parsley pesto: its garlicky punch is definitely one of my favorite kitchen essentials and takes this soup to the next level.
Plus, it's easy to make. Just cook a big batch and enjoy all week long; it's always perfect to warm you up after a long day.
What ingredients you need
Canned chickpeas
Butternut squash
Rosemary or bay leaves
Onion
Potato (optional)
Garlic
Olive oil
Turmeric (optional)
Parsley pesto (optional, but recommended!)
Salt & pepper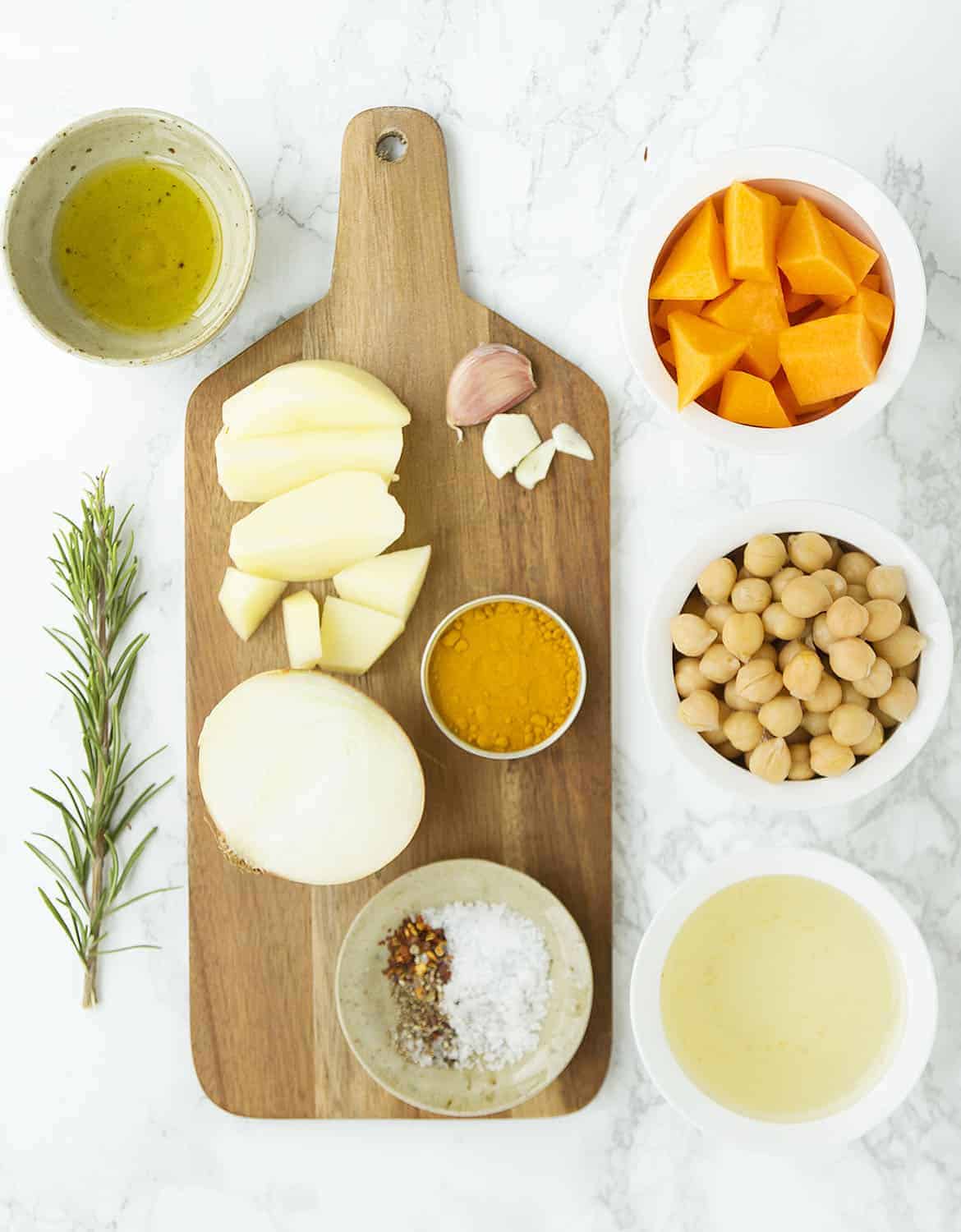 How to make it
(The full recipe is at the bottom of the page)
Saute' diced onion in olive oil
Add garlic and turmeric
Stir in the rest of the ingredients and bring to the boil
Reduce the heat and simmer until the butternut squash is soft
Blend part of the soup and return it to the pot
Serve topped with parsley pesto and crusty bread.
NOTES & RECIPE TIPS
Chickpeas: this convenient nutrient-dense food is a terrific cupboard staple, perfect to add plenty of plant-based protein to any meal. If you're into healthy chickpeas, you'll love these fabulous chickpea recipes.
Butternut squash: this is absolutely a must in this season. It's healthy, inexpensive, keeps well for weeks and it's so versatile, perfect to make this soup so nourishing and velvety.
Any kind of squash will work just fine in this soup.

Texture: I love creamy soups, but I'm not a big fan of using cream or butter in my simple everyday recipes. However, I found that a cubed potato works so well, during cooking the cells of the potato break down, releasing starch and thickening the liquid. Then I blend separately half of the soup and then I return it to the pan to mix chunky bits and creamy soup.
Turmeric: this powerful antioxidant and anti-inflammatory golden spice provides incredible health benefits and a lovely golden color. It's definitely one of my favorite spices, and I try to make room for it in most of my soups including this lovely butternut and chickpea soup.

Flavors: the deeply aromatic rosemary and the garlicky parsley pesto deliver plenty of flavor.
If you look for more healthy soups:
If you make this butternut squash and chickpea soup, let me know!
Leave a comment, rate it or tag a photo #theclevermeal on Instagram. I would love to hear from you! x
Print Recipe
Butternut squash and chickpea soup
This thick and creamy butternut squash and chickpea soup is quick to make, healthy, and the only thing it needs is hot crusty bread for dunking! 
Ingredients
1 Tbsp

olive oil or extra virgin olive oil, plus more for drizzling

1

medium-sized onion, diced

2

garlic cloves, chopped

½ to 1

tablespoon

ground turmeric (optional)*

2 cans

(15oz-450grams each)

chickpeas, rinsed and drained

2 cups

(250 grams) squash, cubed

1

(150 grams) medium-sized potato, cubed

3 cups

(720 ml)

vegetable broth*

½

tsp

salt, or according to your taste

freshly ground black pepper
Parsley pesto
1

handful

fresh parsley leaves, chopped

1

small garlic clove, pressed or grated

1

Tbsp

extra virgin olive oil

¼

tsp

chili flakes
Instructions
In a large pot heat gently 1 Tbsp of olive oil, then add diced onion cook for about 5 minutes or until the onion starts to soften.

Add turmeric, chili flakes and garlic and stir for about 1 minute.

Add the rest of the ingredients, a pinch of salt and bring to the boil.

Reduce the heat, cover the pot and let it simmer for about 20 minutes, stirring occasionally.

When the butternut squash is soft, remove the pot from the heat. 

Remove the sprig of rosemary, transfer half od the soup into a blender, puree until smooth, and return it back to the pot.. Mix well, taste and adjust seasoning according to your taste.

Serve with a drizzle of extra virgin olive oil, fresh parsley and crusty bread.
Parsley pesto (see notes)
Blend the parsley leaves with the garlic and the extra virgin olive oil (2 Tbsp if you like more dressing). Alternatively, you can chop parsley and garlic and mix them with the olive oil.
Notes
Parsley pesto: you can either make a small quantity of pesto following the recipe, it's enough for 4 servings. Alternatively, if you have plenty of fresh parsley, you can follow this recipe and make a big batch of pesto, use some for the soup, and then freeze the rest according to the recipe card.
Leftover: it keeps well in the fridge for up to 3 days. It's also freezable: divide among airtight containers (leaving 1-inch space at the top), and freeze up to 2 months.
Rosemary: I've got a massive bush of rosemary in my garden, and I always use a fresh sprig. If you use a fresh rosemary sprig, keep in mind it will lose its leaves into the soup. They don't bother me, but you might want to take them off before serving, or to chop them before cooking : )
Turmeric: this spice adds a lovely color and great health benefits since it works as a powerful antioxidant, anti-inflammatory, and anti-cancer spice when combined with a pinch of black pepper.
Although turmeric is not as commonly used in Italian cooking, I love adding some of this golden spice to my soups, but feel free to skip it.
NOTE: nutritional values are estimates only and are calculated per each serving (the parsley dressing is not included).
Nutrition
Calories:
326
kcal
|
Carbohydrates:
46
g
|
Protein:
13
g
|
Fat:
12
g
|
Saturated Fat:
1
g
|
Sodium:
928
mg
|
Potassium:
731
mg
|
Fiber:
12
g
|
Sugar:
2
g
|
Vitamin A:
6716
IU
|
Vitamin C:
22
mg
|
Calcium:
120
mg
|
Iron:
4
mg