This post may contain affiliate links. Please read my disclosure policy for more details.
This delicious, slightly spicy Lebanese lentil soup (Shorbat Adas) is a supreme example of how to turn inexpensive ingredients into a fabulous healthy meal.
It's also vegan, gluten-free, and packed with plant-based protein.
This Arabic lentil soup is one of our favorite red lentil recipes, definitely a terrific weekly staple. We love it because it's deliciously thick, warming, and a breeze to make with just a handful of cupboard essentials.
Best part, it takes one pot and comes together in about 30 minutes!
This super easy recipe uses turmeric and cumin to add subtle spicy notes, while the bright lemon juice and coriander bring freshness and balance out the cumin flavor.
But the spicy flavor is delicate and delicious, not overwhelming.
Added bonus? Not only is this soup full of plant-based protein, but the combination of turmeric and black pepper provides great health benefits and anti-inflammatory effects.
You need just a little black pepper to magnify the amazing antioxidant benefits of turmeric and to turn this lentil soup into a powerhouse meal.
Economical, full of flavor, and super healthy, you'll fall in love with this Lebanese red lentil soup recipe!
Double the recipe, serve with stovetop croutons, pita bread or crusty panini rolls for dunking, and freeze the leftovers for busy weeknights.
List of the ingredients
Red lentils
Carrots
Potatoes
Onion & Garlic
Cumin, turmeric
Cilantro or parsley
Olive oil
Salt & pepper
Broth
Lemon juice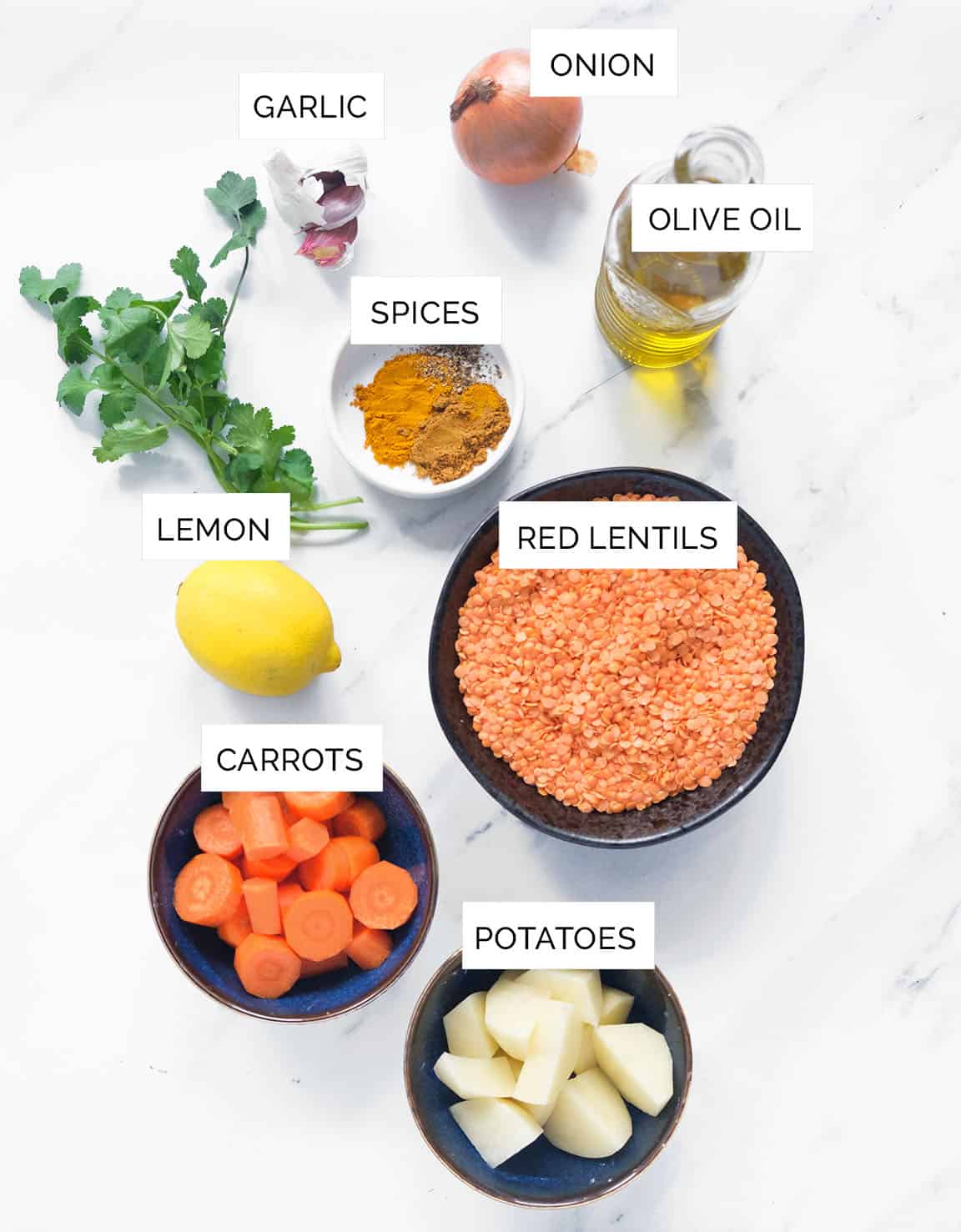 How to make Lebanese Lentil Soup
(Note: this is a quick description, the full recipe is at the bottom of the page)
Sauté onion in olive oil until soft.
Stir in garlic and spices.
Add lentils, carrots, potatoes, broth, salt and pepper.
Cook for about 20 minutes until the lentils are done.
Serve with chopped coriander and fresh lemon juice. Enjoy.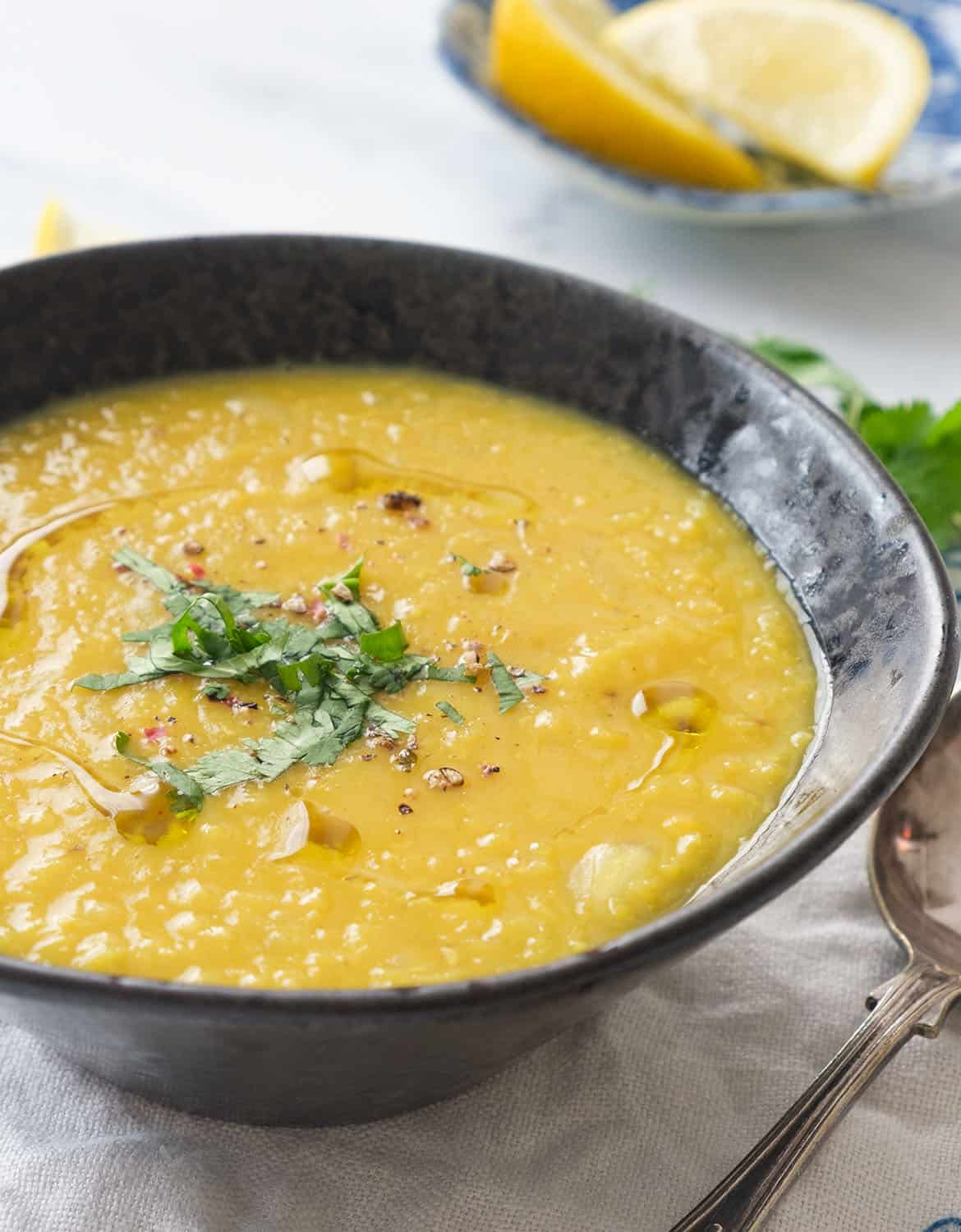 R

ecipe notes
Lebanese lentil soup ingredients
Extra virgin olive oil or olive oil: classic base for any Mediterranean and Middle Eastern soup recipes.
Onion and garlic: they're essentials ingredients and are sautéed in the olive oil.
Red lentils: they're one of the best pantry staples, so easy to work with, they require no fuss or overnight soaking. And they are great to add nutrition to your diet.
Turmeric: it works as a powerful antioxidant and anti-inflammatory spice and gives a golden hue and earthy flavor foundation.
Ground cumin: its deep flavor and slight bitterness pair well with sweet lentils.
Carrots and potatoes: they add body and extra nutrition to the soup. You're welcome to add also a diced celery stick if you wish.
Broth: I prefer low-sodium vegetable broth, but you're welcome to use chicken broth, just make sure to adjust the seasoning accordingly.
Salt & pepper: to enhance the overall flavor. I use about 3/4 or 1 scant teaspoon of fine salt, but you might need less if you use a broth that is quite salty.
Fresh parsley or cilantro (aka coriander in the UK): for freshness.
Lemon juice: we use about half lemon juice to serve. The citrus will elevate the flavor and bring some brightness to this warm and comforting soup.
How to store this soup?
If you cook a big batch and have soup leftovers, you can freeze them for 1 month or you can refrigerate them for 3-4 days.
Freezer: divide leftovers into single serving containers, cool them down in the refrigerator, and then freeze.
Fridge: let the leftover soup cool down and store it in an airtight container in the fridge. The soup will absorb all the liquid as it sits and to reheat, add a touch of water until it's thinned to the desired consistency, then gently reheat the it on the stove or in a microwave.
More lentil soup recipes
If you love lentils please check out this collection of 35+ delicious lentil recipes, and if you look for more lentil soup ideas, I've pulled together my favs:
And for more vegan soups, check out this NEW roundup
If you make this terrific Lebanese lentil soup, let me know! Leave a comment, rate it or tag a photo #theclevermeal on Instagram.
I would love to hear from you! x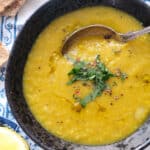 Print Recipe
Lebanese Lentil soup
This is a warming and spicy red lentil soup loaded with amazing flavor, nutrients and with a thick and comforting texture, just made for dunking in crusty bread!
Recipe yields 5 cups of soup in total (approx 1 ¼ cup per serving).
Ingredients
1

tablespoon

olive oil

1

onion, diced

1

large garlic clove, minced

1

teaspoon

cumin

1

teaspoon

turmeric

1 cup

(130 grams)

carrots, diced

1 cup

(130 grams)

potatoes, diced

1 ½ cup

(270 grams)

red lentils, rinsed and drained

5 cups

(1.2 liter)

vegetable broth or hot water*

¾ – 1

teaspoon

fine salt, or to taste

⅛

teaspoon

freshly ground black pepper, or to taste

½

lemon, juice

1

handful

cilantro or parsley, chopped
Instructions
In a large pot heat gently the olive oil over medium heat. Add the onion and cook for about 5 minutes, until the onion starts to soften.

Add cumin, turmeric, garlic, and stir for 1 minute until fragrant.

Then add lentils, carrots, potatoes, and give a good stir.

Add the broth, salt, and pepper and bring to the boil*.

Reduce the heat, cover with a lid, and simmer for about 20 minutes, stirring occasionally.

Remove the pot from the heat, check the seasoning and the consistency (you might like a thicker or a thinner soup, so you can add or reduce the amount of liquid – see notes)*.

Optional step: using an immersione blender you can puree the soup until it's smooth and creamy if you wish.

Serve with chopped parsley or coriander, a pinch of paprika if you like and freshly squeezed lemon juice to taste*.
Notes
.
Seasoning: If you use a vegetable or chicken broth that tastes quite salty on its own, it's important to adjust the seasoning at the end and not at the beginning as you never really know how strong the salt from the broth is.
In this case, I would start only with a good pinch of salt, no more than that.
Lemon: dd a little lemon juice at a time and see which level of acidity fits your taste. 
Leftover: it keeps well in the fridge for up to 3-4 days. t's also freezable: divide among airtight containers (leaving 1-inch space at the top), and freeze up to 1 month.
Texture: This red lentil soup is quite thick. If you prefer a thinner consistency, just slowly add more broth until you're happy with it. Otherwise, water it down a little bit and add more spices.
Nutrition facts: the nutrition values are  for one portion and are based on an online nutrition calculator.  It's an estimate only and it should not be considered as a substitute for a professional nutritionist's advice. Please see my disclosure policies. 
Nutrition
Calories:
381
kcal
|
Carbohydrates:
57
g
|
Protein:
21
g
|
Fat:
8
g
|
Saturated Fat:
1
g
|
Polyunsaturated Fat:
1
g
|
Monounsaturated Fat:
5
g
|
Sodium:
332
mg
|
Potassium:
963
mg
|
Fiber:
26
g
|
Sugar:
6
g
|
Vitamin A:
8386
IU
|
Vitamin C:
12
mg
|
Calcium:
71
mg
|
Iron:
7
mg