This post may contain affiliate links. Please read my disclosure policy for more details.
This flavor-packed parsley pesto is garlicky, slightly spicy and makes an instant flavor boost for soups, pastas and salads. It's freezable in small portions, and great to preserve plenty of fresh parsley.
It's also vegan, nut-free, gluten-free, dairy-free.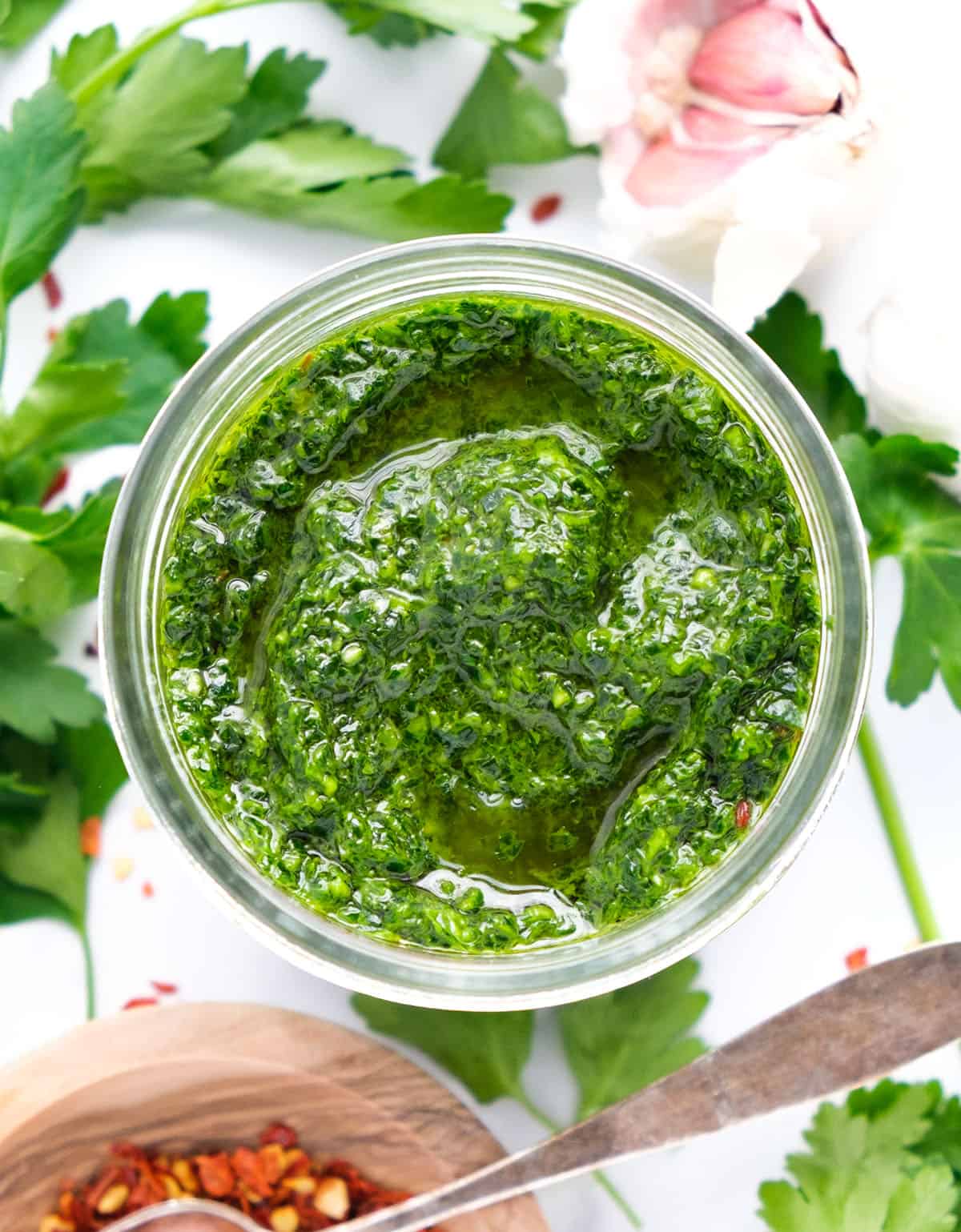 This is the parsley pesto that comes in handy anytime to lighten up your dishes with fresh herbs and an aromatic garlic punch.
And it has been one of my kitchen essentials for ages.
True to be told, this is a little bit different than your classic pesto sauce, it doesn't contain pine nuts, walnuts or parmesan cheese which balance out the flavor, but it's all about parsley, garlic, and olive oil.
This pesto is more a condiment and perfect to preserve lots of fresh parsley. It's also freezable in small convenient portions, absolutely great to add extra flavor to soups, pasta dishes, roasted vegetables, and salads.
If you look for parsley recipes or if you wonder what to do with lots of fresh parsley or how to store parsley, this is the parsley pesto recipe for you.

What ingredients you need
Fresh flat Italian Parsley
Extra virgin olive oil
Fresh garlic
Chili flakes
How to make it
Place parsley, sliced garlic, and chili flakes in a food processor.
Pulse, add the olive oil, and pulse again until combined.
Scrape the sides of the bowl and transfer to a glass jar with a lid, add a thin layer of olive oil, and keep it in the fridge for 3-4 days.
To freeze it, check my tips below!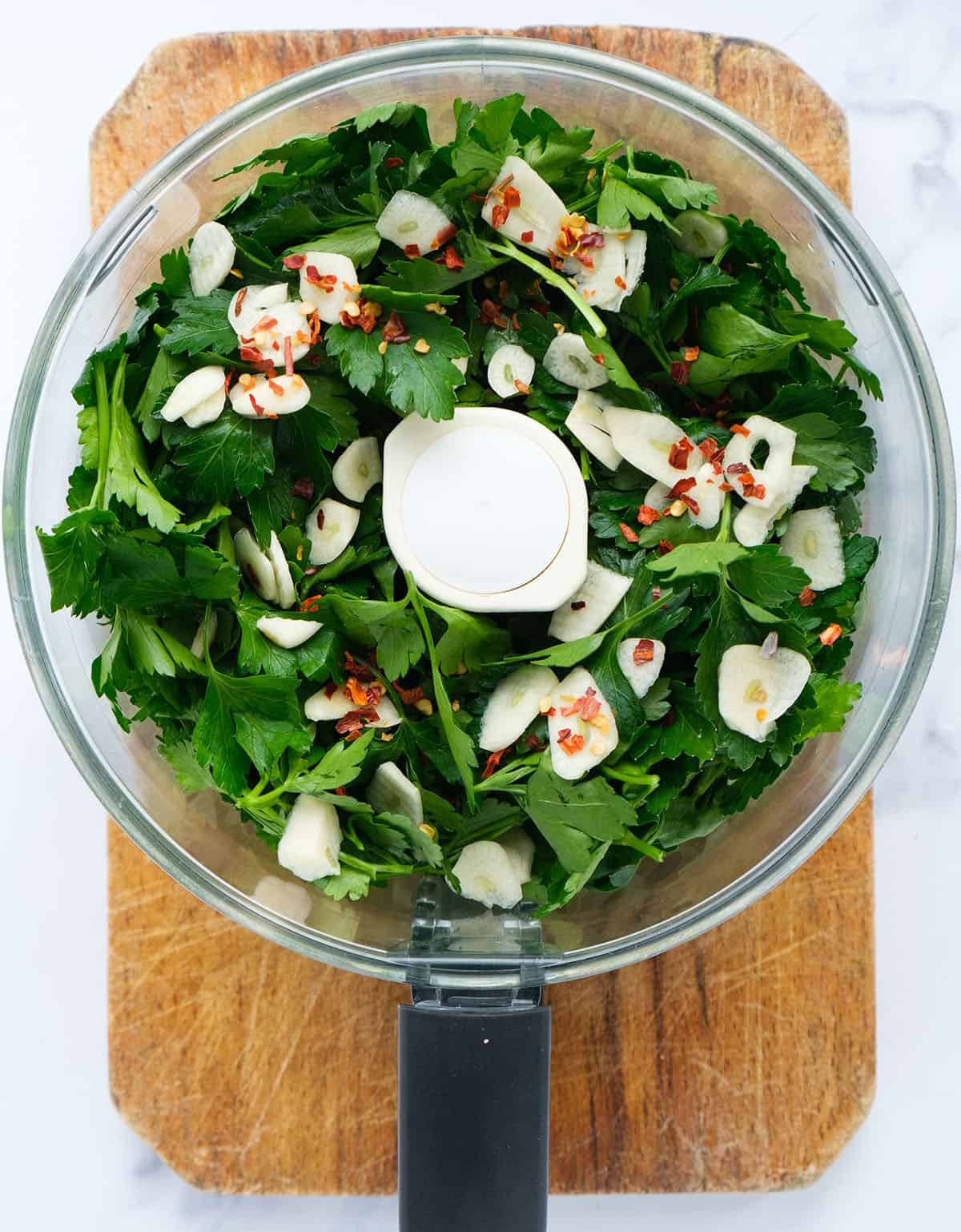 Recipe Notes & tips
Parsley pesto ingredients
Parsley: this vegan parsley pesto recipe uses fresh Italian parsley, absolutely one of my favorite herbs. This variety, also called flat-leaf parsley, has large flat leaves and a more robust flavor than curly parsley.
Extra virgin olive oil: it's absolutely the best for flavor and nutritions, but regular olive is less expensive and works just fine if you prefer another option.
Garlic: for a great garlic punch. Feel free to use more or less garlic if you wish.
Chili flakes: to add a touch of heat. You can adjust the quantity to your liking, or skip it altogether if spicy is not your thing.
Salt and pepper? We don't need seasoning.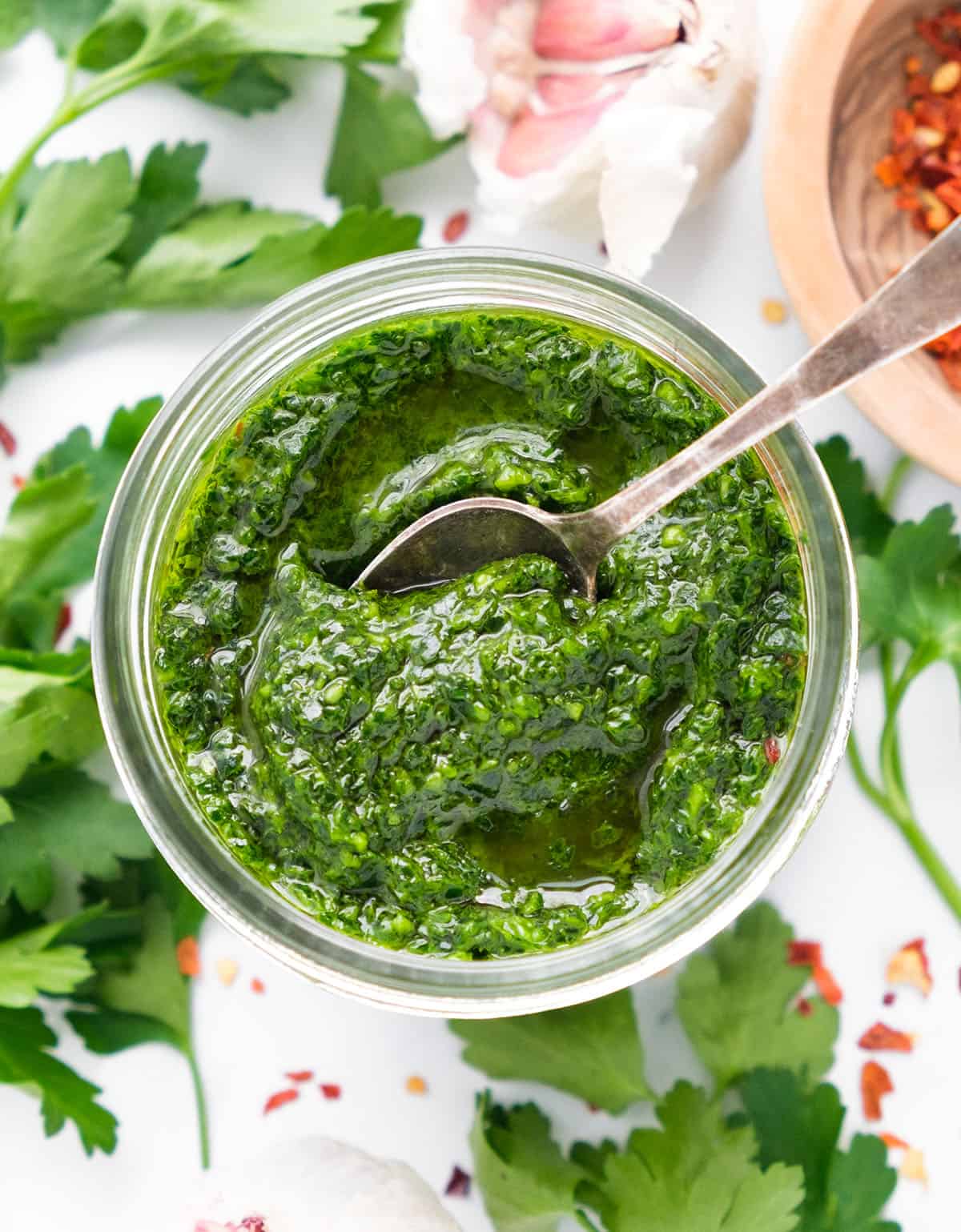 How to wash and prepare parsley?
To wash the parsley and to remove the steams easier:
Keep the parsley bunch tied together with a rubber band.
Dip the whole parsley bunch into a bowl of cold water.
Shake it around to let the dirt fall into the bottom of the bowl.
If the water gets very dirty, replace the water and repeat this step.
Pat the parsley dry with a kitchen towel or paper towel.
Place the parsley bunch on a chopping board and cut off the leaves.
Remove any larger steam that you find among the leaves.
Can you freeze parsley pesto?
Absolutely, this vegan pesto without nuts and without cheese freezes very well. Freeze in ice cube trays, and then store the frozen cubes in plastic freezer bags for up to 6 months
Remove the frozen pesto cubes and store them in freezer bags until future use. These resealable freezer bags with slides are perfect to store kitchen essentials like pesto.
To freeze, divide the pesto into an ice cube tray and place in the freezer for 2-3 hours. I use this clever ice cube tray, it comes with a lid and prevents smells in the freezer.
How to use parsley pesto?
You need only 1 tablespoon (or a cube, if using frozen) or two for 4 servings of soups, pasta, or roasted veggies.
Make a big batch because this bright pesto works beautifully with:
And for more pesto recipes, I'm sure you'll love these mint pesto, delicious spinach pesto and creamy pesto pasta!
If you make this parsley pesto sauce or if you have any questions, let me know! Leave a comment, rate it or tag a photo #theclevermeal on Instagram.
I would love to hear from you!
Print Recipe
Parsley pesto, super versatile!
This vibrant parsley pesto is a game changer! It's flavor-packed, convenient, vegan, nut-free, and requires only 4 ingredients. Bonus? It's super versatile and freezes well, perfect to add a bright flavorful boost to any dish!
Recipe yield 1 cup of parsley pesto.
Ingredients
4 oz

(110 grams) fresh Italian parsley, leaves and smaller stems

½ cup

(120 ml)

extra virgin olive oil or olive oil

5-6

garlic cloves, peeled and slices

½ to 1 tsp

chili flakes, or to taste (optional)
Instructions
In a large food processor, pulse together parsley leaves, garlic, and chili flakes.

Slowly pour the olive oil and pulse again until well combined. You want a coarse texture rather than pureed.

You can store the parsley pesto in a glass jar or you can freeze the pesto in an ice cube tray (see notes).
Notes
Storage: store the parsley pesto in a jar, drizzle a little olive oil over the top, and seal closed. It keeps well for about 10 days. Or freeze in ice cube trays, and then store the frozen cubes in plastic freezer bags for up to 6 months Garlic: add more garlic cloves if you wish! Olive oil or extra virgin olive oil? I love the intense flavor of extra virgin olive oil, but olive oil works just fine.  How to use it: just toss a cube or two into the hot dish or defrost and use it for salads or bruschettas.