This post may contain affiliate links. Please read my disclosure policy for more details.
Ready in less than 5 minutes, this deli-style whipped cream cheese is delicious and with a luxuriously light texture. Spread onto toast, bagels, crostini, or serve as a dip for pretzels and veggies. It's endlessly versatile.
Are you a fan of cream cheese? Try these terrific cream cheese recipes. : )
Making whipped cream cheese sounds like quite the task, however, it's ridiculousy easy. All you need is a mixer – either a stand or hand-held mixer, both work great – cream cheese and a touch of milk. And that's it!
You simply add the ingredients to a small-medium mixing bowl, and whip for just a few minutes until deliciously smooth and fluffy.
It works because this process incorporates plenty of air into the cream cheese, this gives an amazing light texture that you'll want to spread it on everything!
And it's so easy that I'm embarrassed to even call it a recipe!
But once it looks like a delicious white cloud, it's ready to be topped and perfect to elevate your sandwiches.
Whipped cream cheese is homemade, inexpensive, versatile and keeps well in the fridge too. And you know exactly what's inside.
Just make sure you have something to shovel the dip into our mouths with or some delicious topping if yous serve if as a dip.
List of the ingredients
Full-fat cream Cheese
Milk
And a mixer…
Cream cheese spread or block?
This recipe works for both. I'm based in the UK and the brick from cream cheese is not available here, hence I use cream cheese spread (aka soft cream cheese) in all my recipes. However, you can use cream cheese block as well, just keep in mind to leave it at room temperature for about 30 minutes before you start the recipe (uhh, I've called it recipe, again! lol).
Whipped cream cheese variations
You can make this cream cheese spread plain or customize it however you like. Here are a few of our favorite herb and garlic add-ins that will make your breakfast or brunch special!
1 Tbsp chopped parsley + 1/4 tsp grated garlic.
2 Tbsp chopped chives + 1/4 tsp garlic and 1/4 onion powder.
1 Tbsp chopped dill + 1/4 tsp garlic.
I also add a touch of extra virgin olive oil and salt to taste, but this is optional!
But whipped cream cheese pairs also beautifully with sweet add-ins (hello sweet cream cheese recipe! : ) try also with honey, chopped walnuts, cinnamon, raisins… the sky is the limit!
How to store whipped cream cheese
Once your whipped cream cheese is fluffy and ready, transfer it to an airtight container and keep it in the fridge for 7 days. But if you add fresh garlic, I would recommend to store it for 3-4 days only.
How to serve it?
Whipped cream cheese is super versatile, it's great for brunch, breakfast, packed lunch and you can turn it into a lovely appetizer too.
You can make terrific sandwiches like this one, but keep in mind that whipped cream cheese also pairs beautifully with any grilled veggies and tomatoes!
Or spread it on toast, bagels, crostini and serve with avocado, smoked salmon, hard boiled or scrambled eggs.
It also makes a great dip for chips, veggies, pretzels. Check out this version made with delicious sun dried tomatoes!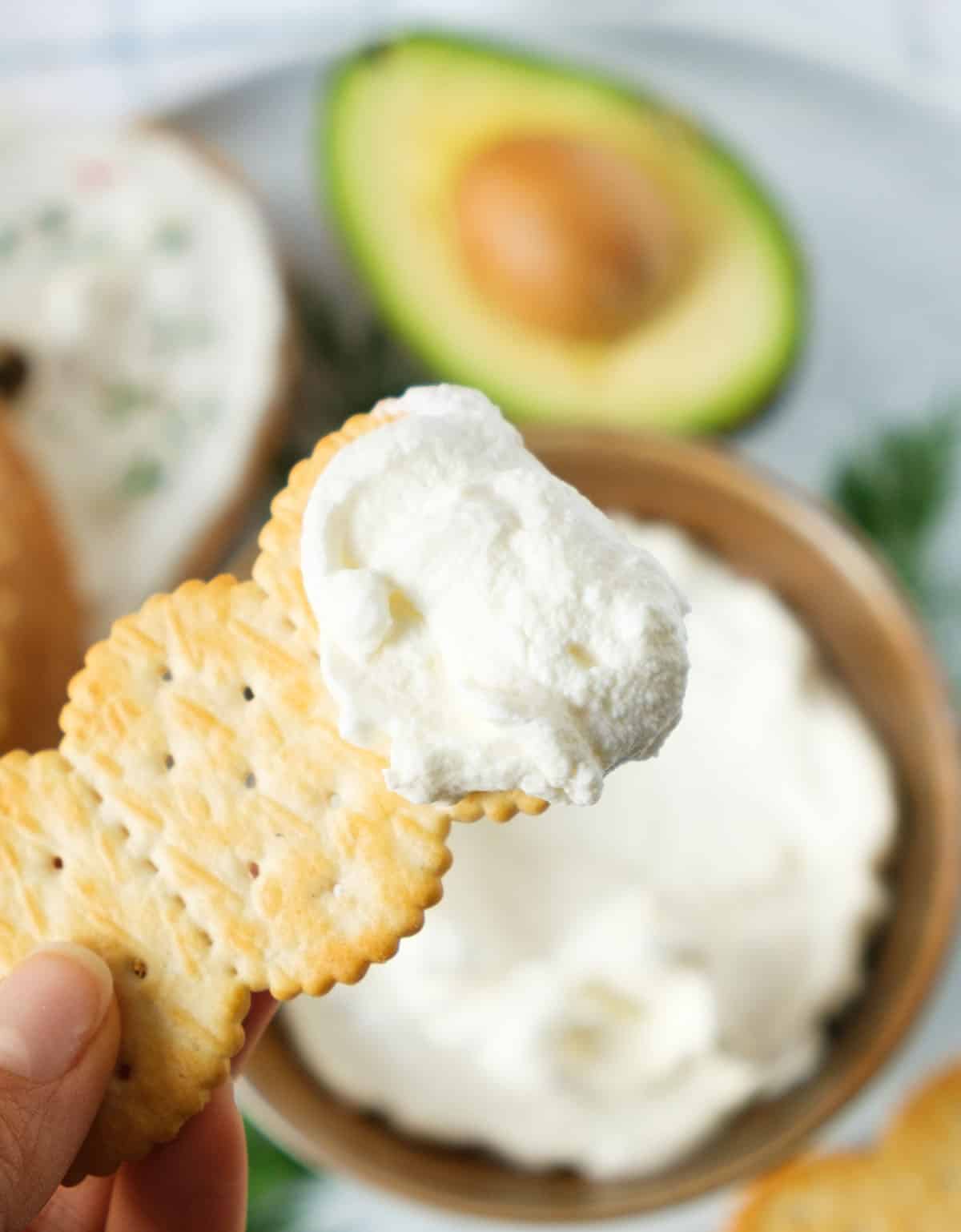 Fancy more cream cheese recipes
If you have a tub of cream cheese in the fridge and wonder how to use up, this list of easy scrumptious recipes are just perfect for you!
Lastly, I hope you'll love this quick and easy whipped cream cheese, and if you make it or if you have any questions, let me know! Leave a comment, send me a message, or rate it. I would love to hear from you!
And for more recipe updates, subscribe my newsletter and follow me on Instagram, Pinterest and Facebook.
Print Recipe
Whipped Cream Cheese
Ready in less than 5 minutes, this deli-style whipped cream cheese is super fluffy and delicious. Spread onto toast, bagels, crostini, or serve as a dip for pretzels, chips, and veggies. The list is endless! Recipe yields 4 generous servings (about ¼ cup each).
Ingredients
1 cup

(approx 200 grams)

full-fat cream cheese (block or spread).

½ – 1

tablespoon

milk
Instructions
If you use cream cheese block, place it at room temperature for about 1 hour (no need to soften cream cheese spread instead).

Add the cream cheese to a mixing bowl – if using an electric hand beater – or place it in a bowl of your stand mixer with the whisk attachment, or in a food processor.

Add the milk (use ½ Tbs for spread or 1 Tbsp for block) and beat on the highest speed possible for 2-3 minutes or until light and fluffy. During the beating, you might want to stop the mixer and scrape down the sides of the bowl.

Once the cheese looks airy like frosting you can use it straight away or you can transfer to an airtight container and refrigerate for up to 1 week.

Note: if you fancy some variations, stir in your fav add-ins. Please note: if you add fresh garlic, I recommend to enjoy it within 3-4 days.
Notes
Nutrition facts:
 the nutrition values are  for one portion and are based on an online nutrition calculator.  It's an estimate only and it should not be considered as a substitute for a professional nutritionist's advice. Please see my
disclosure policies.
Nutrition
Calories:
177
kcal
|
Carbohydrates:
3
g
|
Protein:
3
g
|
Fat:
17
g
|
Saturated Fat:
10
g
|
Polyunsaturated Fat:
1
g
|
Monounsaturated Fat:
4
g
|
Cholesterol:
51
mg
|
Sodium:
159
mg
|
Potassium:
75
mg
|
Sugar:
2
g
|
Vitamin A:
683
IU
|
Calcium:
56
mg
|
Iron:
0.1
mg