This post may contain affiliate links. Please read my disclosure policy for more details.
I'm back again with another one of my stupidly simple recipes: creamy pesto pasta. A quick, delicious family meal sure to leave everyone licking their plates clean!
And it's on the table in 15 minutes!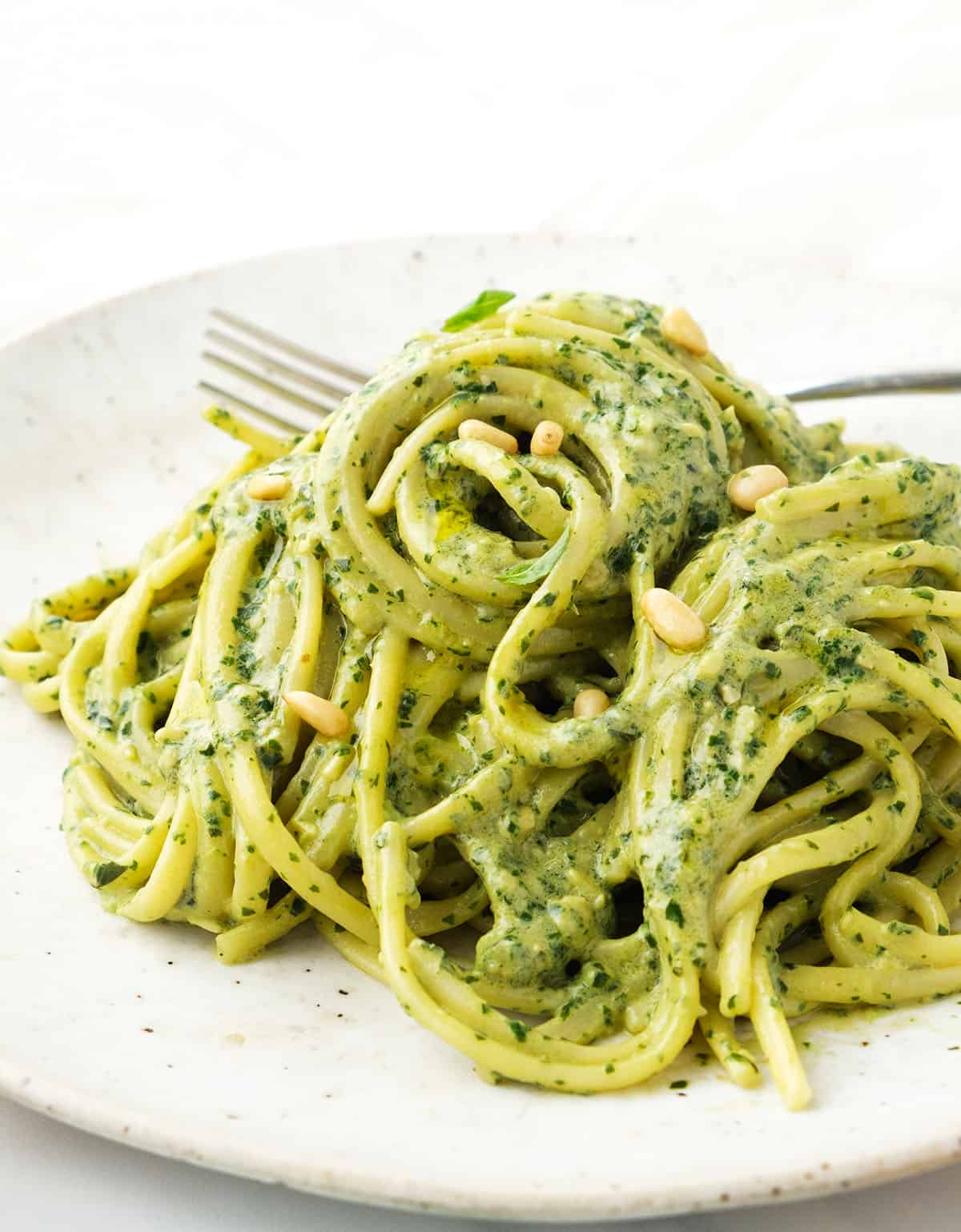 First of all, can you ever go wrong with a creamy pasta dish? Hint: no. : )
It's just the perfect meal for those busy weeknights when you want something that's both satisfying and simple to make. And it's meatless, but it's also cheesy and comforting!
And it's a no brainer. You technically only need fresh pesto, cream cheese and pasta.
You can use store-bought pesto, but I highly recommend making your own from scratch. Simply add all the ingredients to a food processor and blend until smooth. You're done.
Now comes the creamy part.
Combine cream cheese, pesto and a touch of starchy pasta water in a bowl and make a smooth and creamy pesto sauce. Easy, right?
Once the pasta is cooked, drain it and add it to the bowl. Toss everything together until the pasta is coated in the silky pesto cream. Serve hot and finish off with some extra parmesan cheese and toasted pine nuts.
YUM! Look how beautiful and creamy it is, you just need a fork for twirling!
This creamy pesto pasta recipe is truly a perfect family meal, you can even customize it to your liking and have dinner on the table in no time.
Plus, it is so delicious that even picky eaters will be begging for seconds!
List of the ingredients
Basil leaves (or store-bought pesto)
Parmesan cheese
Garlic
Pine nuts or cashews
Extra virgin oil oil
Cream cheese
Pasta
How to make creamy pesto pasta
(Note: this is simply a quick explanation, the full recipe is at the bottom of the page)
Firstly, you can use homemade pesto or good-quality store-bought pesto.
If you make pesto, place all ingredients except olive oil in a food processor and blitz.
With the motor running, slowly pour the oil in through the feeder tube.
Blitz again until smooth or to desired consistency. Done.
Add basil pesto and cream cheese to a bowl.
Before draining pasta, scoop out some starchy pasta water and add it to the bowl.
Mix the creamy pesto sauce until combined and smooth.
Drain the pasta, add it to the pesto sauce and toss until well coated.
Serve hot with grated parmesan cheese and toasted pine nuts. Enjoy!
Recipe notes
Creamy pesto pasta ingredients
Whenever there's a short-ingredient-list recipe, I always like to stress the importance of their quality!
Pasta: when I want to get indulgent, I'll go with spaghetti or linguine – I love when the sauce sticks to every pasta strings in all the right ways. But penne, shells or rigatoni work just fine. And of course, premium quality pasta is best!
Pesto: you can't beat the intense fresh flavours that come from homemade pesto made with fresh basil, extra virgin olive oil, parmesan cheese, and pine nuts (or more affordable cashews). But good-quality store-bought pesto work as well – if making homemade pesto isn't an option. : )
Soft cream cheese: for a delicious sweet creaminess with a touch of tang! I used Philadelphia, but any nice full fat soft cream cheese would do.
Pasta cooking water: it's full of starch and helps to thin out the creamy pesto pasta sauce, making the pasta moist and juicy without adding tons of extra oil!
Delicious add-ins and variations
The wonderful thing about this pesto cream pasta is that it is very flexible and you can get creative. I used a simple basil pesto, but you could use practically any flavor pesto that you'd like like this delicious spinach pesto, or you could do a sun-dried tomato pesto or arugula pesto!
Also, you can really take this quick pasta so many different directions by adding in some protein, like grilled chicken, salmon, cooked shrimp. Or some extra roasted veggies cherry tomatoes, zucchini, peppers.
What to serve on the side
It's the perfect dish to serve with a big greens salad like this lettuce salad or spinach arugula salad.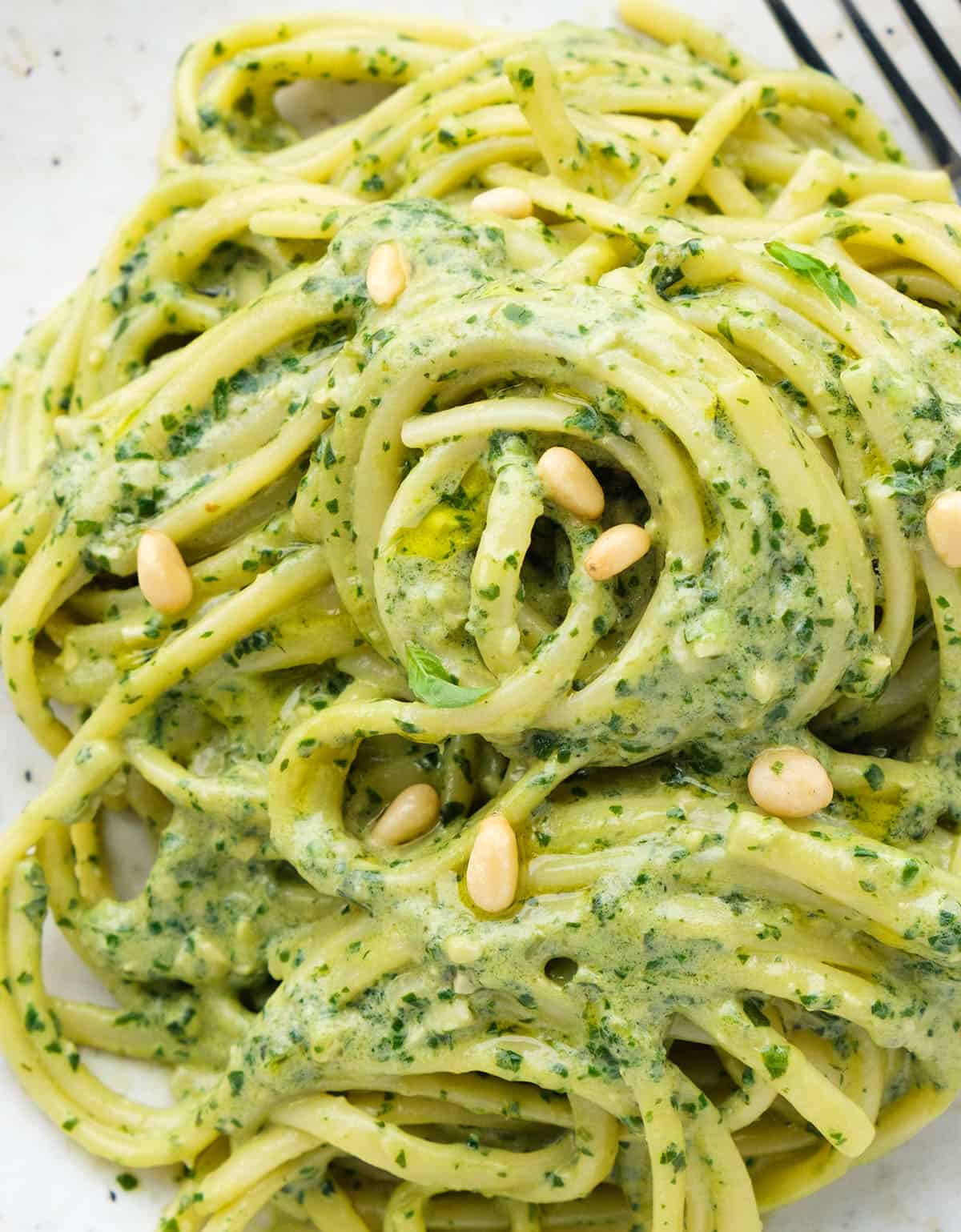 More creamy pasta recipes for you!
Here are more delicious creamy pastas that are going to be some of favorite meals for sure. But if you look for more ideas, check out these quick pasta recipes, amazing Italian pastas or penne pasta recipes… you're welcome! : )
Lastly, if you make this wonderful creamy pesto pasta, or if you have any questions, let me know! Leave a comment, rate it or tag a photo #theclevermeal on Instagram. I would love to hear from you!
And for more recipe updates, subscribe my newsletter and follow me on Instagram, Pinterest and Facebook.
Creamy Pesto Pasta
This stupidly simple creamy pesto pasta makes a quick, delicious family meal sure to leave everyone licking their plates clean. And it's ready in 15 minutes.Pesto recipe makes ½ cup enough for the pasta.
Ingredients
Pasta
8 oz

(225 grams) Linguine or spaghetti (or your fav pasta shapes)
Homemade Basil Pesto (or ½ cup of store-bought)
1 ½ cup

(40 grams)

basil leaves

¼ cup

(20 grams)

grated parmesan

1

tablespoon

toasted pine nuts (or ¼ cup cashews)*

1

garlic clove, sliced

¼

teaspoon

fine salt

⅛

teaspoon

ground pepper

¼ cup

(60 ml)

extra virgin olive oil
Cream Cheese pesto
½ cup

(120 grams) pesto (homemade or store-bought)

½ cup

(100 grams)

soft cream cheese

¼ cup

(60 ml) pasta water, plus more if needed
Instructions
Pasta
Bring a large pot of salted water to the boil and cook pasta per packet instructions.

When the pasta is nearly done reserve ½ cup of pasta cooking water (you need it for the sauce), and stop cooking and drain the pasta.
Pesto
To save time, while the pasta is cooking, make the pesto: place all ingredients except olive oil in a food processor and blitz until finely chopped.

With the motor running, slowly pour the oil in through the feeder tube. Blitz until smooth (or to desired consistency), adding a touch of extra oil or water if it helps to blitz.
Creamy pesto pasta sauce
Place cream cheese, pesto and ¼ cup of pasta cooking water in a large bowl (save the rest of the water in case you need it later). Stir until creamy and smooth.

Drain the pasta and add it to the bowl and toss everything together until well combined and the pasta well coated and creamy. Add an extra touch of the reserved pasta water if needed.

Serve immediately while it's still hot with extra grated parmesan cheese and a few toasted pine nuts on top if you wish. Enjoy!
Notes
Pine nuts: just preheat a small skillet over medium heat, add pine nuts and toast until light brown, it takes about 3 minutes. Immediately remove them from the skillet. Alternatively, you can use less expensive cashews intead (either toasted or untoasted).
Storage: you can store this creamy pesto pasta leftovers in an airtight container in the fridge for up 2 days. Reheat it in the microwave or on the stove adding a touch of water if needed. The color will eventually get dull, but the flavor will be still nice. 
Nutrition facts:
 the nutrition values are for one serving and they are based on an online nutrition calculator. It's an estimate only and it should not be considered as a substitute for a professional nutritionist's advice (extra parmesan cheese for serving is not included). Please see my
disclosure policies.
Nutrition
Calories:
442
kcal
|
Carbohydrates:
45
g
|
Protein:
11
g
|
Fat:
25
g
|
Saturated Fat:
8
g
|
Polyunsaturated Fat:
2
g
|
Monounsaturated Fat:
13
g
|
Cholesterol:
30
mg
|
Sodium:
316
mg
|
Potassium:
201
mg
|
Fiber:
2
g
|
Sugar:
2
g
|
Vitamin A:
907
IU
|
Vitamin C:
2
mg
|
Calcium:
100
mg
|
Iron:
1
mg