This post may contain affiliate links. Please read my disclosure policy for more details.
This scrumptious creamy sun-dried tomato pesto will be fabulous with your pasta, it tastes and smells amazing and will boost your mood on busy nights.
The best part? It's ready in minutes, and it's darn good!
I make this simple recipe the same way my mum did. Rather than follow the classic version of pesto made with pine nuts, parmesan, and plenty of olive oil, she simply used to whizz up jarred sun-dried tomatoes with fresh ricotta, basil, and garlic. 
And I can tell you that creamy ricotta and the intensely-flavored sun-dried tomatoes are a marriage made in heaven.
Also, her Sicilian variation of this nut-free "red pesto" (known as "pesto rosso"), calls for a small amount of olive oil just to combine all the ingredients. Not much, since this pesto is stirred and emulsified into the pasta pot with some of the starchy pasta-cooking water. Yes, this step is a must for any good pasta dish and it works like magic.
The result? A bowl of creamy and flavorsome pasta, rich but not oily, and utterly delicious!
WHAT IS THIS "RED PESTO" MADE OF?
Sun dried tomatoes
Ricotta
Parmesan (optional)
Garlic
Basil
Olive oil
Salt & pepper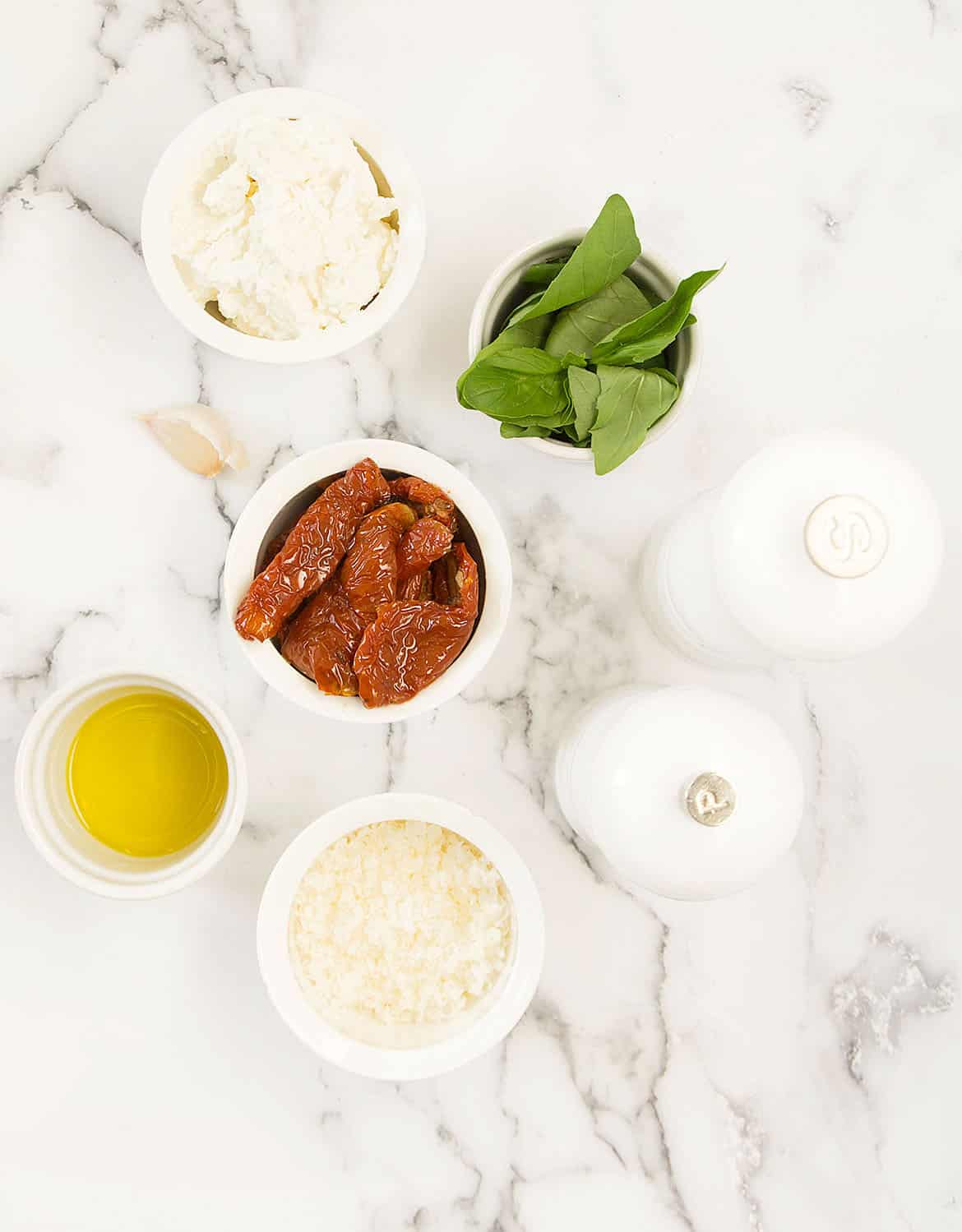 HOW TO MAKE IT
It couldn't be easier…
Blend all the ingredients in a food processor
(You want a pesto-like texture, not a puree)
Adjust the seasoning according to your taste
Done, and it looks delish…
Cook your pasta
Drain pasta while is still "al dente"
Reserve 1/2 cup of the cooking water
Return the pasta to the pot and stir in your pesto
Stir in starchy pasta-cooking water, toss to evenly coat
Serve with extra parmesan cheese, and enjoy!
RECIPE NOTES & TIPS
I love sharing on this blog easy recipes that bring you to the table healthy homemade meals saving you time and money. This sun-dried tomato pesto recipe is no exception.
Sun-dried tomatoes are amazing, packed with flavor, and they're rich in many nutrients too. Plus, they're fairly cheap, which means that this delish pesto recipe costs less than $2.20, and it's enough for 3 servings of pasta. Plus, it's fresh, homemade, simple and tastes a million times better than the kind you buy in the store.
ARE SUN DRIED TOMATOES GOOD FOR YOU?
YES, they have an excellent source of several nutrients and 1 cup of sun-dried tomatoes provides at least 20 percent of the recommended daily intake of vitamin C. Plus, it's packed with a powerful antioxidant called Lycopene.
HOW TO USE SUN DRIED TOMATO PESTO?
This simple nut-free red pesto is a super versatile recipe that goes just with about everything, which means you can enjoy it not only with pasta dishes, but also spread on sandwiches or crunchy bruschetta, served with roasted vegetables, stirred into risotto or chicken stews.
Plus, if you choose short shape pasta like penne or fusilli, you can make a delicious sundried tomato pesto pasta salad perfect for a picnic or as a meal prep idea.
 
WHAT PASTA GOES WITH PESTO?
Pasta with sundried tomato pesto tastes utterly delicious, however, some pasta shapes work better than others.
I have a serious thing for spaghetti and bucatini, they're just perfect for creamy sauces and pesto. In this recipe, I've used bucatini pasta, which is basically a thicker version of spaghetti with a hole all the way through, perfect for the creamy pesto to cling to! Yes, I love it : )
However, you can use any short, large or long pasta shapes that work well to capture the pesto sauce. Penne, fusilli, conchiglie work fine, but mini pasta shapes like orzo or even elbow macaroni don't work well in the recipe.
HOW LONG DOES SUN DRIED TOMATO PESTO LAST?
Any leftover pesto can be stored in a jar can be refrigerated for up to 3 days. However, since this red pesto recipe calls for fresh ricotta cheese, it doesn't last more than 3 days.
SUBSTITUTIONS
Can you swap cream cheese for ricotta? Yes, I did it a few times and it worked fine (but I didn't tell my mum, of course!). Also, you can skip basil if you don't have this delicious fresh herb on hand.
Plus, if you have leftover sun-dried tomatoes, you might use it in this simple lettuce salad or in this chickpea bruschetta.
MORE QUICK PASTA RECIPES?
If you try this unusual sundried tomato pesto recipe, let me know! Leave a comment, rate it or tag a photo #theclevermeal on Instagram.
I would love to hear from you!
Print Recipe
Sun dried tomato pesto pasta (red pesto)
This scrumptious creamy sundried tomato pesto will be fabulous with your pasta, it's ready in minutes, and it tastes and smells AMAZING!
Ingredients
1/2 cup

(90 grams) jarred sun dried tomatoes, packed in oil

1/2 cup

(120 grams) ricotta, or cream cheese*

1/2 cup

(10 grams)

basil leaves

1/4 cup

(25 grams) parmesan cheese, freshly grated (optional)

2 Tbsp

(30ml)

Olive oil*

1

garlic clove

salt & pepper, to taste
Pasta
1/2 lb

(225 grams) Pasta, any type (spaghetti, fusilli, penne...)

1/2 cup

(120 ml) pasta water, reserved to thin out the pesto

1 Tbsp

(30 ml) olive oil, for drizzling (optional)
freshly grated parmesan cheese, to serve
freshly ground black pepper, to serve (optional)
Instructions
Add sun dried tomatoes, ricotta, olive oil, basil, garlic, and parmesan cheese to a food processor and blend into a pesto-like consistency (coarse rather than a puree).

Taste and adjust the seasoning according to your taste.

In a large pot of boiling water, add salt and then add pasta. Cook according to package instructions and drain when it's al dente.

When it's time to drain pasta, reserve 1/2 cup of the cooking water.

Drain pasta, return it to the pot, stir in pesto and half of the reserved cooking water

Toss to coat over medium heat just until well combined, adding the rest of the cooking water to thin out, just as much as needed to get a nice consistency.

Season with extra olive oil and black pepper, if you like.

Serve with freshly grated parmesan cheese and shredded basil leaves. Enjoy!
Notes
Sun dried tomatoes: I prefer oil-packed sun dried tomatoes for this recipe, they're soft and I use them straight from the jar. I used to buy them from TJ's when I lived in the States.
Olive oil: feel free to use the flavorful sun dried tomato olive oil from the jar, just make sure the flavorings will work in the recipe (garlic and herbs are fine).
Substitutions: you can swap cream cheese for ricotta and dry sun dried tomatoes (the ones without oil) for the jarred sun dried tomatoes.
How to use "dry" sun dried tomatoes? These ones don't have as much moisture as the oil-packed counterpart, so you have to hydrate them in water first to plump them up. Just let them soak in warm water for thirty minutes until soft, then drain and pat dry.

 


NOTE: Nutritional values are estimates only.
Nutrition
Calories:
500
kcal
|
Carbohydrates:
59
g
|
Protein:
18
g
|
Fat:
22
g
|
Saturated Fat:
7
g
|
Cholesterol:
28
mg
|
Sodium:
245
mg
|
Potassium:
660
mg
|
Fiber:
4
g
|
Sugar:
2
g
|
Vitamin A:
812
IU
|
Vitamin C:
32
mg
|
Calcium:
209
mg
|
Iron:
2
mg