This post may contain affiliate links. Please read my disclosure policy for more details.
What to cook when you run out of time? The answer is pasta, and here you'll find more than 10 yummy quick pasta recipes ready in only 15 minutes.
They're super easy yet delicious and packed with flavor. They're mostly vegetarian and absolutely budget-friendly. Amazing recipes that require simple ingredients like olive oil, fresh or canned tomatoes, cheese, potatoes, frozen peas, mushrooms, herbs, and garlic. Always garlic!
Yes, these easy pasta recipes get it all: flavor, convenience, and simplicity.
I do love fuss-free cooking on a budget, and I love sharing recipes that save time and money. And if you look for quick and easy pasta recipes with few ingredients, here they are.
A delish bowl of flavorsome pasta, anyone?
Aglio e olio is one of the best basic pasta recipes ever! A simple yet delicious Italian pasta dish that requires olive oil, garlic, and chili flakes. Simple is best.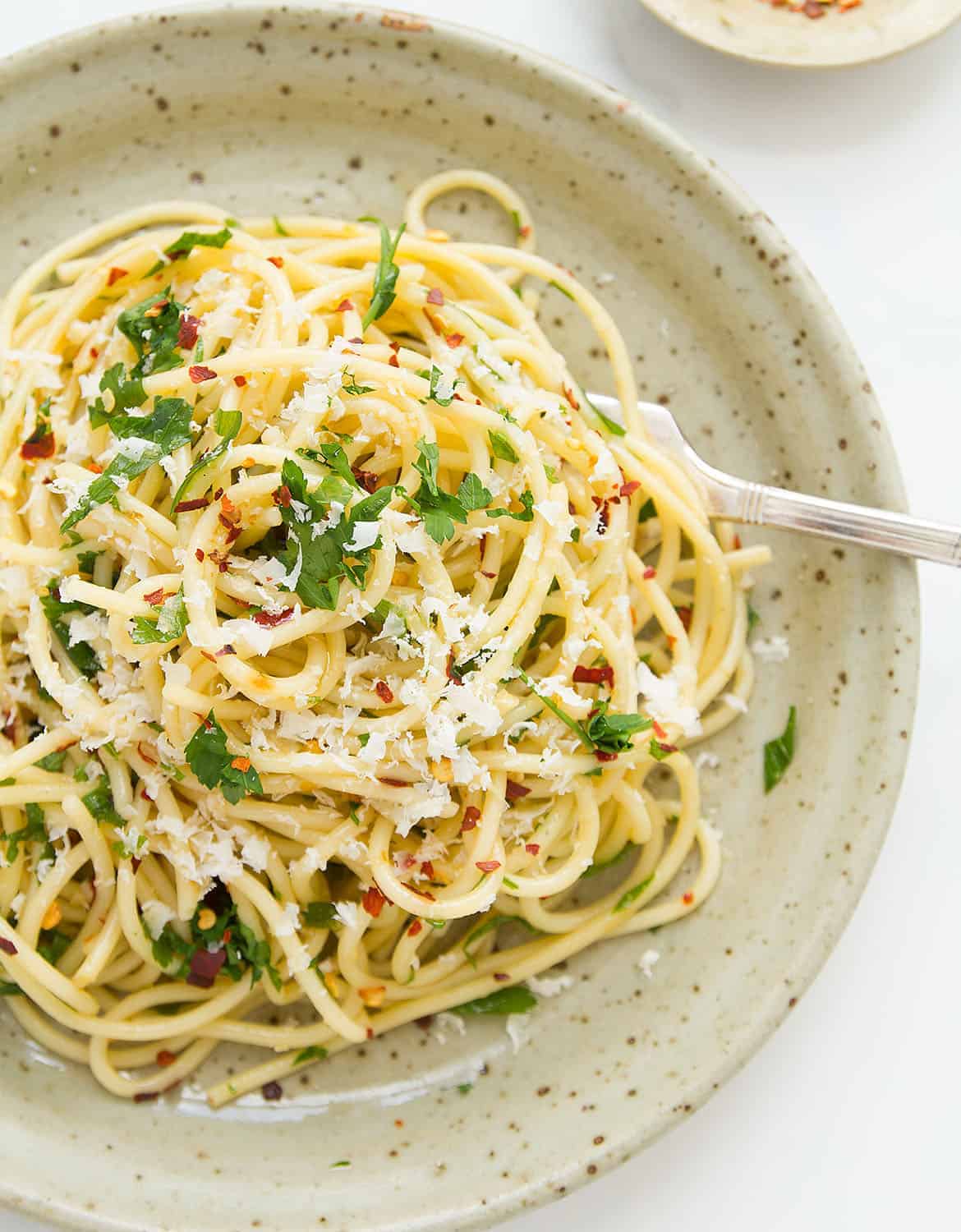 Mix garlic-infused olive oil, cream cheese, parmesan, and freshly ground pepper and turn your plain spaghetti into something delicious. Good things don't get much easier than this!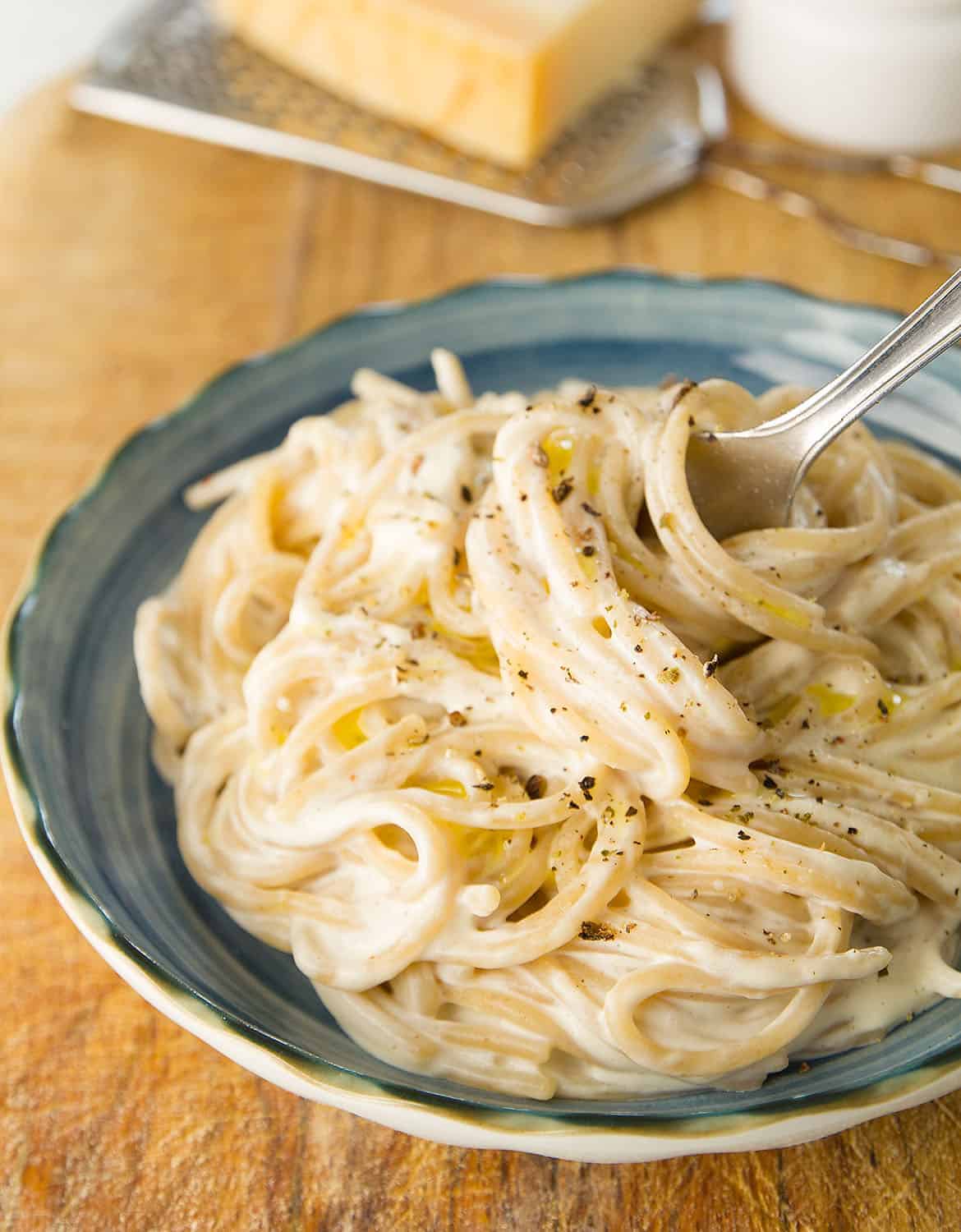 This Italian pasta with peas is a simple, creamy, and delicious one-pot dinner recipe that requires only 5 ingredients. You can use either fresh or convenient frozen peas, whatever makes your life easier. It's a no brainer!
This no-cook sauce is one of my favorite quick pasta recipes: mix creamy ricotta, parmesan cheese, garlic, extra virgin olive oil, and refreshing lemon. Your pasta sauce is ready: quick, fresh, and utterly delicious!
This is another terrific quick pasta recipe, it's packed with spinach, and it's easy and ready in less than 15 minutes. A weeknight meal the whole family will love.
This delicious pasta with zucchini is ready in about 15 minutes and requires only 5 ingredients. A simple recipe that turns plenty of zucchini into a perfect family meal.
If you look for quick and easy pasta salad recipes with few ingredients, this is the one! A juicy and bursting with flavor pasta salad made with tomatoes, garlic, basil, and olive oil. Simple and so good.
Make the most of canned tomatoes with this flavorsome vibrant Italian marinara sauce. It requires only 5 cheap pantry ingredients and it's ready in 20 minutes. One of my favorite quick pasta recipes!
The smell of the garlic and the intensely flavored gravy released from the mushrooms take your basic spaghetti to the next level. If you love big bold flavors ready in 15 minutes, this one is for you.

All you have to do in this quick pasta recipe is blending some walnuts with a splash of olive oil, parmesan, garlic, and a slice of bread soaked in milk. It's that easy and you'll be amazed how this creamy and flavorsome sauce will coat your pasta!

Forget tasteless pasta with canned tuna, this quick recipe is a game-changer. The refreshing juice and zest, mixed with olive oil and garlic, make this tuna pasta salad so good and tasty you can't get enough of it.
This is a super quick recipe made with pasta, creamy ricotta, and intensely-flavored sun-dried tomatoes. It's a marriage made in heaven, so easy and so delicious.
This is a luscious bowl of pasta where anchovies, capers, and olives bring amazing fiery flavors. Another quick and budget pasta recipe ready in 15 minutes.
I love pasta, and I've grown up eating pasta nearly every day. Yes, I come from Italy and I've got the most typical Italian mum you could imagine, hence pasta was the favorite staple.
IS PASTA HEALTHY?
YES. Not only is pasta a cheap cupboard staple, but it can be part of a healthy diet too, as long as it's eaten in moderation.
Plus, If you switch to whole grain pasta you'll get more natural fiber and micronutrients than white pasta.
Fiber is an important part of your diet, it helps control blood sugar and reduces appetite.
WHAT'S THE BEST PASTA?
When you chose pasta, have a proper look at the label and go for durum wheat semolina pasta, possibly made with brass or bronze dies. Needless to say, cook it until al dente!
The premium quality pasta is a bit more expensive than basic pasta, but it's resilient, it has a more robust texture and holds sauces beautifully. Yes, brands matter, and even if you cook on a budget or you're short on time, you deserve a delicious bowl of pasta packed with flavor!
LOOKING FOR MORE PASTA RECIPES?
Here are other delicious pasta recipes, super easy, and ready in less in 30 minutes:
These quick pasta recipes are lifesavers at the end of the day when you decide that pasta is for dinner!
If you make one of these recipes, let me know! Leave a comment, rate it, or tag a photo #theclevermeal on Instagram.
I would love to hear from you!
Print Recipe
10+ QUICK PASTA RECIPES
Here you'll find more than 10 delicious quick pasta recipes ready in 15 minutes. They're super easy yet delicious and packed with flavor. They're mostly vegetarian, ready in no time, and absolutely budget-friendly. Ready?
Ingredients
PASTA (regular or whole grain pasta)
spaghetti, linguine, bucatini, penne, fusilli…
VEGETABLES
Tomatoes, peas, potatoes, mushrooms, spinach, lemon, basil…
FLAVOR BASE:
Olive oil, garlic, onion, chili flakes, black pepper & salt
PARMESAN, RICOTTA AND CREAM CHEESE
Instructions
Pick your favorite recipe.

Cook your pasta until al dente.

Make your quick pasta sauce or pasta dressing.

Add your pasta to the sauce and toss well to combine.

Serve with a drizzle of olive oil and freshly ground pepper if you like.