This post may contain affiliate links. Please read my disclosure policy for more details.
This scrumptious pasta with black beans uses everyday ingredients and turns your canned black beans into a terrific vegan bolognese sauce. It's healthy, inexpensive, full of flavors and nutrients.
But why on hearth I've made a vegan bolognese pasta sauce with black beans? Because we don't eat red meat. 😊 You won't find any recipe featuring beef or sausages on this blog, but you'll find plenty of healthy budget-friendly beans instead. These white bean pasta and Italian pasta e fagioli are some delicious examples!
So let me tell you why we love this pasta with black beans. It's:
Rich and flavorsome
Healthy
Quick and budget-friendly
Firstly, I tried to eke out as much flavor as possible by cooking the sauce the same way I would cook bolognese sauce. I start cooking soffritto in olive oil, then garlic, chili flakes, red wine, herbs, tomato paste and so on. That's plenty of flavors that mingle during cooking, and the smell is delicious.
The result is a protein-packed pasta sauce that goes wonderfully with your pasta. Even non-vegans will love it!

What ingredients you need
Here's what you need to make this pasta with bean recipe. It's vegan without requiring fancy ingredients:
Pasta (whatever you like, I used this pasta shape)
Canned tomatoes
Soffritto mix (onion, carrot, celery)
Garlic
Red wine
Herbs (rosemary, bay leaves, oregano)
Chili flakes and black pepper
Salt & Olive oil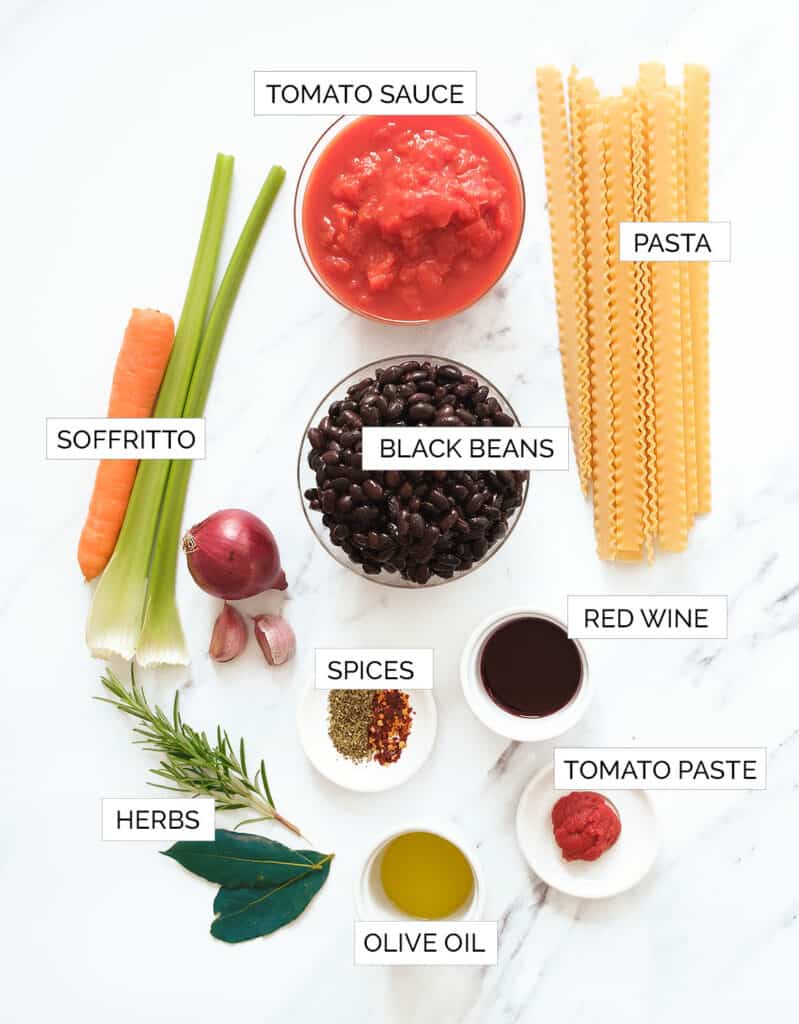 How to make it
(Note: full recipe and ingredients are at the bottom of the page)
Saute' soffritto in olive oil
Add garlic, spices, herbs and cook for a couple of minutes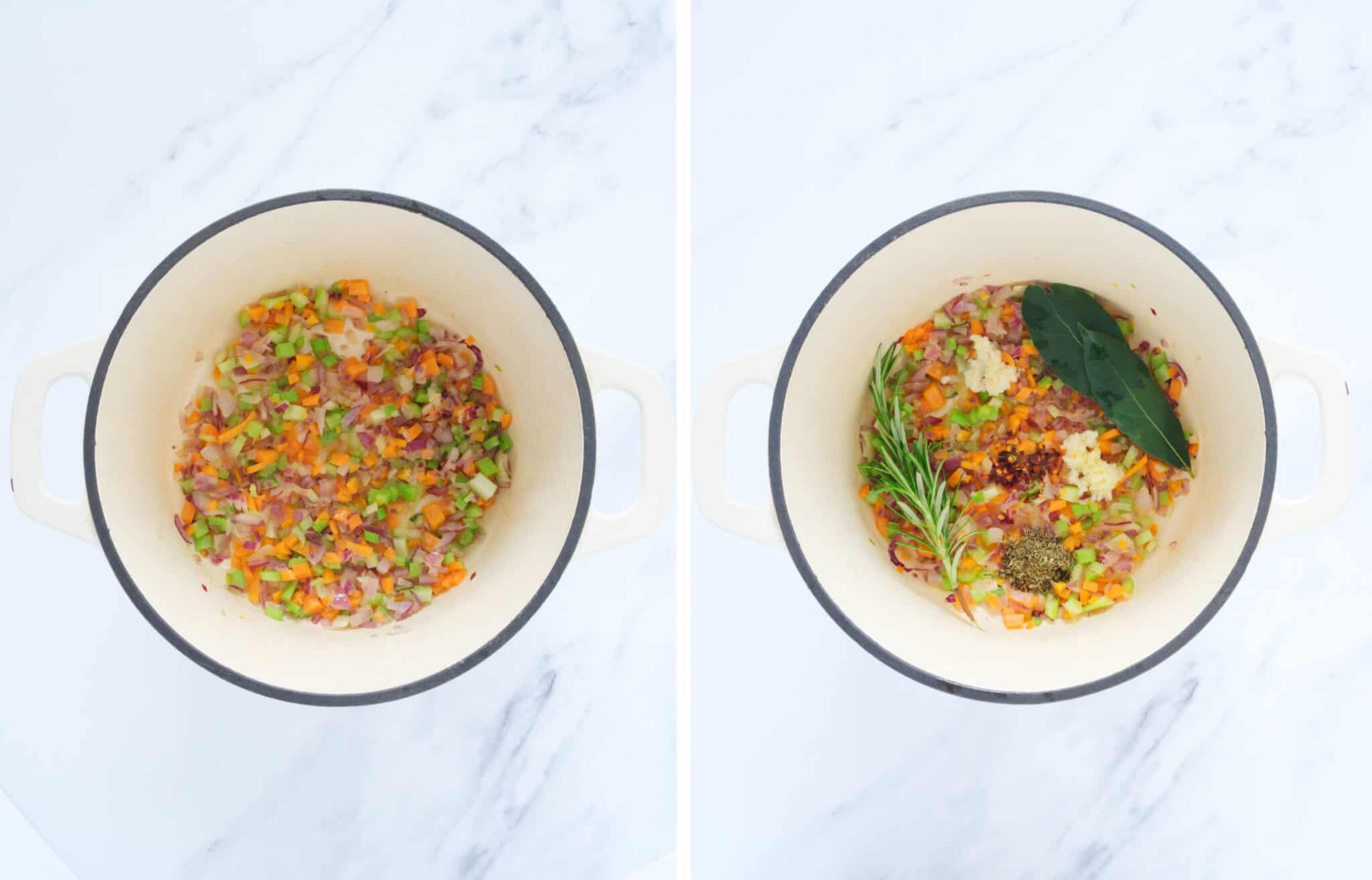 Add beans, wine and tomato paste
Stir in the rest of the ingredients and cook for 20 minutes
Smash the beans with a back of a spoon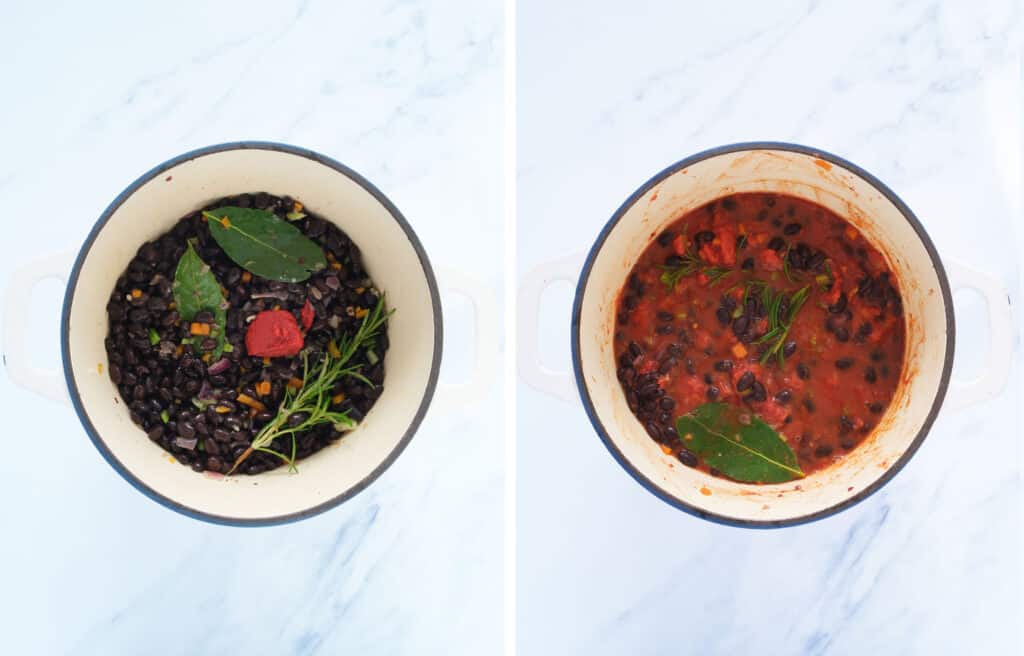 Cook your pasta until al dente
Toss pasta and black bean sauce in the same pot
Serve with freshly grated parmesan cheese if you don't keep it vegan. Enjoy!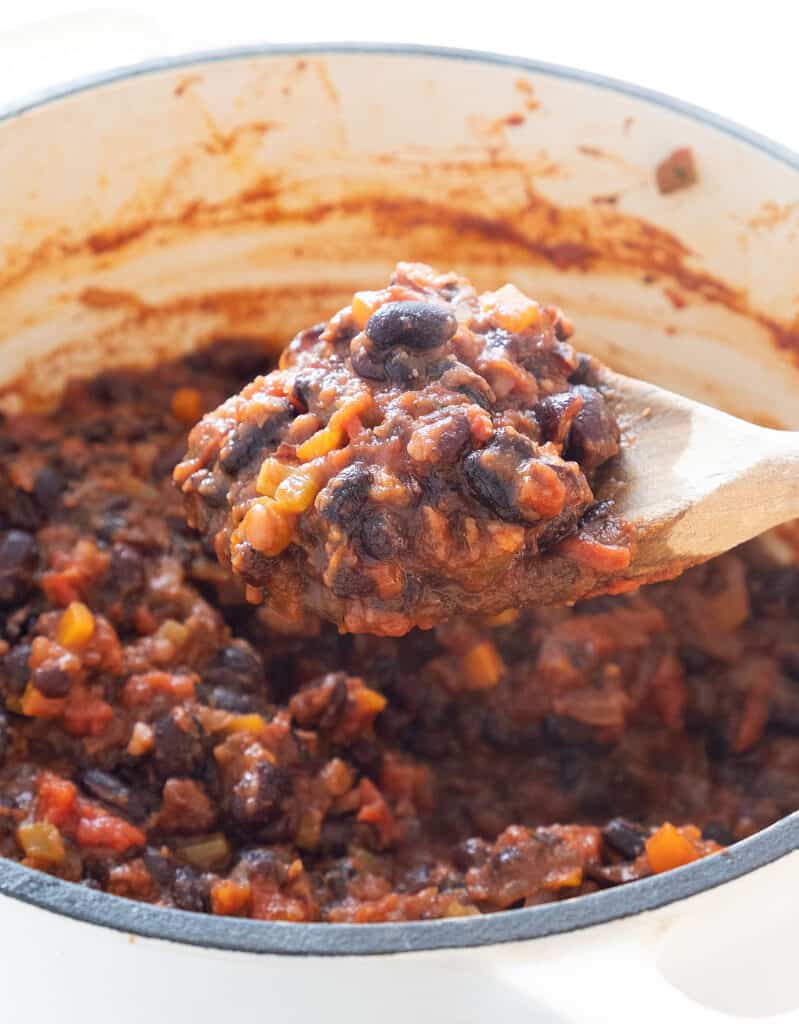 Recipe Notes
Ingredients
I've made this black bean pasta sauce essentially with the same ingredients as traditional Bolognese, with one main difference: I swapped black beans for beef. 😉
BLACK BEANS: their dense texture and flavor make them an excellent meat substitute. If you smash them while cooking, they'll soak up more flavor!
SOFFRITTO: this classic mix of diced/minced onion, carrot and celery makes the essential flavor base in Italian cuisine, bolognese sauce included. Here you can check a few helpful tips about Italian soffritto.
HERBS: rosemary, bay leaves and oregano deliver plenty of flavor, but you can use Italian mixed herbs instead, they work just fine.
RED WINE: once we sauteed the aromatics mentioned above, we just add in a little red wine and let the wine reduce to really intensify the flavor.
PASTA: we toss the pasta in the sauce, always. That's what I do in ALL my pasta recipes: we want to stir all together, emulsify, until the sauce clings to the pasta.
EXTRA FLAVOR: serve with a drizzle of extra virgin olive oil, black pepper, and freshly grated parmesan cheese for a fantastic flavor boost (if you don't keep it vegan!). Also chopped Italian parsley or this tasty parsley pesto make a delicious touch.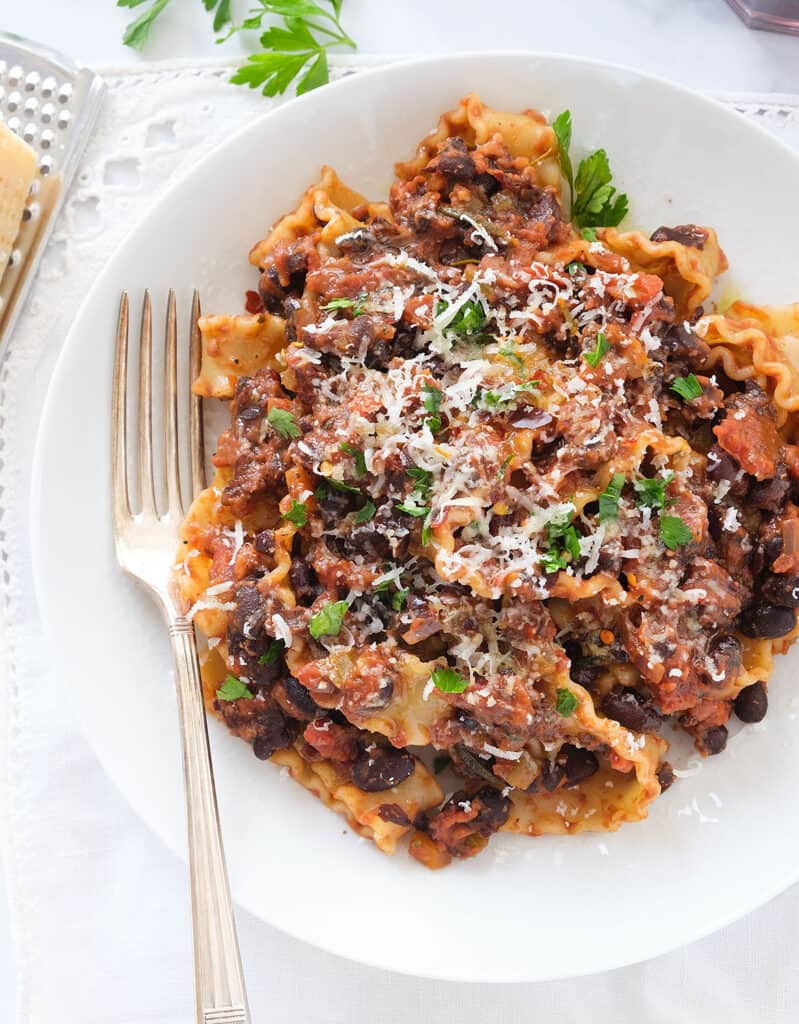 Are black beans good for you?
Black beans are rich in protein, folate, fiber, minerals and offer a multitude of health benefits, from maintaining healthy bones to lowering blood pressure.
Also, their fiber and protein content will keep you feeling full and energetic for hours, definitely a bonus if you are trying to lose weight.

Pasta with black beans & variations
Firstly, you can switch black beans with pinto or cannellini beans; I find they have similar texture and work well in this pasta sauce. Then you can add a twist to the recipe if you wish, here a few ideas to add more vegetables and fiber:
Brown rice or whole grain pasta with their fiber content make healthy delicious alternatives to regular pasta.
Vegetables such as grilled peppers, eggplants or sauted spinach add flavor, nutrients and work well in this hearty bean sauce.
Looking for more bean recipes?
I love beans, they're packed with nutrients, economical and super versatile, here I listed a few delicious recipes featuring different beans for you to have a look:
If you make this pasta with black bean recipe, leave a comment, rate it, or tag a photo #theclevermeal on Instagram.
I would love to hear from you!
Print Recipe
Pasta with Black Beans
This scrumptious pasta with black beans uses everyday ingredients and turns your canned black beans into a terrific vegan bolognese sauce. It's healthy, inexpensive, full of flavors and nutrients.
Ingredients
1

Tbsp

olive oil

1

red onion, peeled and diced

1

carrot, peeled and diced

1

celery rib, diced

2

garlic cloves, minced

1

tsp

oregano

¼ or ½

tsp

chili flakes, according to taste

1

Rosemary sprig

2

bay leaves

1

Tbsp

Tomato paste

1 can

(14oz/400 grams)

black beans

1 can

(14oz/400 grams)

diced tomatoes

1/3

cup

red wine

½ scant

tsp

fine salt, or according to taste

¼

tsp

ground black pepper, plus more to serve
chopped parsley and grated parmesan cheese, to serve (optional)
Pasta
½ lb

(220 grams)

pasta (penne, linguine, fusilli, ecc…)
Instructions
In large pot heat the olive oil over medium heat. Add the soffritto mix (diced onion, carrots, and celery) and cook gently for about 5-7 minutes, stirring often.

The add garlic, oregano, chili flakes, herbs and cook for a further couple of minutes.

Add beans, tomato paste, and red wine, stir and cook for 1 minute until the alcohol smell evaporates.

Then add the rest of the ingredients, stir, bring to a simmer and cook for 20 minutes (with lid). Stir occasionally and try to smash the beans with a the back of a wooden spoon or a potato masher.

Turn the heat off, taste and adjust the seasoning according to your taste.
Pasta
Meanwhile, cook pasta until al dente according to packet directions.

Drain pasta reserving a bit of cooking water (it might help to loosen up the sauce).

Add pasta into the black bean sauce and toss well over medium heat for about 30 seconds. Add a touch of reserved pasta cooking water to loosen up the sauce if needed.

Divide between plates and serve with parmesan cheese, black pepper, a drizzle of extra virgin olive oil, and chopped parsley if you wish.
Notes
Onion: any color is fine.
Herbs:  you can replace fresh herbs with dried Italian herbs, 1 

½ 

tsp is fine.
Wine: you can replace red wine with white wine, it's ok.
Canned tomatoes: go for high quality Italian diced tomatoes if possible, they're less sour than average canned tomatoes. 
Storage: the black bean sauce keeps well in the fridge for up to 3 days and it's freezable.
Quantities:  the recipe yields 4 medium-sized servings
Nutrition: please note, the nutritional values are estimates only and are calculated for 1 serving.
Nutrition
Calories:
409
kcal
|
Carbohydrates:
73
g
|
Protein:
17
g
|
Fat:
5
g
|
Saturated Fat:
1
g
|
Sodium:
349
mg
|
Potassium:
784
mg
|
Fiber:
12
g
|
Sugar:
6
g
|
Vitamin A:
2726
IU
|
Vitamin C:
12
mg
|
Calcium:
88
mg
|
Iron:
4
mg