This post may contain affiliate links. Please read my disclosure policy for more details.
Looking for an easy meal bursting with flavor and green goodness? This delicious spinach pesto pasta is sure to satisfy even the pickiest of eaters and it's ready in 15 minutes.
And it's great to get your daily leafy greens without even realising it!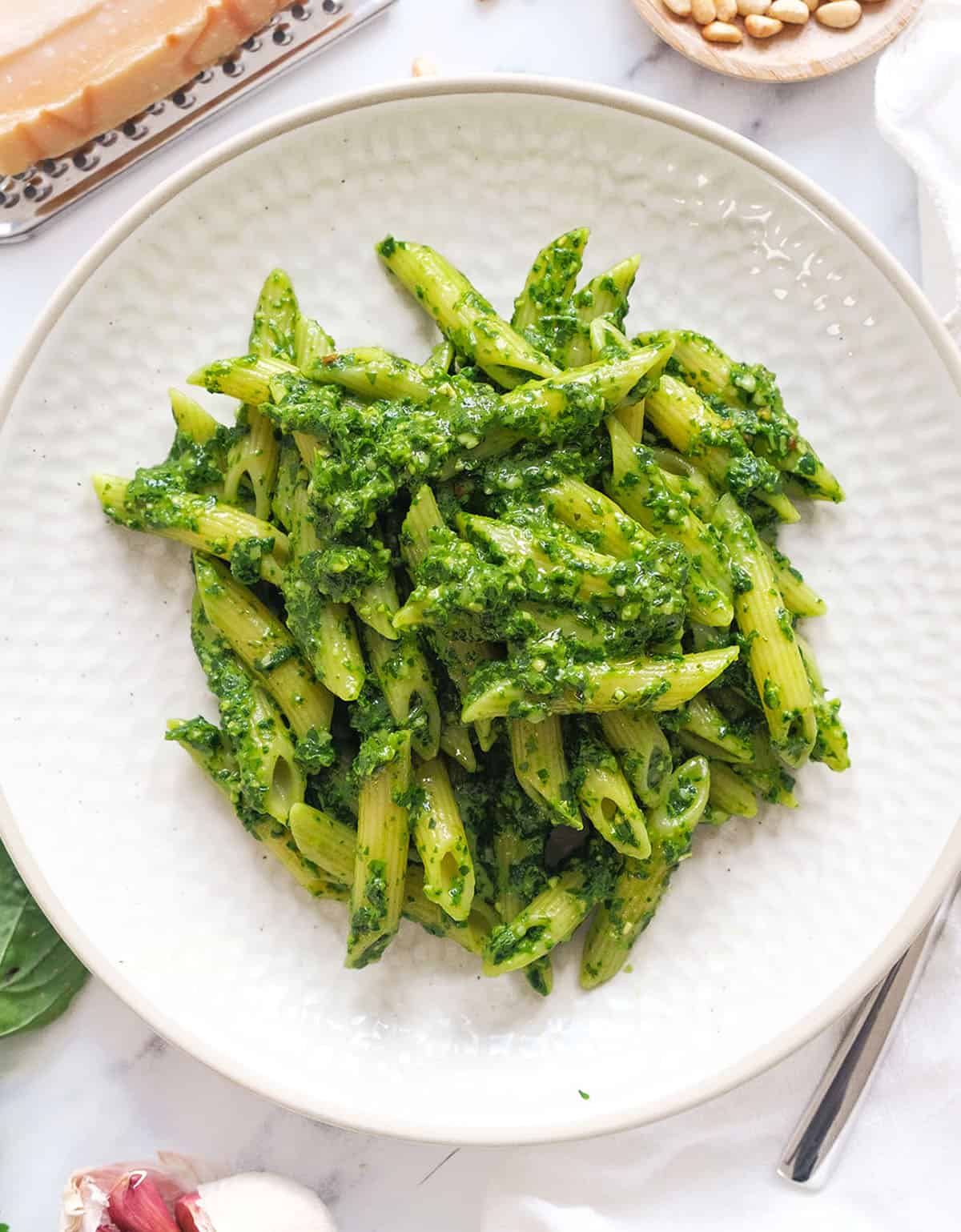 First things first, let's talk about the star of the show: spinach pesto.
This vibrant concoction is a twist on traditional basil pesto that packs a healthy dose of greens, but it's just as delicious (if not more!) and ready in minutes.
When the hearty spinach is blended with parmesan, pine nuts, garlic and olive oil, it creates a savory nutty flavor and a deliciously smooth texture that is perfect to coat the pasta in a rich velvety sauce.
You're going to love your pasta with spinach pesto, seriously.
It's truly delicious, satisfying and so easy to make.
Now, let's talk about the pasta.
What happens when you cook pasta?
Firstly, when pasta cooks, it releases starch into the cooking water and when you drain the pasta, you lose some of that starchy water along with it.
But that starchy water creates a kind of emulsion that works like magic to bind the pasta and sauces making the pasta moist and juicy without adding tons of extra oil!
That's why in authentic Italian cuisine, the sauce is always tossed with the pasta and a touch of pasta water.
In this recipe, all you have to do is reserve some of that cooking water before draining and use it when it comes time to toss the pasta with your spinach pesto.
And you'll be surprised at the difference it makes!
Finally, serve the spinach pesto pasta hot, garnished with some extra Parmesan cheese and maybe even some toasted pine nuts… if you're feeling fancy.
Spinach pesto pasta is ready to go, and your taste buds will thank you.
List of the ingredients
Spinach pesto: fresh spinach, garlic, extra virgin olive oil, basil, parmesan cheese, pine nuts, salt & pepper.
Good quality pasta: penne, spaghetti, fusilli or tagliatelle.
How to make spinach pesto pasta
(Note: this is simply a quick explanation, the full recipe is at the bottom of the page)
Cook the pasta according to the package directions until al dente.
Drain it and reserve about a cup of the pasta water.
Return the pasta to the pot, toss in the spinach pesto and add gradually the starchy water as much as needed to make everything well coated and juicy!
Serve immediately… Enjoy!
Recipe notes
What pasta goes with pesto?
You can use any type of pasta you like for this recipe, but I recommend using a short pasta shape like penne, fusilli or long pasta shape like spaghetti or tagliatelle.
Also, remember that the quality of the pasta can make a big difference in the final result. Higher quality pastas have a superior texture, firmer and less likely to become mushy or soggy when cooked and tossed with the rich spinach pesto sauce.
What goes well with spinach pesto pasta?
Spinach pesto pasta is a versatile dish that pairs well with a variety of add-ins. Here are some ideas to create the perfect family meal:
Vegetables: sun dried tomatoes or roasted vegetables such as cherry tomatoes, zucchini, and bell peppers add a sweet and savory contrast to the dish.
Protein: if you're not after a meatless meal, grilled chicken or sautéed shrimp make delicious add-ins with their texture and flavor.
Cheese: if you prefer vegetarian protein instead, fresh mozzarella and ricotta add freshness and extra texture to the dish, while crumbled feta is great for flavor.
Bread: finally, you're welcome to serve this spinach pesto pasta with crusty Italian panini bread (aka amazing bread rolls!!), or delicious warm focaccia or garlic pesto bread. How delicious is that?
More pesto pasta recipes?
If you love pasta and pesto, I have a few scrumptious pasta recipes to share and perfect to make a quick family meal:
And if you have a ton of spinach to use up, have a look at this collection of delicious spinach recipes!
If you make this scrumptious spinach pesto pasta, let me know! Leave a comment, rate it, or tag a photo #theclevermeal on Instagram.
I would love to hear from you! x
Print Recipe
Spinach Pesto Pasta
Looking for a quick meal that's packed with greens? Look no further than this juicy and delicious spinach pesto pasta! It's sure to satisfy even the pickiest of eaters.
Ingredients
Spinach pesto (quantity is enough for 4 servings of pasta)

10 oz

(250-300 grams)

pasta (penne, spaghetti, fusilli..)

¾ cup

(180 ml)

pasta water

grated parmesan or toasted pine nuts, for serving (optional)
Instructions
Bring a large pot of water and salt to the boil.

Add pasta and cook until al dente following the package directions.

While waiting for the pasta to cook, make this spinach pesto in your food processor.

When pasta is al dente, just before draining, reserve approximately ¾ cup of pasta cooking water and set aside.

Turn the heat off, drain the pasta using a colander, return the pasta to the pot, add the spinach pesto and a little bit of the reserved pasta water (you don't need all of it, use only the quantity needed to make the pasta moist and juicy).

Toss until well combined and coated and serve immediately with extra grated parmesan cheese or toasted pine nuts if you wish. Enjoy!