This post may contain affiliate links. Please read my disclosure policy for more details.
This scrumptious penne with pesto is a simple one-pot pasta recipe that comes together in about 20 minutes, uses just a few fresh ingredients, and makes a delicious family meal.
The trick is to cook pasta and diced potatoes in just one pot, and get the most from the starchy pasta water and the mushy potatoes. Finish with fresh, delicious pesto and toss until combined, luscious, and yummy!
The recipe idea was inspired by the popular Ligurian version of pasta with pesto and potatoes, but I wanted to make it easier, versatile and satisfying like my other quick pasta ideas and one pot pasta recipes.

So I ended up with this amazing penne with pesto cooked in just one pot, deliciously rich, easily customizable, and perfect for a hungry family! : )
List of the ingredients
Pesto ingredients: fresh basil, olive oil, garlic, parmesan, cashews or pine nuts (good-quality store-bought pesto is ok too).
Penne (fusilli and rigatoni will work)
Potatoes
Salt & pepper
Cherry tomatoes (optional)
How to make penne with pesto
(Note: this is a quick description with step-by-step photos, the full recipe is at the bottom of the page)
Make your homemade pesto: place fresh basil leaves, parmesan cheese, garlic, cashews, olive oil and a pinch of salt into a small food processor. I use the attachment of my hand blender, so useful when it comes to small jobs.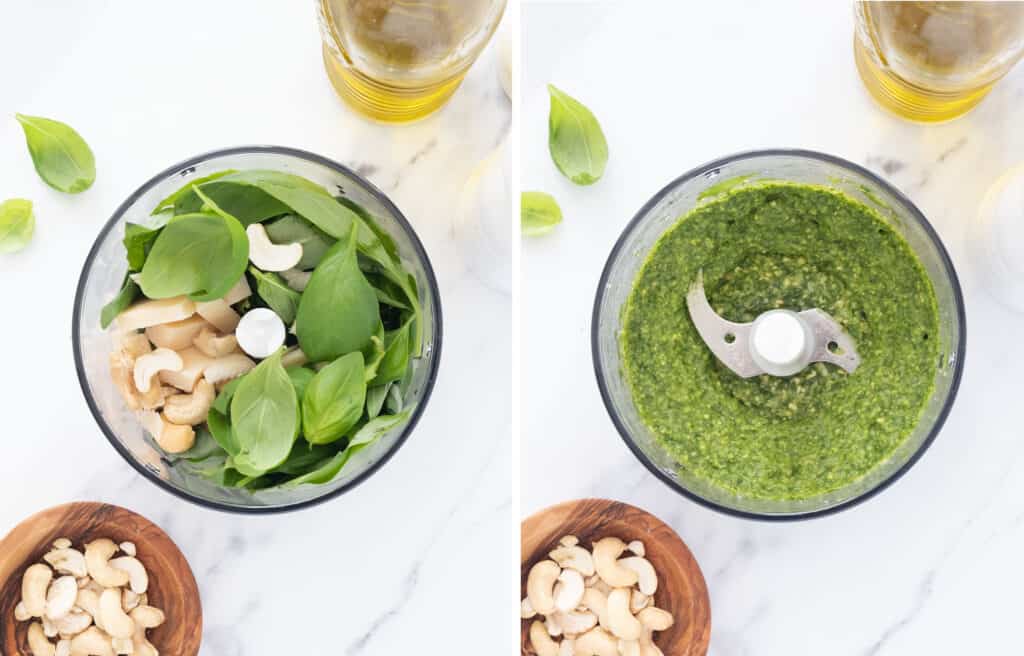 Blend into that delicious pesto-like texture: not too smooth, not too coarse.
Set aside until your pasta is done.
Cook your pasta: place potatoes and water in a large pot and bring to the boil.
Add salt, penne pasta, cover with a lid.
Cook over medium-heat according to the package directions, and stir frequently.
When the pasta is done, stir in cherry tomatoes and pesto.
Toss until nicely combined and serve!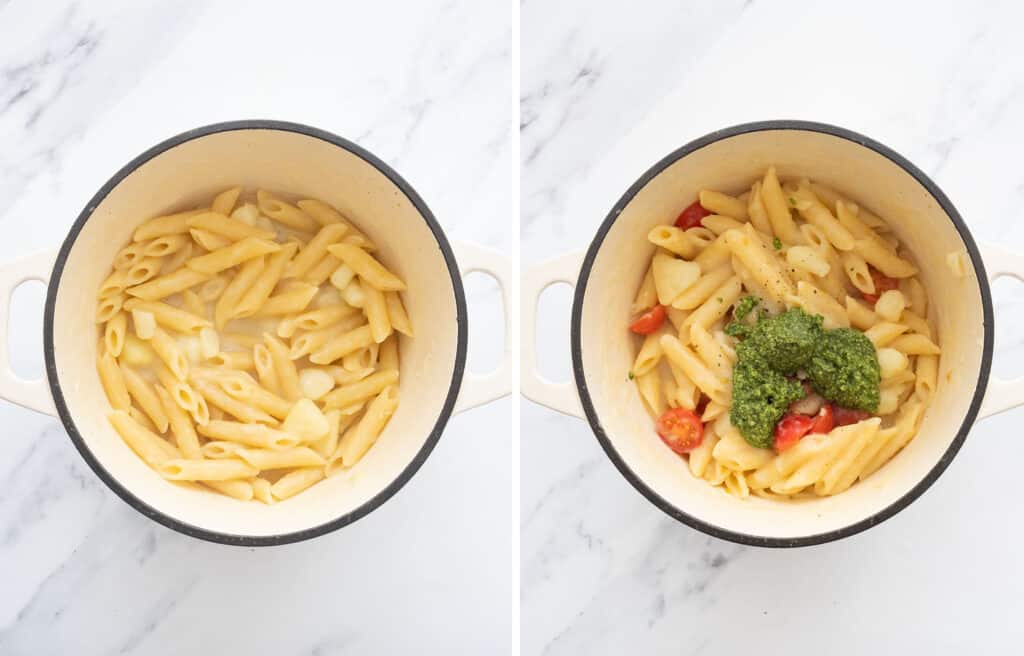 Recipe notes & tips
Penne with pesto ingredients
Pasta: high quality durum wheat pasta and the pasta to broth ratio are important. I wouldn't use alternative pastas like gluten-free or chickpea since they absorb water differently. Plus, high quality pasta has a superior texture and it doesn't loose consistency, perfect for this recipe. I used Garofalo penne pasta.
Potatoes: floury potatoes are best, but whatever potatoes you have in your pantry works fine too, except sweet potatoes.
Pesto: making homemade pesto is a no brainer, so good and easy, but ready-made can be handy on a busy weeknight. Make sure you buy good-quality pesto (this list might be helpful), and if you have pesto leftovers this pizza and easy bread are great to use them up!
Cheese: I've kept this pesto recipe as easy as possible and I used only parmesan cheese. But If you're on a tight budget, you can use Grana Padano cheese instead, similar in taste to Parmesan but much cheaper.
Nuts: traditional Italian basil pesto calls for pine nuts, but I used more budget-friendly cashews in this recipe. I love their texture, and I think they make a great substitution.
Tips to cook this "one-pot" pasta
Here what you need to make sure the heat is transferred evenly and your one pot pasta cooked properly:
Use a thick and heavy pot if possible (e.g. Dutch oven).
Use a burner that is close in size to your pot.
Use a consistent simmer throughout the cooking time.
Stir frequently and keep the lid on to trap steam.
Note: in this one-pot recipe the cooking time for pasta is about 3-4 minutes longer than the time listed on the package.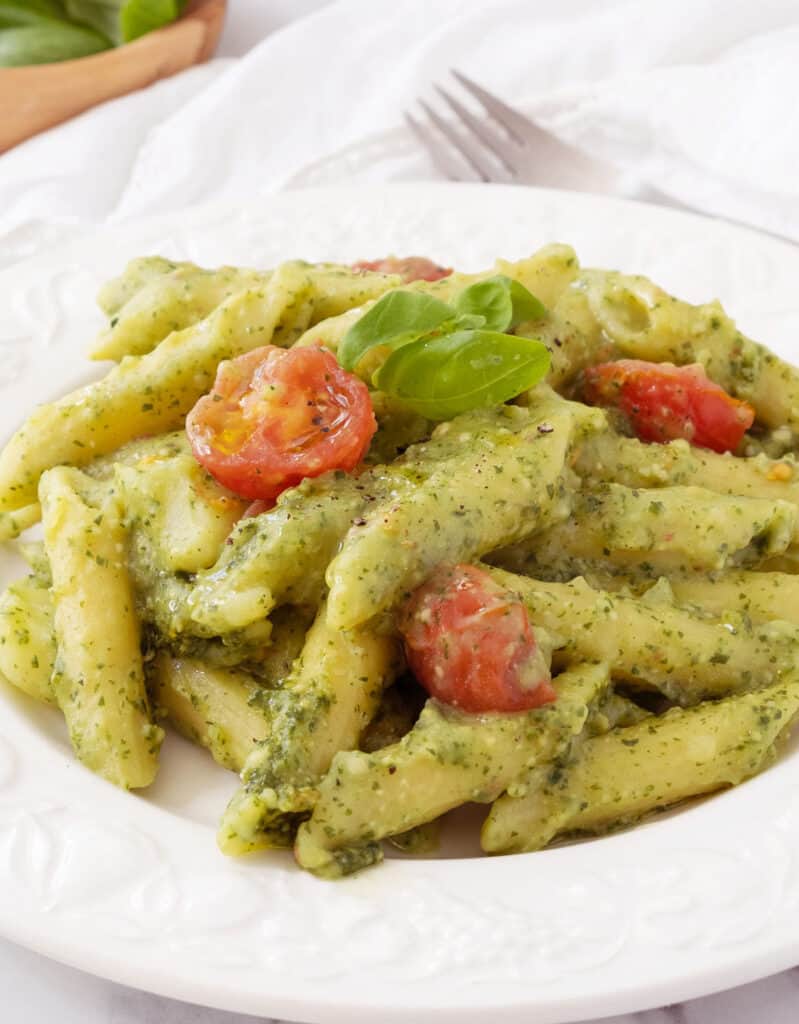 Penne with pesto variations
This delicious recipe is versatile too, here a few add-ons you can add at the end of the cooking time:
Vegetarian: cherry tomatoes, grilled zucchini, cooked green beans, cooked peas, spinach, canned white beans, or mozzarella pearls.
Meat option: Grilled chicken, grilled or poached salmon or cod (place the delicate fish fillets on the side, do not toss them).
What to serve with penne with pesto
This satisfying penne with pesto makes a meal on its own, but if you want to add a side dish, this crusty panini bread or olive focaccia are amazing.
Or you can make just a quick, fresh cucumber tomato salad or caprese chickpea salad to add more Italian flavor to the meal.
More delicious pasta recipes
If you love this popular and versatile pasta shape you might enjoy this collection of yummy penne pasta recipes that features creamy penne, penne arrabbiata and penne pasta with tomatoes and zucchini.
Here more of our fav and quick pasta recipes:
If you make this penne with pesto, or you have a question, let me know by leaving a comment. I would love to hear from you! x
And for more recipe updates, follow me on Instagram, Pinterest and Facebook.
Print Recipe
Penne with Pesto (1 pot recipe!).
This scrumptious penne with pesto is a simple one-pot pasta recipe that comes together in about 20 minutes, uses just a few fresh ingredients, and makes a super delicious family meal.
Quantities yield 4 small servings.
Ingredients
Easy Pesto (or 4 Tbsp or ready-made pesto)
1 small bunch

(about 30 grams)

basil leaves

3-4

Tbsp

extra virgin olive oil

¼ cup

(20-30 grams)

cashews or pine nuts

⅓ cup

(30 grams) parmesan cheese, plus more to serve if you wish

1

small garlic clove, peeled and core removed (add more garlic if you like)

⅛

tsp

fine salt, plus more to taste
Pasta
2

(220 grams) medium-sized potatoes, peeled and cut into cubes (approx 1-1½ inches)

2 ⅓ cups

(560 ml)

water

½

tsp

fine salt

⅛ scant

tsp

black pepper

8 oz

(220 grams)

penne or similar pasta shapes (rigatoni, fusilli…)

⅔

cup

cherry tomatoes, cut into halves
Instructions
Easy Pesto
Place all the ingredients in a small food processor and whiz until you reach a pesto-like consistency, not too smooth not too coarse. Taste, adjust the seasoning according to your taste, and set aside.
Pasta
Peel and cut into cubes the potatoes. Place them in a large heavy pot (eg. Dutch oven), add water, salt, pepper and bring to the boil.

Add penne pasta to the pot, stir, cover with a lid, and cook over a medium-heat for about 10 minutes, stirring frequently.

Aftfter 10 minutes, remove the lid, reduce the heat and cook genty for a further 4 minutes. Keep an eye on it, pasta is not done yet and the liquid is reduced and full of starch. Stir more often and add a touch of water only if needed.

When the pasta is al dente, cooked but still firm to the bite, stir in the cherry tomatoes (optional), and finish with pesto. Toss to combine, and make sure the pasta is well coated and moist.

Divide into 4 plate, serve with a drizzle of extra virgine olive oil and some freshly grated parmesan cheese if you wish. Enjoy.
Notes
Cooking time: it may need adjustment, it depends mostly on the pasta brand and quality.
I used Garofalo pasta, an Italian brand available in the USA and in the UK. The cooking time states on the package is 11 minutes, but in this in one pot recipe (with a small amount of liquid and the lid on) it took 14-15 minutes.
If you use another brand, and the package states a shorter cooking time, adjust the recipe accordingly.
Water: if for some reason you think the pasta is still undercooked and liquid has reduced down, just add a touch of water, but careful not to overcook the pasta.
Nutrition facts:
Please note that the nutrition values are based on an online nutrition calculator.  It's an estimate only and it should not be considered a substitute for a professional nutritionist's advice. The nutrition values are for 1 serving, without cherry tomatoes and considering 3 Tbsps of olive oil.
Nutrition
Calories:
411
kcal
|
Carbohydrates:
54
g
|
Protein:
12
g
|
Fat:
16
g
|
Saturated Fat:
3
g
|
Cholesterol:
4
mg
|
Sodium:
496
mg
|
Potassium:
453
mg
|
Fiber:
3
g
|
Sugar:
2
g
|
Vitamin A:
446
IU
|
Vitamin C:
13
mg
|
Calcium:
109
mg
|
Iron:
2
mg