This post may contain affiliate links. Please read my disclosure policy for more details.
I've gathered all my easy one-pot pasta recipes in one place for you to enjoy. They're crazy delicious, full of vegetables or beans, and budget-friendly too.
They make the perfect one-pot family meals on busy weeknights: easy, full of flavor, nourishing and so convenient.
Added bonus? You cook everything in one-pot, and you can call it dinner.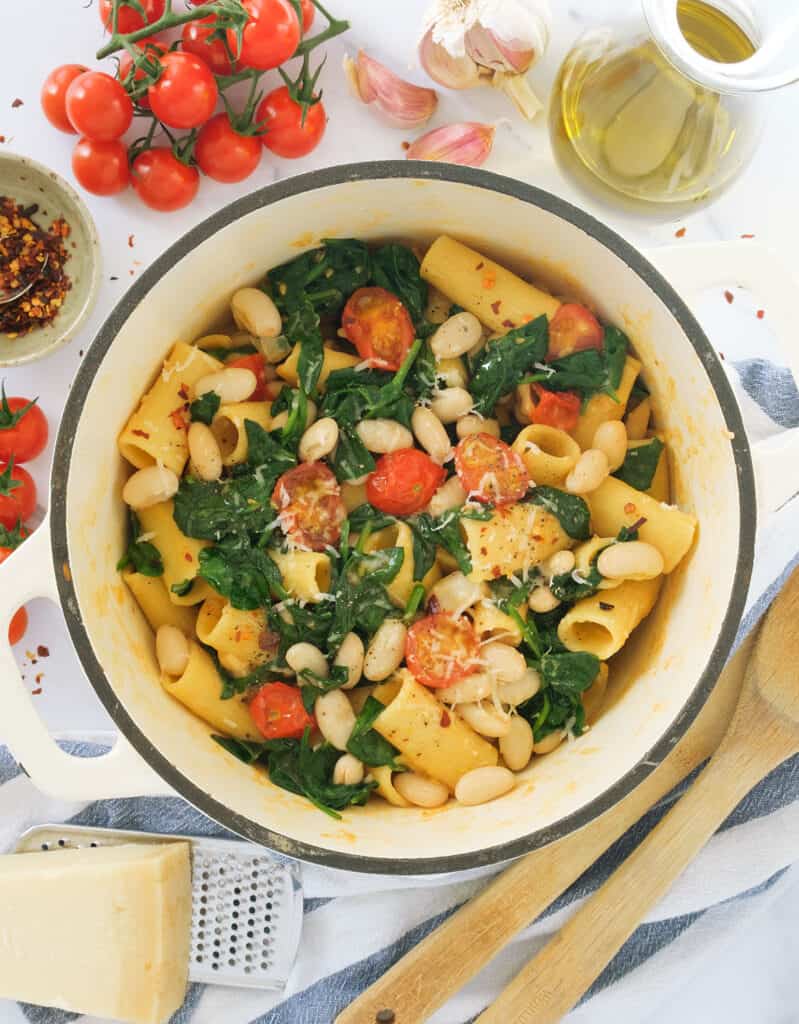 Pasta has been a staple in my house for as long as I can remember. Essentially, I've grown up eating all sort of pastas, but these one-pot pasta recipes with vegetables, legumes and Italian cheese are still some of my favorite go-to meals.
Hey, I'm Italian after all!
Watch the video
But let me tell you why these one-pot pasta recipes are a game changer:
Firstly , one of great things is that you have ONLY ONE POT TO WASH.
You don't cook and drain your pasta separately, but everything cook together in the same pot. Perfect for those busy nights!
You can add PLENTY OF NUTRIENTS.
These versatile one-pot pasta recipes can be easily adapted and transformed into balanced meals with the addition of more veggies and plant-based protein. And If you switch to whole-grain pasta you'll get more natural fiber and micronutrients!
Cooking all in one pot let the DELICIOUS FLAVORS mingle together!
Basically, the pasta absorbs all the flavor from the liquid which can be either garlic tomato sauce or broth with herbs and diced vegetables (soffritto).
Plus, the pasta releases its starch making the sauce deliciously thick and glossy.

Another great bonus about these one-pot recipes is the CONVENIENCE.
They require cupboard staples or inexpensive fresh ingredients (apart from the parmesan cheese, a bit expensive but worth it!). They're also easy to put together and make delicious, filling family meals.

This quick white bean pasta makes a wonderful one-pot family meal ready in less than 15 minutes. It's everything you want in a pasta dish: it's comforting, packed with fresh ingredients, protein, veggies, and it's no fuss.
This easy one-pot tomato basil pasta recipe with ricotta requires minimal effort, and it's ready in less than 20 minutes. It's a delicious cozy family meal perfect for on-the-go weeknights!
I've been cooking this Italian pasta with lentils for ages, it has been one of my favorite staples since I was a kid. I love its simplicity, the thick texture, the fact that it's healthy, and requires only one pot and minimal ingredients.
Another delicious family one-pot pasta recipe! This pasta with peas makes is super quick to make, it requires only 5 ingredients and you can use either fresh or convenient frozen peas, whatever makes your life easier. It's so convenient yet good, definitely a family hit!
If you're a pumpkin lover looking for lazy but delicious recipes, this creamy pumpkin pasta is for you! A simple budget-friendly one-pot pasta dish, a breeze to make in one pot, but full of flavor, and ready in 20 minutes. Kids love it!
Another Italian recipe to transform cheap cupboard essentials into a delicious, healthy meal that everyone loves. This one pot pasta with chickpeas is vegan, inexpensive, and packed with plant-based protein. You'll be asked for seconds!
What to make when you've got nothing in the fridge? This traditional dish, originating from Southern Italy, is a supreme example of how to turn humble ingredients or leftovers into something SO good. It's so easy, virtually fat free and if you skip the parmesan cheese, it's vegan too!
This pasta e fagioli recipe, also known as pasta fazool or pasta with beans, is one of my favorite comforting one-pot pasta recipes, loaded with plant-based protein and budget-friendly. It's so thick, satisfying, and totally delicious!
Is pasta healthy?
As long as it's eaten in moderation and with the addition of lots of vegetables or plant-based protein, whole-grain pasta can be definitely part of a healthful diet.

Pasta brands matter!
Not all pasta is created equal. When you chose pasta, have a proper look at the label and go for durum wheat semolina pasta made with brass or bronze dies. This premium quality pasta is more expensive than basic pasta but has a more robust texture and holds sauces beautifully. Brand matters.
Looking for more easy pasta recipes?
Whether you look for quick and easy pastas to put together in less than 15 minutes, or delicious vegan pasta ideas, here are two of my popular collection of pasta recipes:
I hope you'll enjoy these one-pot pasta recipes as much as we do! And let me know if you have any questions, I would love to hear from you x
Print Recipe
ONE-POT PASTA RECIPES: white bean pasta
These one-pot pasta recipes are a fantastic go-to meals on busy weeknights, perfect for delicious meatless dinners too. This white bean pasta is one of our favorites, full of flavor and ready in less than 15 minutes!
Ingredients
1 Tbsp

olive oil or extra virgin olive oil, plus more to drizzle if you wish

3

garlic cloves, minced

½ tsp

paprika

¼ or ⅛ tsp

 chili flakes*

1 can

(15 oz)  cannellini beans, or Great Northern beans

⅛ tsp

 freshly ground black pepper

2 ½ cups

 (600 ml)

water or low sodium vegetable broth* 

½ tsp 

fine salt, or according to taste

8 oz 

(220 grams) short pasta shapes (fusilli, penne, bow ties…)

4 oz

(120 grams) baby spinach, washed 

4 oz

(120 grams) cherry tomatoes, cut into halves

2 oz

(60 grams) 2 oz (60 grams) freshly grated parmesan, plus more to serve if you wish
Instructions
Warm the olive oil in a large pot over medium heat. Add the minced garlic and cook until fragrant and smells good, about 45 seconds.  

Add paprika, chili flakes, beans, black pepper, and give a good stir

Add hot water or low sodium vegetable broth, salt, turn to high heat and bring to the boil.

Stir in pasta, reduce the heat to medium-low, cover with a lid and cook stirring frequently. The amount of liquid is enough to partially cover the pasta (but keep an eye on it to make sure the pasta doesn't stick to the bottom of the pot, and add a touch of water if needed).

In the last 2 minutes of the pasta's cooking time, add fresh spinach, a handful at a time, and cherry tomatoes. Stir until the spinach is wilted, it takes a couple of minutes.

Turn off the heat, finish the dish with freshly grated parmesan, and give a good stir until the cheese melts and the pasta looks well combined (taste and adjust the season according to your taste if needed).

Serve immediately with a drizzle of extra virgin olive oil, more freshly ground black pepper and parmesan cheese if you like. Enjoy!
Notes
*Chili flakes (or crushed red pepper): add the spice according to your liking. If you feed children, you might want to use only

⅛ tsp

.
Liquid: 

 ½ cup

of water is an estimate. While the pasta is cooking, you might want to add a touch of water gradually, if needed. 
Parmesan cheese: use freshly grated parmesan cheese that melts well and tastes much better than store-bought grated cheese.