This post may contain affiliate links. Please read my disclosure policy for more details.
Gorgeous healthy spaghetti packed with peas and tossed in a bold pesto sauce made with avocado, fresh green leaves and bright lemon.
An explosion of flavor and nutrients ready in 20 minutes.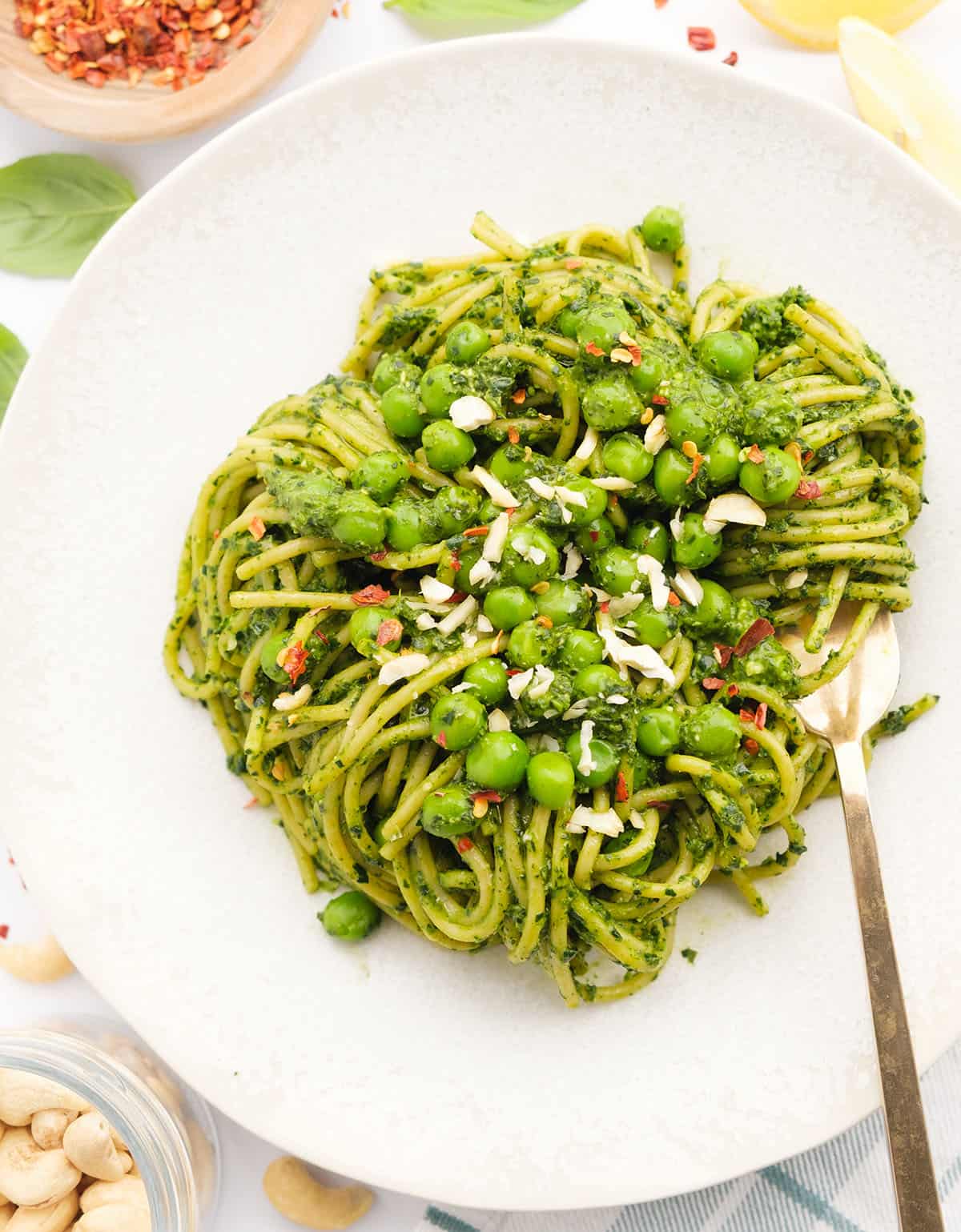 I think I could eat pasta just about every single day for the rest of my life. It's one of those comforting meals that make me happy no matter what!
But when you think of a big bowl of spaghetti, "healthy" isn't' the first word that jumps into your mind, right? But today's recipe will show you that eating a bowl of pasta can also be good for you and perfect for a balanced diet.
I'm not a nutritionist, but I tried to create a pasta recipe that combines a bunch of super healthy ingredients to make a wholesome and delicious family meal.
To start with, the recipe uses whole wheat spaghetti packed with fiber and minerals – while white pasta has been stripped of many of these nutrients during its processing.
We also add fresh or frozen peas in the last minutes of the pasta cooking time for a serious protein punch.
While the pasta is cooking, we make a quick pesto that is a nutrition powerhouse, a green concoction that is delicious and full of health benefits.
The recipe packs tons of superfood greens, garlic, lemon juice, nutritional yeast, nuts, heart-healthy avocado, and of course, extra virgin olive oil and seasoning. It's a no brainer to whip up in minutes and it's just perfect with spaghetti.
Seriously, this is probably the healthiest pasta dish you'll eat all week. It's so deliciously filling, vegan, and so simple to put together that I guarantee you'll be making it again and again.
I know it sounds too good to be true! : )
List of the ingredients
Whole wheat or legume-based spaghetti
Spinach or arugula
Tuscan kale or curly kale
Fresh basil
Avocado
Nuts (cashews, almonds…)
Lemon juice
Garlic
Extra virgin olive oil
Salt & pepper
Scroll down to see why this combination of ingredient is amazing!
How to make healthy spaghetti
(Note: this is a quick description, the full recipe is at the bottom of the page)
Place the pesto ingredients in a food processor or in a blender.
Blitz until you get the desired texture.
Add olive oil a little at a time while the machine is on.
Taste and adjust the flavor to your taste.
Meanwhile, cook the spaghetti in salted water until al dente.
Three minutes before draining stir in the peas and cook until tender.
Reserve some pasta water, drain, and return pasta and peas to the pot.
Add the pesto and a touch of pasta water, toss until well coated. Enjoy!
Recipe notes
Ingredients & health benefits
Here's what you'll need to make this scrumptious bowl of pasta including a few substitutions. Most importantly, let's see why it's healthy!
Unrefined spaghetti: I recommend using whole wheat spaghetti or whole grain pasta made from quinoa, spelt, buckwheat. Also gluten-fee or legume-based pasta works great for this recipe and you can choose your fav shape, of course. Using unrefined pasta helps to maximise the fiber and protein intake and makes you feel fuller for longer. It's a win-win.
Peas: the recipe uses convenient frozen peas, an excellent source of plant-based protein, vitamins and mineral.
Leafy greens: the pesto recipe is flexible, you can use arugula instead of spinach, lacinato or curly kale. It's a powerhouse of nutrients where cruciferous veggies and spinach give a wonderful boost of antioxidants, vitamin C, vitamin K and they might reduce the risk of getting cancer.
Avocado: to add creaminess and provides an amazing range of essential nutrients such as protein, iron, beta carotene, and omega-3 fatty acids.
Nuts: I love cashews (which are actually seeds, not nuts) in my pesto recipes. They add texture, but almonds or walnuts work fine too. Cashews are also rich in protein and minerals, they may help to prevent heart diseases due to their high magnesium content.
Lemon: for freshness and vitamin C, but also to improve absorption of the iron found in the leafy green vegetables. Again, win-win.
Nutritional yeast: it adds a nutty, parmesan-style cheesy flavor and makes the recipe 100% vegan. It's essentially a deactivated yeast, easy to find at most grocery stores, it contains an incredible amount of B vitamins.
Garlic & extra virgin olive oil: essential ingredients for a good flavourful pesto. Extra virgin olive oil is full of healthy fats and health benefits, research suggests that it could protect against heart disease, cancer and inflammation.
Salt: for flavor, but make sure to adjust the seasoning to your liking.
Is this pasta recipe good for yourself?
If eaten in moderation, pasta can be part of a healthy diet, especially when it's packed with veggies, lean protein and healthy fats like in this healthy spaghetti recipe.
What to serve with healthy spaghetti
More veggie pasta recipes…
If you look for more pasta recipes packed with veggies or plant based protein, check out my easy one-pot pasta recipes, meatless pastas or vegan pasta recipes. Below a few of my weekly staples:
And for my favourite pesto recipes, check out my spinach pesto, arugula pesto, and sun dried tomato pesto.
Lastly, If you make this healthy spaghetti, let me know! Leave a comment, rate it or tag a photo #theclevermeal on Instagram.
I would love to hear from you!
Print Recipe
Healthy Spaghetti
Gorgeous healthy spaghetti packed with peas and a bold pesto made with avocado, fresh green leaves and bright lemon. An explosion of flavor and nutritients ready in 20 minutes.
Ingredients
Spaghetti
8 oz

(220 grams)

spaghetti (or your fav pasta shapes)

2 cups

(250 grams)

frozen or fresh peas
Healthy pesto
2 packed cups

(200 grams)

raw or cooked Kale, preferably the Tuscan/lacinato variety, thick stem removed

2 cups

(100 grams) Baby spinach, washed

½

large avocado, diced

¼ cup

cashews, plus more to serve if you wish

2

garlic cloves, sliced

3

tablespoons

nutritional yeast

2

tablespoons

lemon juice

½

teaspoon

salt, or according to taste

3

tablespoons

extra virgin olive oil
Instructions
Spaghetti
Cook the pasta in a large pot of boiling salted water according to the package directions or until al dente.

In the last 3 minutes of the pasta cooking time add the peas (if using frozen peas the water temp quickly drops, but it will boil again straight after). When the peas are tender and bright green and the pasta al dente, reserve ½ cup of the pasta water, turn the heat off, drain and return pasta and peas to the pot.
Green pesto sauce
While the pasta is cooking, place all the pesto ingredients except olive oil in a food processor. If using cooked kale, see notes in the recipe card.

Blitz until the ingredients are finely chopped. Then, slowly pour the olive oil in through the feeder tube possibly with the motor running. Blitz until smooth or to desired consistency adding a touch of extra oil or water if needed.

Taste and add more lemon juice, or salt, to adjust the overall flavor to your liking.

Once the pasta is done and in the pot along with the peas, add the pesto, a touch of the reserved pasta water and toss until well combined and coated.

Serve immediately with a pinch of chili flakes and chopped toasted cashews if you like.
Notes
Kale: you can use lacinato kale, also knows as Tuscan or black kale or cavolo nero (it's my favorite variety), but curly kale works just fine as well. If you prefer to use cooked kale (as I did for this recipe), remove the hard stems from the leaves, wash them under running water, and bring a pan full of salted water to a boil. Finally, add the leaves to the pot, simmer for 3-5 minutes and drain. 
Healthy spaghetti leftovers: you can store spaghetti leftovers in an airtight container in the fridge for up 2 days. Reheat it in the microwave or on the stove adding a touch of water if needed. The color will eventually get dull, but the flavor will be still nice. 
Nutrition facts:
 the nutrition values are for one serving and they are based on an online nutrition calculator. It's an estimate only and it should not be considered as a substitute for a professional nutritionist's advice. Please see my
disclosure policies.
Nutrition
Calories:
463
kcal
|
Carbohydrates:
60
g
|
Protein:
17
g
|
Fat:
19
g
|
Saturated Fat:
3
g
|
Polyunsaturated Fat:
3
g
|
Monounsaturated Fat:
11
g
|
Sodium:
346
mg
|
Potassium:
843
mg
|
Fiber:
11
g
|
Sugar:
6
g
|
Vitamin A:
7843
IU
|
Vitamin C:
83
mg
|
Calcium:
185
mg
|
Iron:
4
mg