This post may contain affiliate links. Please read my disclosure policy for more details.
This delicious pea and asparagus pasta is a marriage made in heaven. A fabulous, spring pasta dish filled with seasonal asparagus, peas and fresh bright lemon zest.
It's also easy to whip up and ready in 15 minutes, absolutely perfect for last-minute spring gatherings.
I love this quick spring pasta with peas and asparagus, and I love this time of the year! The daylight, the blooming, the birds chirping and I love the beautiful vegetables that this amazing season has to offer.
To simplify the recipe, the asparagus and the peas are quickly blanched in a pan with some of the pasta cooking water. In the last minutes of the cooking time, when the vegetable are still crisp, stir in olive oil, garlic and seasoning to maximise their flavors.
Your peas and asparagus are ready: fork-tender, but still bright green and full of flavor.
Toss the pasta and the vegetables with lemon zest, aromatic parsley, parmesan cheese and some pasta cooking water until the pasta is moist and well coated!
And if you love peas, don't forget to check out these delicious 17 pea recipes including these easy peas and carrots.
What ingredients you need
Asparagus
Peas, fresh or frozen
Pasta
Parmesan cheese
Garlic
Lemon
Parsley (optional)
Olive oil
Salt & pepper
How to make this pea and asparagus pasta
(Note: this is simply a quick explanation, the full recipe is at the bottom of the page)
Cook pasta according the package's directions.
Saute' asparagus and peas in a pan with some water.
Add oil, garlic and salt to the vegetables.
Drain the pasta and add to the pan.
Add lemon zest, parmesan cheese, toss until well combined and serve.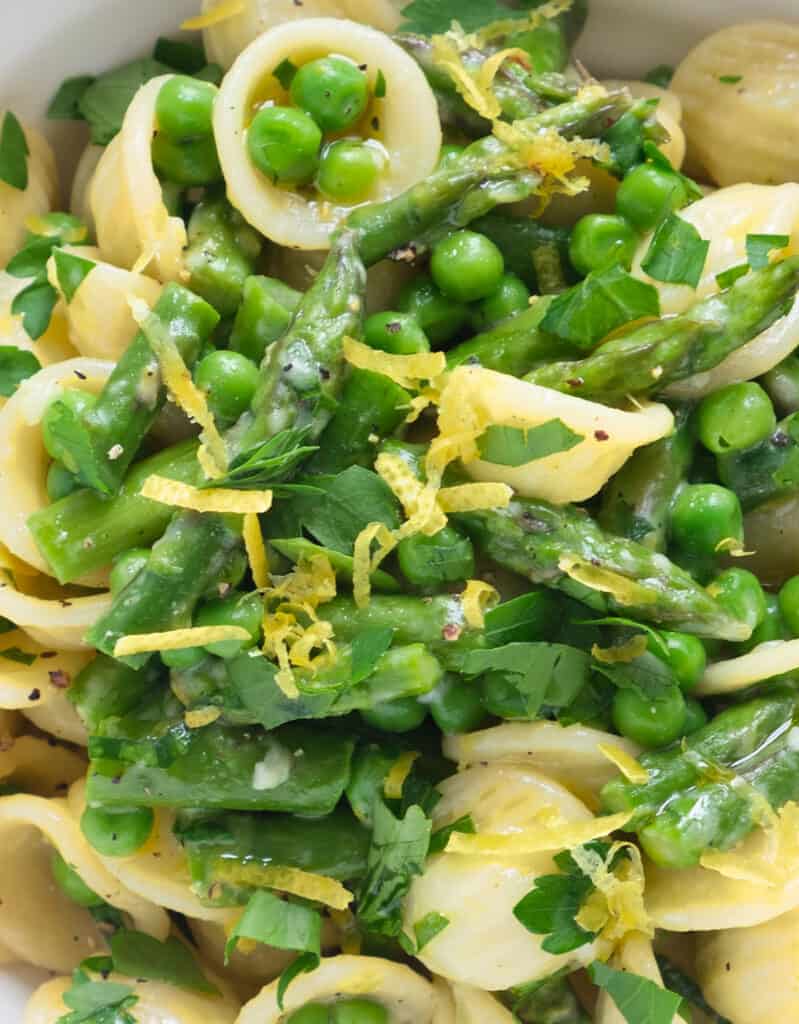 Looking for more easy pasta recipes?
If you look for more pasta recipes, I've got you covered: from easy one-pot pasta recipes to these delicious quick pasta recipes, and more pasta recipes packed with vegetables or beans:
Psss, If you make this pea and asparagus pasta, let me know! Leave a comment, rate it or tag a photo #theclevermeal on Instagram.
I would love to hear from you!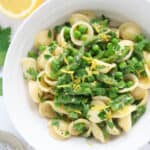 Print Recipe
Pea and asparagus pasta
This scrumptious pea and asparagus pasta is easy, elegant and delicious. A light recipe perfect for a last minute spring gathering! The quantities yield to 3 to 4 smallish portions.
Ingredients
½

lb

asparagus, woody ends snapped off

1 ½ cup

English peas, fresh or thawed

1 Tbsp

olive oil or extra virgin olive oil, plus more to drizzle

2

garlic cloves, minced
salt and pepper, to taste

⅓

cup

parmesan cheese, plus more to serve if you wish

1

unwaxed lemon, zest and juice

2

Tbsp

fresh parsley leaves, chopped (optional)

salt and pepper, to taste
Pasta
8 oz

pasta (orecchiette, penne, fusilli..)
Instructions
Bring a large pot of salty water to the boil and cook your pasta until al dente following the package's directions.

While the pasta is cooking, wash and cut the asparagus into max 1-inch pieces. If the asparagus is thick, you might cut it into halves first.

Place asparagus and peas into a large pan, cover with about ½ inch of pasta cooking water, cover with a lid, and bring the water to the boil. Cook the vegetable over medium heat for about 3 minutes. Drain the remaining water and return the pan to the stove.

Add olive oil, garlic, salt and pepper to the vegetables and saute' for a further 2 minutes or until they are still crisp but fork tender. Taste, adjust the seasoning, and turn the heat off.

Reserve ½ cup of the pasta cooking water, drain and put the pasta into the pan along with the sauteed vegetables.

Add parmesan, lemon zest, half of the lemon juice, and toss well to combine. Add a touch of the pasta cooking water gradually (you don't need all of it) and stir well to combine until the pasta is nicely coated.

Serve immediately with freshly grated parmesan cheese and a drizzle of extra virgin olive oil if you wish. Enjoy.