This post may contain affiliate links. Please read my disclosure policy for more details.
This scrumptious pasta with peppers makes a terrific vegetarian meal. The sweetness from the slowly cooked peppers and onion mingles beautifully with savory olives and balsamic vinegar. And the final touch of extra virgin olive and fresh basil take this simple dish to the next level. All BIG flavors!
Like my white bean pasta or spinach pasta, this is the kind of pasta dish that everyone will devour: delicious, satisfying, and budget-friendly too.
The inspiration for this recipe comes from my mum's epic peperonata, an Italian stew made with peppers, olive oil, garlic and onion. And that was sooo good that I decided to turn her recipe – with a few twists – into an amazing pasta with bell peppers!
All you have to do is cook the peppers slowly to bring out the sweet flavor. Then add another dimension with the umami flavor from the balsamic vinegar, and balance out the sweetness with Kalamata olives. Add the pasta, give a good stir, and finish with good extra virgin olive oil and the fresh zig from the basil. Yum!
Serve with freshly grated parmesan cheese for more delicious salty flavor, (if you don't keep it vegan), or with crusty pesto bread or panini bread, and make your taste buds happy! 🙂
List of the ingredients
Pasta (penne, rigatoni, fusilli…)
Bell peppers
Red onion
Garlic
Extra virgin olive oil
Fresh basil
Salt & Pepper
How to make pasta with peppers
(Note: this is a quick explanation with step-by-step photos, the full recipe is at the bottom of the page)
Cook the peppers with seasoning and olive oil.
After 15 minutes, add the onion slices.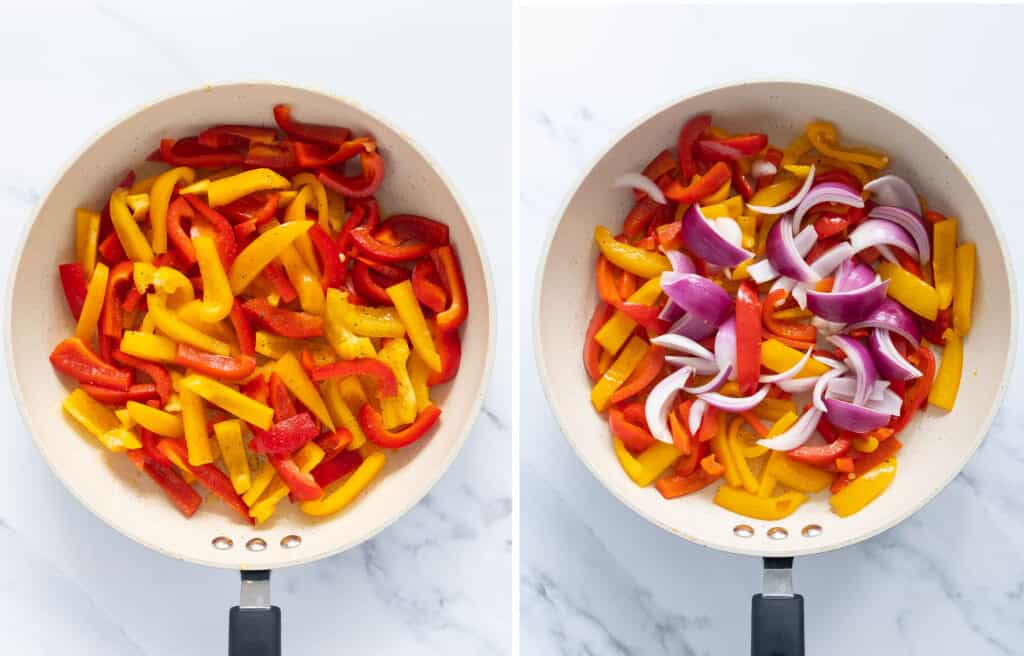 Add olives, garlic, balsamic vinegar and give a good stir.
Stir the pasta in along with some pasta cooking water, a drizzle of olive oil, and fresh basil.
Give a good toss and serve!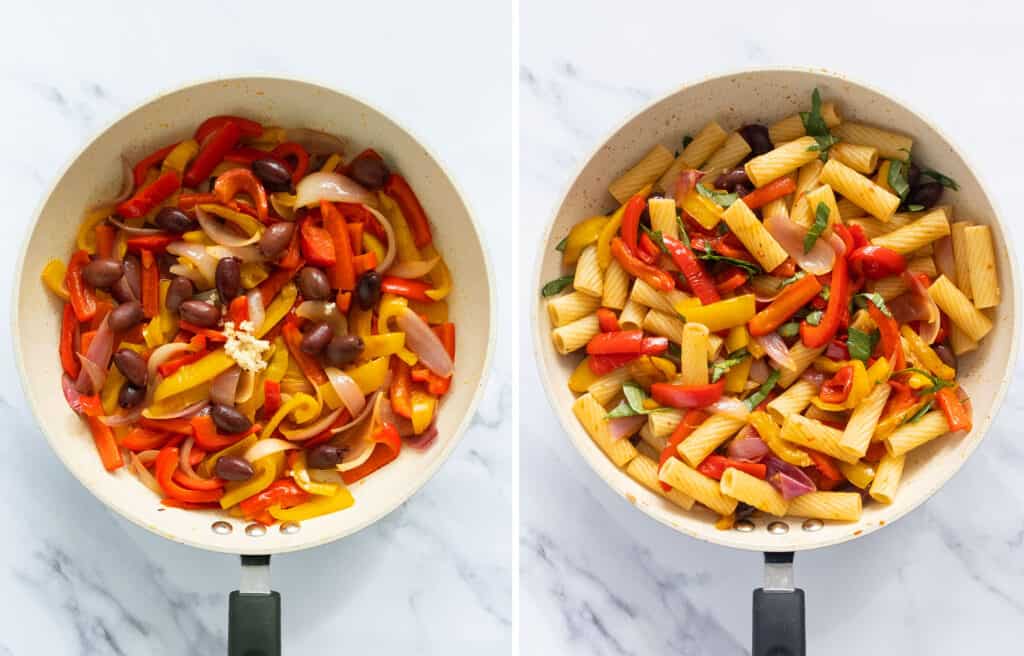 Recipe notes & tips
Tips to make pasta with peppers
Use a large non-stick pan with a lid. I LOVE this frying pan, it delivers non-stick perfection without harmful chemicals.
Slowly cook the peppers to magnify their flavor, don't rush this step. Keep an eye on the pan, stir frequently, and add a touch of water if needed.
Cut the red onion lenghtwise into chunky slices, they look nicer and hold their texture better.
Add olives, garlic and balsamic vinegar in the last few minutes of the cooking time to preserve their flavor.
Toss your pasta with peppers in the pan with a drizzle of extra virgin olive oil and a touch of starchy pasta water until evenly coated. Pasta needs to be moist to combine well with the rest of the ingredients.
Finish with plenty of fresh basil leaves.
Ingredients & substitutions
PASTA: good-quality chunky pasta like rigatoni, penne, or even spaghetti work well in this recipe. We also love whole grain pasta, it tastes good and provides extra fiber and micronutrients.
BELL PEPPERS: any color is fine (although I'm not a big fan of green peppers, but use them if you like).
OLIVES: use Kalamata olives or other good quality olives to add more savory flavor. To use up your olive leftovers, have a look at these fabulous olive focaccia or chickpea salad.
VINEGAR: If you don't have balsamic vinegar you can use 1 Tbsp of red vinegar instead. I would advice not using balsamic glazes though, they contain sugar or honey, definitely too sweet for this recipe.
ONION: use only red onion, sweeter than its counterparts, and make sure it's fresh and firm. If you don't have a nice red onion, just skip it.
FRESH HERBS: BASIL works so well along with peppers and olives, but even fresh thyme, fresh parsley or this handy parsley pesto make a lovely substitution.
PARMESAN CHEESE (optional): adds extra umami flavor and saltiness. You can also swap parmesan for crumbled feta, mozzarella pearls or goat cheese, they go so well with peppers.
VEGAN OPTION: easy peasy, just skip the cheese, it tastes delicious anyway!
EXTRA VIRGIN OLIVE OIL: finish with good-quality extra virgin olive oil to coat this pepper pasta nicely and let its flavor shine.
Want more delicious pasta recipes?
I've grown up eating all sort of pasta dishes and I'm still a massive pasta lover as you can see! Below you'll find some of my popular collections of pasta recipes:
If you make this pasta with peppers or if you have any questions, let me know by leaving a comment. I would love to hear from you! x
And for more recipe updates, follow me on Instagram, Pinterest and Facebook.
Print Recipe
Pasta with peppers
Scrumptious and full of flavor, this pasta with peppers makes a terrific vegetarian pasta dish. The slowly cooked peppers mingle with the sweet red onion, the garlic and the savory Kalamata olives. Finish with balsamic vinegar, extra virgin olive and fresh basil. All BIG flavors!
Ingredients
1 ½

Tbsp

Extra virgin olive oil, plus more to drizzle

3-4

medium-sized peppers, cut into slices

1

red onion, cut lenghtwise into wedges

2

garlic cloves, minced

¾ cup

(80-90 grams) kalamata olives, pitted

1 Tbsp

balsamic vinegar

salt and pepper, to taste

small handfull

fresh basil leaves, shredded
parmesan cheese, to serve (optional)
Pasta
7 oz

(200 grams) pasta (rigatoni, penne, fusilli, spaghetti…)
Instructions
Heat the olive oil in a large non-stick pan, then add the sliced peppers, season with fine salt and freshly ground pepper, cover with a lid and cook over medium heat for about 15 minutes. Stir frequently.

After 15 minutes stir in the the onion and cook for a further 10 minutes. Add a touch of water if needed.

When the onion and the peppers are done, add the olives, the balsamic vinegar and the garlic, give a good stir and cook for about 3 minutes. Taste and adjust the seasoning according to your likings, you might want to add an extra pinch of salt or more black pepper.

Meanwhile, bring a pot of salty water to the boil and cook your pasta until al dente, according to the package's directions. Keep in mind to reserve some of the starchy cooking water when you drain the pasta (about ½ cup should be fine).

Add the pasta to the pan along with a good drizzle of extra virgin olive oil and some of the pasta cooking water (add it gradually until needed). Addd the basil leaves and toss well until the pasta looks well coated and moist.

Divide the pasta with peppers into 4 bowls, garnish with a few extra basil leaves and serve with freshly grated parmesan cheese if you don't keep it vegan. Enjoy!
Notes
Parmesan cheese: this is a must in most Italian recipes, but Grana Padano cheese is similar in taste and style to Parmesan but it costs less, perfect for those on a budget
Storage: it keeps in the fridge in an airtight container for up to 3 days. Gently reheat in a non-stick pan with some olive oil over medium-low heat. Nutrition facts: Please note that the nutrition values are based on an online nutrition calculator.  It's an estimate only and it should not be considered a substitute for a professional nutritionist's advice. The nutrition value is for one serving (the parmesan cheese and the final drizzle of olive oil are not included).
Nutrition
Calories:
329
kcal
|
Carbohydrates:
51
g
|
Protein:
9
g
|
Fat:
10
g
|
Saturated Fat:
1
g
|
Sodium:
843
mg
|
Potassium:
370
mg
|
Fiber:
5
g
|
Sugar:
7
g
|
Vitamin A:
2884
IU
|
Vitamin C:
116
mg
|
Calcium:
39
mg
|
Iron:
1
mg