What's not to love about pasta? It's quick, tasty, cheap, filling, a blank canvas for many delicious ingredients.
Here you'll find an amazing list of incredible vegan pasta recipes: light, colorful and perfect for any occasion!
From simple midweek meals perfect for the whole family to the most impressive pasta dishes for your dinner parties.
Vegan pasta dishes loaded with wholesome ingredients, healthy vegetables, creamy pesto, and flavorsome sauces.
If you wonder how to make vegan pasta dishes that taste delicious, these 25 delish vegan recipes will help you to make the most of this humble store cupboard essentials.
Ready?
1. SPAGHETTI WITH GARLIC AND OLIVE OIL (AGLIO E OLIO) by The Clever Meal
This is a classic Italian pasta dish that requires a few ingredients, little effort and 10 minutes of prep time! Pasta Aglio e olio is so simple, so good, cheap, satisfying and it will cheer you up in a flash!
2. POTATO PASTA (PASTA E PATATE) by The Clever Meal
What to make when you've got nothing in the fridge? This creamy and utterly delicious potato pasta is your go-to recipe. It calls for a few humble and budget-friendly ingredients, it takes less than 20 minutes of prep time and $1 per serving.
3. VEGAN BROCCOLI PASTA WITH BREADCRUMBS by The Clever Meal
This is a simple, healthy and economical dish with tons of flavors, so easy to throw together in 20 minutes. Believe me, this is one of the best vegan Italian pasta recipes, and it really makes you want to eat broccoli!
4. BLACK KALE PESTO PASTA by Gathering Dreams
This vegan winter kale pesto recipe is so good, you will want to eat it every day. A truly sensational seasonal pesto recipe that you won't easily forget!
5. CREAMY VEGAN PASTA SALAD by Love & Lemons
This vegan pasta salad recipe is perfect for picnics! A creamy, no-mayo tahini dressing coats curly noodles, summer veggies & briny artichokes.
6. RAW CHERRY TOMATO PASTA by The Clever Meal
This vegan raw cherry tomato pasta is summer on a plate! Mix ripe and juicy mini tomatoes, garlic, basil and extra virgin olive oil and you get a fragrant, flavorsome no-cook pasta sauce ready in 5 minutes.
7. CREAMY SUN DRIED TOMATO PASTA WITH GARLIC SOY CURL by Vegan Richa
If you look for unique pasta recipes, this quick and delicious pasta dish will impress you! Plus, it makes a luscious meal ready in 30 minutes!
8. ONE POT SPRING PESTO PASTA WITH PEAS AND ASPARAGUS by Simply Quinoa
These amazing vegan pasta recipes are perfect for this season: whip up this spring pesto for a healthy, flavorful, veggie-packed meal ready in 20 minutes!
9. 1-POT VEGAN PUMPKIN PASTA READY IN 20 MINUTES by The Clever Meal
If you're a pumpkin lover looking for lazy but delicious recipes, this vegan one pot pumpkin pasta is for you!
A creamy, healthy and cheap pumpkin pasta which is more like a risotto-style pasta.
10. DATE NIGHT BURST TOMATO, MUSHROOM, AND GARLIC CREAMY PASTA by Jessica in the Kitchen
Another luscious and creamy pasta dish that comes together in less than 30 minutes and is loaded with flavor! it's made with burst tomatoes, sautéed shiitake mushrooms and garlic.
11. AVOCADO PASTA SAUCE by Joy Food Sunshine
This easy, healthy and deliciously creamy Avocado Pasta Sauce recipe is made with 5 ingredients and is ready in under 5 minutes!
12. PASTA & PEAS + RED PEPPER ROMANESCO SAUCE by The Simple Veganista
This romesco sauce with pasta and peas is delicious! Romesco sauce is a classic Spanish sauce made from nuts and roasted bell peppers. It blends up creamy and flavorful and it is made with accessible ingredients and ready in only 20 minutes!
13. CREAMY SPINACH PASTA WITH CHEESY GARLIC CRUMBS by Wall Flower Kitchen
This creamy, crunchy pasta dish t is so flavourful, low-fat and healthy! Ready in 25 minutes.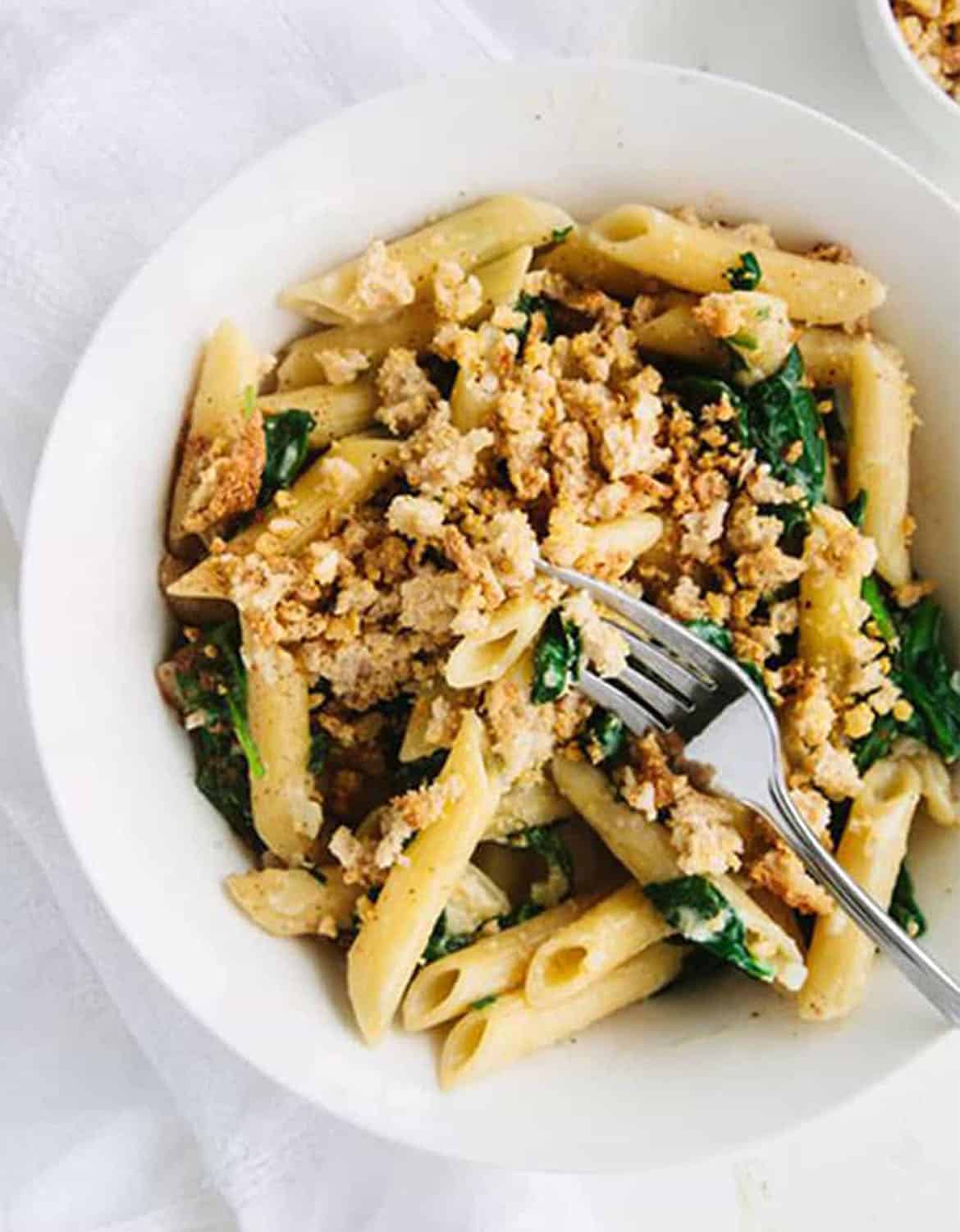 14. ROASTED RADISH LEMON CHICKPEA PASTA by Cotter Crunch
This vegan chickpea pasta recipe is packed with lemony flavor, making it the perfect light, gluten-free pasta dinner! Ready in 35 minutes.
15. CREAMY VEGAN LEMON PASTA by Green Evi
This pasta recipe is ridiculously simple and easy to make, yet if you are into lemony flavors: creamy, tangy, savory, and requires only a few ingredients to make. It's perfect for a quick weeknight dinner.
16. RED PEPPER PASTA WITH ROASTED CAULIFLOWER by Pinch of Yum
Vegan creamy tomato pasta, anyone? This pasta is totally cheeseless and dairy-free, but indulgent and loaded with veggies like cauliflower, roasted red peppers. Delicious and ready in 15 minutes.
17. CREAMY VEGAN SHITAKE AND KALE PASTA by Love and Lemons
This is a healthy weeknight dinner coated in a simple, delicious 5-ingredient sauce made with miso and cashews. You'll love this veggie-packed pasta dish, it looks so inviting and delicious!
18. PEA PESTO PASTA WITH SUN-DRIED TOMATO AND ARUGULA by Minimalist Baker
This gluten-free pasta is tossed in a creamy, incredibly flavorful vegan pea pesto. It's so delicious and nutritious!
19. VEGAN GARLIC ALFREDO PASTA by Jessica in the Kitchen
This spring pasta dish makes a creamy and cheesy weeknight dinner, absolutely decadent and made with a cashew cream sauce. The sauce is made easily in your blender and it takes no time!
20. VEGAN SPAGHETTI ALLA PUTTANESCA by Cookie and Katie
This simple and flavorsome pasta recipe is made with pantry staples but it tastes fresh and delicious.
That's how to cook the best vegan spaghetti!
21. VEGAN WALNUT PESTO CAVATAPPI by Blissful Basil
This vegan walnut pesto pasta comes together in 20 minutes, is super healthy, satisfying and it looks so pretty!
22. CREAMY VEGAN PASTA SAUCE by Lauren Caris Cooks
This delicious creamy vegan pasta sauce is made using cauliflower as a base. It's light, full of flavour and delicious!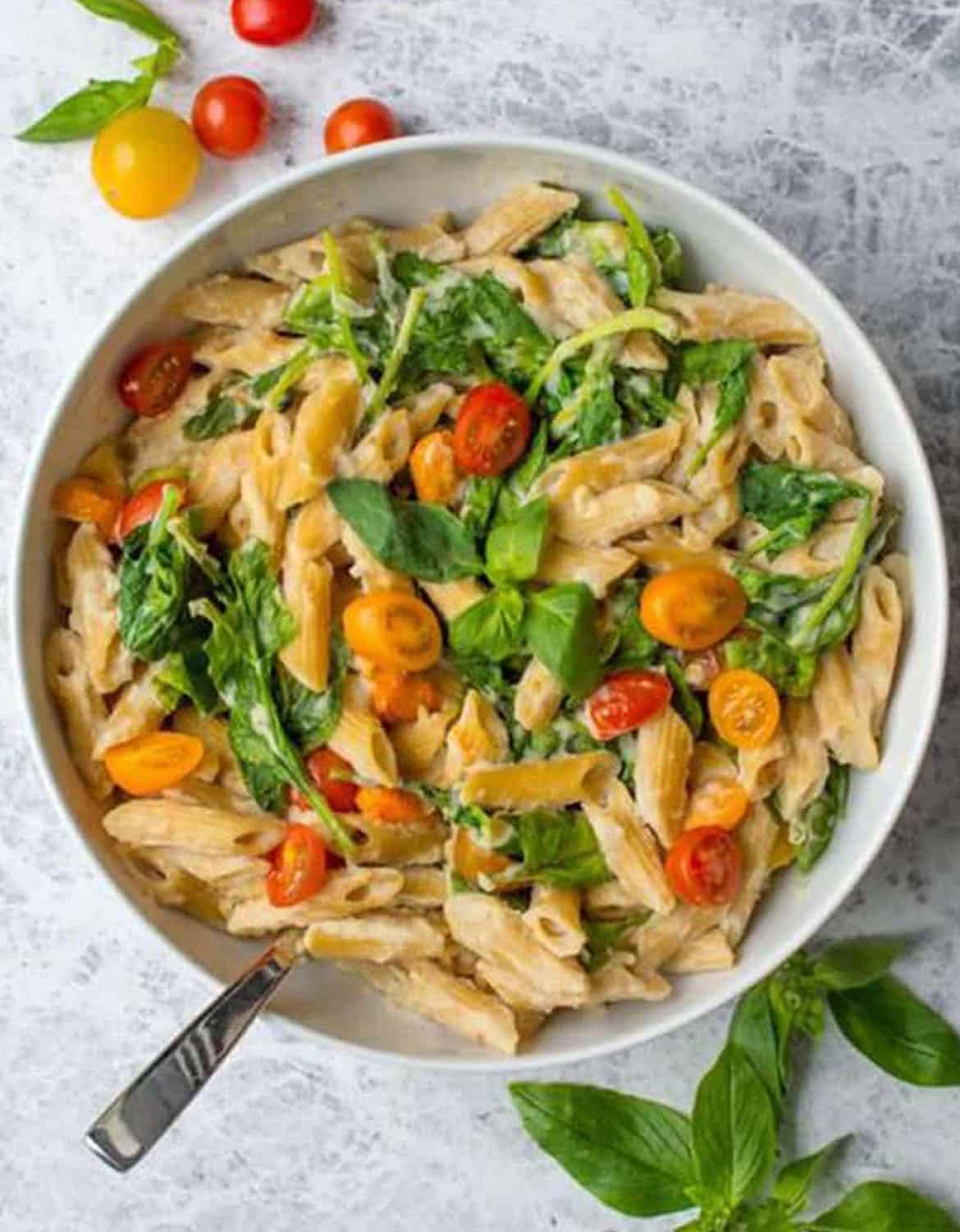 23. LEMON GARLIC PASTA SKILLET WITH GREEN BEANS by Cook Nourish Bliss
Healthy and easy, one-pot lemon garlic pasta skillet. Filled with green beans and whole wheat pasta! Fast, fresh & light and perfect for spring!
24. VEGAN ROASTED RED PEPPER PASTA BY The Minimalist Baker
You'll love this 10-ingredient roasted red pepper pasta with a creamy, savory-sweet red pepper sauce and fresh parsley. Light, healthy, and simple!
25. PUMPKIN AND CHICKPEA PASTA WITH CREAMY MISO SAUCE by Full of Plants
What about a heart-warming pasta dish with roasted pumpkin and crispy chickpeas with a rich and creamy cashew miso sauce? Delicious!
NOTES & FREQUENTLY ASKED QUESTIONS
CAN VEGANS EAT PASTA?
Generally, pasta is 100% vegan and contains no animal ingredients. Simply check the package label, and make sure pasta doesn't contain any eggs.

IS PASTA HEALTHY?
YES. Pasta is definitely part of a healthy diet, as long as it's eaten in moderation.
And If you switch to whole grain pasta you'll get more natural fiber and micronutrients than white pasta.
Fiber is an important part of your diet, it helps control blood sugar and reduces appetite. Plus, research shows that eating three servings of whole-grain food per day helps you to live longer : )
Plus, if you load your whole-grain pasta with delicious seasonal vegetables, your pasta dish will be packed with nutrients and definitely healthy.
WHAT'S THE BEST PASTA?
I love pasta and I take the whole thing quite seriously. Yes, I'm Italian 😉.
First things first, pasta brand matters, and when you chose pasta, have a proper look at the label and go for durum wheat semolina pasta, possibly made with brass or bronze dies. Needless to say, cook it until al dente!
The premium quality pasta is a bit more expensive than basic pasta, but it's resilient, it has a more robust texture and holds sauces beautifully.
I love cooking on a budget, but cheap overcooked spaghetti makes me feel so sad!
LOOKING FOR MORE VEGAN RECIPES?
Here you'll find more incredible vegan recipes, you'll be amazed by the variety:
These vegan pasta recipes look full of colors and flavors, healthy and light dishes that even non-vegans will love! If you make one of them, let me know! Leave a comment, rate it or tag a photo #theclevermeal on Instagram. I would love to hear from you!
Print Recipe
25 AMAZING VEGAN PASTA RECIPES
What not to love about pasta? It's quick, tasty and filling, a blank canvas for many delicious and healthy ingredients.
Here you'll find an amazing list of yummy vegan pasta recipes, light, colorful and perfect for any occasion!