This post may contain affiliate links. Please read my disclosure policy for more details.
This easy one-pot tomato basil pasta recipe with ricotta requires only one pot, minimal effort, and it's ready in less than 20 minutes. It's a delicious cozy family meal perfect for on-the-go weeknights!
The best part is that you don't have to cook and drain the pasta separately, but the pasta cooks with the flavorsome sauce all in one pot.
And not only cooking all together means quicker dinner, and less hassle and pots to wash, but it also delivers amazing results. The pasta absorbs all the flavor from the sauce and releases the starch making the final dish rich and luscious.
Add the fresh basil at the end of cooking to preserve its beautiful aroma, and finally complete with ricotta and grated parmesan cheese to take it over the top!
Believe me, this one-pot penne pasta is a no brainer, versatile, and you'll be asked for seconds.

List of the ingredients
Short pasta shapes (penne, fusilli…)
Canned diced tomatoes
Ricotta
Freshly grated parmesan
Basil
Olive oil
Garlic
Paprika (optional)
Oregano
Salt & Pepper
How to make one-pot tomato basil pasta
(Note: the full recipe is at the bottom of the post)
Saute' garlic, oregano and paprika in olive oil.
Add tomatoes, water, salt, pepper and the pasta.
Cover with a lid and cook until al dente.
When the pasta is nearly done stir in the fresh basil.
Then finish the dish with ricotta, parmesan and give a good stir. Done!
RECIPE NOTES
Tips to make one-pot tomato basil pasta
Start sauteing the minced garlic in some olive oil. Don't skip this step, it takes only seconds and definitely adds a deeper flavor (better than adding the whole garlic cloves to the sauce).
Choosing short pasta shapes such as penne, fusilli or bow-tie makes this method even easier and doesn't require you to stir constantly, definitely an added bonus!
Add salt at the beginning, not at the end. While cooking, pasta soaks up flavor and saltiness from the sauce. You can always "adjust" the seasoning according to your taste at the end, if you wish.
Cooking time might vary according to the pasta brands and shapes. However, cooking the pasta into into the tomato sauce will take a bit longer than the cooking time give in the package instructions.
One-pot tomato basil pasta variations
This is definitely a customizable one-pot penne pasta recipe, and you can easily add protein or vegetables of your choice:
Firstly, you can substitute ricotta with cream cheese, mascarpone, soft goat cheese or crumbled feta. These cheese are tasty and rich, start with 1/3 cup and add more only if needed, trust you judgment here. However, you can skip the cheese all together if you wish to keep it vegan, it will be delicious anyway!
You can add fresh vegetables such as 10 oz of raw baby spinach in the last minutes of the cooking time. But also leftover sauteed vegetables such as peppers, zucchini, or kale will work (add them along with the basil).
Shredded grilled chicken makes another delicious add-on if you wish.
What do to with leftover ricotta?
If you are wondering what to do with the leftover ricotta, I've got you cover with these delicious recipes:
Looking for more one-pot pasta recipes?
If you love hearty one-pot pasta recipes full of vegetables and legumes, you've come to the right place. Below you'll find some of my favorite Italian recipes:
If you make this one-pot basil tomato pasta, or if you have any questions, let me know! Leave a comment or rate it. I would love to hear from you! 
And for more recipe updates, subscribe my newsletter and follow me on Instagram, Pinterest and Facebook.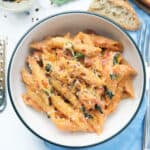 Print Recipe
One-Pot basil Tomato Pasta with Ricotta
This easy one-pot basil tomato pasta with ricotta is full of flavor, it requires only 1 pot, minimal effort, and it's ready in less than 20 minutes. A delicious cozy family meal you can make without boiling the pasta first, perfect for on-the-go weeknights!
Quantities yield 4 small servings or 2 large ones.
Ingredients
1

Tbsp

Olive oil

2

large garlic cloves, minced

½

tsp

oregano

½

tsp

paprika

1 can

(14 oz)

diced tomatoes

1 ¾ cups

hot water, plus more if needed

¾

tsp

fine salt, plus more to taste

¼

tsp

freshly ground black pepper, plus more to serve

8oz

(220 grams)

short pasta shapes (penne, fusilli, bow-ties…)

1 small bunch

fresh basil leaves, shredded

½ cup

(4oz/120 grams)

ricotta

⅓ cup

(1oz/30 grams) grated parmesan, plus more to serve
pinch of chili flakes, to serve
Instructions
In a large pot or Dutch oven, warm the olive oil then add garlic, paprika and oregano. Saute' for about 45 seconds until fragrant.

Add the tomatoes, hot water, salt, pepper, the pasta, give a good stir and bring to the boil.

Reduce the heat to medium, cover with a lid and cook until al dente (start checking the doneness according to the cooking time stated on the package, although it might take a bit longer with this method).

Stir every 3-4 minutes and keep an eye on the amount of liquid. It might look a lot at first, but magically the pasta will absorb it by the end of the cooking time. But if at some point you think it needs more, just add a little bit of hot water.

When the pasta is still al dente add the shredded basil leaves and give a good stir.

Then finish with ricotta and parmesan cheese, stir to combine and serve immediately with extra parmesan cheese if you wish, and a good pinch of chili flakes. Enjoy!
Notes
Nutrition facts: Please note that the nutrition values are an estimate based on an online nutrition calculator.  It's an estimate only and it should not be considered a substitute for a professional nutritionist's advice. The nutrition value is for one serving.
Nutrition
Calories:
324
kcal
|
Carbohydrates:
43
g
|
Protein:
14
g
|
Fat:
10
g
|
Saturated Fat:
4
g
|
Cholesterol:
22
mg
|
Sodium:
532
mg
|
Potassium:
194
mg
|
Fiber:
2
g
|
Sugar:
2
g
|
Vitamin A:
590
IU
|
Vitamin C:
1
mg
|
Calcium:
173
mg
|
Iron:
1
mg