This post may contain affiliate links. Please read my disclosure policy for more details.
These crispy crostini with ricotta and peas make a delicious canapé full of fresh flavor and with a lovely texture. The perfect vegetarian appetizer or snack ready in minutes!
And if you think that peas sound boring, this simple recipe will surprise you at first bite. Then it's so economical and easy to whip up, perfect for any gathering all year round.
Crostini means "little crusts" in Italian, small slices of bread toasted until crisp which in this recipe are piled with creamy ricotta, tender peas, lemon zest and fresh mint. Doesn't that sound delicious?
Basically, all you have to do is toast your bread, blanch the peas then toss them with good olive oil – preferably extra virgin olive oil – lemon zest, mint and seasoning. Then top the crostini with soft ricotta and the bright peas.
Done, your crostini with ricotta and peas are ready!
Plus, If you rely on the convenient frozen peas all year round or you have your home grown peas (lucky you, I'm so jealous!), I'm sure you'll love this collection of delicious pea recipes, or these quick peas and carrots and pasta with peas.

List of the ingredients
A small baguette
Fresh or frozen peas
Ricotta cheese
Lemon zest
Fresh mint
Extra virgin olive oil
Salt & pepper
HOW TO MAKE CROSTINI
(Note: the full recipe is at the bottom of the post)
Bake the slices of bread until crisp
Blanch the peas in boiling water for about 1-2 minutes
Drain and rinse them with cold water (to preserve their bright color)
Toss the peas with olive oil, lemon zest, mint, salt and pepper
Top the crostini with ricotta and peas, and serve!
RECIPE NOTES & TIPS
INGREDIENTS
Bread: seeded or regular baguette is perfect. The baguette should be small enough that once sliced the slices are pretty small like canapés. Cut into ½ inch slices, brush them with extra virgin olive oil and toast them in the oven. Alternately, you can toast them in a frying pan with a small amount of olive oil… I love that nutty flavor!
Peas: both fresh or frozen peas work. Frozen peas are fine with almost any recipe, they're delicious, convenient and have pretty much the same health benefits as their fresh counterpart.
Ricotta: fresh ricotta makes a wonderful base for the pea topping, and if you wonder what to do with the leftovers, I've got you cover with these delicious lemon ricotta pasta, pasta with zucchini or sun dried tomato pesto. We don't waste anything!
Extra virgin olive oil: the least process form of olive oil, healthy and full of flavor, definitely the best if you ask me. (Yes, I've got Italian roots :).
Lemon zest and fresh mint: they make the difference, don't skip them. I use this grater for the lemon zest, it's amazing, but any other fine grater would work.
CAN I MAKE CROSTINI WITH RICOTTA AND PEAS AHEAD OF TIME?
These crostini are perfect for a party, and you can make a large batch of the topping ahead of time, even the day before. However, since the topping is very moist, you want to assemble the crostini at the last minute, so the bread doesn't go soft.
Looking for more vegetarian or vegan appetizers?
If you love party food and appetizers full of vegetables and flavor (I do!), check out this fantastic collection of 50+ vegan appetizers! Plus, I've dropped here some of my favorite bruschetta and dip recipes for you, delicious and inexpensive:
If you make these crostini with ricotta and peas or if you have any questions, let me know! Leave a comment, send me a message, or rate it.
I would love to hear from you! 💛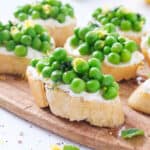 Print Recipe
Crostini with ricotta & Peas
These crispy crostini with ricotta and peas are totally delicious, they get texture, fresh flavor and they make a lovely vegetarian appetizer or snack ready in minutes! NOTE: the pea and ricotta topping is enough for about 12 crostini, but you can easily double the quantities.
Ingredients
12

small slices of baguette, about ½ inch thick (even thinner if you wish)

1-2

Tbsp

extra virgin olive oil, as needed
Ricotta & pea topping
1 cup

(120 grams)

fresh or frozen peas

8

mint leaves, shredded (or more to taste)

½

lemon, grate only the zest

½ cup

(120 grams)

ricotta cheese

salt & pepper, to taste
Instructions
Crostini
Preheat the oven to 340°F/170°C (better not to use the broiler since it could easily burn the bread) and line a baking sheet with parchment paper.

Use a serrated knife and cut the baguette into thin slices, about ½ inch or even a bit thinner if you wish. Lightly brush each side of each slice with extra virgin olive oil.

Place the slices on a single layer on the baking sheet and bake until crisp and slightly golden, it takes about 6-7 mins, keep an eye on them. Remove from the oven and let them cool.
Topping
Bring a small pot with water to a boil and blanch the peas for about 1 minute or until tender. Drain, rinse them with cold water straight away to preserve their bright color, and drain well again.

Place the peas into a bowl and add the lemon zest, the shredded mint leaves, extra virgin olive oil, salt and pepper. Taste and adjust the flavor and the seasoning according to your liking until the flavor pops up.

Spread a thick layer of ricotta on top of each slice of bread, than top with the peas, and drizzle with extra virgin olive oil or extra lemon zest if you wish. Serve immediately.