This post may contain affiliate links. Please read my disclosure policy for more details.
Turn a bunch of mint leaves into a refreshing mint syrup! It requires only 4 ingredients, 10 minutes of prep time, and it's brilliant for adding a delightful sweet mint flavor to your drinks.
Added bonus? It doesn't contain artificial flavor, preservatives or food coloring.
If you've got a vigorous mint plant in your backyard like me, this recipe is for you. It's really a no brainer and it's great to use up all that fresh, amazing mint leaves.
It's essentially a simple homemade syrup packed with fresh mint flavor, bright lemon and sweetness from sugar. You're going to fall in love!
It's so easy, economical and keeps well in the fridge, absolutely perfect to add a refreshing twist to your summer drinks, juleps, ice creams and more!
So if you wonder what to use fresh mint leaves for, this should be definitely on your to-do list this summer.
Here is what you need…
List of the ingredients
Fresh mint
Water
Sugar
Lemon
How to make mint syrup
(Note: this is a simply description with step-by-step photos, the full recipe is at the bottom of the page)
Wash and pat dry your mint leaves.
Combine water, lemon peels, and sugar in a small saucepan.
Bring the mixture to the boil, reduce to a simmer and add the mint leaves.
Cook, stirring frequently, for about 5 minutes until the sugar dissolves.
Turn the heat off and let it rest until cool.
Discard the leaves, lemon peal, and pour the syrup into a glass bottle. Done.
Recipe notes & FAQ
How to use homemade mint syrup?
Add one or two tablespoons of mint syrup to a glass of cold water along with lime juice or lemon juice, garnish with ice cubes and mint sprigs.
Of course, make refreshing mint juleps to enjoy this summer.
Drizzle over ice cream and cakes for a delicious twist.
Use it as a sweetener for your tea, coffee or cappuccino.
Mix your mint syrup with some soda, or use it for cocktails, rum, mojitos or any other beverages.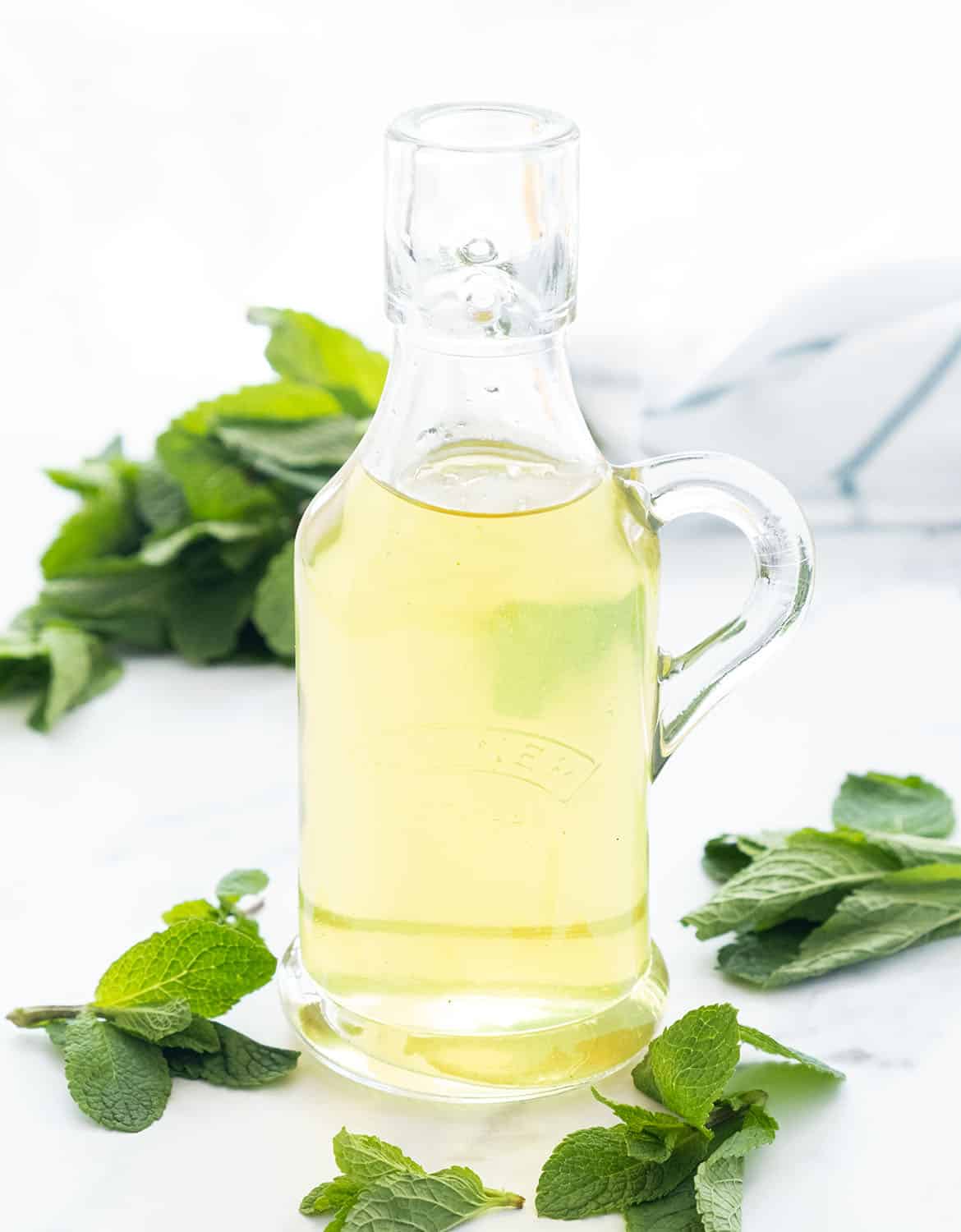 How long can you keep it?
It keeps well in the fridge, stored in a a glass bottle or mason jar, for up to 1 month.
Note: this syrup recipe contains plenty of sugar which works as a preservative. It's sweet, but it's intended to be used in small quantities.
More mint recipes you'll love!
What to use fresh mint leaves for? Here are a few delicious recipes to use up all those bright, fresh mint leaves:
If you make this mint syrup or you have a question, let me know by leaving a comment. I would love to hear from you! x
And for more recipe updates, follow me on Instagram, Pinterest and Facebook.
Print Recipe
Mint Syrup
Turn plenty of mint leaves into a refreshing mint syrup! It's delicious, economical, and it requires only 4 ingredients and 10 minutes of prep time.
Ingredients
1 cup

(240 ml)

water

¾ cup

(150 grams)

sugar

1

cup

mint

½

lemon, peel (optional)
Instructions
Remove the mint leaves from the sprigs, measure about 1 cup of packed leaves and rinse them well.

Place water, sugar, lemon peel into a small pot and bring to the boil.

Add mint leaves, reduce the heat, and cook for about 5 minutes.

Turn the heat off and let it rest for about 1 hour or until cool.

Strain through a fine-mesh strainer to remove mint leaves, pour into a glass bottle or a glass jar and keep refrigerated.