This post may contain affiliate links. Please read my disclosure policy for more details.
When life gives you mint, what do you make? Here I've gathered 18 delicious refreshing mint recipes that will delight you this summer!
Plenty of cold drinks, colorful salads, pesto, sauces, all easy recipes perfect to use up a bunch of fresh and healthy mint leaves.
One of my favorite things about summer is the bounty of fresh mint that is just outside my doorstep. Those lovely green leaves are so versatile and add instantly more flavor, color and delicious smell to any drink or savory dishes.
I sprinkle mint on everything, I add it to fresh summer salads, to desserts, to smoothies, and I drink mint infused water all the time!
Mint will also add a fantastic twist to summer cocktails and is perfect packed into a mojitos for the upcoming al fresco parties.
Along with its amazing clean taste, mint provides plenty of health benefits too. It's packed with antioxidants, vitamin A, antibacterial and anti-inflammatory properties, and it's great to soothe upset stomachs.
Not only is mint versatile in the kitchen and good for your health, but this perennial herb is also extremely easy to grow indoors in a pot on the windowsill. That means it's economical, sustainable, and you don't even need a garden.
So, if you wonder what to do with a lot of fresh mint, I'm here to help with this roundup of refreshing easy recipes. And if you make mojitos, please give me a shout. ; )
This bright, zesty mint pesto is loaded up with delicious fresh flavors. It's easy to make in the food processor and perfect to toss it, scoop it, drizzle it, stir it into salads, soups, roasted veggies, potatoes and more! It's also freezable in small convenient portions.
These crispy crostini make a delicious canapé full of fresh lemon and mint flavor and with a lovely texture. The perfect vegetarian appetizer or snack ready in minutes!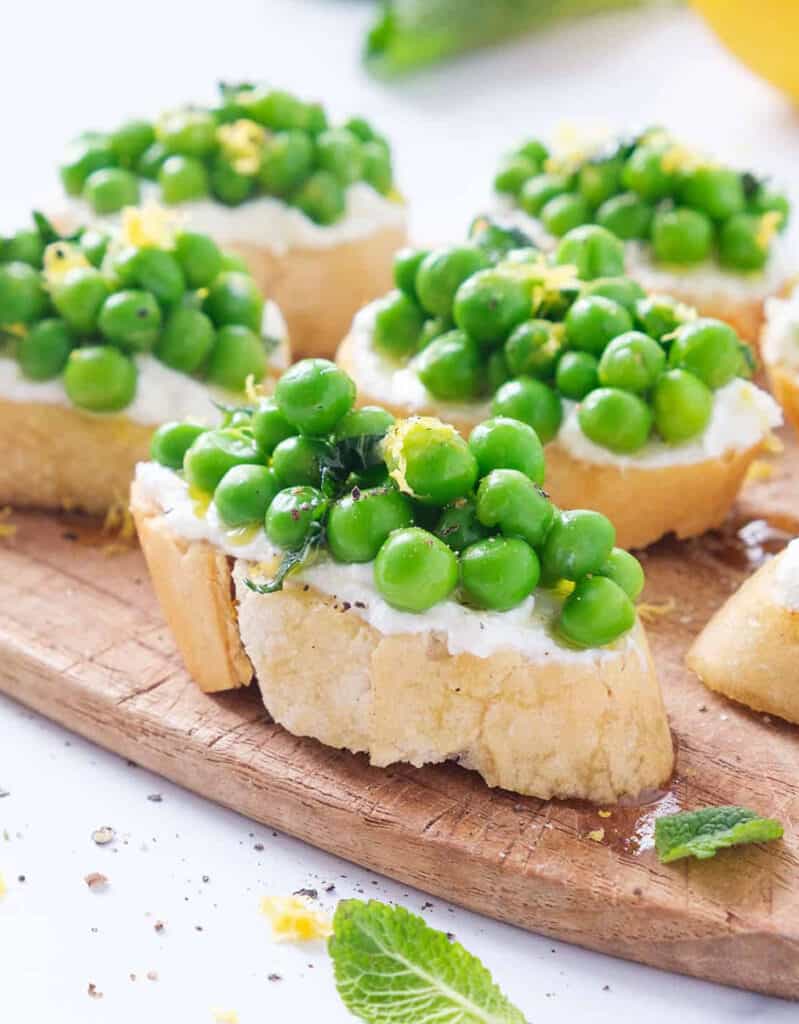 This simple mint syrup requires only 4 ingredients, 10 minutes of prep time, and it's brilliant for sweetening and adding a lovely mint flavor to your drinks. It's easy, economical and doesn't contain artificial flavor, preservatives or food coloring. Why not to serve it with lovely mint ice cubes? : )
This quick salad with mint is delightful, filling and packed with flavor. The combination of plant-based protein, veggies, fresh mint and the tangy dressing makes a wonderful main course or a side dish, and keeps well for days.
This mojito with mint is one of the best way to cool off on a hot summer day. The recipe is super easy, a refreshing combination of herbaceous mint, tart lime, and fizzy soda water. YUM.
This easy mint yogurt sauce only requires 1 bowl and 5 minutes of prep time, and it's so deliciously fresh, zippy, and versatile.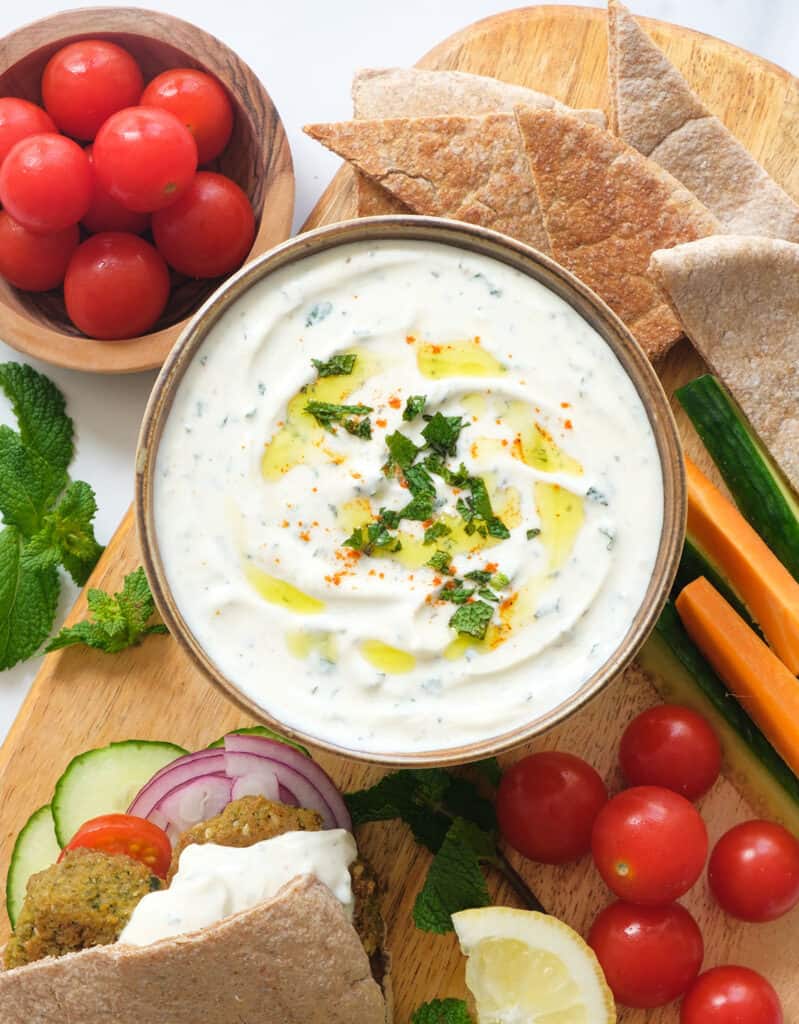 For this simple, velvety pea soup you need just a handful of ingredients including fresh mint that lends its amazing refreshing flavor pairing so well with the starchy peas.
This healthy mint water requires only 3 ingredients, no sugar, and it's a breeze to make. It helps you to stay hydrated all year round and helps your digestion, especially if you add a touch of lemon juice. You can use mint or peppermint which has a slightly stronger flavor.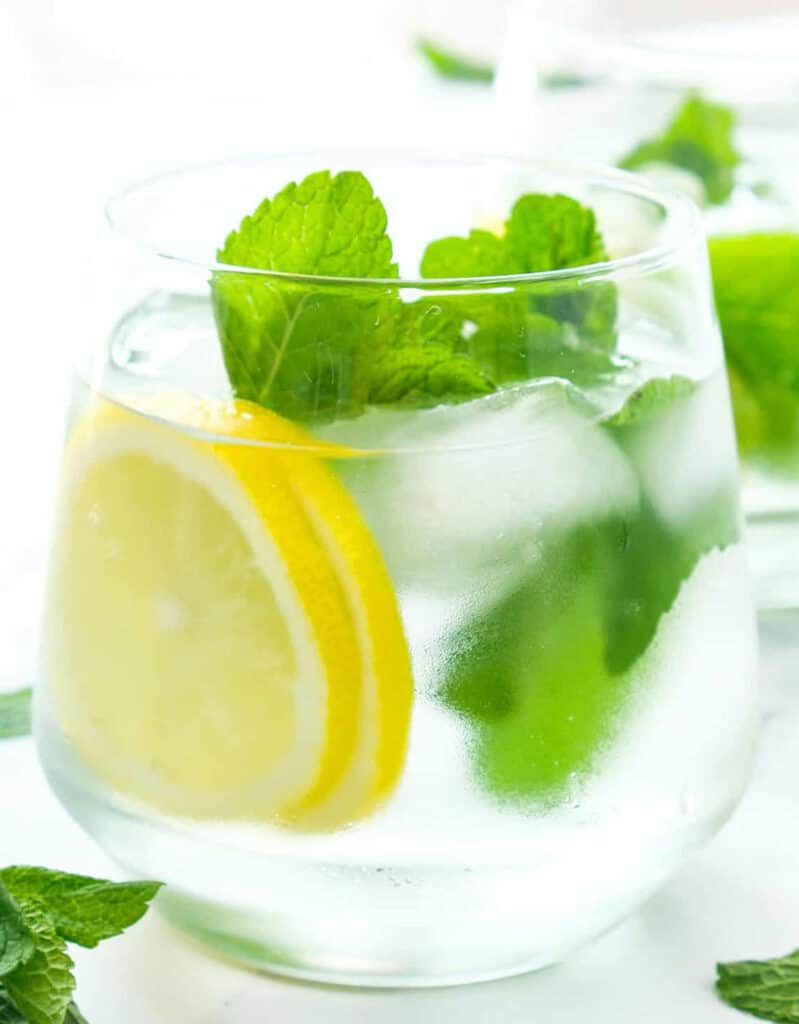 This easy mint green sauce uses a mix of three herbs: mint, parsley and dill. The combination of different fresh herbs results in a complex flavor, vibrant green color and a ton of antioxidants and vitamins! Added bonus? It can be used basically everywhere and tastes delicious.
This wonderful Indian salad pairs really well with rich, spicy curries. It's made with slices of juicy tomato, sliced red onions, and a drizzled of lovely mint dressing made with raita, the scrumptious green mint sauce made with yogurt.
If you like refreshing cocktails (WE DO), this mint julep is perfect for you. It's another simple, totally delicious recipe that uses fresh mint and perfect for cooling off all summer. It's ready in just 5 minutes!
These vegan brownies celebrate the perfect mint-chocolate combination! They're moist on the inside, covered with an AMAZING mint glaze and make a scrumptious summer dessert.
This lovely, refreshing salad recipe is perfect for hot summer days. With feta cheese, avocado, mint & lime, it's a delicious mix of savory & sweet.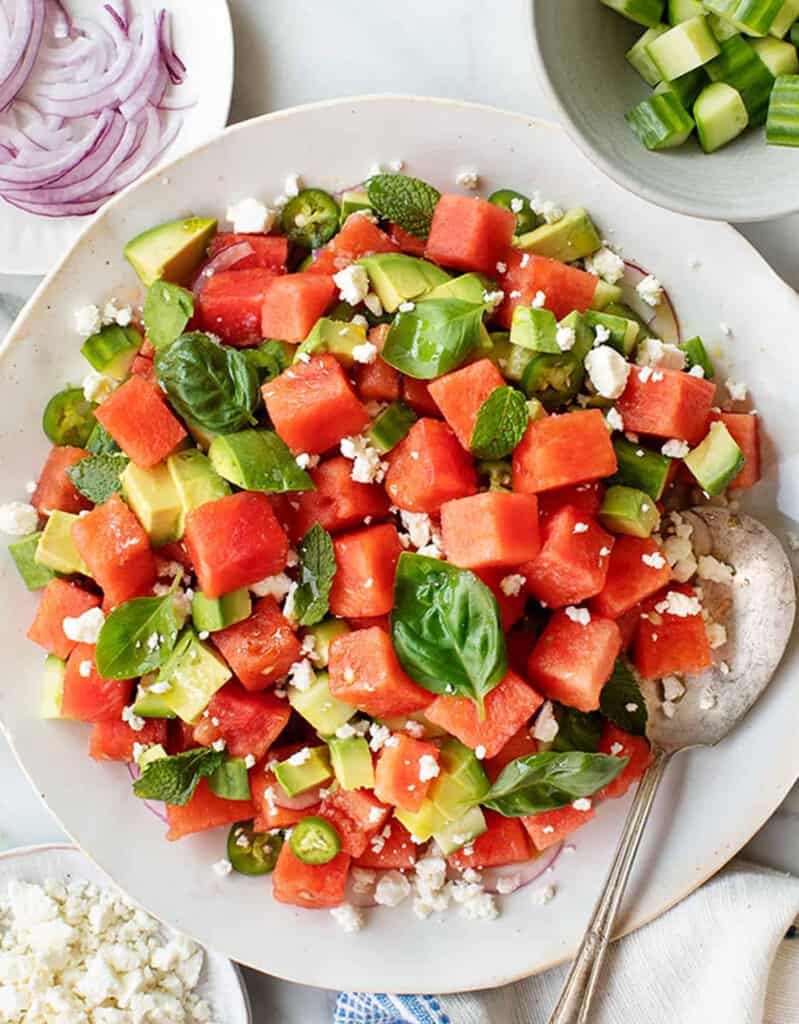 The spearmint lends such a refreshing quality to cool drinks and frozen treats that seems to be just perfect for this ice cream. The end result is light and slightly icy like sorbet, but as sweet and satisfying as gelato. YUM.
This can be your go-to salad recipe for summer picnics and BBQs. It is packed with vitamins and flavor, simple to make yet addictively good. And it improves if you make it ahead of time.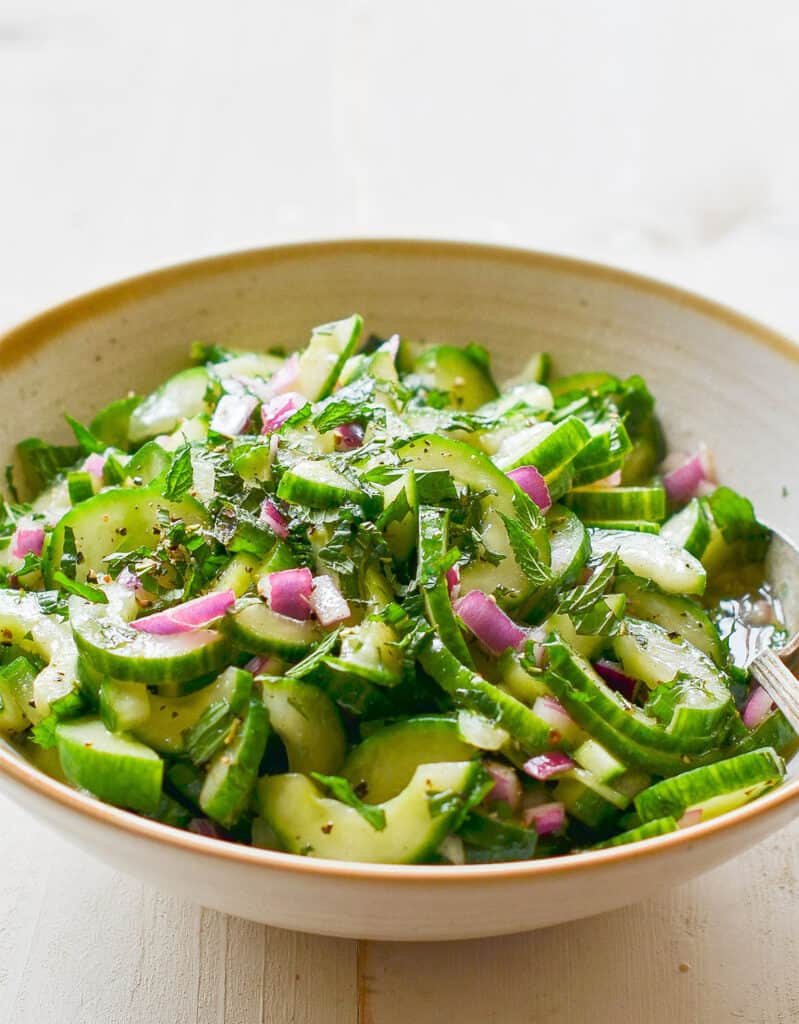 This another lovely recipe from one of my fellow blogger, it's a calming, fragrant orange and mint tea that you can make in not time, and perfect for relaxing in the afternoon or evening. The hint of citrus flavour compliments the mint beautifully!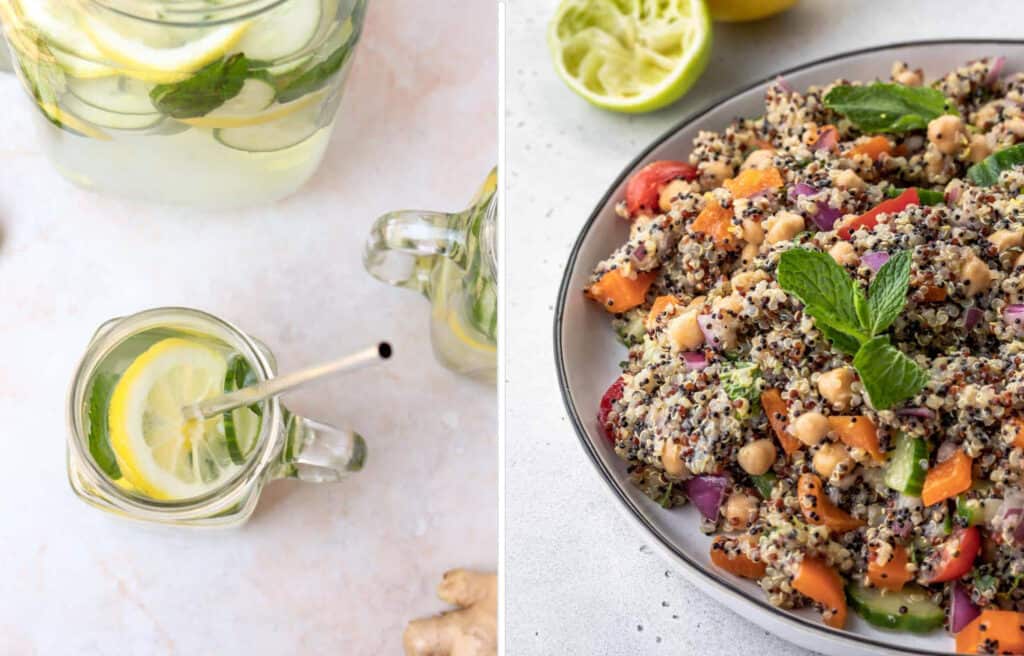 More recipe collections?
Gathering similar recipes all in one place is so handy and gives ideas about how to use up specific ingredients! Below there's a few roundups that you might find helpful:
If you try one of these delicious mint recipes, let me know! Leave a comment, rate it or tag a photo #theclevermeal on Instagram.
Print Recipe
18 Mint recipes: Mint Water
This refreshing, healthy, low-calorie mint water is one of my fav mint recipes! It requires only 3 ingredients, no sugar, and it's a breeze to make. It's perfect when you have guests over or to motivate yourself or your kids to drink more water.
Ingredients
½

cup

mint leaves, plus additional leaves for garnish

1

liter

cold water, still of sparkling

1

lemon, washed and sliced (optional)
Instructions
Remove any damaged or brown mint leaves from the sprigs and wash them well.

Put them into a carafe and fill up with the cold water. Stir, make sure the leaves are submerged in water.

Cover with plastic wrap and put in the fridge to rest for 1 hour.

Serve cold, garnished with fresh mint leaves and ice if you like.
Notes
Storage: keep the mint water in the fridge, covered with plastic wrap so that it doesn't absorb other odors in the fridge. It keeps well for up to 2 days.