This post may contain affiliate links. Please read my disclosure policy for more details.
These 34 delicious recipes with canned tomatoes are the supreme example of how to make the most of this versatile, convenient pantry staple.
Canned tomatoes are budget-friendly, healthy, and their bright flavor and juice make a wonderful base for quick pasta dishes, hearty soups, stews and more!
Stockpiling good-quality cans of tomato sauce and diced tomatoes comes in handy an endless number of times. And if you need to whip up a quick meal with just a handful of basic ingredients, this pantry super hero will come to the rescue in no time.
I've gathered here for you some of my favorite recipes using crushed, cherry, diced and whole canned tomatoes. From hearty soups, chilis and stews to delicious quick pasta recipes and pizza, these recipes are perfect for any tomato lovers!
Ready to use up what's in the pantry and make flavorful meals? Get a can opener and check out these brilliant ideas to turn this store cupboard essential into scrumptious family meals!
Pasta recipes with canned tomatoes
Along with canned tomatoes, pasta is another one of our favorite pantry staples!
If you look for quick budget-friendly meals, these easy recipes with canned tomatoes and pasta will get you covered!
Pasta arrabbiata is one of our favorite recipes with canned tomatoes! It's super easy and packs a ton of flavor. All you need is a handful of cupboard staples and 20 minutes of prep time for a delicious pasta dish that cheers you up!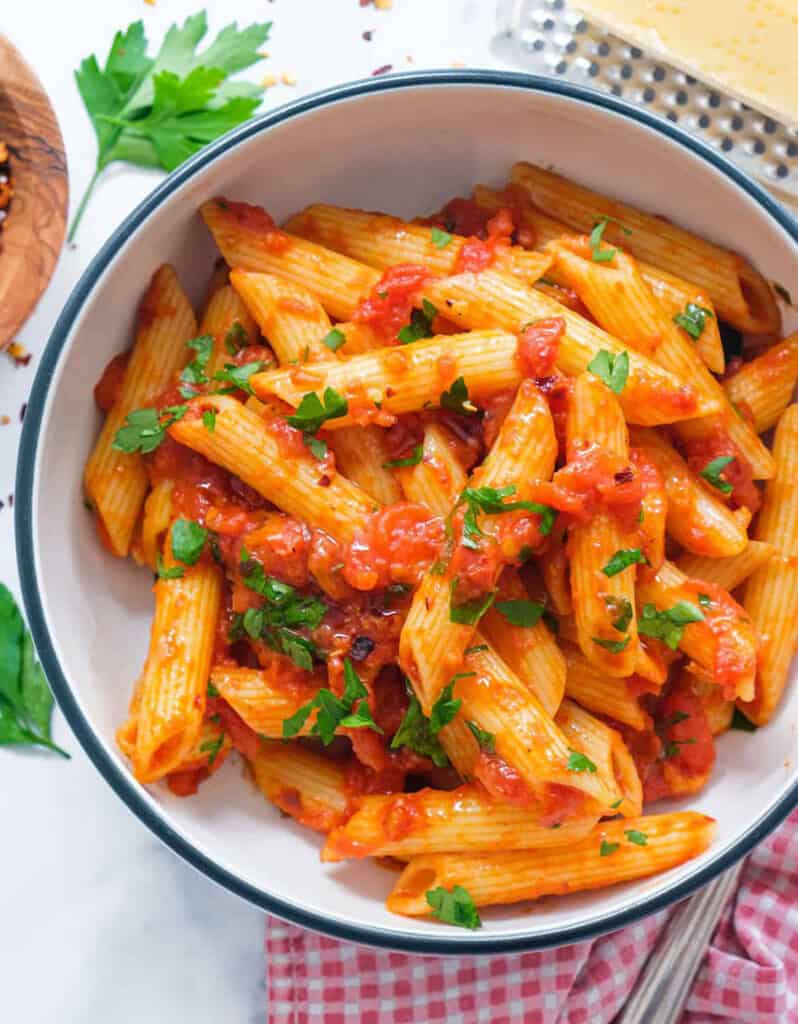 This easy pasta Napoletana turns canned tomatoes and onion into a terrific pasta dish. It's a no brainer, and you can get a delicious weeknight family meal on the table in less than 30 minutes. Don't forget fresh basil and grated parmesan chese… Yum!
This vegan creamy tomato pasta infused with Italian herbs uses delicious tomato passata and cashew nut cream. But you can use pretty much any cream you like. it's silky, indulgent, and it tastes incredibile.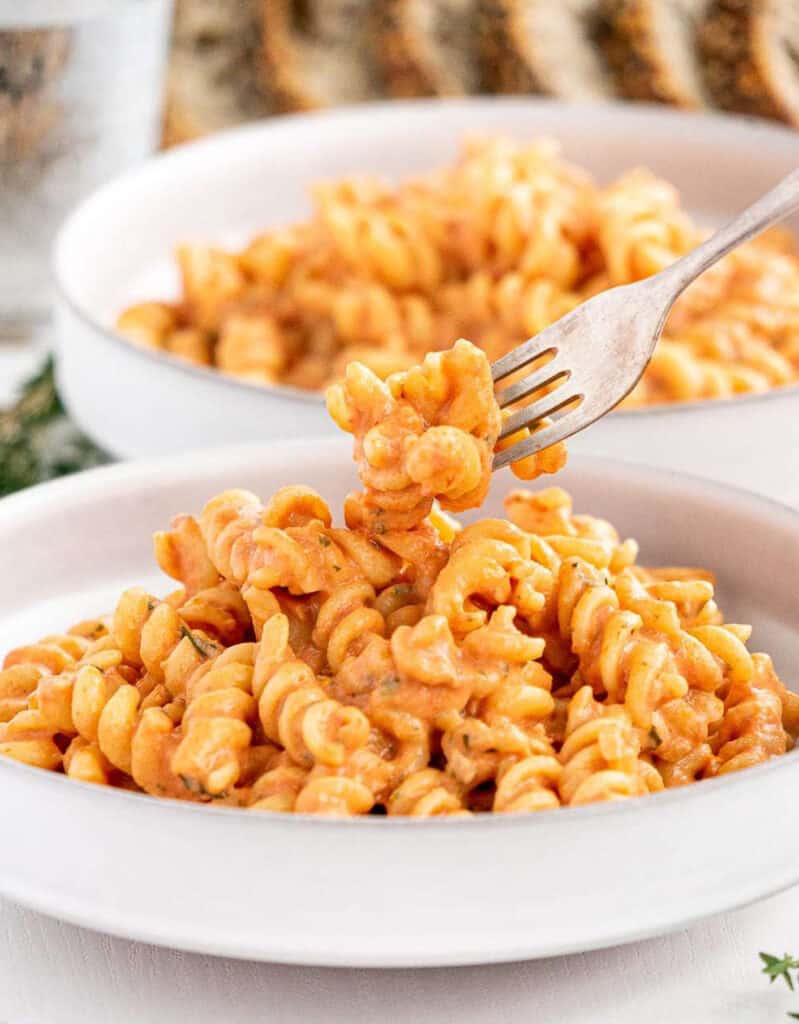 These luscious Italian pasta recipes are hard to resist and perfect for a crowd.
This marinara sauce is another terrific recipe with canned tomatoes and ready in no time! It's ready in 20 minutes and it will turn your plain spaghetti into something good!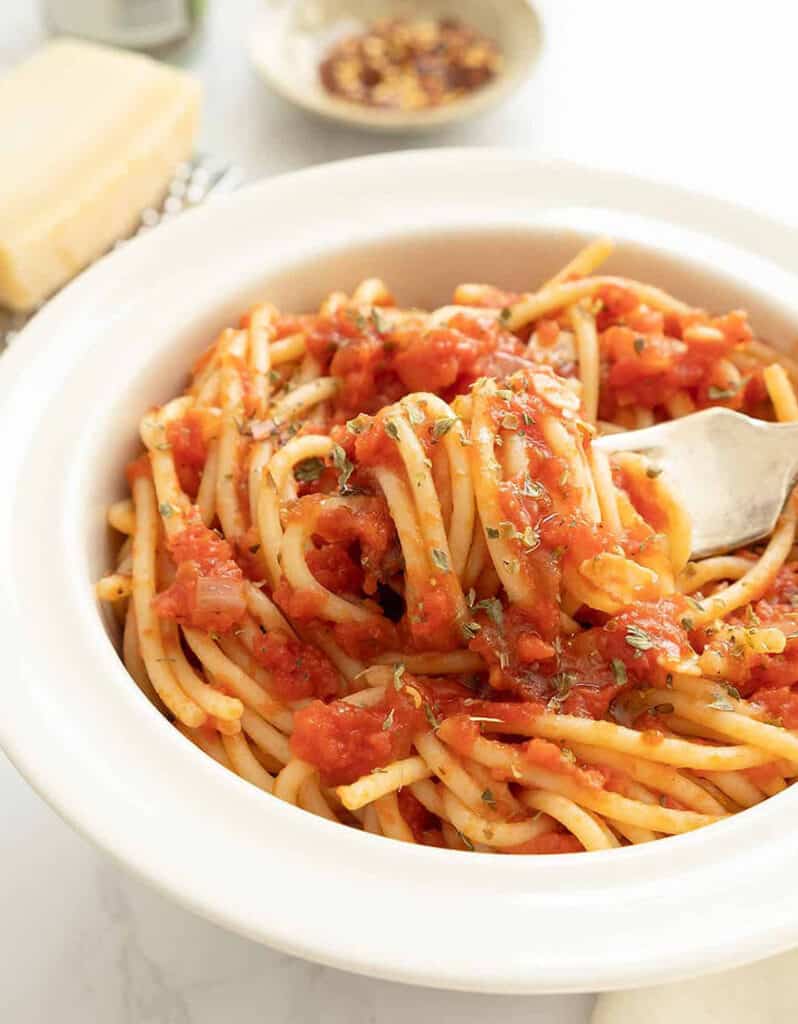 This tomato spinach chicken pasta recipe is delicious with tender pan-fried chicken nestled in a creamy tomato spinach sauce. It's quick and easy for busy weeknights!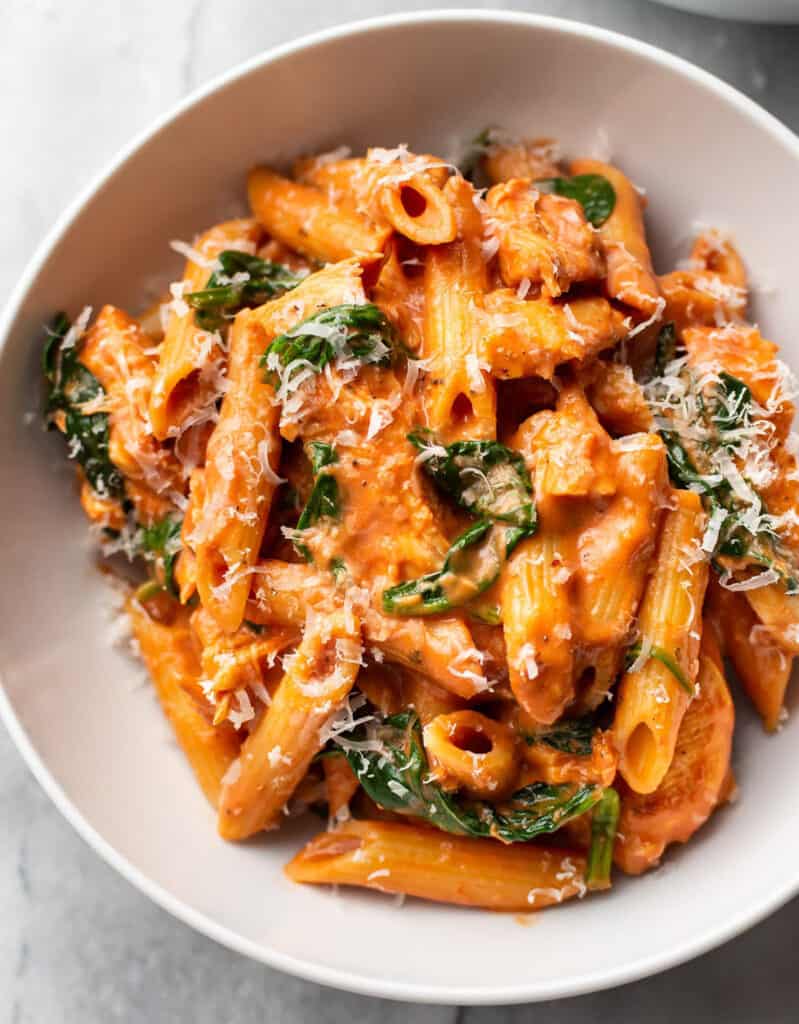 This scrumptious recipe uses black beans and canned tomatoes to make a flavorsome vegan bolognese sauce. It's healthy, inexpensive, and full of nutrients. Serve with freshly grated parmesan cheese!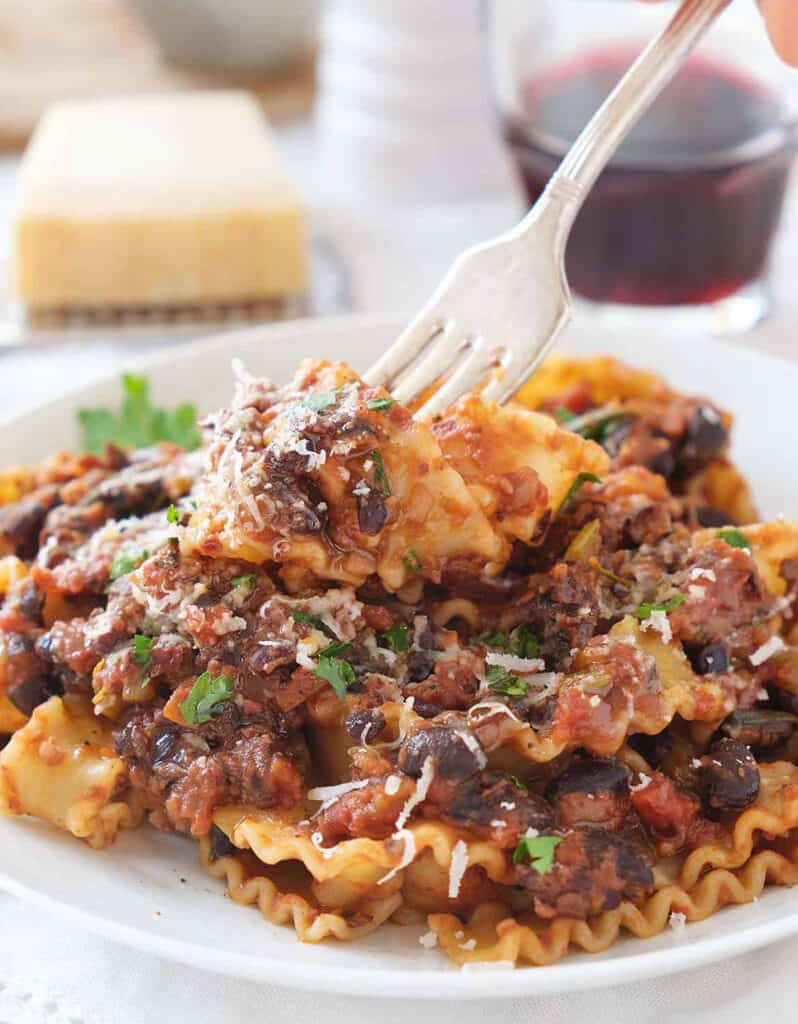 These are two of our favorite kid-friendly meals, that adults love too.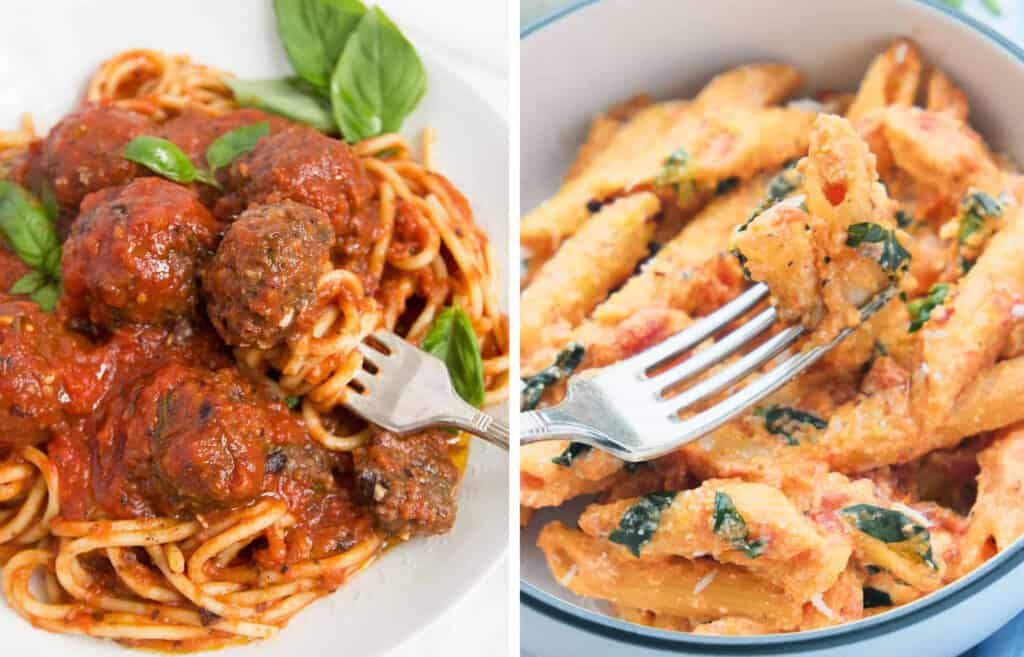 Soup & stew recipes with canned tomatoes
What to do with canned tomatoes? Turn them into a warming, healthy soup! These recipes prove that this pantry essential is a must for flavorsome soups and stews.
This delicious soup is made with red lentils, tomatoes, curry powder, and fresh cilantro. It's spicy, economical and so easy to whip up with everyday ingredients. Serve with an extra pinch of red pepper flakes and crusty bread!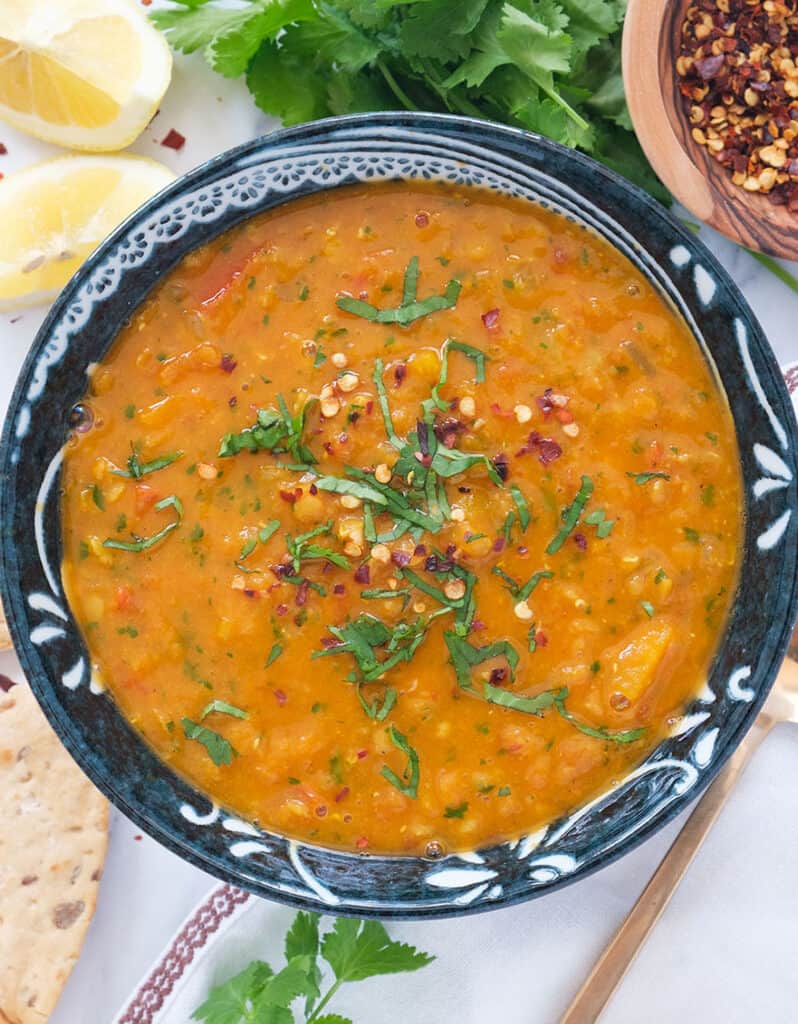 This easy tomato stew makes a deliciously filling vegetarian meal in just one pot. It's healthy, economical, and packed with nourishing veggies. Serve it with rice or these crusty panini rolls, and you can call it dinner!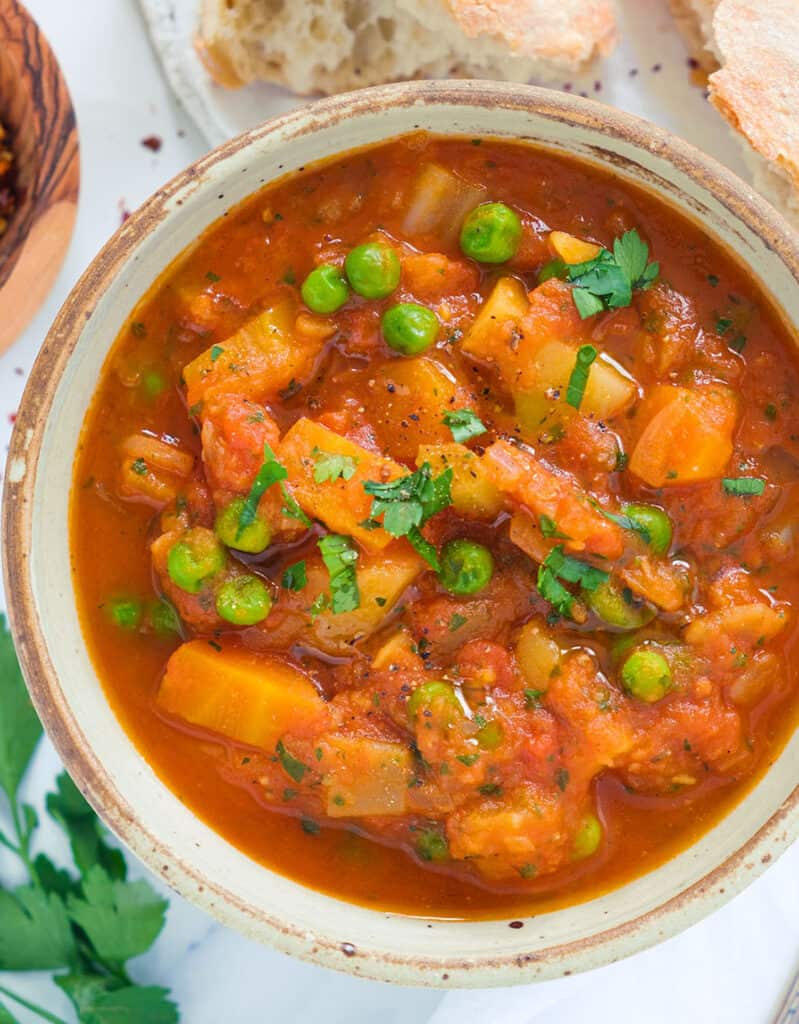 This tasty recipe is one of my favorites all year round. It's loaded with vegetables, beans and kale with a rich, tomato broth. Plus, each serving comes with less than 200 calories.
Not only are these amazing soups full of nutrients, but they look spectacular too!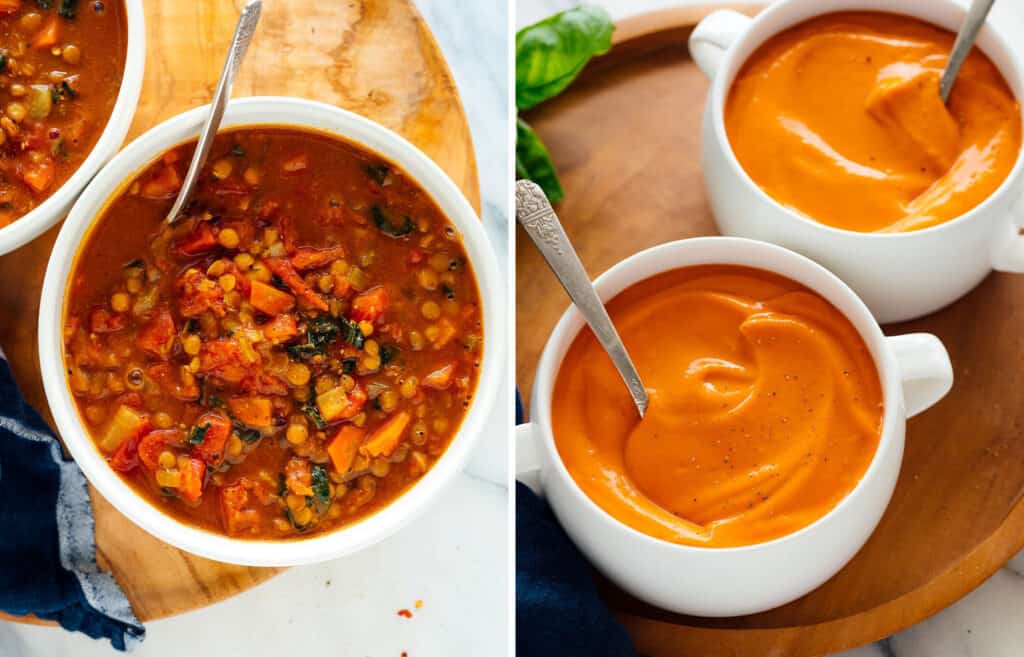 You'll love this hearty chickpea stew, it's a nourishing meal that nicely warms you up. The mix of veggies and chickpeas is cooked in a deliciously spiced tomato broth infused with paprika and oregano. It's rich, thick and full of flavor. Serve it with crusty bread or rice for a delicious filling meal.
These stew and soup with canned tomatoes make wonderful and affordable family meal, and they look super delicious.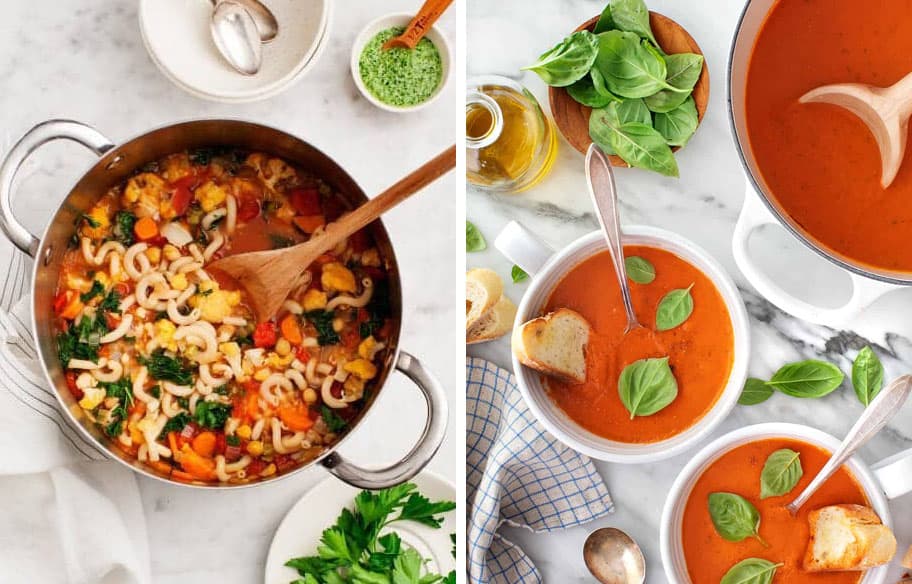 This hearty chickpea soup is full of flavor and protein, it comes together fast and makes a quick yet delicious dinner. Plus, it's made from scratch with cupboard staples and spinach from the freezer.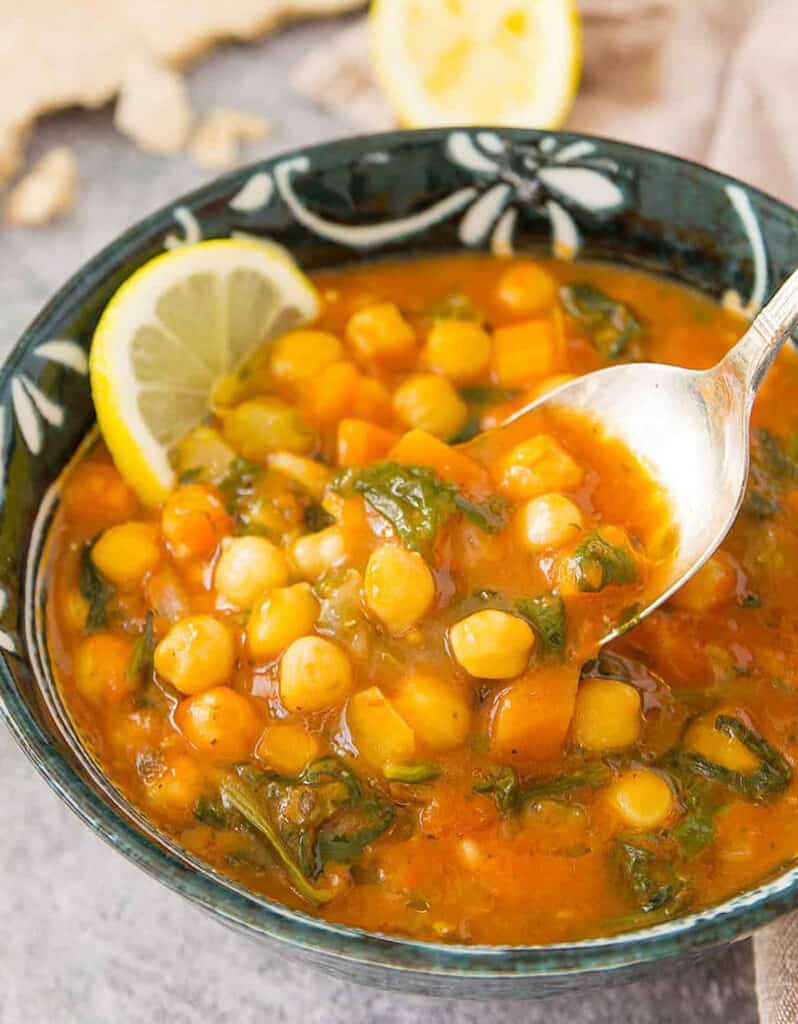 Here there are more of my fav favorite soups: they're easy, low calories, packed with flavor, and economical.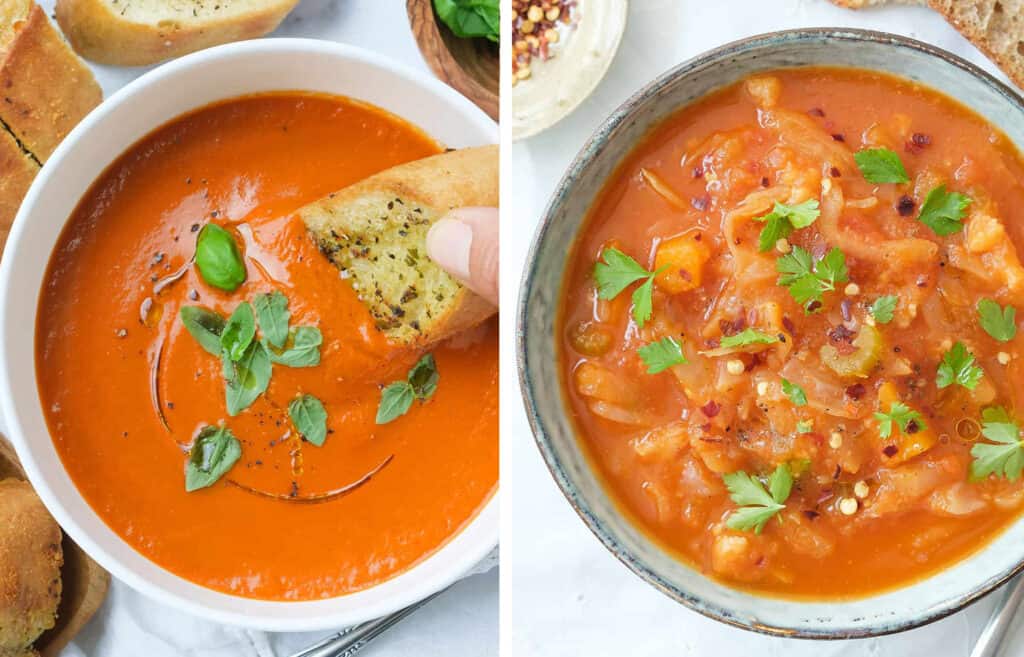 Making your homemade healthy tomato soup is so easy! The addition of sweet potatoes gives a creamy texture and at the same time balances the acidity of tomatoes. This is one of our go-to soup recipes with canned tomatoes, and we love it with fresh basil leaves and crusty garlic bread!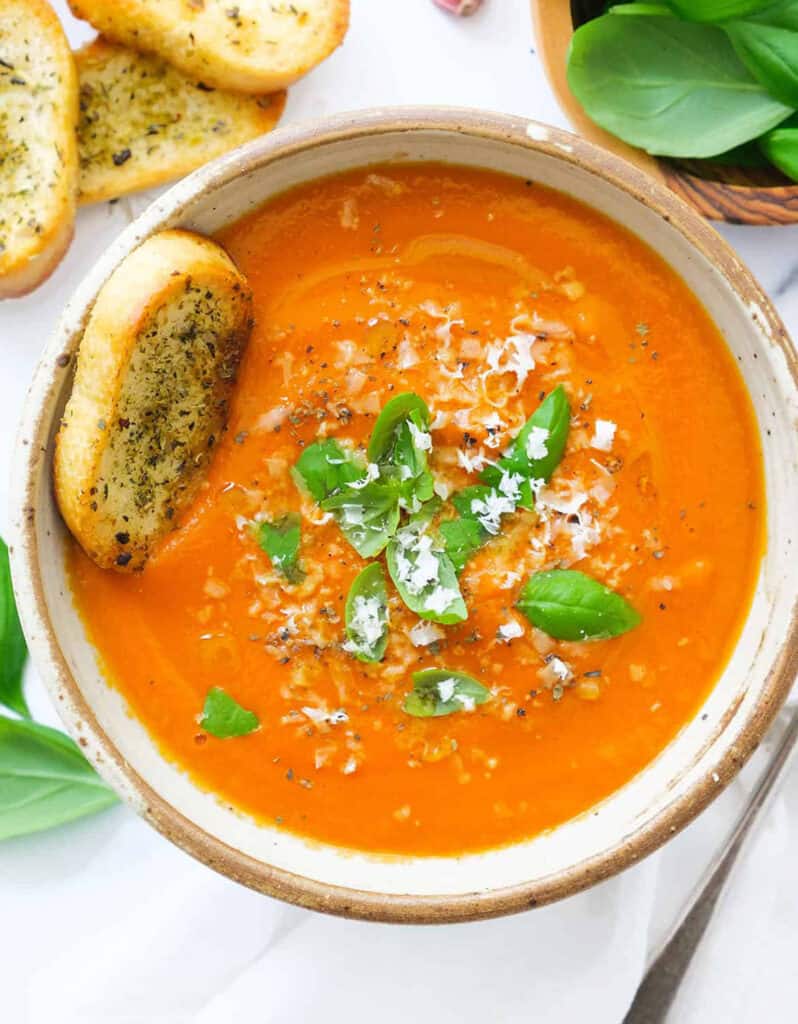 These tikka masala and curry are brilliant to use up pantry staples, and make nourishing, healthy meals.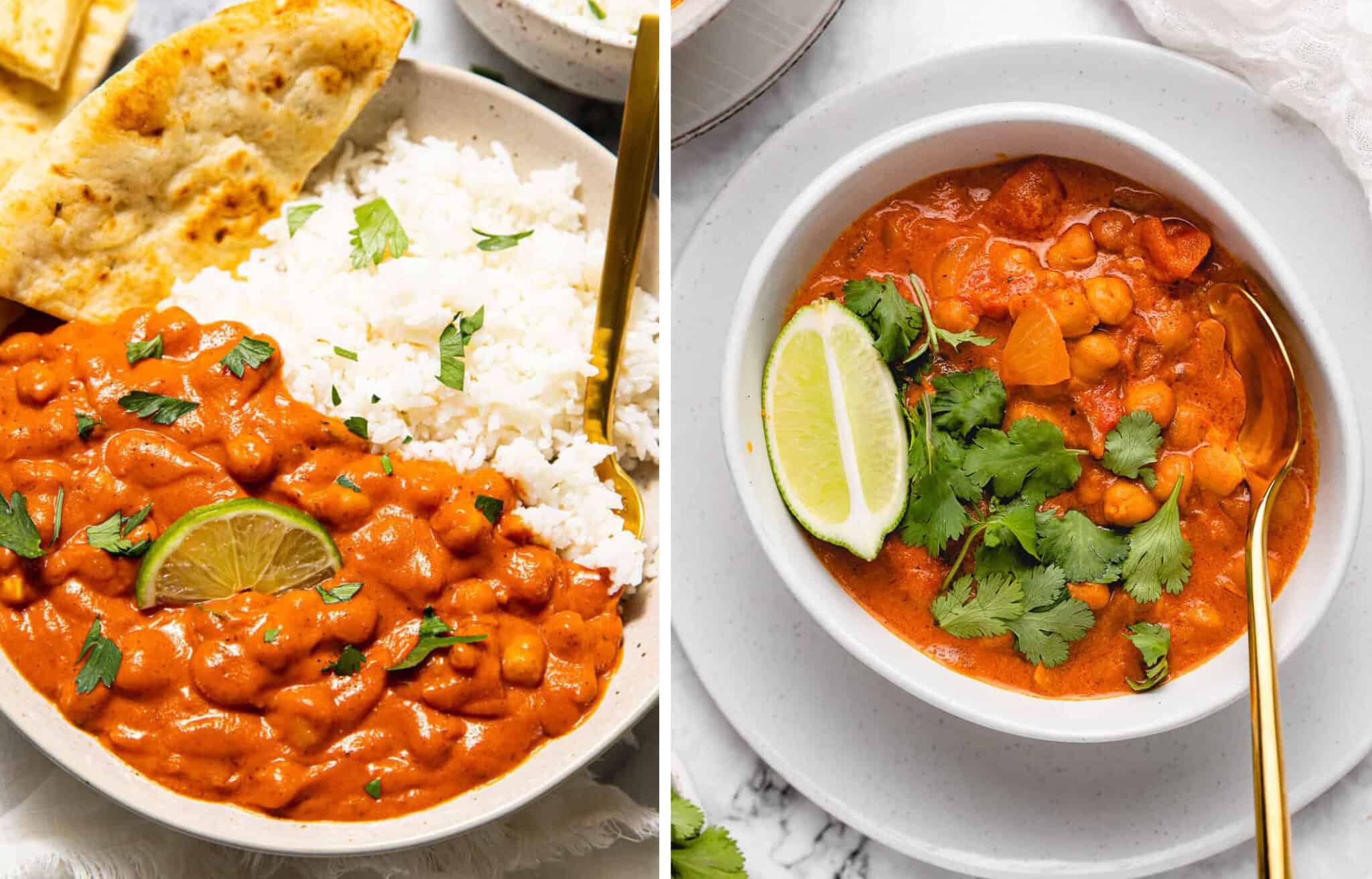 More recipes with canned tomatoes…
Not only pasta and soups, but the humble tomatoes make fantastic pizza sauce, pasta bakes, juicy chicken recipes and more…
This no-cook easy pizza sauce is simplicity at its best: it's full of bright flavor, deliciously fresh, and ready in a couple of minutes. Make sure you use premium quality canned tomatoes such as real San Marzano D.O.P. peeled tomatoes, or the best canned cherry tomatoes you can find. Their quality can make or break the recipe!
This easy pizza with arugula is one of our favorite pizza recipes! The pizza sauce is made with canned cherry tomatoes, and the pizza crust is topped creamy mozzarella, fresh arugula and delicious shaved parmesan cheese.
It's so simple yet full of flavor.
What about these scrumptious lasagna or chili for lunch?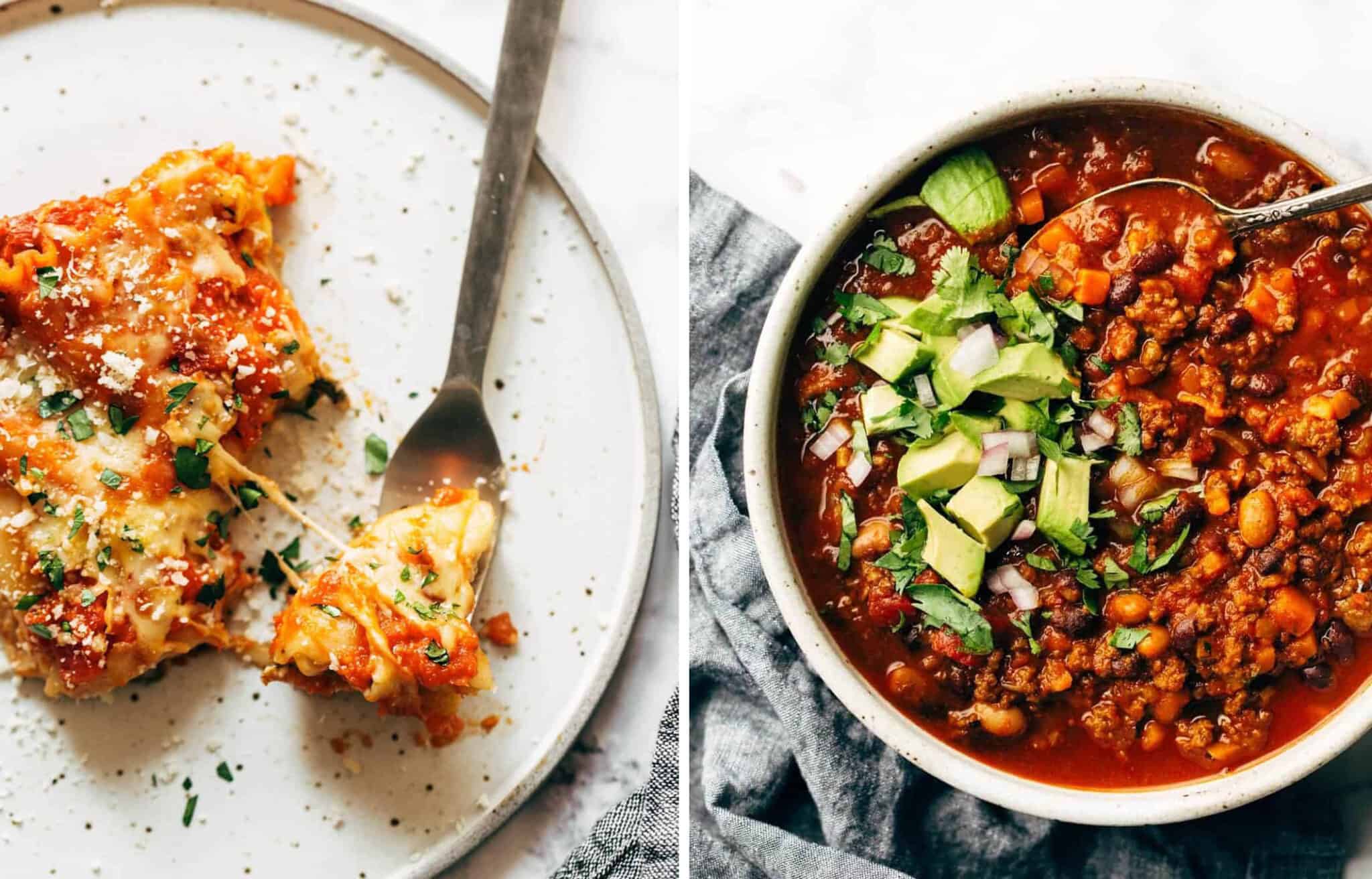 This creamy tomato chicken is simple to make in a skillet, delicious, and uses everyday ingredients. The tomato sauce in this recipe uses a combo of tomato paste, cream, and fresh tomatoes for a silky and bright sauce. A little garlic and Italian seasoning punch up the flavor even more.
Here are some of the best salsa recipes with canned tomatoes!
Another delicious crunchy pizza crust simply topped with tomato sauce, creamy mozzarella, salty anchovies capers and oregano. Serve with a glass of white wine or cold beer for a terrific pizza night!
If you look for vegan, healthy recipes with canned tomatoes, I've also found these delicious recipes for you to try.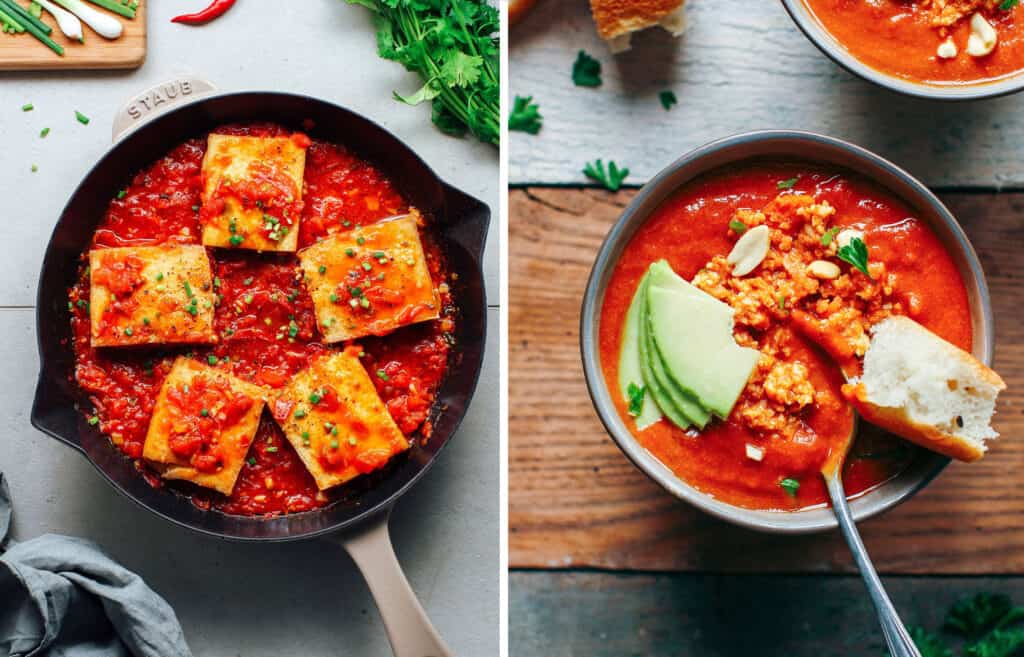 Recipes with canned tomatoes: FAQ's
Are canned tomatoes good for you?
Canned tomatoes are low in calories and packed with vitamins and fiber. They're also an excellent source of lycopene, a powerful cancer-fighting antioxidant found in the highest concentrations in canned tomatoes and tomato paste.
What are the healthiest canned tomatoes?
First of all, buy only good-quality canned tomatoes that do not contain preservatives or additives. On a label, you want to see the fewest ingredients as possible such as tomatoes and tomato juice, that's it. Simple is best.

In order to make the healthiest choice possible, you might want to check if their can is BPA-free. Although many manufactures use BPA-free packaging, it's worth paying attention to it.
More budget-friendly family recipes?
If you look for more inexpensive recipes that make fabulous family meals, check out these soup and pasta ideas featuring everyday ingredients:
I hope you'll enjoy these recipes with canned tomatoes. And let me know if you have any questions, I would love to hear from you x
And for more recipe updates, subscribe my newsletter and follow me on Instagram, Pinterest and Facebook.
Print Recipe
34 delicious recipes with canned tomatoes
What to do with canned tomatoes? I've got you covered with these 34 delicious recipes. Here is a scrumptious pasta napoletana, one of our favorites listed in the post above. It's easy to whip up and totally delicious!
Ingredients
Pasta
8oz

(220 grams) spaghetti or bucatini (short pasta is fine too)
Napoletana sauce with canned tomatoes
1

Tbsp

olive oil or extra virgin olive oil, plus more for drizzling

1

medium-sized onion, finely chopped

2-3

garlic cloves, minced

1 can

(14oz/400 grams)

tomatoes (whole, diced or cherry tomatoes)

½

tsp

fine salt, plus more to taste

⅛

tsp

ground black pepper

1

handful of basil leaves, chopped or torn

3

Tbsp

Tbsp grated parmesan, to serve
Instructions
Pasta
Bring a large pot of salted water to the boil. Start cooking the pasta about 5 minutes after you start making the sauce.

Cook pasta per packet instructions until al dente. Reserve ½ cup of pasta cooking water, then drain pasta.
Napoletana sauce with canned tomatoes
Heat the olive oil in a large pan and when it starts shimmering add the diced onion. Cook over medium heat until soft and translucent, it will take 5-6 minutes.

Stir in the minced garlic and cook for 2 minutes until fragrant.

Add the tomatoes, salt and few twist of black pepper and give a good stir. Let it cook over medium heat for about 15 minutes until it's slightly reduced. Stir occassionally, and if you use whole tomatoes break them with a back of a spoon.

When the sauce is ready, taste and adjust the seasoning according to your liking.

Add the drained pasta to the pan along with the fresh basil and toss until well combined. Add a touch of reserved starchy water to make the pasta juicer and moist.

Serve with freshly grated parmesan cheese and more torn fresh basil leaves. Freshly ground black pepper and a drizzle of extra virgin olive oil to serve are optional. Enjoy!
Notes
ADDITIONAL INGREDIENTS: you can add a handful of whole or chopped olives, canned tuna (previously drained), a few anchovies or 1 Tbsp of capers. Add one of these ingredients (or also a couple of them) when the onion is translucent. Toss them with the onion for a couple of minutes, then add the canned tomatoes according to the recipe. STORAGE: keep pasta leftovers in an airtight container in the fridge for up to 2 days. Reheat pasta in microwave or stir fry in a skillet adding a touch of water and a drizzle of olive oil. The basil leaves will turn brown in the fridge, but refrigeration shouldn't affect their flavor