This post may contain affiliate links. Please read my disclosure policy for more details.
Do anchovies taste good on pizza? Absolutely, anchovy pizza is one of the most popular Italian pizza recipes, and its flavor is incredible. You can either use your favorite pizza dough or this easy 1-bowl recipe, no-kneading or stand-mixer required.
The crunchy pizza crust topped with tomato sauce, creamy mozzarella, salty anchovies capers and oregano… all BIG flavors.
Serve with a glass of white wine or cold beer for a terrific pizza night!
I don't think it would be exaggerating to say that anchovy pizza is one of the best inventions when it comes to pizza! 😊 It's so authentic, simple yet savory, and it will blow you away with its amazing umami flavor..

Watch the video
What ingredients you need
Not many, just good pizza dough and a few top-quality ingredients:
Store-bought or homemade pizza dough (flour, yeast, water, olive oil, salt)
Tomato sauce
Mozzarella
Anchovies (in olive oil)
Capers (optional)
How to make anchovy pizza
(Note: full recipe and ingredients are at the bottom of the page)
Place flour, salt and instant yeast in a large bowl and mix until combined.
Add water and olive oil.
Stir until flour and water are incorporated. This is high-hydration pizza dough, no-kneading is required.
Cover and place in a warm place until it has doubled in size (about 1 hour).
Turn out onto a floured surface.
Dust with flour and stretch it with your fingers.
FOLD the 4 sides over. I love this dough scraper, it's super handy to cut, fold and shape pizza dough! But you can skip the folds if you wish, and follow this easy method instead.
Gently mold a ball and let it rest for about 20-30 minutes
Stretch it gently into a 12-inch circle
The dough is now ready for the topping and the oven!
Recipe notes
Anchovy pizza is very easy, simple, but we have to follow a few simple rules if we want it to taste amazing. The key is chosing top-quality ingredients.
Anchovy pizza ingredients
Dough: you can either use your favorite dough or follow my easy no-knead dough recipe.
Tomato sauce: chose your best tomato passata, possibly from Italian tomatoes which usually tastes sweet. My favorite brand is Mutti, the tomato passata is delicious.
Anchovy fillets in olive oil: go for top-quality anchovies, they're packed with umami flavor and deliver the right amount of saltiness. You want fat and flavorsome achovy fillets on your pizza, not skinny, mushy anchovies packed with salt.
Mozzarella: there's no such thing as "pizza cheese" when it comes to good pizza, and fresh real mozzarella is best. But don't overload your pizza fresh mozzarella, its water content can make the pizza bottom soggy. Less is more!
Extra virgin olive oil: drizzle ONLY with extra virgin olive oil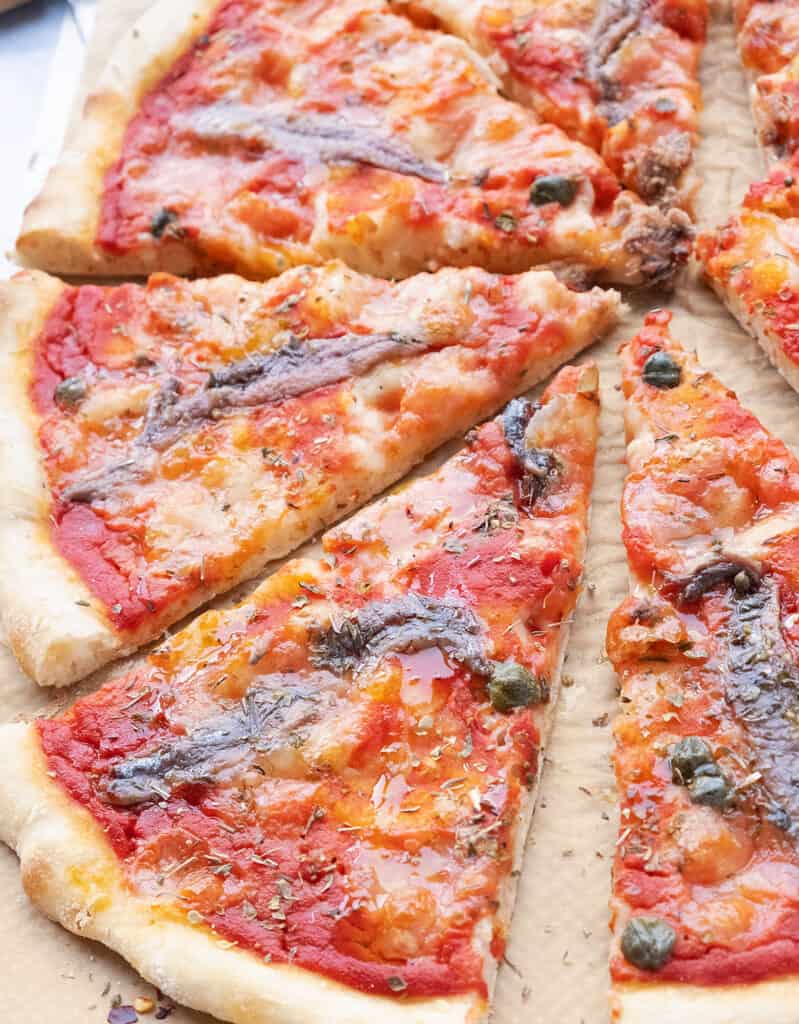 How do you make the best pizza ever?
Apart from the quality of the ingredients, there are a few key factors that make your pizza delicious:
Let the dough rises until doubled in size
Stretch the dough gently using your fingers
Don't use a rolling pin: you don't want to push out gas and bubbles
Preheat the oven: the hotter the oven, the better the pizza will be!
Use hot pizza stone or pizza steel if you can! They both give the dough a burst of initial heat making it puffy and crusty at the same time. Also a pizza tray works fine and gives you a nice crust.
How to bake pizza with anchovies
If you follow this no-knead pizza recipe, keep in mind this is high-hydration dough. The high water content makes this dough so easy to make in one bowl, but it can be messy if you want to transfer your pizza from a pizza peel to a hot pizza stone or pizza steel.
This is when parchment paper comes in handy.
Simply place a piece of parchment paper on top of your pizza peel and assemble your pizza. Then, transfer the pizza onto your preheated pizza stone and slide it back onto the pizza peel when it's done. No mess, no fuss.
Anchovy pizza variations
What goes well with anchovies? There's no plenty of options because the anchovy flavor is the star of the show. However, anchovies pair beautifully with fresh sliced garlic, fresh cherry tomatoes, black olives, oregano, and capers.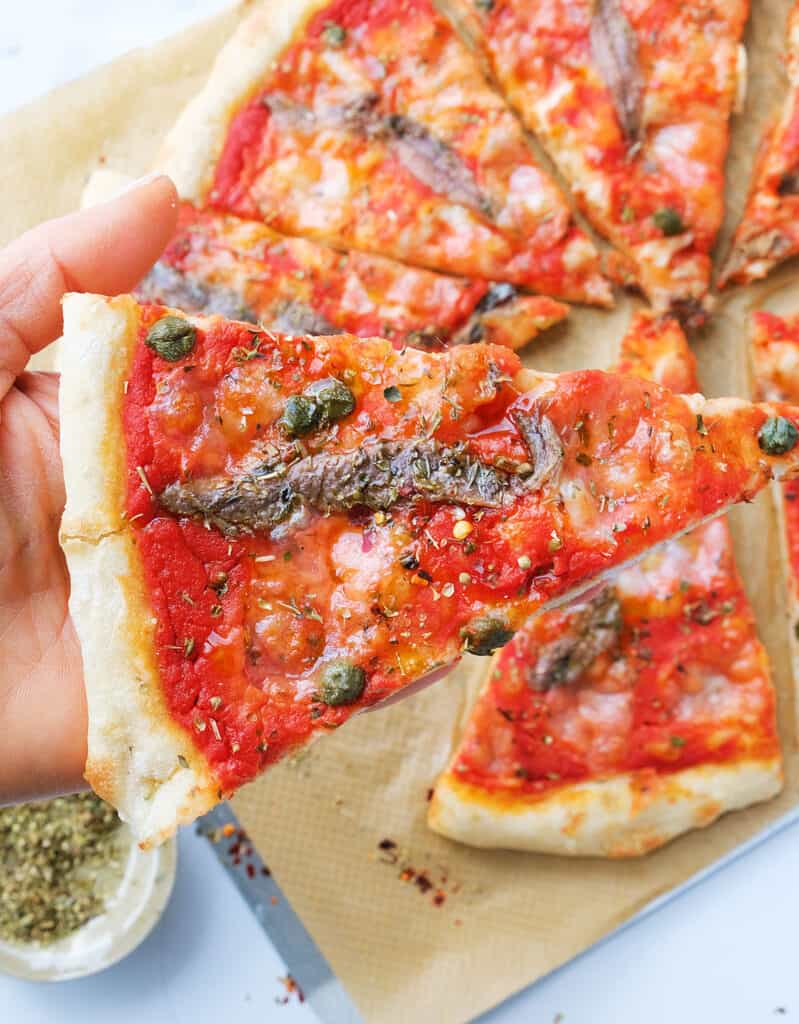 How long does anchovy pizza last?
Once your anchovy pizza is cold, place it in a large freezer bag and refrigerate for up to 2 days in the fridge. Alternately, wrap your pizza in cling film or place it in a freezer bag, make sure you squeeze the air out and freeze it up to 2 months.
Looking for more pizza & bread recipes?
Below you'll find easy no-knead recipes ready in just 1 HOUR:
If you make this amazing anchovy pizza, let me know! Leave a comment, rate it or tag a photo #theclevermeal on Instagram. You'll never order pizza delivery again!
Print Recipe
Italian Anchovy pizza
This Italian pizza with anchovies is one of the most popular Italian pizza recipes, it requires simple humble ingredients and its flavor is incredible. It's crispy, topped with delicious tomato sauce, creamy mozzarella and flavor-packed anchovy fillets.
Recipe yield 1 large pizza (2 regular servings).
Ingredients
PIZZA DOUGH
1 ½ cup

(190 grams) all-purpose flour or bread flour, plus more for dusting

½ tsp

fine salt

½ tsp

instant yeast

¾

(180 ml)

luckwarm water

¾ Tbsp

olive oil
TOPPING
½ cup

(120 ml)

Tomato sauce

4 oz

(110 grams)

fresh mozzarella

8-10

anchovies in olive oil, fillets

1 tsp

dried oregano

1 Tbsp

capers in brine (optional)
fine salt, according to taste
Instructions
PIZZA DOUGH
In a large bowl place flour, salt, yeast and mix until combined.

Pour over the water, the olive oil and mix using a spoon or a spatula. You want to incorporate the flour into the water until just combined. Add 1 extra Tbsp of water if needed, but keep in mind the dough looks pretty rough and sticky at this stage, it's not smooth.

Cover with a damp towel and let it rest in a warm place for 1 hour until it doubles in size.

When it's ready, using a spatula turn the dough onto floured surface and dust it with flour. Now the dough is soft and packed with air bubbles.

Stretch it gently and fold one side over toward the center. Do the same for the other 3 sides, then turn it down and mold gently into a bowl. Let it rest for 30 minutes. .
TOPPING
When the dough is ready, place the rack in the lowest position, preheat the oven to 450°F/230°C, and cut a large piece of parchment paper (if you use a pizza stone). Alternatively, grease or line with parchment paper a large baking pan.

Scrape the edges of the bowl with a spatula and pour the dough onto the parchment paper, dust with some flour and, starting from the center, gently press it out with your fingers until you get a large round pizza. Let it rest for 10 minutes until the oven gets hot.

Top with tomato sauce, shredded mozzarella, anchovy fillets, oregano. Add capers and black olives if you wish.

Bake for about 15 minutes or until golden and crusty.

Serve immediately with a drizzle of extra virgin olive oil. Enjoy!
Notes
FLOUR: OO flour, all-purpose flour and bread flour work fine. To increase the fiber content and make a healthier pizza, you can mix all-purpose flour with whole grain flour. I usually mix white white spelt flour and all-purpose flour, but my preference is to substitute not more than  30% of the total amount because whole grain flour might deliver a quite dense texture.
WATER ABSORPTION: water absorption is the amount of water taken up by flour and may vary significantly depending on the flour, brand, and weather conditions. That being said, when you add water to the flour, start with the amount stated in the recipe. If the liquid is not enough to achieve that dough consistency as shown in the pictures above, just add gradually a little extra water until the flour has been incorporated. LUKEWARM WATER: it means mildly warm, when you touch it,  it should feel slightly warmer than your body temperature, but definitely not hot. YEAST: you can use either instant yeast or active dry yeast in this recipe. Instant yeast can be mixed directly into the dry ingredients, while active dry yeast must be dissolved into the water before it's incorporated into the flour.  PARCHMENT PAPER: make sure the parchment paper is resistant to high temperature as high as 450 degrees. Don't turn the broil on if the parchment paper is close to the heating element, the paper might burn.