This post may contain affiliate links. Please read my disclosure policy for more details.
This simple and utterly delicious Caprese pizza is a dream for any pizza lover. It's a no-knead dough recipe, so easy to make from scratch and ready in 1 hour.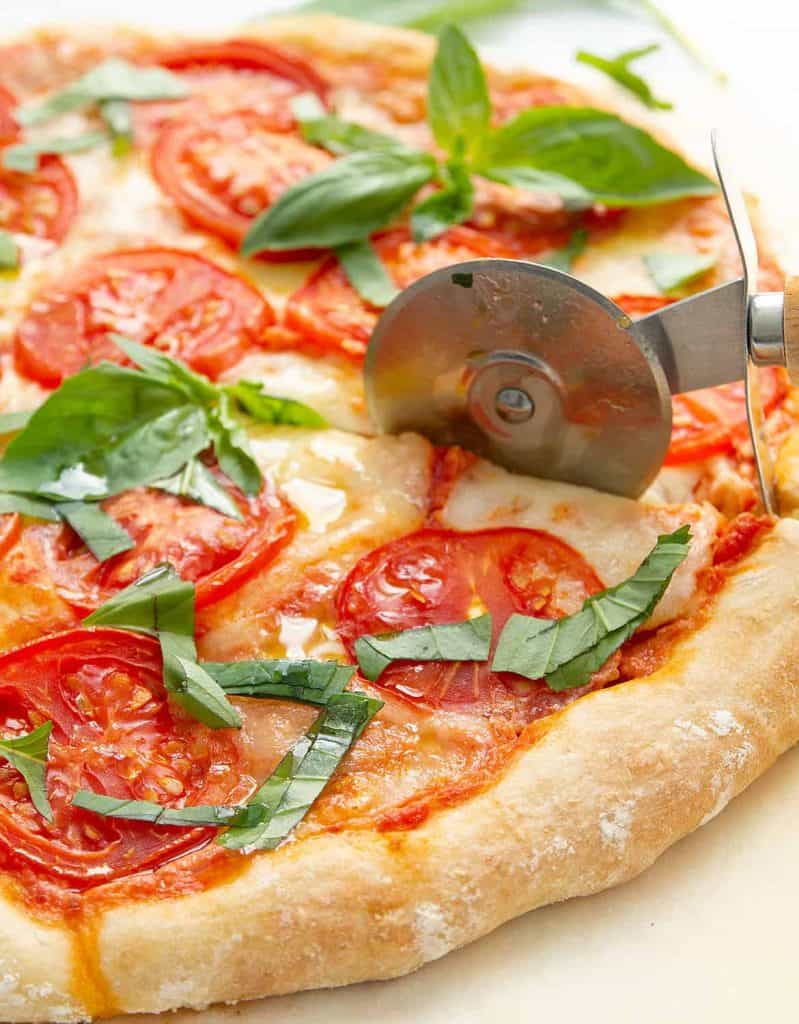 This is real pizza packed with amazing fresh flavors from tomatoes, mozzarella, basil, and extra virgin olive oil.
No junk food, no unhealthy processed ingredients, no insane amount of toppings.
Only simple, real, ingredients.
Less is more, and pizza is the supreme example of simplicity at its best. And you'll want to drizzle your Italian pizza only with extra virgin olive oil, nothing else!
Who can resist a Caprese pizza that looks so delish?
What ingredients you need
Pizza dough (homemade or store-bought)
Tomatoes
Tomato sauce (optional)
Mozzarella
Fresh basil
Extra virgin olive oil
Salt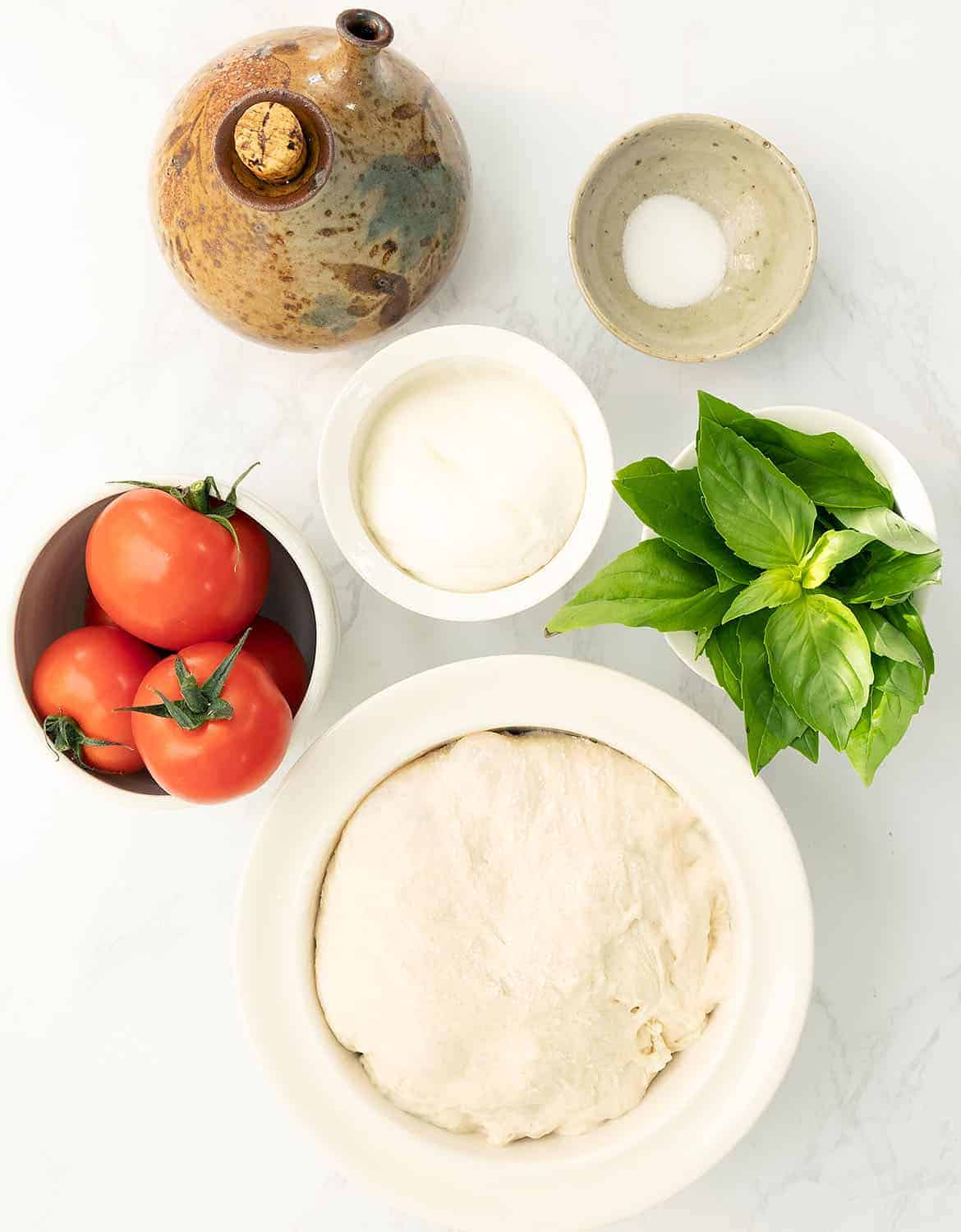 How do you make pizza dough from scratch?
Store-bought pizza dough works fine, but why not try this easy home pizza dough from scratch? Even a novice can make this foolproof dough following this simple step-by-step recipe:
In a small bowl, mix lukewarm water, yeast, sugar and let sit until foamy
In a larger bowl, combine flour and salt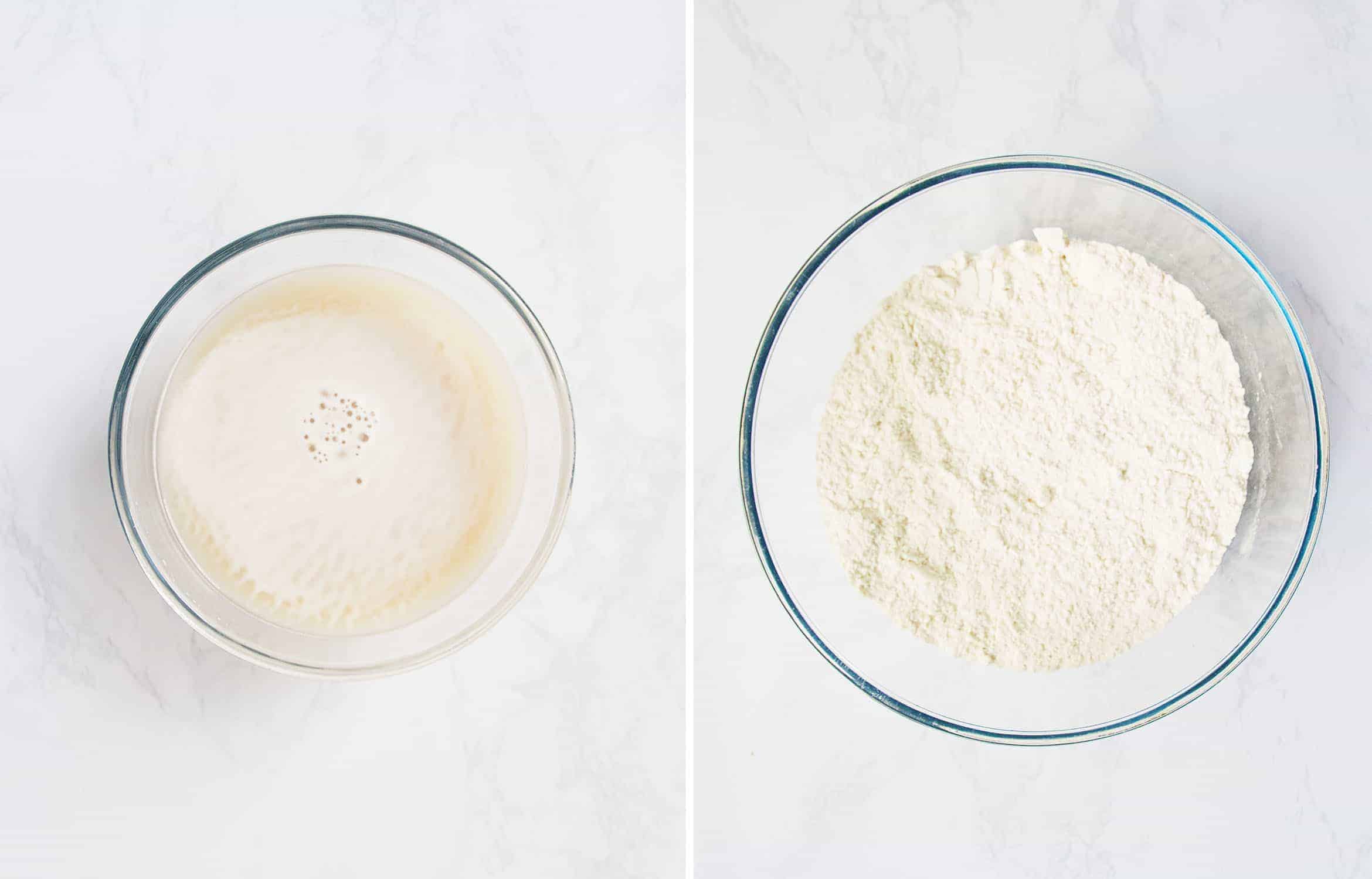 Pour the liquid into the dry ingredients and add olive oil
Mix well with a fork, you want to incorporate all the liquid
Preheat the oven to 230F, turn it off and place the dought there to rise for 35 minutes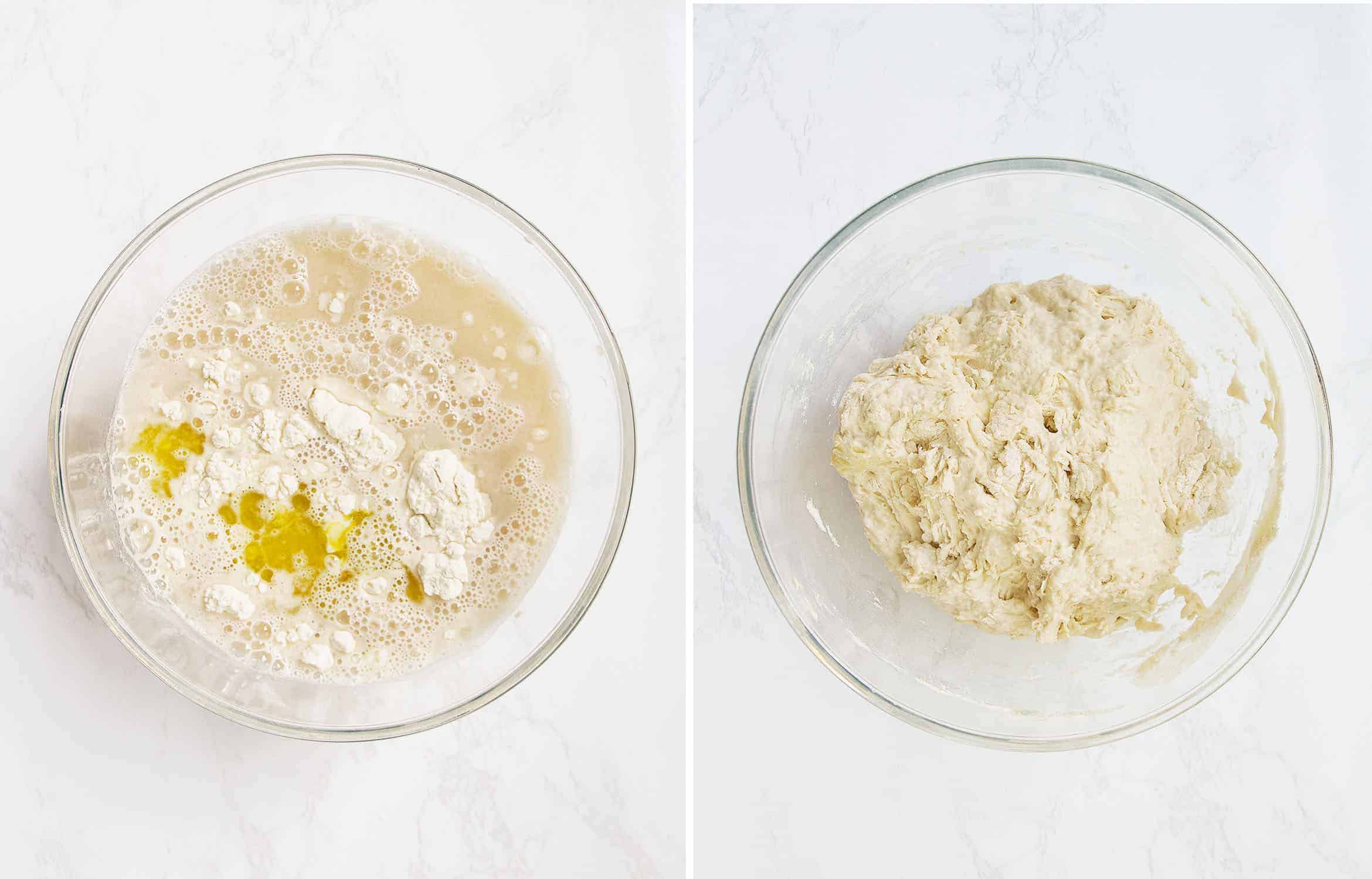 Line a baking sheet with parchment paper and dust generously with flour
Using a spatula, pour the risen dough on the baking sheet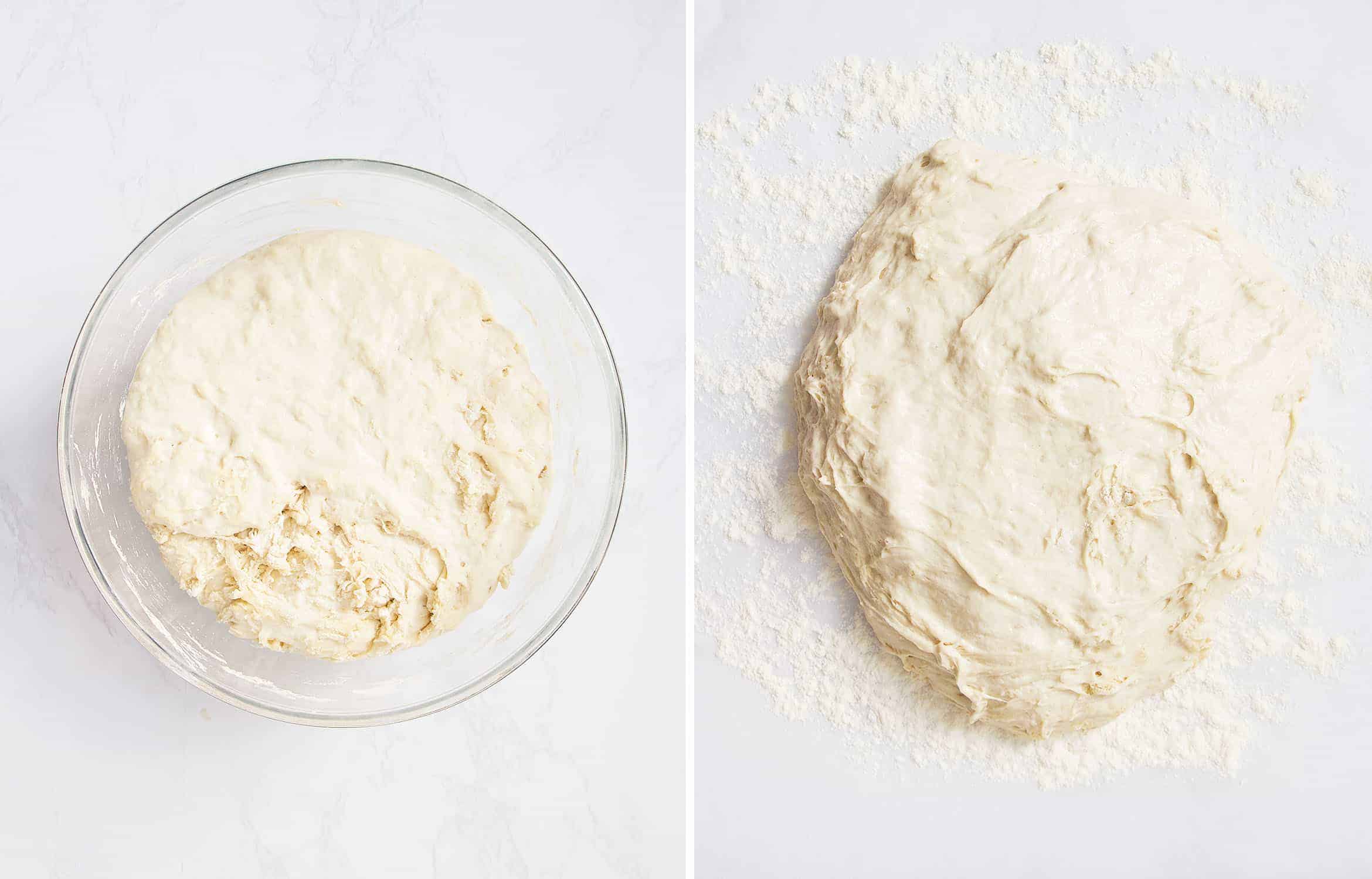 Stretch the dough with your fingers into a circle (12-inch diameter)
Spread tomato sauce on the pizza base and season with salt
Arrange slices of tomatoes and mozzarella
Sprinkle with salt
Bake for about 15 minutes at 450 ℉
Then serve with plenty of fresh basil
Drizzle ONLY with extra virgin olive oil
Enjoy!
RECIPE NOTES & FAQ
I've grown up eating Italian pizza, the real one. This is my take on the easiest pizza recipe EVER and makes a flavorsome Italian pizza from scratch in record time.
A quick and fuss-free recipe perfect for last-minute parties or any pizza cravings!
IS PIZZA HEALTHY?
Traditionally, the dough is made with simple ingredients like flour and olive oil. If eaten in moderation, freshly made pizza containing not highly-processed ingredients can be considered healthy.
Plus, when making your homemade pizza or ordering pizza, chose toppings that contain fresh and wholesome ingredients: tomatoes, fresh mozzarella, arugula, mushrooms, olives, grilled vegetables are delicious and healthy options.
For your homemade pizza dough, you can mix all-purpose flour and whole-grain flour to increase the fiber content.
On the contrary, frozen pizza or the ones sold in fast-food restaurants is usually highly processed, high in calories and fat. Plus, it contains sugar, food coloring, preservatives, sodium and it's typically loaded with ingredients like sausages, salami, extra cheese.
Stuffed crust pizza, anyone? No thanks : )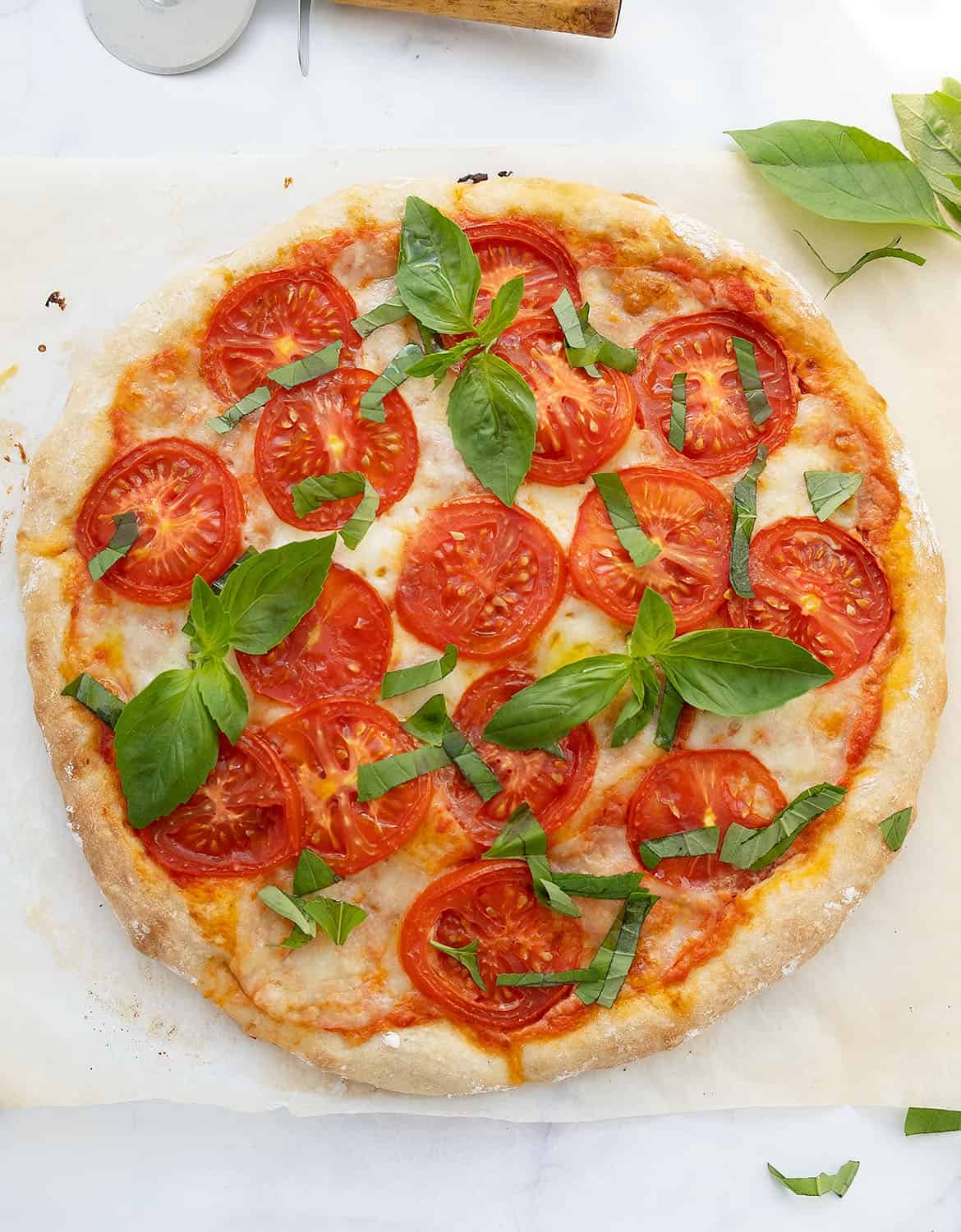 HOW DO YOU MAKE THE BEST PIZZA EVER?
There are a few key factors that make your pizza the best pizza ever:
Let the dough rises until fluffy and doubled in size
Stretch the dough gently using your fingers
Don't use a rolling pin: you don't want to push out gas and bubbles
Chose good quality ingredients
Preheat the oven: the hotter the oven, the better the pizza will be!
Bake pizza on the lower bottom shelf at least at 450 F
Drizzle ONLY with extra virgin olive oil
A slice of pizza, anyone? ?
WHAT KIND OF MOZZARELLA GOES ON PIZZA?
If you wonder if fresh mozzarella is good for pizza, the answer is yes: fresh real mozzarella is best.
When it comes to a good Italian pizza, there's no such thing as "pizza cheese". If you can, go for fresh mozzarella.
However, keep in mind to not overload your pizza: fresh mozzarella contains plenty of water and can make your pizza bottom soggy. Less is more.
HOW LONG DOES HOMEMADE CAPRESE PIZZA LAST?
Place your Caprese pizza in a large freezer bag, and refrigerate for up to 2 days in the fridge.
Alternately, wrap your pizza in cling film or place it in a freezer bag, make sure you squeeze the air out and freeze it up to 2 months.
LOOKING FOR MORE PIZZA & BREAD RECIPES?
And if you make this homemade Caprese pizza, let me know! Leave a comment, rate it or tag a photo #theclevermeal on Instagram. Once you see how easy it is to make for yourself, you'll never order pizza delivery again!
Print Recipe
Homemade Caprese pizza
This simple and mega delicious Caprese pizza is a dream for any pizza lover. The no-knead dough is so easy to make from scratch,  it's ready only in 1 hour and it's packed with amazing ingredients like fresh tomatoes, mozzarella, basil, and flavorsome extra virgin olive oil.
Ingredients
NO-KNEAD DOUGH:
2 cups

(250 grams)

unbleached all-purpose flour, plus more for dusting

1 cup

(240 ml)

lukewarm water

1

tsp

extra virgin olive oil

1

tsp

dry active yeast

1

tsp

fine salt

1/4

tsp

sugar
PIZZA TOPPING:
3-4

Medium-sized tomatoes, sliced

(5 oz/140 gr)

fresh mozzarella or balls

1/3 cup

(80 ml)

tomato sauce

(optional)

1

handful

Fresh basil

1/4

fine salt
Instructions
Mix well water, yeast, and sugar in a jug or in a bowl and let it rest until foamy (about 5 minutes).

Combine flour and salt in a large bowl. Meanwhile, preheat the oven to 230F or until warm, and turn it off.

Add the liquid to the dry ingredients, and mix with a spoon or a spatula to incorporate the flour*. The flour can absorb more or less water, which depends on many factors. Add an extra Tbsp of flour or water if needed and mix until no dry flour remains, but do not overmix.

Cover the bowl with a damp kitchen towel or with cling film, then place the bowl in the middle shelf of the warm oven, and let rest for 30 minutes*.

Line a baking sheet with parchment paper and dust with flour.

After 30 minutes, gently scrape the edge of the bowl and pour the dough on the floured baking sheet.

Meanwhile, while you prepare your pizza, preheat the oven to the maximum temperature and select the bottom element mode. The hotter the better.

The dough is fluffy and a bit bubbly now, you don't want to deflate it. Dust with some flour and gently stretch it evenly into a circle. Press the dough out from the center, leaving the edges a bit thicker for the crust.

Spread some tomato sauce on top and sprinkle with some salt.

Arrange mozzarella and tomato slices leaving a couple of inches from the edges. Sprinkle with salt and drizzle with extra virgin olive oil.

Make sure your oven is hot, reduce the temperature to 450F, and place your baking sheet on the lower shelf. Bake for about 15 minutes until pizza is golden and crusty (do not open the oven door during this time, or the temperature will drop).

Serve with fresh basil leaves and an extra drizzle of extra virgin olive oil. Enjoy!
Notes
MOZZARELLA: I used to buy mozzarella balls from TJ's when I was in the States, and they were perfect for pizza. 

WHAT IS THE BEST FLOUR FOR PIZZA DOUGH? All-purpose flour and bread flour are both fine. All-purpose flour has a lower content protein, slightly lower rise,  but overall works well in any pizza recipe.  Plus, all-purpose flour is cheaper and easily available.
Plus, to increase the fiber content and make the pizza healthier, you can mix all-purpose flour with whole grain flour. I usually add whole wheat flour or spelt flour, they both work very well in this pizza dough. However, it's important to substitute not more than 30% to 50% of the total amount because whole grain flour makes a quite dense texture, not ideal for pizza. WATER ABSORPTION: water absorption is the amount of water taken up by flour and may vary significantly depending on the flour, brand, and weather conditions. That being said, when you add water to the flour, start with the amount stated in the recipe. If the liquid is not enough to achieve that dough consistency as shown in the pictures above, just add gradually a little extra water until the flour has been incorporated. WARM OVEN METHOD: this is a trick to help you to make the dough rise faster. Basically, preheat the oven at low temperature, then turn it off and create a warm environment for the dough to rise in. This shortcut works great when you run out of time.